Photo by Will Rice
Lollapalooza came in with a show-stopping surprise (Rihanna, during Eminem's set) and out with a wild misadventure of the elemental variety (downpour turning Grant Park into a mud-soaked water park) and our contributor Abby Yemm was there to take it all in. How to summarize a festival experience? It's like trying to un-bake a cake. We're gonna go with a short list of magical ingredients, err moments. Here are some of our favorite moments from Chicago's 10th Lollapalooza.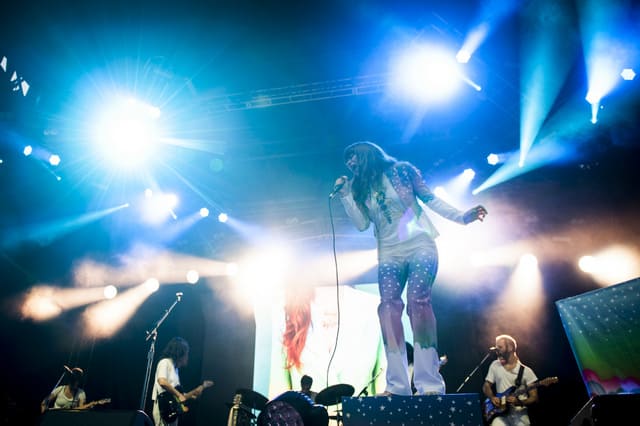 Photo by Max Herman
We Met Jenny Lewis and It Was Not Terrible
Thank you, bartender for the Bloody Mary moxie to talk to this goddess of child stardom and stage charm. Her latest, The Voyager, has a dreamy and spacey quality that was in perfect pairing with the cool, chilled out feel of The Grove stage later that day. This album was made during a time of sadness- Lewis's dad passing away, the dissolution of her band, a breakup, and insomnia. It was intimate, sweet and her vocals are just way more beautiful, live. Silver linings, baby.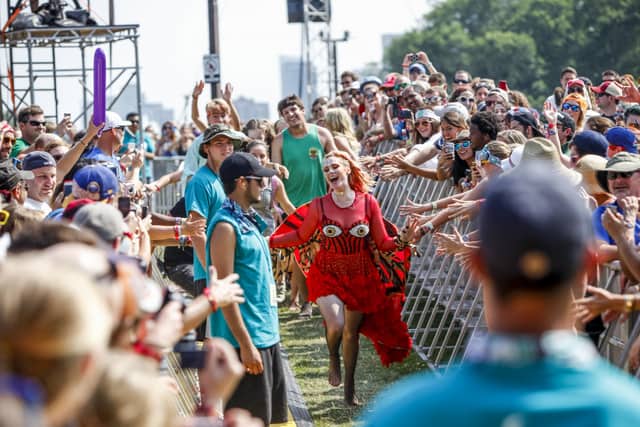 Photo by Jack Edinger
Kate Nash Running Wild and Free
That girl is as much fun as she seems. Points for that crazy eyeball-outfit and high energy set. Nash brought a group of women out from the audience and genuinely embodied the "Girl Gang" mentality that was literally embroidered on her red cape.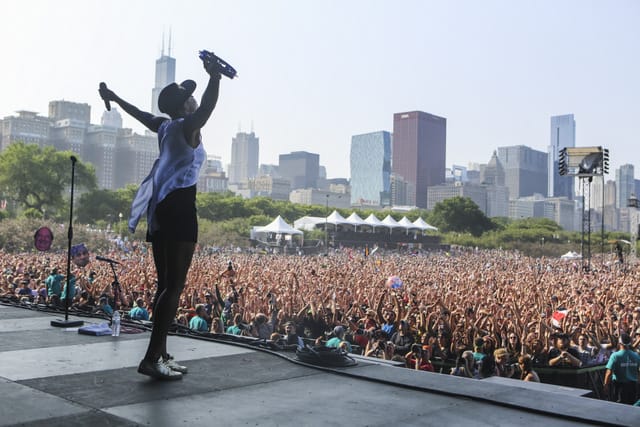 Photo by Nick Simonite
Fitz and the Tantrums, We Like You Even More With Sunshine and Beer
Sounded great from media happy hour tent, where the Bud Heavy was flowin' like free booze for people who like to drink a lot (Writers much? Artists a bit?). We met Kentucky-turned-Nashville grunge punk boys from Plastic Visions and were busy talking their upcoming super buzzy LP (TBA). They keep their talent close as kin (they're an offshoot of Cage the Elephant) and told me inspiration for 2013's EP came from a lot of really good drugs. But I think they were just joking if you're reading this, Mom.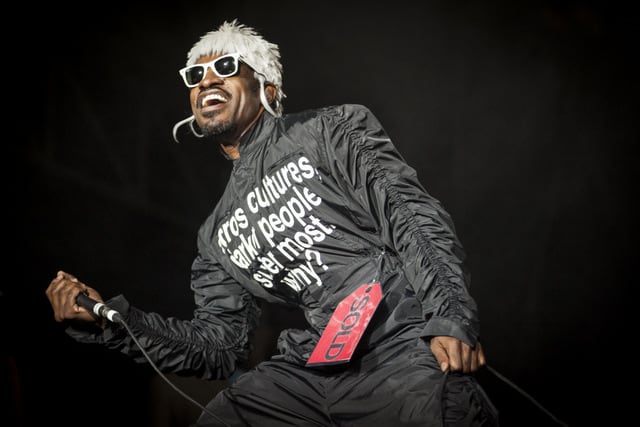 Photo by Will Rice
Everyone Said They Were Most Excited for Outkast BECAUSE OUTKAST
Stankonia was one of the best times in our lives, and not just because we peaked in high school. That funk and gritty Southern soul is as fresh now as it was clean in 2000. Andre 3000 and Big Boi opened loud and large with "Bombs over Baghdad," and turned the crowd into a party. Spontaneous fireworks fell over the sky, on the south side and we're pretty sure Grant Park shared a collective smile.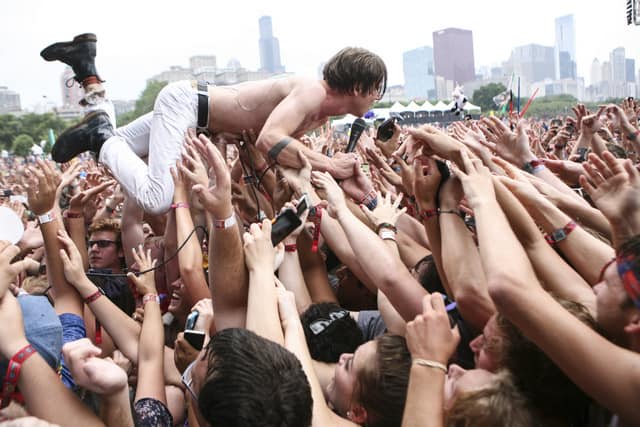 Photo by Cambria Harkey
Cage The Elephant, Swagger Like…Shulz Brothers
Talk swirled around the force of the Shulz brothers. The Shulz's of Cage The Elephant make up the dream rock'n'roll was founded upon. Writhing bodies, bare chests and contorted face singing from the bottom of your soul. Keep watching (hard to look away, really).
Chromeo & The Rain Came Down
And for those brave enough to forgo any rain protection, this was when the wild rain party dancing began. What better than an electro-funk duo to bring down any remaining civility, at the park?
Betty Who?
Get outta here. Betty Who turned out to be our surprise fave show. Live, this six foot blonde Australian beauty is full of just so. Many. Good. Vibes. She self-described one of her jams as a combination of Ja Rule, Ashanti and Phil Collins and we fell harder. A real shot of life, with moves to match.
The Avett Brothers and…
Down came the rest of the rain. And everything was mud. And we had to catch a flight. Maybe we shouldn't have slid down the hills that turned into slides. Maybe we shouldn't have jumped and danced in the field, that turned into a bog. But the music was playing and it was the best kind of chaos. And we missed Kings of Leon's set with the string section. And we nearly missed our flight, too. But damn, it was fun. Kinda like going to yoga after happy hour: adventurous, foolish, only marginally regrettable but more than anything- unforgettable.