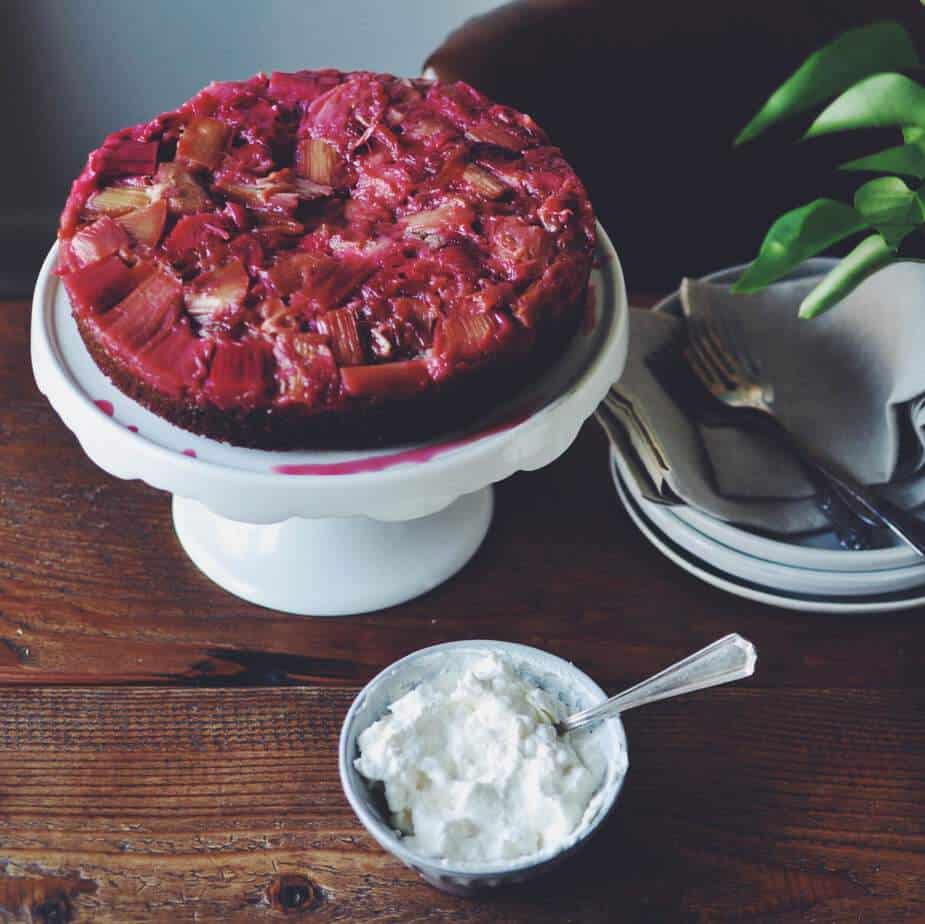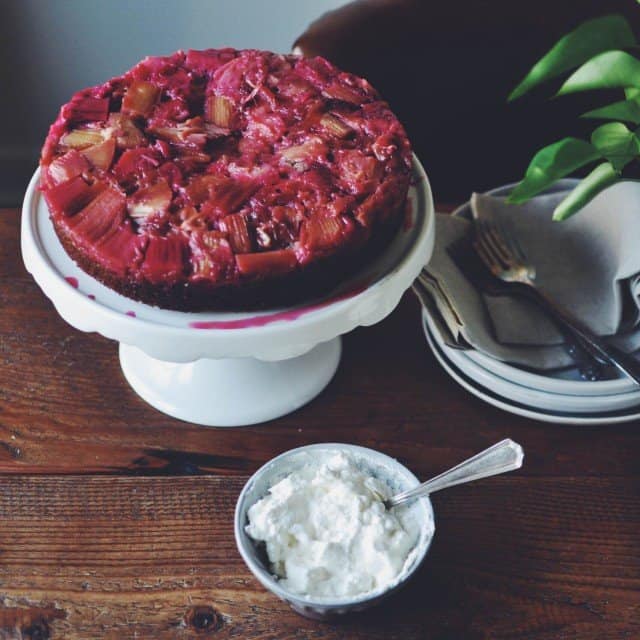 My first spring in Seattle and I'm already learning what it means to get 'hit' by the passing season. Coming from California, where spring isn't quite so distinctive, I wasn't prepared for the amount of change I would experience all around me, so suddenly. It's like one morning I woke up to buds on every tree, cherry blossoms, and exploding pink flowers whose name I do not know. But before I could blink and get my fill, the petals started falling, lining the streets and covering our grassy / mossy backyard. "Fleeting" is the best way I can describe this season here. Already we've gotten a sweet taste of warm weather but spring, I can already tell, is almost gone.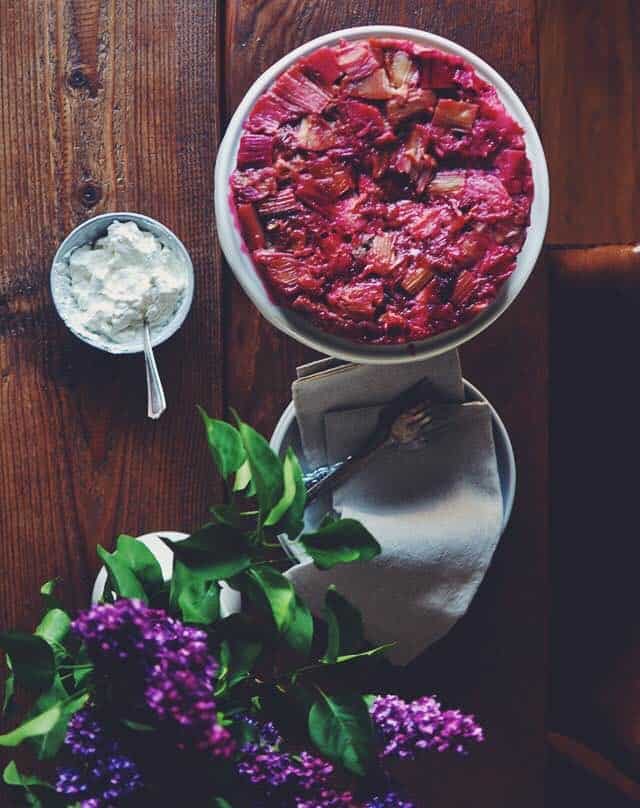 Like the cherry blossoms and lilacs (hello, lilacs!), rhubarb is starting to 'hit' the markets with fervor and knowing what I know (that it does not last so much as a month), I find myself stock piling. Rhubarb is a funny plant: it's technically a weed, and its leaves are poisonous and yet, we all fight over the prettiest neon pink stalks for $4.99 / pound — or more. I like my rhubarb stewed and baked; alongside strawberries and naked, save some sugar. It has a tartness that pairs perfectly with lemon and just enough sugar to make it acceptable for breakfast and dessert.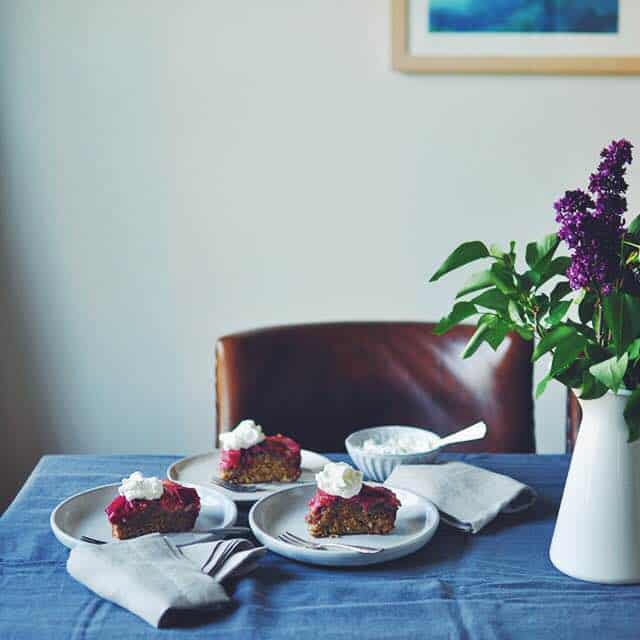 This recipe comes from my friend Yossy's (a native Seattleite) lovely new book, Sweeter Off the Vine. Like Yossy, I have an appreciation for baking with seasonal fruits. This rhubarb upside down cake is humble in nature but no less refined, thanks to the addition of one of my favorite flours — rye. Increasingly, you'll find it in the bulk bins of big grocery stores and I find myself swapping it in for regular flour in most recipes — for pancakes, waffles, crepes, and breads.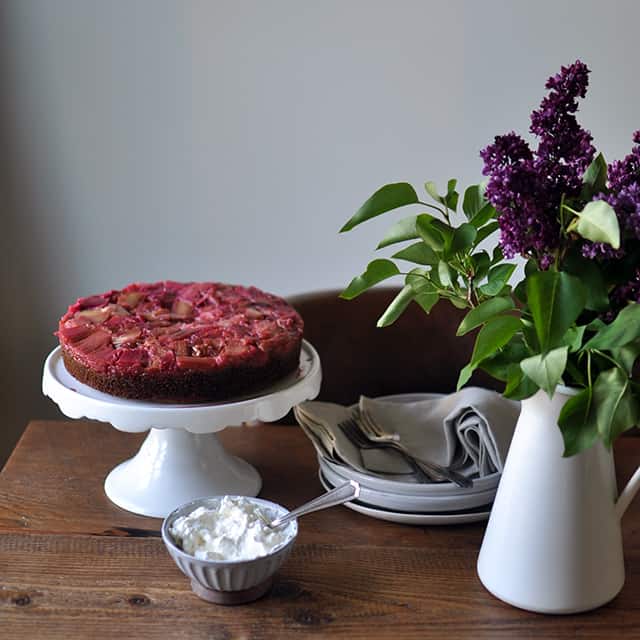 Rhubarb and Rye Upside Down Cake
adapted from Sweeter Off the Vine
For the rhubarb topping:
1 pound of rhubarb stalks, cut into 2 inch pieces
1 vanilla bean
3/4 cup of sugar
1/4 cup of unsalted butter
1 teaspoon of lemon zest
pinch of kosher salt
For the cake:
1 cup of all-purpose flour
1 cup of rye flour
1 tablespoon of baking powder
1/2 teaspoon of baking soda
1/2 teaspoon of kosher salt
1/2 cup of unsalted butter, at room temperature
1/2 cup of sugar
2 large eggs, at room temperature
1 teaspoon of real vanilla extract
1 1/2 cups of buttermilk, at room temperature
whipped cream or ice cream for serving
1. Preheat your oven to 375 degrees F and butter a 9 inch cake pan. Line with parchment paper, butter the paper, and dust with flour.
2. Prepare the rhubarb topping: split the vanilla bean in half and scrape the seeds out of the pod. Combine the sugar, vanilla bean seeds, butter, lemon zest, and salt in a small skillet. Heat over medium low, stirring occasionally, until the butter has melted. Next, add the rhubarb. Cook, continuing to stir, until the rhubarb is juicy and tender, but not falling apart (about 6-8 minutes). Pour the rhubarb, along with the juices, into your cake pan.
3. To make the cake: combine the flours, baking powder, baking soda, and salt in a bowl and whisk together. Add the butter and sugar to the bowl of a stand mixer fitted with a paddle attachment. Beat on medium until fluffy, about 5 minutes. Add the eggs, one at a time, scraping down the sides of the bowl between each addition. Next, add the vanilla and beat in the flour and buttermilk in three alternating additions. Pour the batter over the rhubarb and gently rap the cake pan on the counter to remove any bubbles.
4. Bake the cake for about 30 -35 minutes, or until the top is golden and a toothpick inserted into the center comes out clean. Let the cake cool for about 15 minutes before inverting it onto a serving plate or cake pan. Serve slices topped with whipped cream or ice cream.