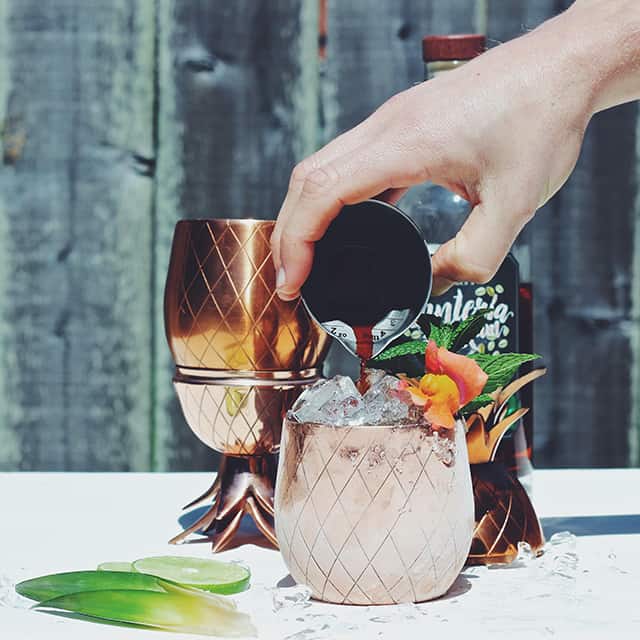 It's not often that you come across someone who truly loves their job, but after my first conversation with Bryan Davis of Lost Spirits, I was left with an image of a sweet-toothed teenager working in a candy store. That's how excited he was to share more about his ground-breaking technology, which produces spirits that would otherwise take 20+ years of barrel aging in a matter of only 6 days!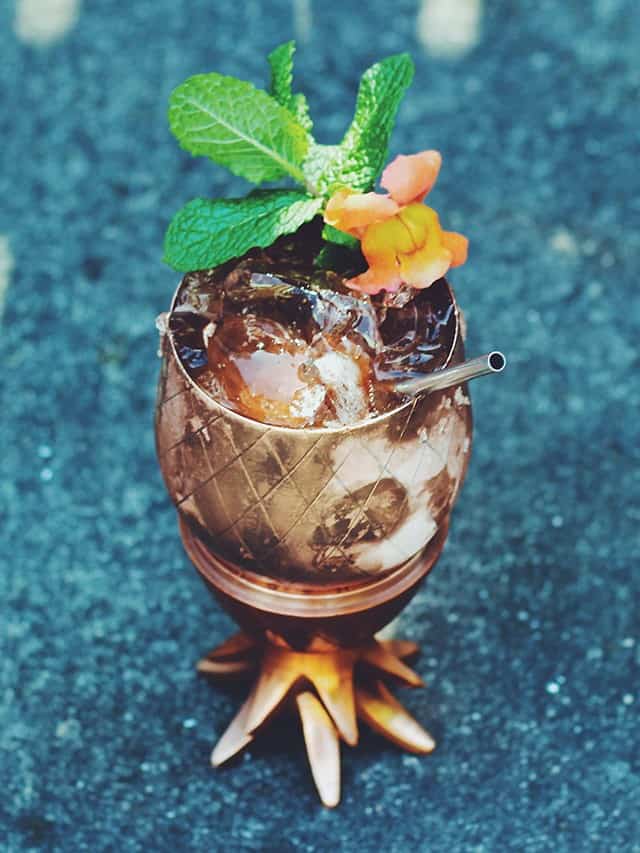 The spirits (and wine) industry is steeped in history, buzzwords, and marketing stories as they angle for your attention in an increasingly crowded marketplace. I'll be the first to admit that there is something romantic about the process, history, and art of making booze, but at the end of the day what I've come to appreciate the most is the conversation that it enables.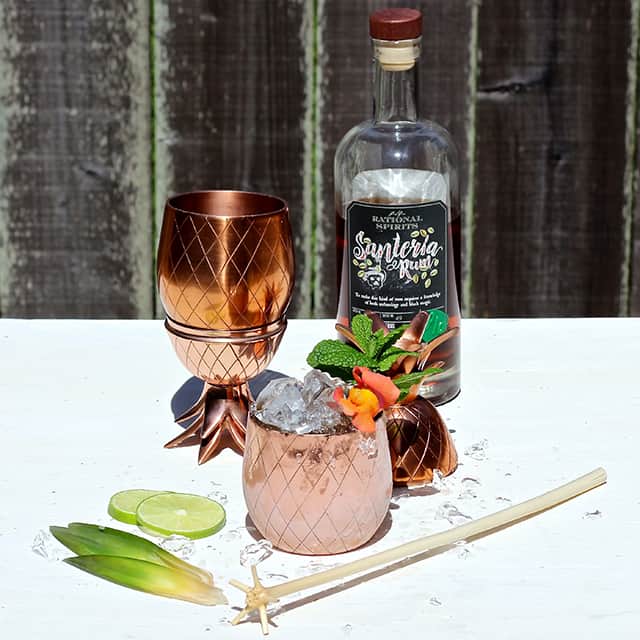 I haven't been able to stop thinking about the potential impact of Bryan's technology since I first read his (short) white paper discussing the chemistry of barrel-aged spirits. I found myself wondering how much of the fun and exploration might be stripped from the industry if we weren't faced with shortages, if we didn't have to wait for spirits to age…. but then I thought of the great amount of variety that would be present in the market and how quickly producers would be able to test new spirits!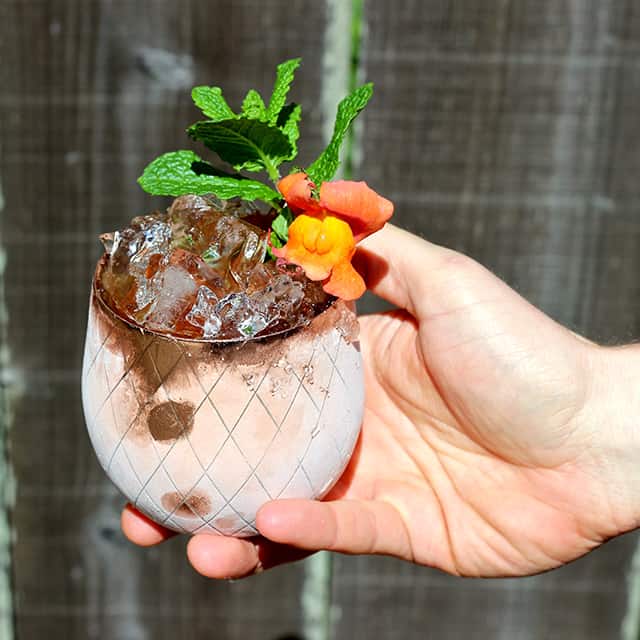 "Santeria" Rum is the latest product from Lost Spirits (in collaboration with Rational Spirits). In my exploration of rum over the last few years, I'm continually excited by the variations available from different types of production. Jamaican rum is famous for its use of dunder, which is a live bacteria that's used in the distilling process, giving it a funky and fruity flavor. This is a dry rum, with no sugar added. It's best paired with sweeter ingredients, to bring balance to the cocktail. It's also a pleasure to sip on neat or over a block of ice.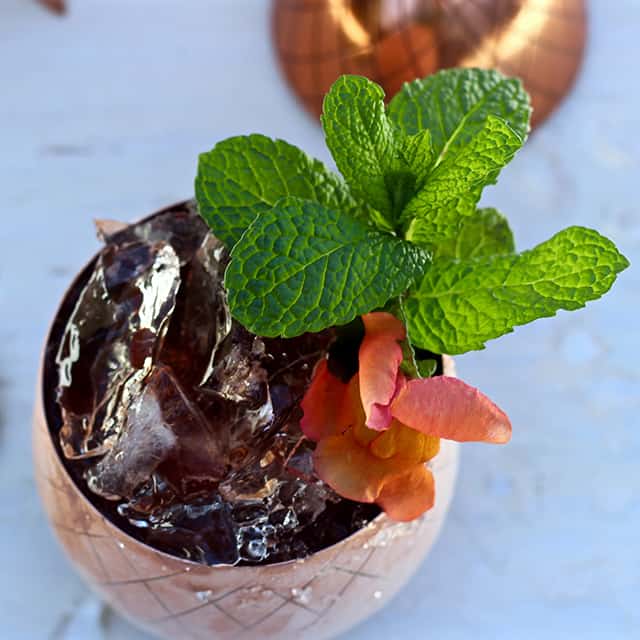 While I love researching new spirits and cocktails, I also love finding new glassware to add to my collection, which serves the sole purpose of enhancing the first impressions of a drink. (Since the first thing that we experience when presented with a cocktail is how it looks.) My latest addition, the pineapple tumbler, comes from the folks at W&P Design. It'll blow away your friends with an over-the-top presentation every time.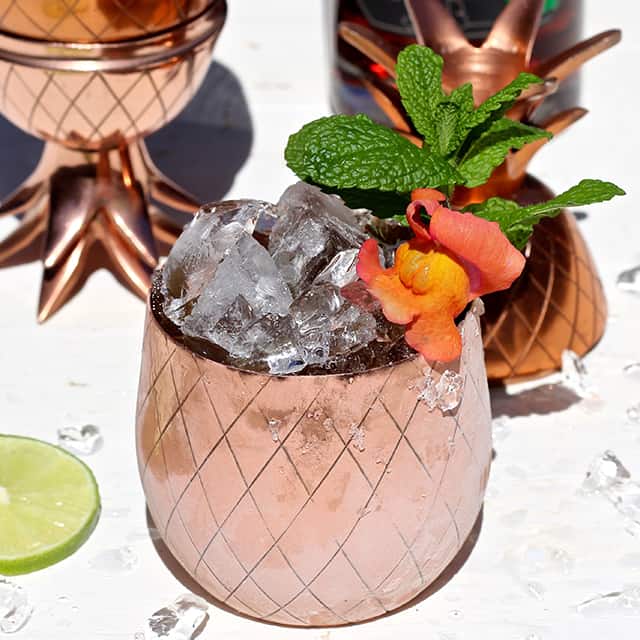 Glass
Pineapple tumbler, swizzle cup, or collins glass
Recipe
Santeria Rum Swizzle:
2 oz rum (I specifically came up with the recipe for  this drink with "Santeria" Rum* in mind)
.5 oz coffee liqueur (I prefer St. George NOLA coffee Liqueur)
.5 oz apricot liqueur (I prefer Rothman & Winter Orchard Apricot Liqueur)
.5 oz orgeat (I prefer Small Hand Foods)
.5 oz lime juice
1-2 dash(es) of Angostura bitters
Mint garnish
Add all liquids into your glass of choice. Fill halfway with crushed ice and swizzle until chilled using a swizzle stick, bar spoon, or spoon straw. Fill with remaining crushed ice. Clap the mint in your palm to release the oils and push through the top of the ice. Position the spoon straw such that when you go to drink the cocktail that your nose would be right in the mint. You'll be surprised how you "taste" the mint!
*- If you are using a different rum try to using something on the drier side like Flor de Caña 4 Year Old "Añejo Oro" Rum.
Photography and styling by Hannah Levy.