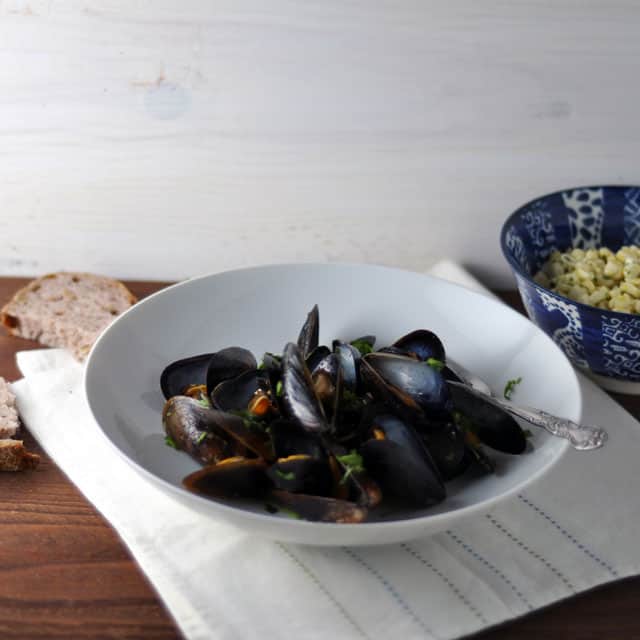 Phew. I'm back from my second trip to New York City in less than three weeks, and needless to say, I am ready for a long nap. It's nice to feel grounded for a bit…at least for a few more weeks, before we head off to Sicily! While in New York, I had a very special opportunity to meet some of my favorite bloggers face to face at my friend Veronica's rooftop dinner party. Lovely ladies including Yossy, Sarah, Nicole, Cathy, Barb, Diana, Elizabeth and Sarah brought some seriously delicious food while out of towners including Kathryne, Kimberley, Laura and I chipped in with the beverages. Plus, my friend Kristin was there, too!
Talk about a rowdy bunch! Food bloggers sure know how to party. We had some lively conversation, but one topic in particular struck a chord. We got to talking about the aspirational nature of many of the publications and blogs that surround us. A number of folks have actually written blog posts in opposition to this trend. They've showcased their messy kitchens, and confessed to things they're afraid to tell us. The general tone has been a sort of backlash against the perfectly styled presentation of content and media, and the return to 'honesty.' As someone who's become obsessed with design blogs and Pinterest, I can definitely fall into the trap of feeling like nothing I do or own is ever good enough. My kitchen is dark and small. My shoes aren't designer-made. My photos go through a vigorous editing process. And my dinner parties are generally filled with stress, sweat, and occasional last minute disasters. So the question is: should we be more real?
The answer is somewhat convoluted, at least for me. On the one hand, of course I want to be real with you. I'm pretty damn honest in every post I share with you, but that doesn't mean I don't edit myself. An important life lesson here: editing is important, actually. On the other hand, I appreciate beautiful things as much as the next person, and I think that's why so many of us spend hours on Pinterest and beautiful food blogs. I also think that — whether it stems from jealousy, competition, or a motivation to be better — having so much aspirational content surrounding us pushes us to be better. I'll be the first to admit that the more beautiful blogs and publications I read, the higher the bar I set for my own content. I realize that in my real life, I'll never have the kinds of kitchens that I pin, or the sorts of dinner parties that I read about in magazines like Kinfolk, but all of these images give me ideas.
My life is not perfect. Whose is? But, like watching a good movie, going to a museum, or taking in a fashion show, our minds are inspired by the aspirational images, writing, and moving pictures that surround us. In order not to go crazy, we all have to remind ourselves that it's all carefully edited.
From experience, I know that for every beautiful food photo, there are 50 that are throwaways. I could show them all to you. The ugly ones. But why? I think you, my readers, are smart folks. I don't think it's a secret that the images I share on this site are styled. They are all of the food that we eat, but these dishes are also placed on dainty napkins and tied with baker's twine. I don't regularly eat my tacos wrapped in parchment baker and twine, but what's wrong with a pretty picture?
I find different things in different sites and publications; I turn to some for good, honest writing, I turn to others for beautiful inspirations, and to some…for both. I hope this is that kind of place for you, where you can enjoy a good dose of honesty and realness inside a space that is (at least I like to think) curated, styled, and designed. I think that celebrating the life we live, imperfections and all, is great, but I'm also a big believer in always wanting more — out of life, out of myself. It is what pushes creativity beyond your comfortable boundaries. What's left when you want nothing more?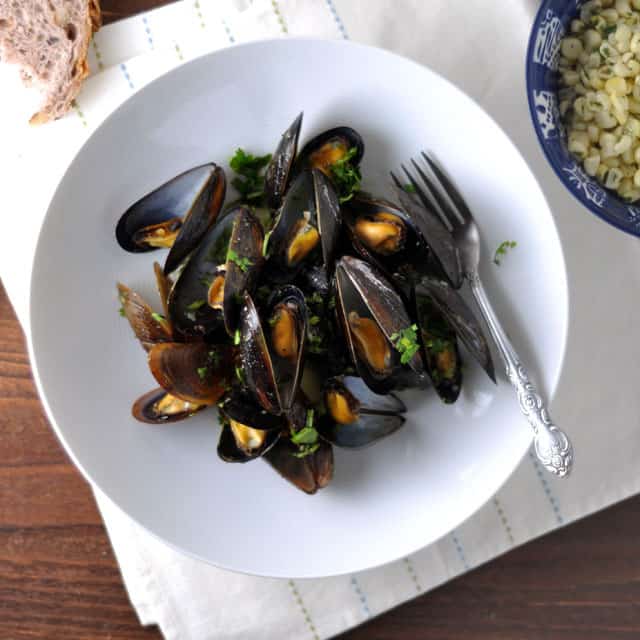 In all of this talk about beauty, I'd like to share a recipe that is quite beautiful in its simplicity: a bowl of mussels. Before you turn the page, let me tell you: this isn't your typical bowl of mussels. Unlike the traditional steam method, this recipe calls for placing raw mussels on a baking sheet and baking them in the oven. Topped with a cilantro butter that melts into every crack and crevice of each shell, these mussels are some of the most delicious, and easiest-to-prepare, dishes I've made in a while.
Baked Mussels with Cilantro Butter
*serves two as a main course
adapted from Gourmet
2 pounds of mussels
3 garlic cloves, roughly chopped
one large bunch of cilantro leaves, roughly chopped
1/2 stick unsalted butter, cut into pieces
salt and freshly-ground pepper
1. Preheat your oven to 450 degrees F. Clean your mussels: scrub and de-beard them, and then place them in a bowl of room-temperature tap water. We let ours 'breathe' for no more than five minutes (this allows them to release some of their dirt).
2. Spread the mussels on a large, rimmed baking sheet.
3. Combine the butter, chopped cilantro, garlic, salt and pepper in a food processor and blend until the cilantro in fine and incorporated into the butter.
4. Drop spoonfuls of cilantro butter over the mussels, then slip the baking sheet into the oven. Bake for about 15 minutes (until the mussels are all open). Toss any unopened mussels, then use a ladle to scoop mussels, along with the melted cilantro butter, into bowls. Serve with crusty bread.
Musical Pairings: Japandroids – Celebration Rock + Baked Mussels with Cilantro Butter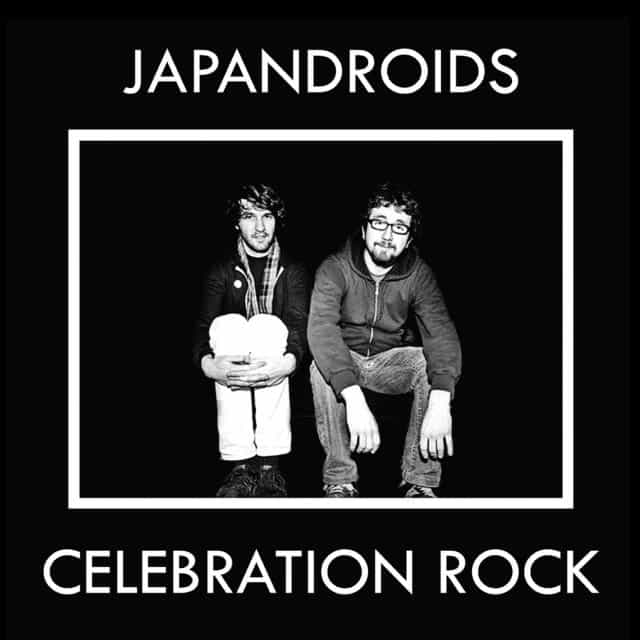 More on the Turntable.