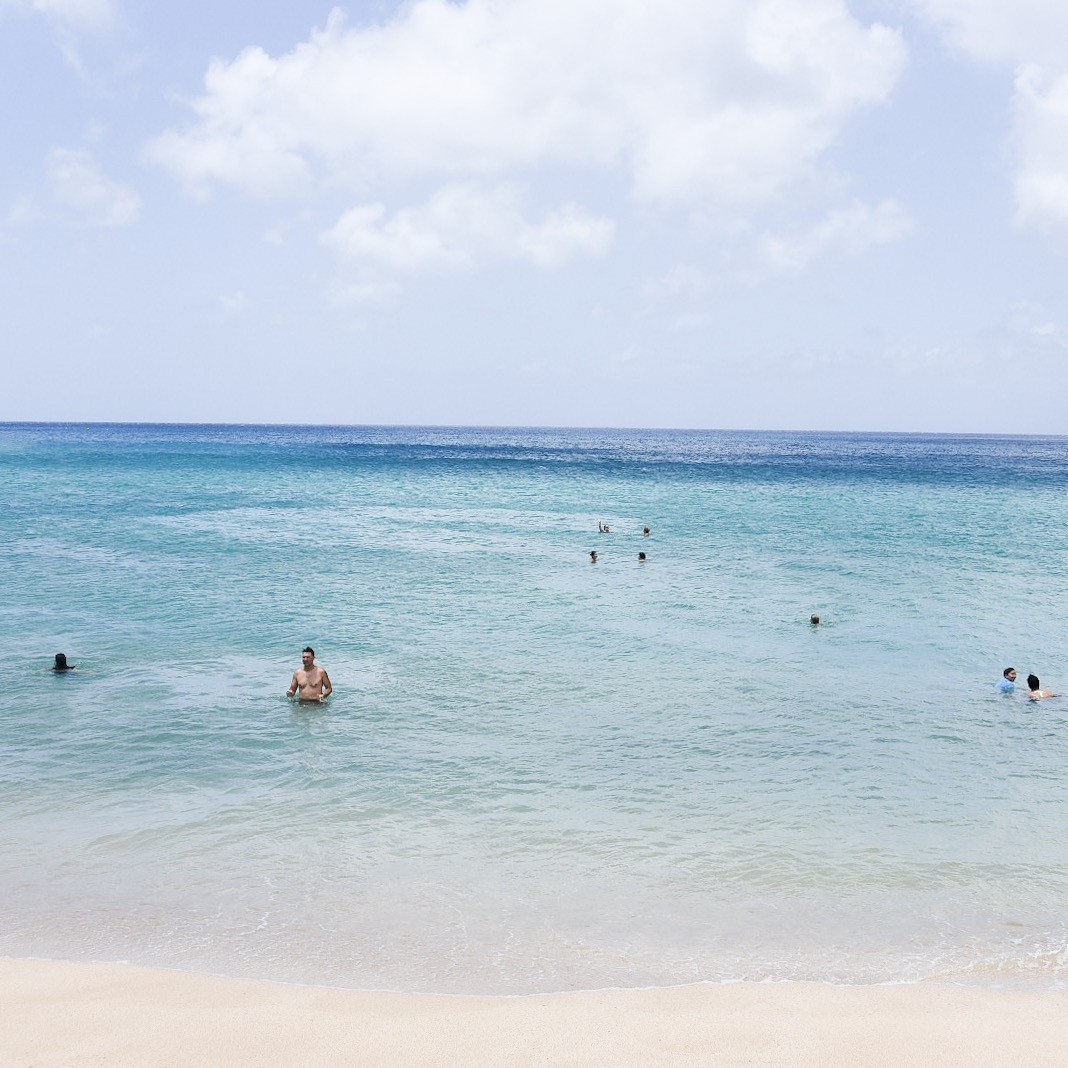 A few months ago, we traveled as a family of five to Oahu, Hawaii and I think it will forever remain one of my favorite vacations of all time. It was the longest travel day our kids had ever had, but they amazed us with their resilience and good behavior. I literally remember arriving at our Airbnb at 10 pm Hawaii time, after being en route for over 10 hours. They ran excitedly in to explore their rooms with huge smiles on their faces. Over the next seven days, they'd spend plenty of time chasing green geckos, collecting rocks, and taking the occasional outdoor shower.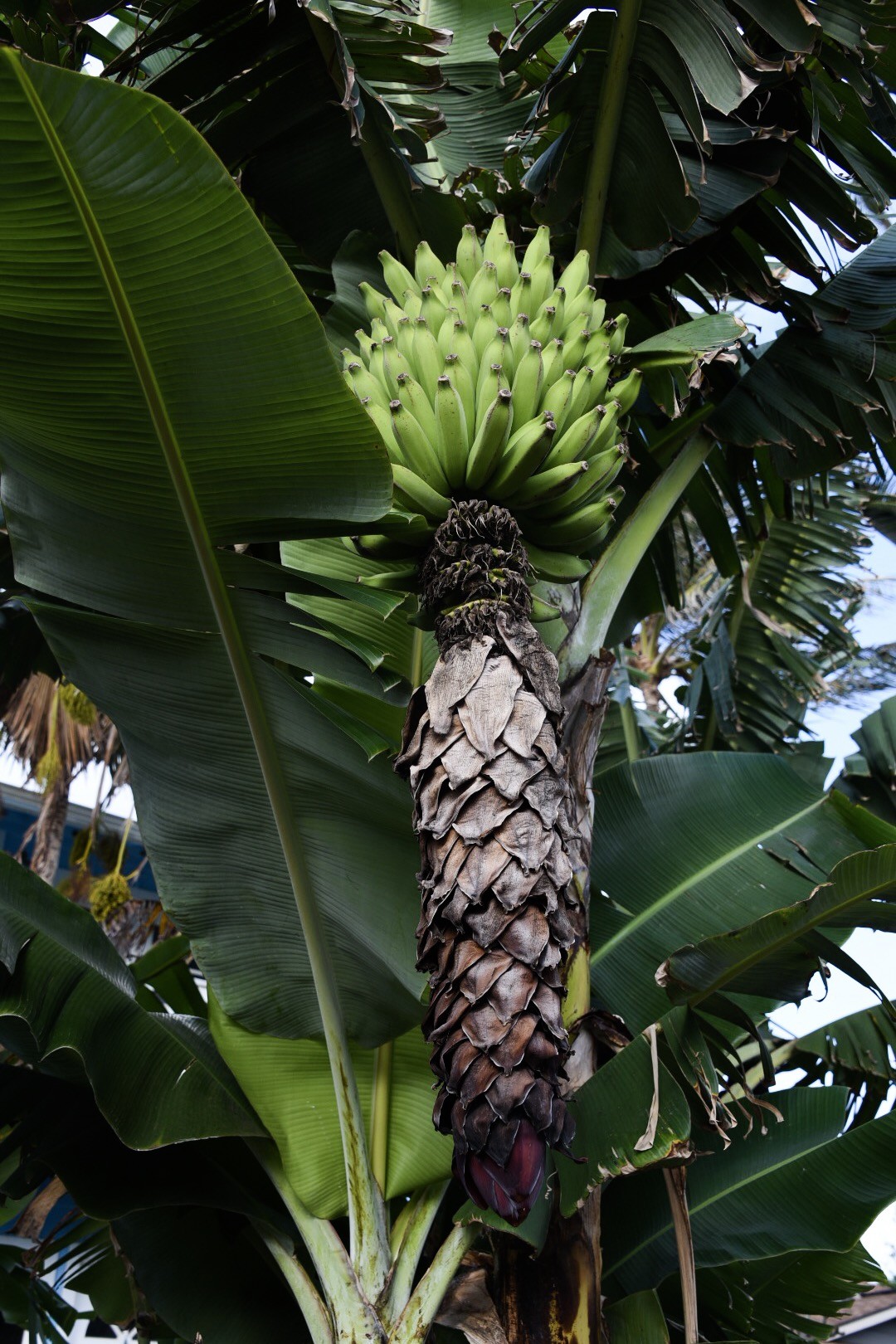 Matt and I have traveled a fair amount since they've been born — both solo and together — but aside from road trips and trips to visit family in California and Ohio, we hadn't really taken them on a lot of "big" vacations. Candidly, I'm grateful to have had the support of our families (and each other) to be able to enjoy adult travel all of these years. But we finally felt ready. And as I expressed in a previous post, we were both feeling pretty burned out and really in need of a vacation.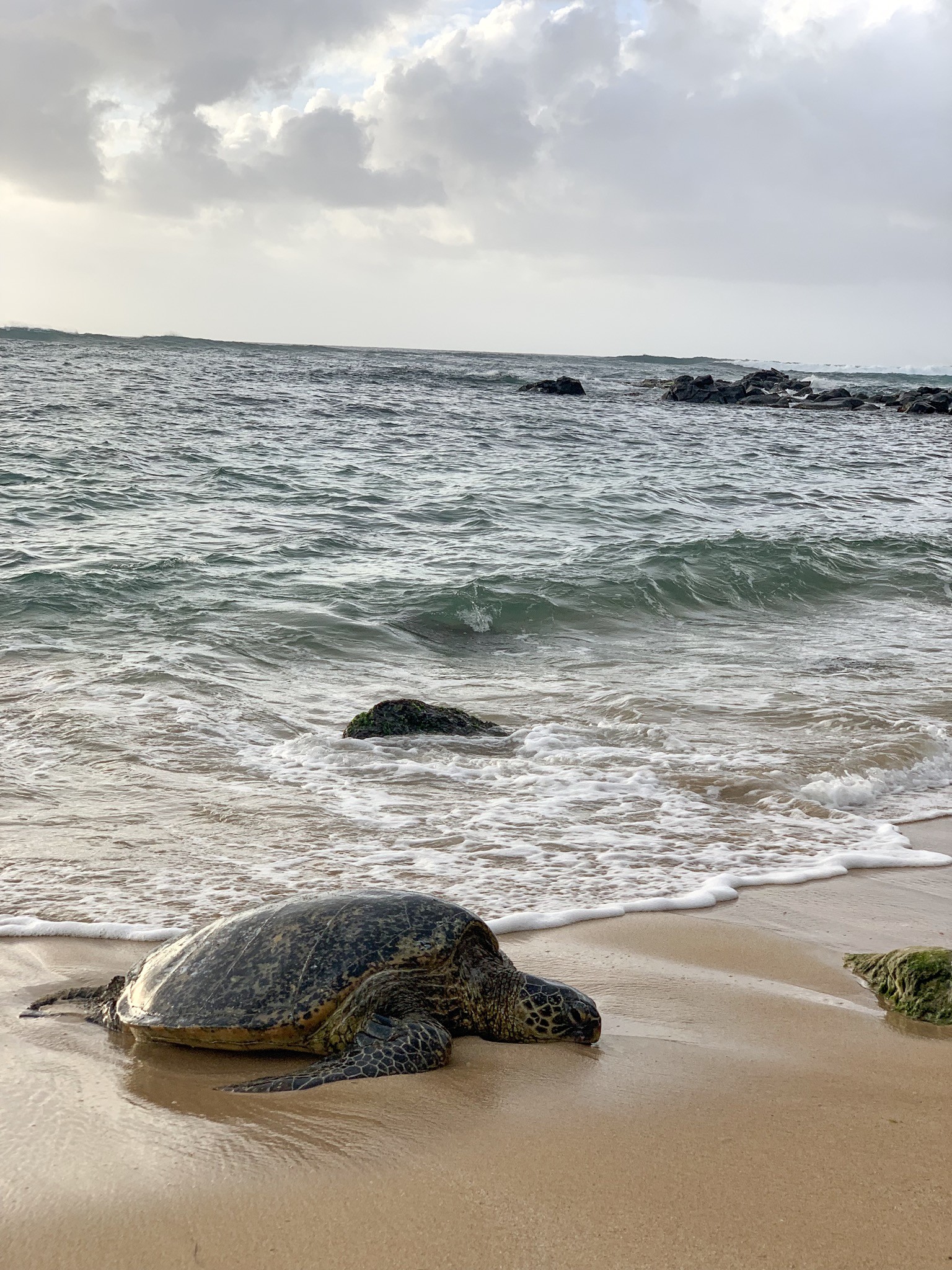 I'll preface this by saying that sleep wasn't great during the entire week we were there. The kids' schedules were totally off, so we were catching naptimes in the car while desperately missing our own opportunities to nap. And there were a few mornings when we were up and at 'em at 3 am. That said, our trip to Oahu actually felt like a vacation. With kids. But a vacation, with a capital V.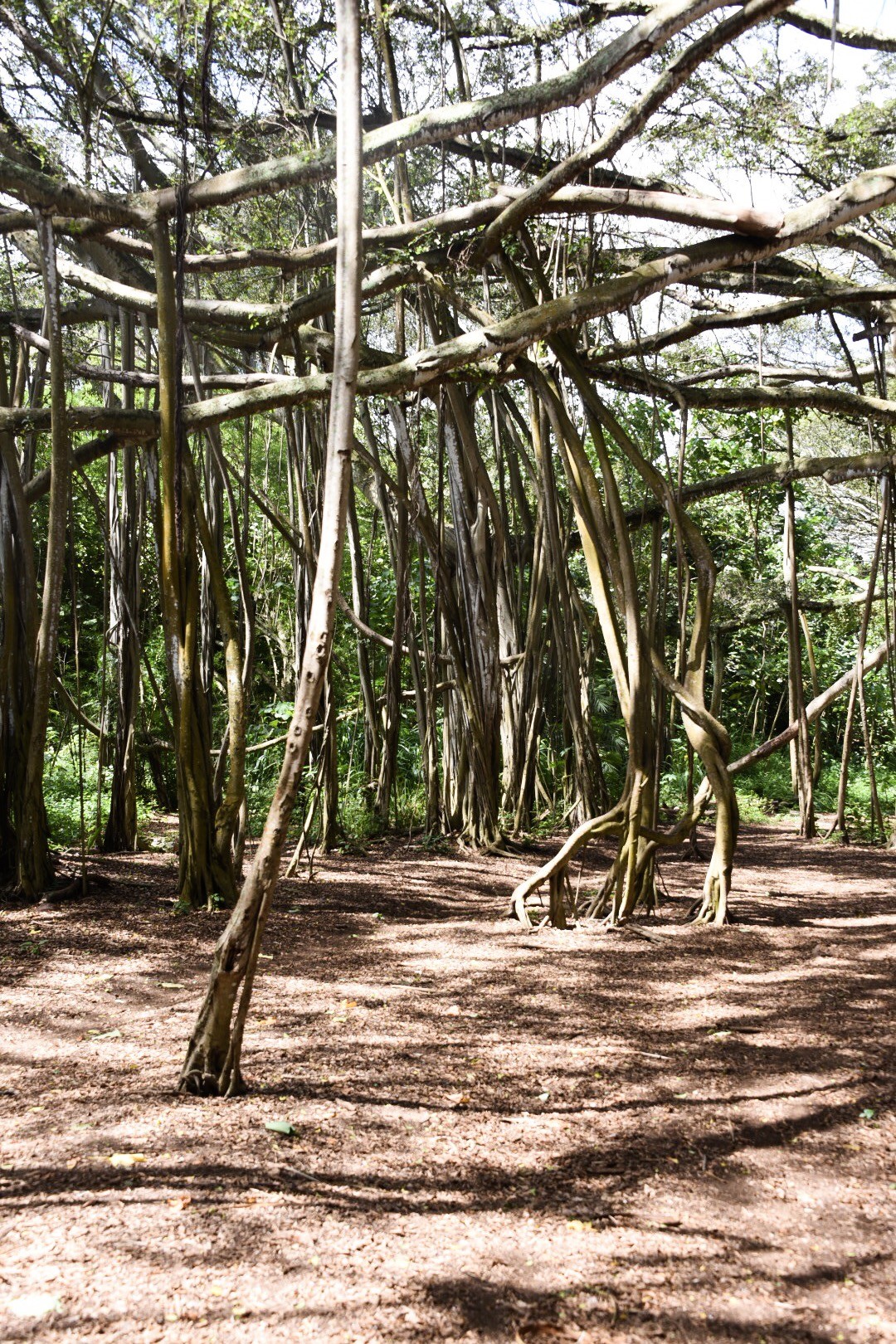 We made our home base on the North Shore, which I had read and heard tons of great things about. Since we traveled in April, the ocean conditions were still a little bit iffy. The North Shore is known for humongous waves, and that proved to be the case when we were there. I discovered a cool website when we were there, though, called Hawaiian Beach Safety which unsurprisingly, the locals had never heard of. Nevertheless, every morning, I would check the weather conditions at every beach to assess how strong the tide and big the waves would be that day. Knowing that we could always use an hour-long car drive for our kids to catch some sleep, we basically planned our days around a destination beach marked yellow. It was funny how the ocean conditions were literally the opposite on the coasts. For example, if the North Shore was red (ie: not recommended for swimming), the East Coast was yellow, and vice versa.
Ultimately, we were able to explore a ton of the island, and get in plenty of swimming.
The North Shore and Haleiwa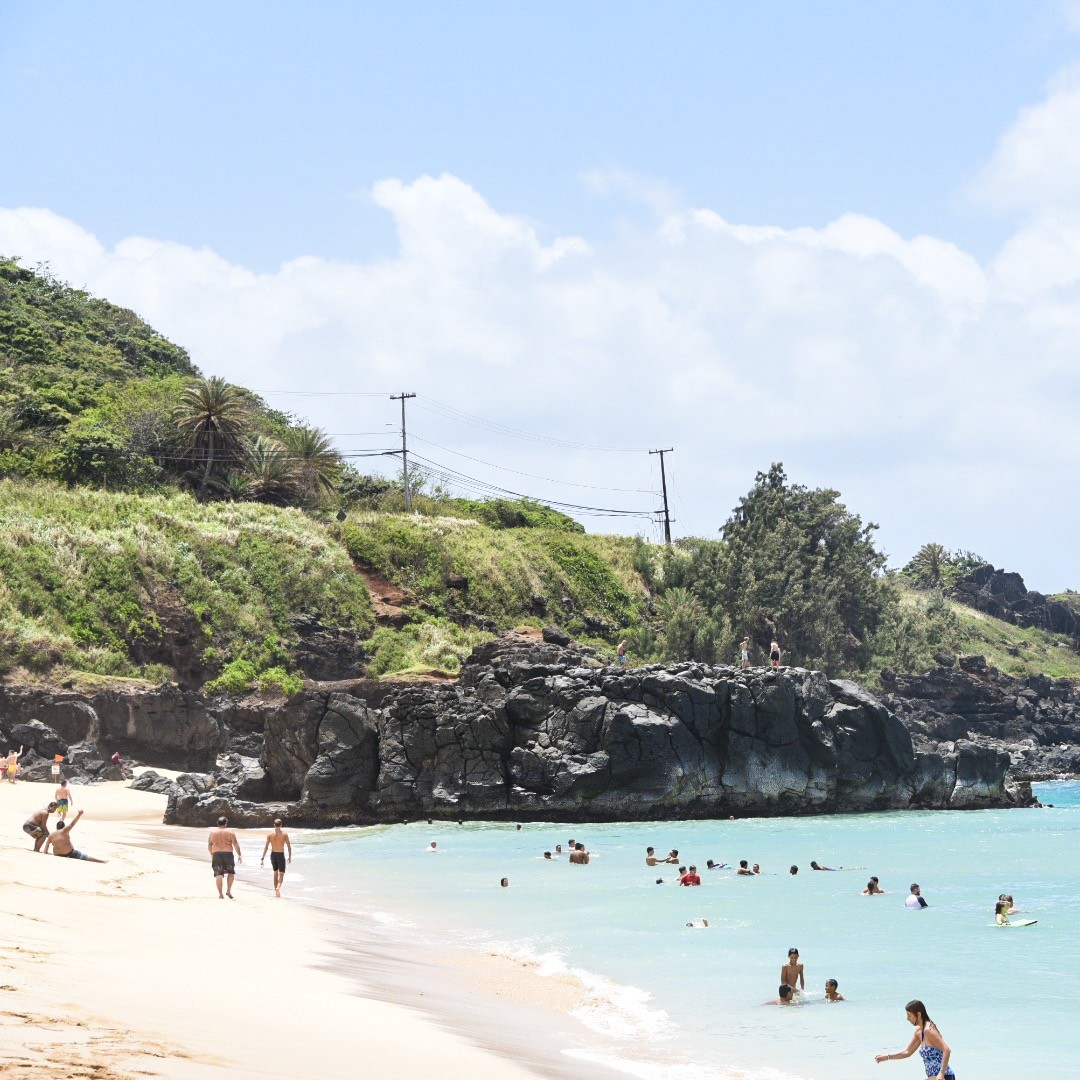 Since we were staying on the North Shore, we spent the most time here, and if I had to do it again, I would definitely still recommend this area. In addition to the stunning beaches, this area has a super local vibe and we really enjoyed walking down to the beach to watch the sunset, grabbing treats at Ted's, and exploring Haleiwa Town, where our minds were blown by the very best shave ice.
The first time I ever had shave ice was in Kauai and I was honestly pretty underwhelmed. Not until I had Matsumoto's did I truly understand what the fuss was all about! I recommend hitting it up on a weekday if you can, because the weekend lines were crazy.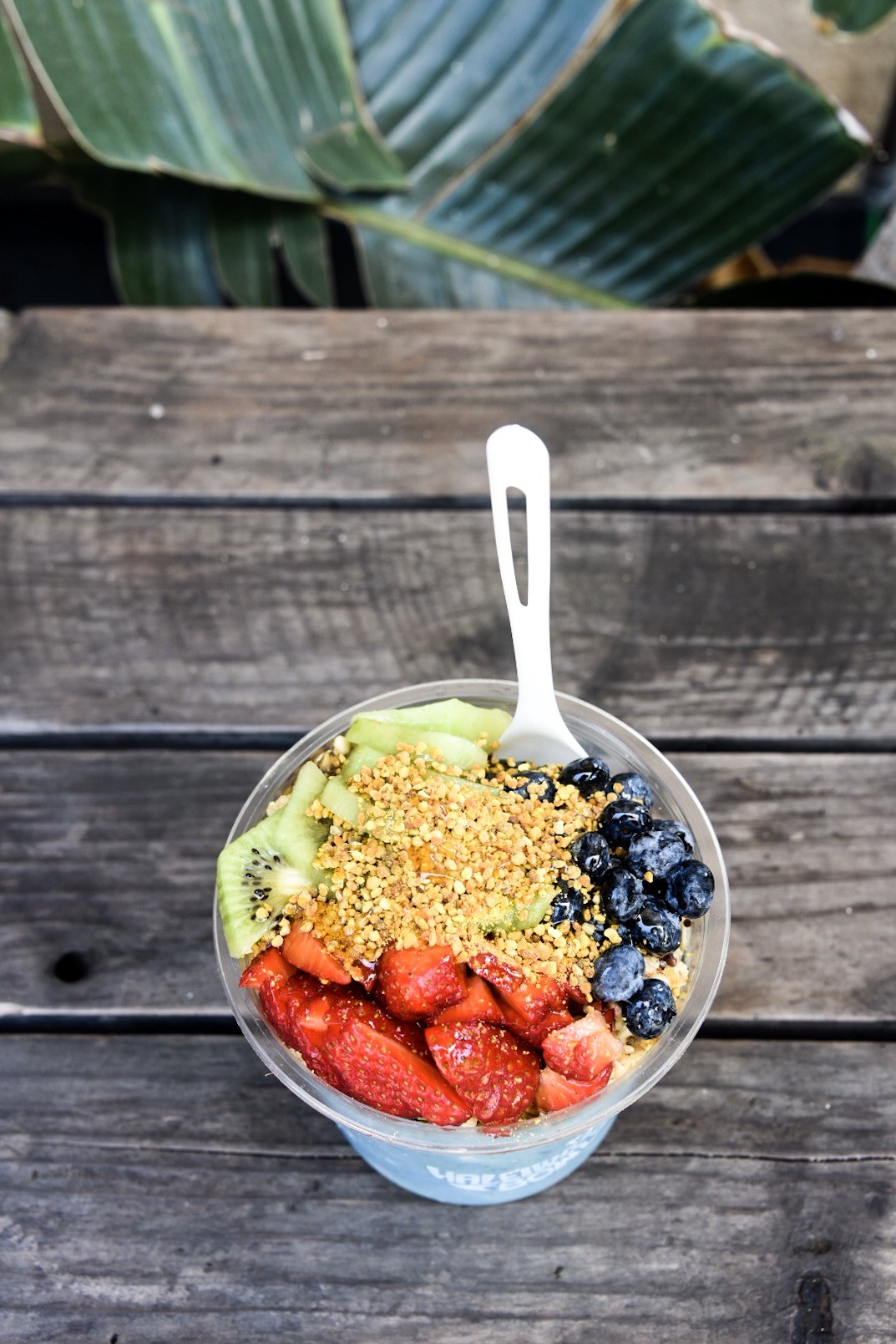 Haleiwa is also packed with tons of fantastic food carts and roadside stands where you can grab everything from açaí bowls and fresh fruit to garlic shrimp and fish tacos. We kept things pretty casual for most meals, sometimes grabbing poke for ourselves to go and cooking up rice and beans at the house for the kids. We wanted to keep things easy for ourselves, so we skipped restaurants for the most part, and tried a bunch of different trucks and stands, in addition to making an almost-daily stop at the grocery store, which had a pretty excellent selection of poke.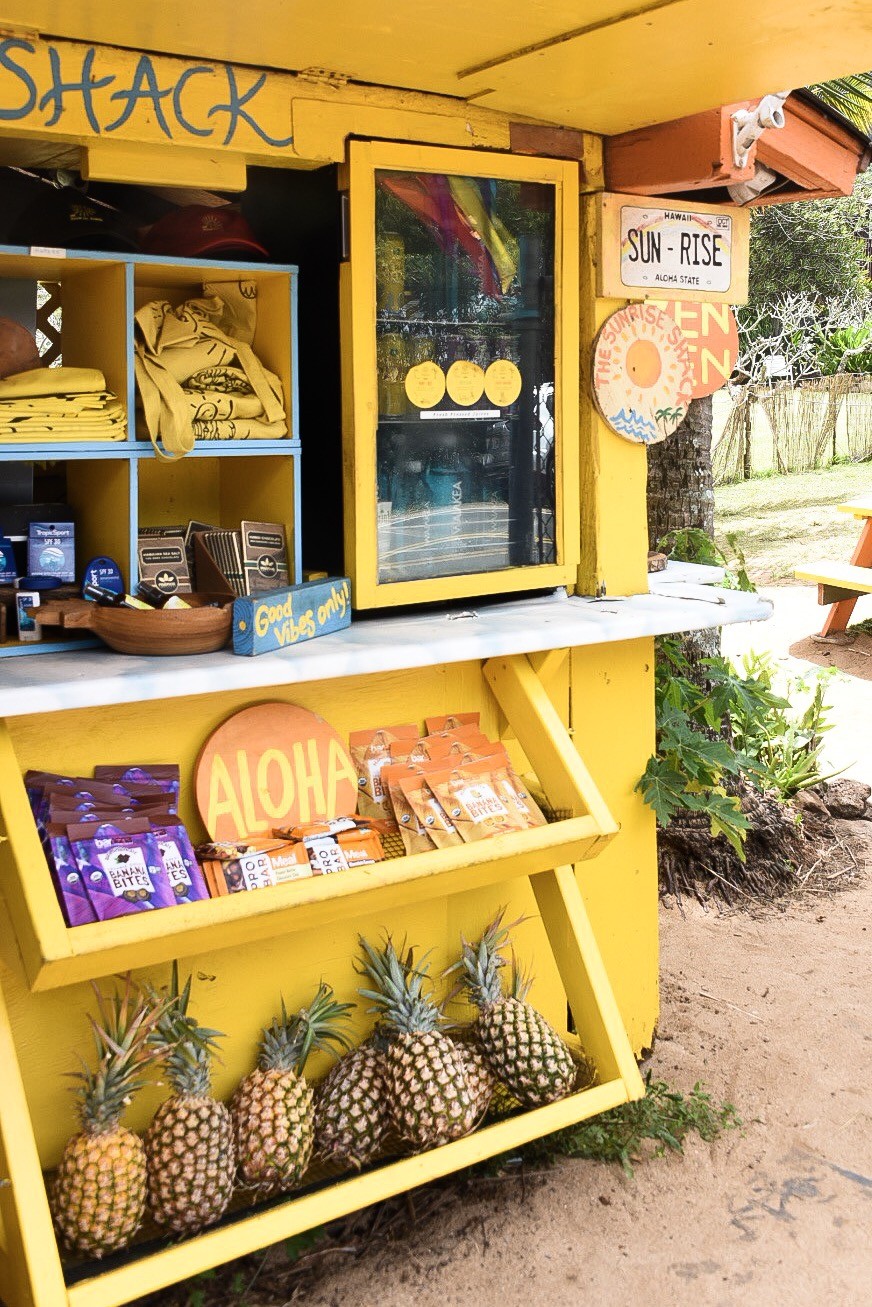 Best beaches
Sunset Beach (for the sunsets, obviously): Also great for watching surfers.
Mother's Beach: Just a little ways down from Sunset Beach (right across from Ted's Bakery), this spot is known by locals for having calmer waters.
Laniakea Beach: Also known as "Turtle Beach." You are nearly guaranteed to spot a sea turtle here. Please don't touch the turtles, though, and keep your distance from them.
Waimea Bay: Picturesque, with a giant rock that you can jump off of (if you dare). The place to watch surfers.
Kawela Bay: Protected calm water for littles ones and for peaceful kayaking or paddle boarding. Park along the road and walk past the Banyan trees.
Shark's Cove: For exploring and snorkeling, too. A good place to hang out for the afternoon.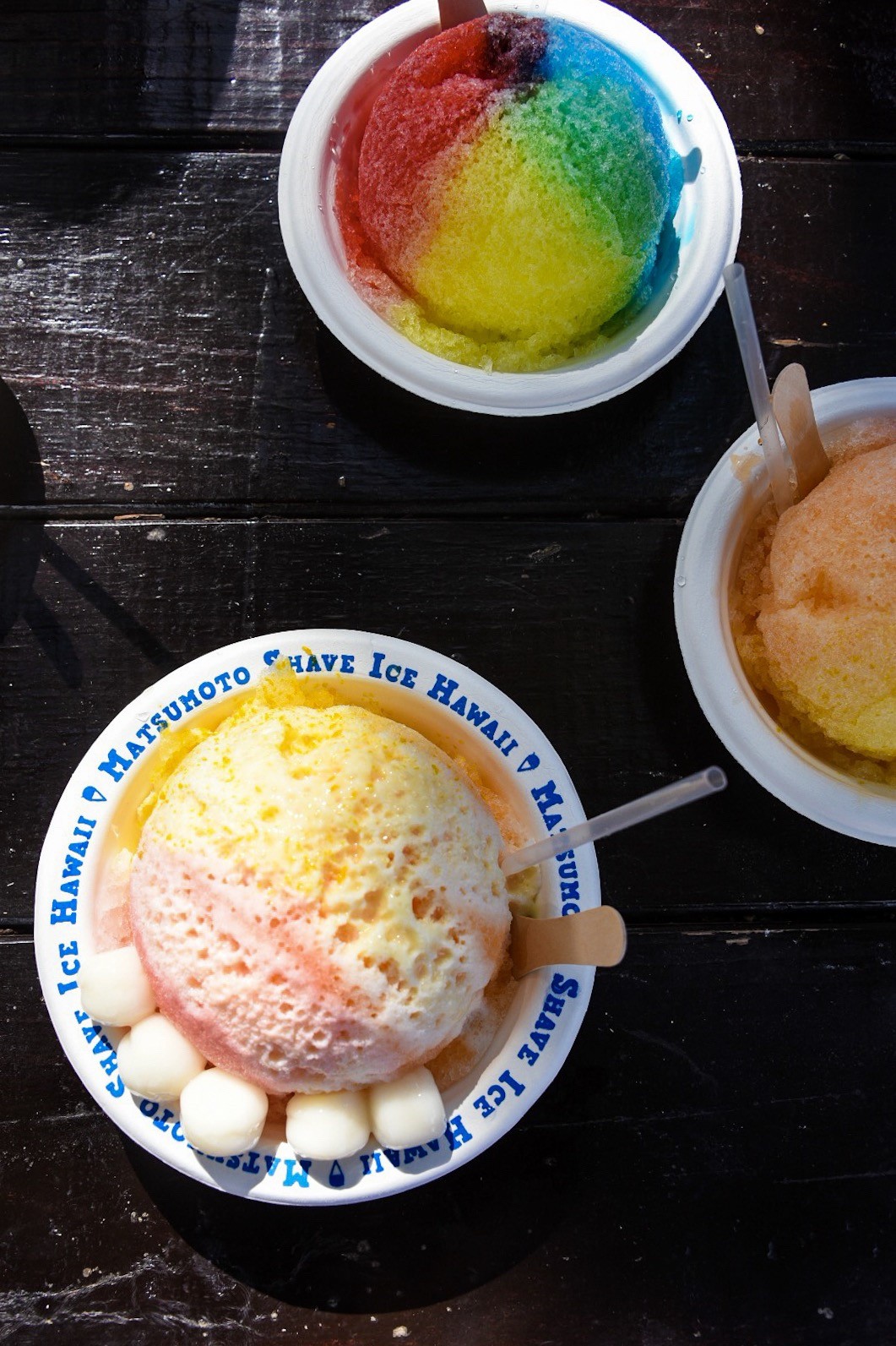 Food
Matsumoto's Shave Ice: A can't miss place for shave ice. The Tropical with mochi was my favorite, though the kids got theirs with ice cream and Matt opted for condensed milk.
Haleiwa Bowls: Delicious smoothie bowls and iced coffee.
Sunrise Shack: Roadside stand for smoothies and coffee. Super cute, but not as good as Haleiwa Bowls.
Giovanni's Shrimp Truck: Disclosure: we never made it here! Everyone on the Internet told us to go but somehow it just never worked out. Our friends recently returned from Oahu and DID go and said it was 100% worth it. So go there and let us know how it was.
Ted's Bakery: This bakery was just down the street from our house, and despite the fact that it lost power twice when we tried to go there (island life!), we finally made it and had the famous Chocolate Haupia Cream Pie, which vaguely reminded me of something I'd eat in Ohio. But it was good, guys. And I'm not even a pie person. I'm a pie skeptic.
Spicy Indian Chick: Hear me out. The last thing I thought we'd be eating in Oahu was Indian food, but this place was GOOD. Inventive, flavorful, colorful, and fresh. Not to mention: the truck had a lovely little seating area where we could watch all the chickens (and baby chicks) run around.
I also wanted to mention that if you, like us, find yourself in Hawaii with no rashguards, the folks at North Shore Surf Shop were the sweetest. We picked up some rash guards for the kids for super reasonable prices and I can't recommend them enough for your sun protection needs.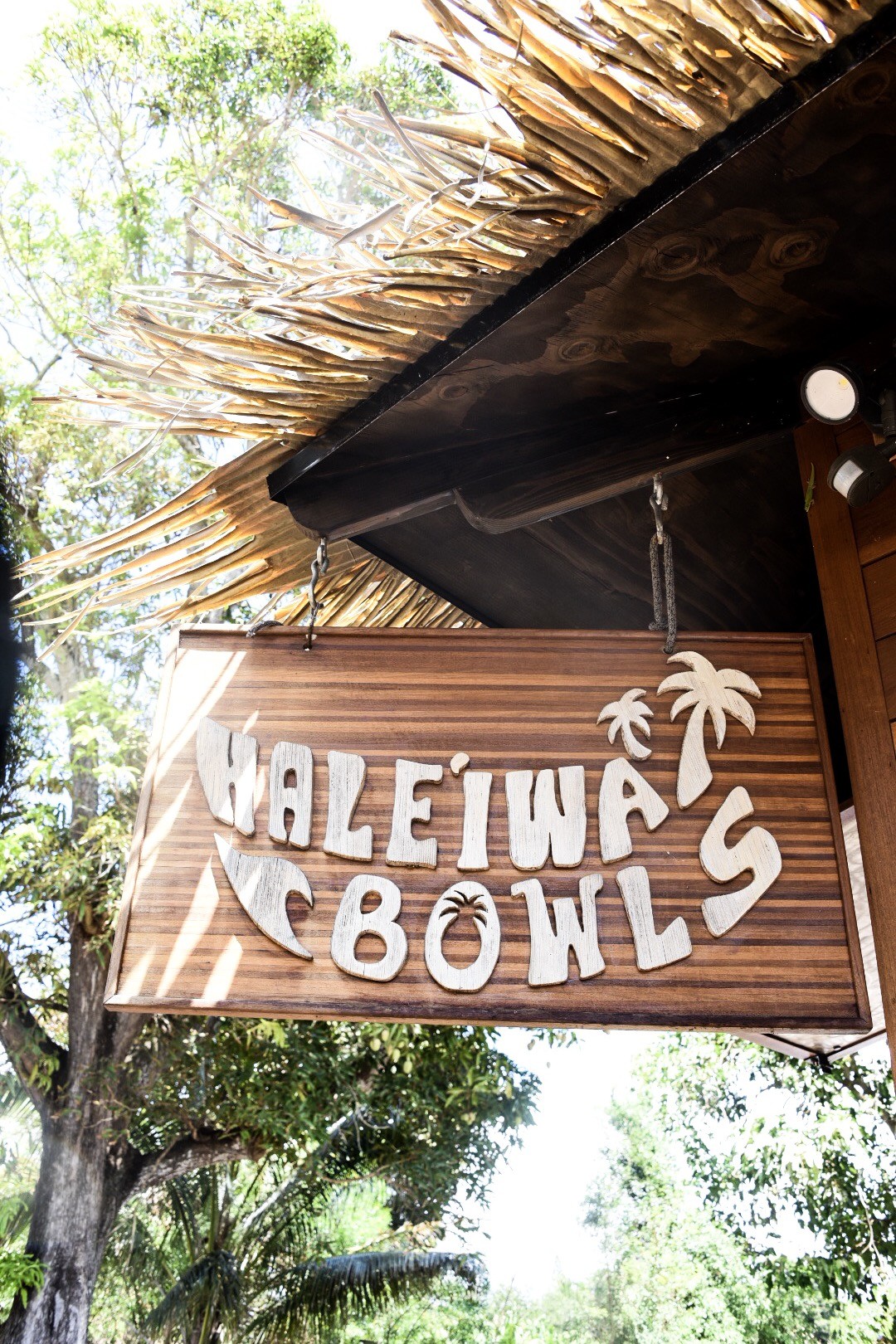 Kailua and the Windward Coast of Oahu
Before we got to Oahu I didn't know much about Kailua and it wasn't specifically on my itinerary to go. But we happened to drive out there one morning and went back two more times. If I'm being honest, I liked it even more than the North Shore.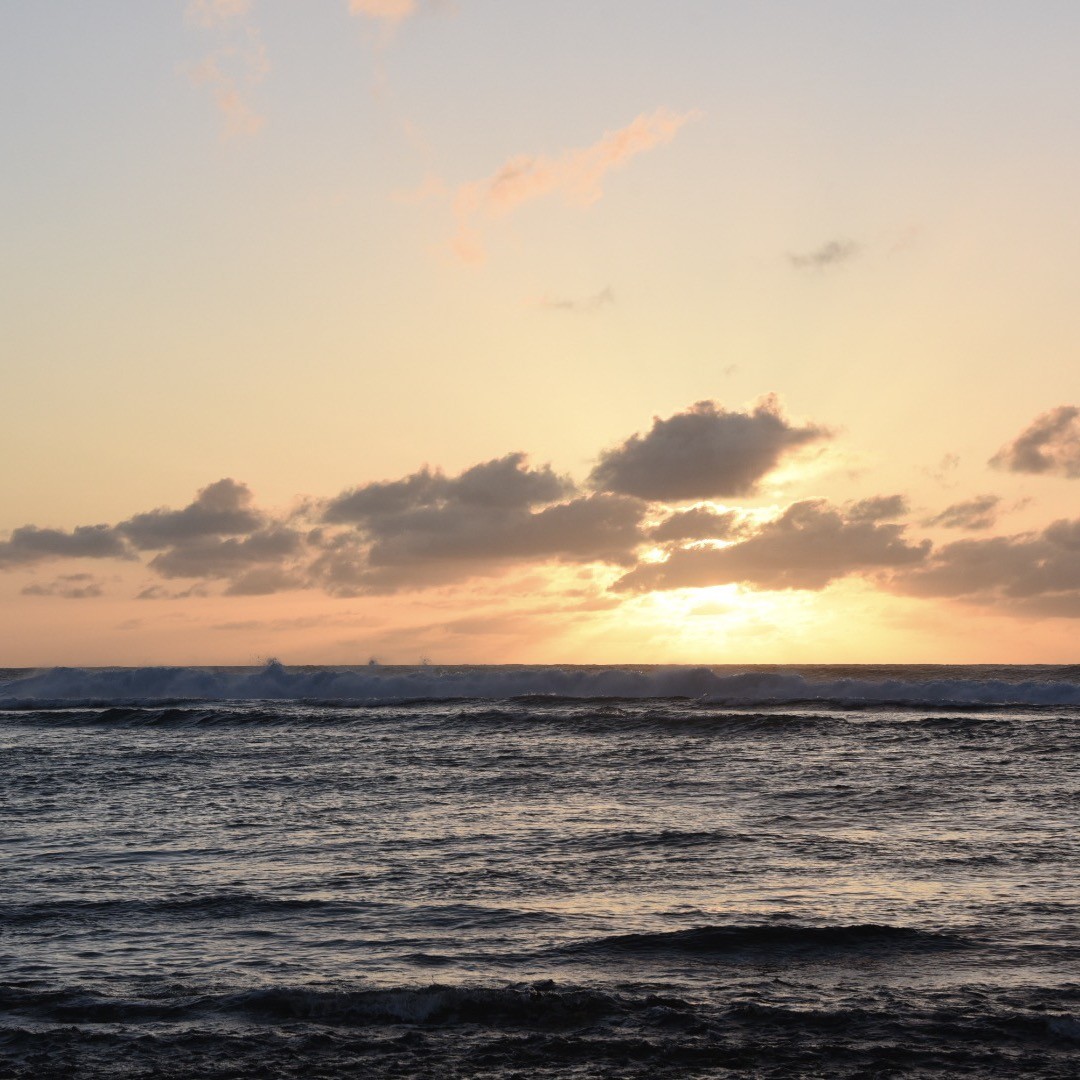 First of all, the two beaches we went to there were stunning. Like, tropical paradise movie set-stunning. The water was so blue and so clear and so warm and so calm, that we felt safe just sitting on the shore while our kids splashed around with each other. And our oldest even practiced her swimming (with a floatie).
The food here was also our favorite — there's a cute little strip of shops and restaurants as well as a Target (where we picked up sunscreen and an extra beach towel for our last day before heading to the airport), a Whole Foods, and poke spot that I randomly found on Yelp and had the best and most affordable selection of poke we had on the island.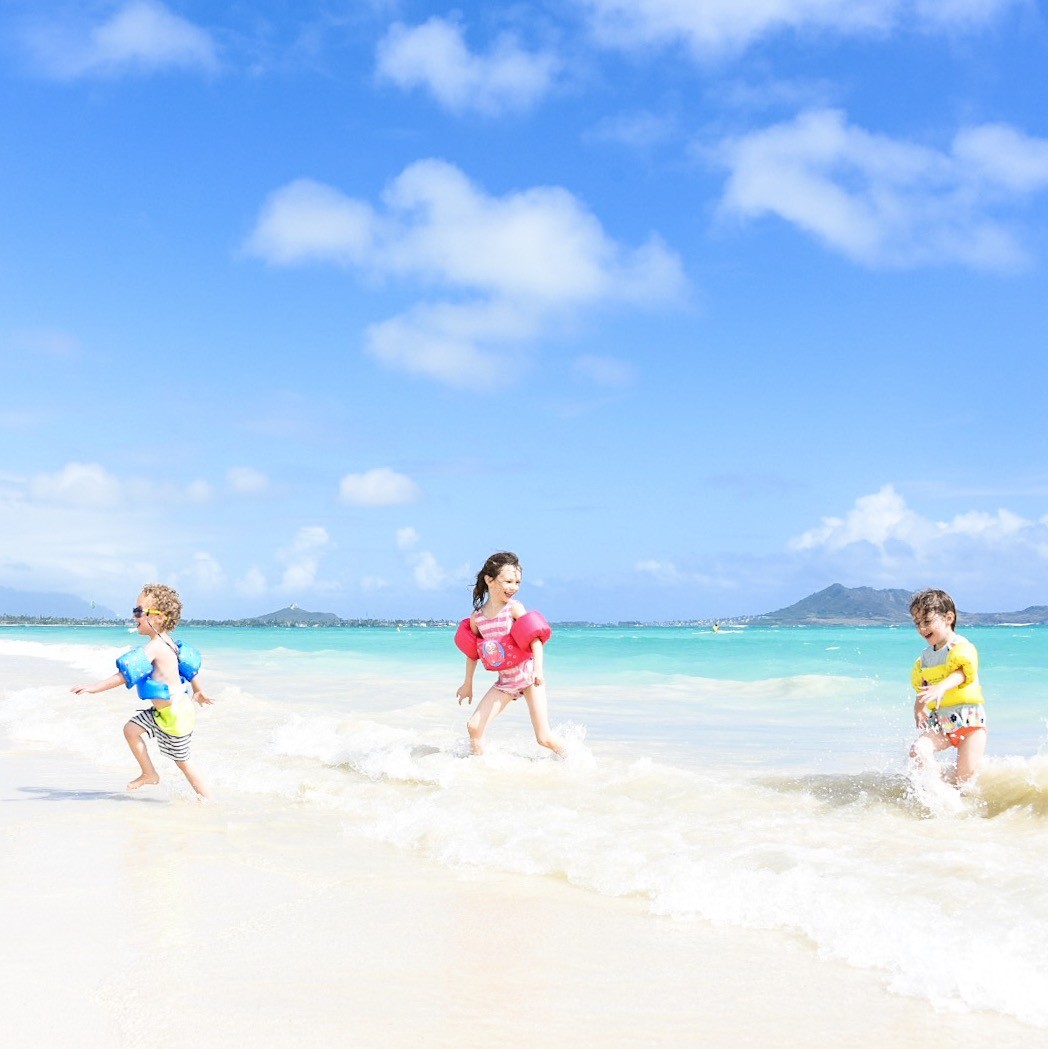 But the real gem was actually not in Kailua, but along the road to Kailua — perhaps one of the most gorgeous scenic drives I have been on it. Situated on her grandmother's orchard farm is a tiny little pink trailer serving the most inventive and incredible French pastries and Vietnamese iced coffee…complete with, you guessed it, an Instagram flower wall. If you make it to this spot (and you should), don't let the Instagram wall fool you. The pastry chef is classically trained and the goods are worth writing home about.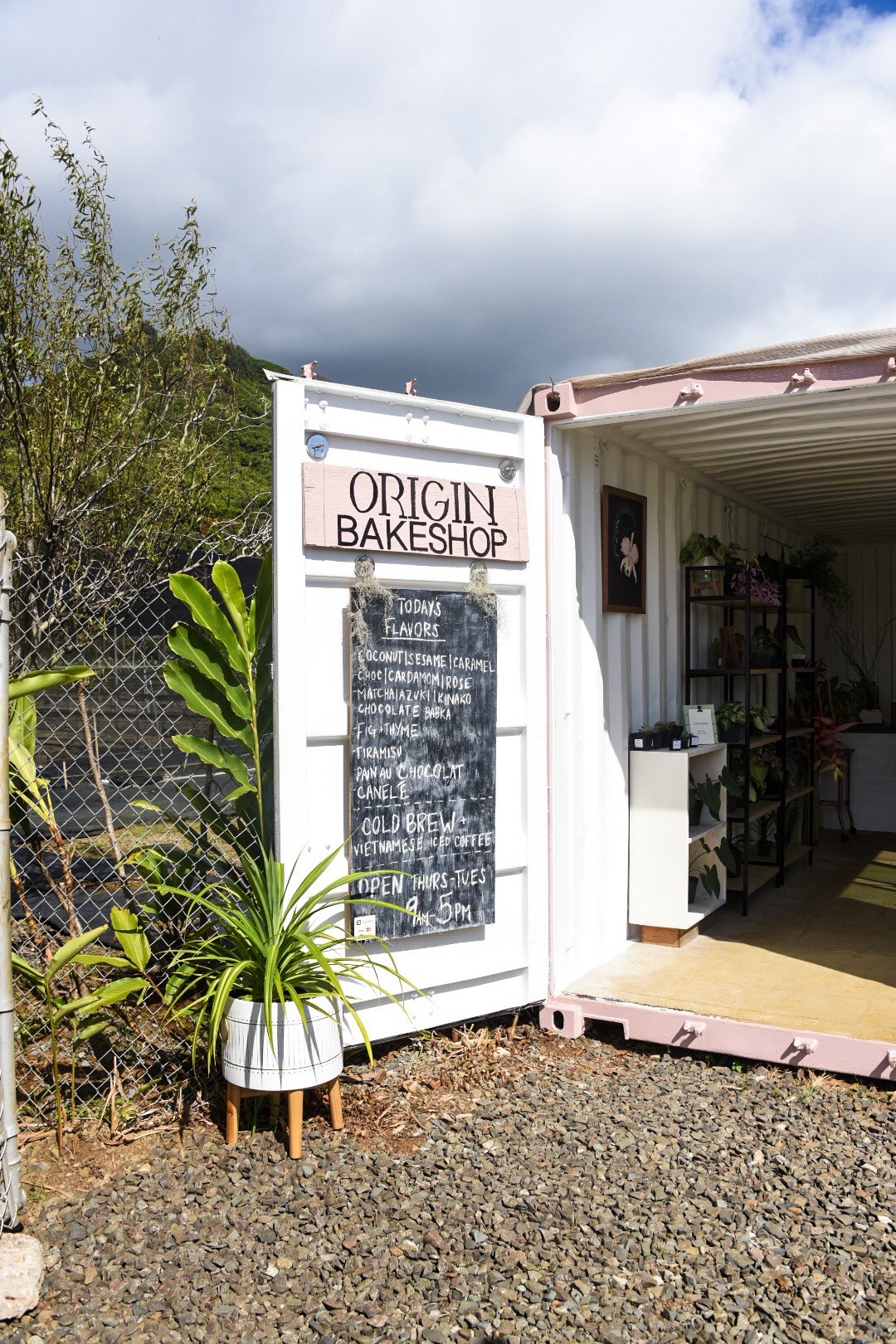 Best beaches
Lanikai Beach: This beach was the most stunning beach we went to. Calm, crystal clear waters and islands on the horizon. Not to mention, super soft white sand. Parking on the weekends is tough!
Kailua Park: Just a little ways down from Lanikai Beach, this beach is a little less secluded, but more spacious. Notably, there are facilities here, which is helpful if you have kids (Lanikai does not have bathrooms).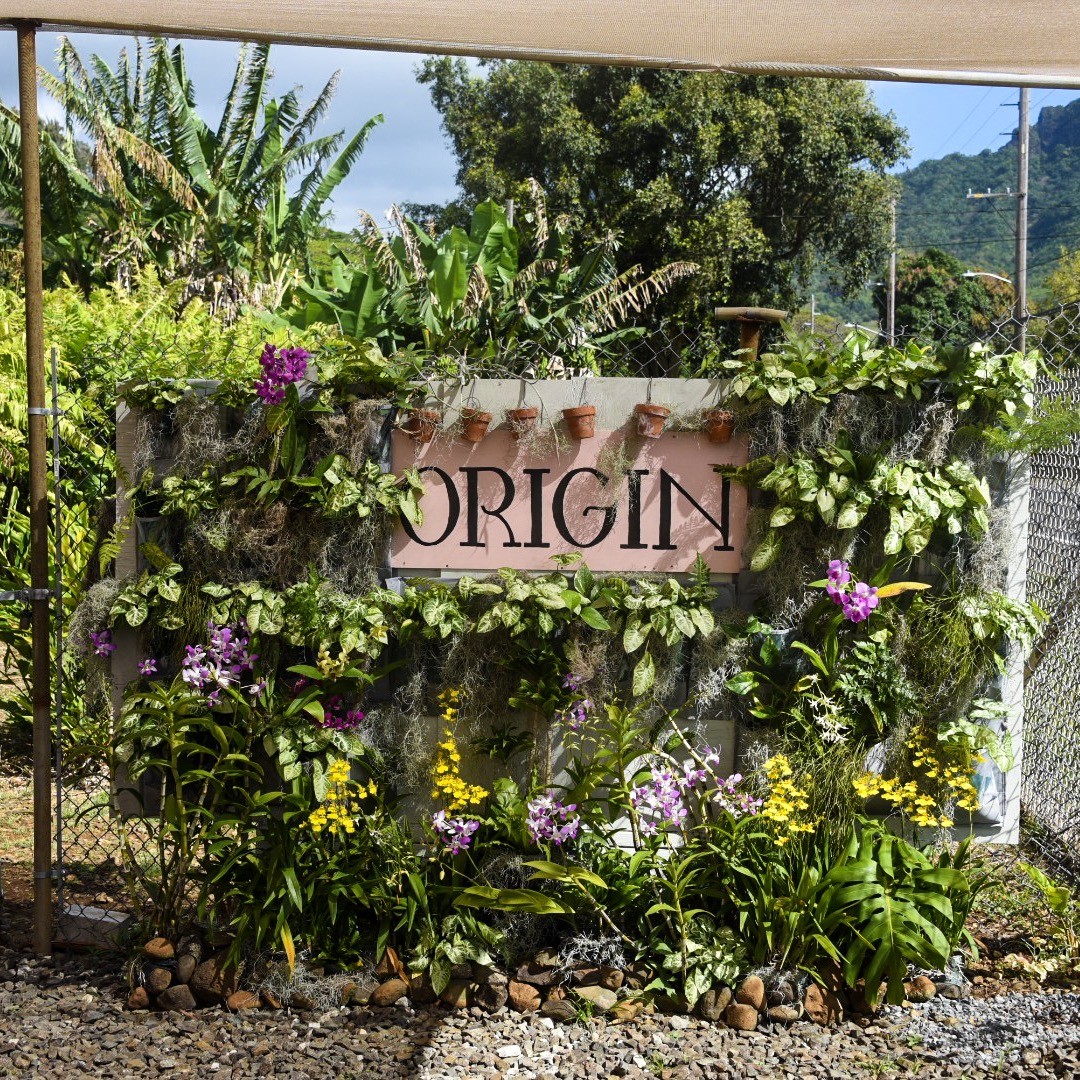 Food
Kono's: This spot in downtown Kailua was so good and family-friendly, we went there twice. Their shredded pork bowls and "bombers" were so, so good and reasonably priced. They also have milkshakes and mini dishes for kids.
The Hibachi: This is THE spot if you want to pick up a giant bowl of poke. They have a huge selection and you can sample and mix and match… It's super casual and totally not an Instagram hotspot but felt like the real deal.
Origin Hawaii: I almost hate to tell you about this spot because it felt like such a discovery. Opened by a local who had recently returned from NYC with her pastry-chef French husband, this teeny little French bakery (on the site of her grandmother's orchard farm) was mind-blowing. The cookies, the babka, the croissants, the Vietnamese Coffee. Go here and EAT EVERYTHING. We did (twice).
The West (Leeward Coast) of Oahu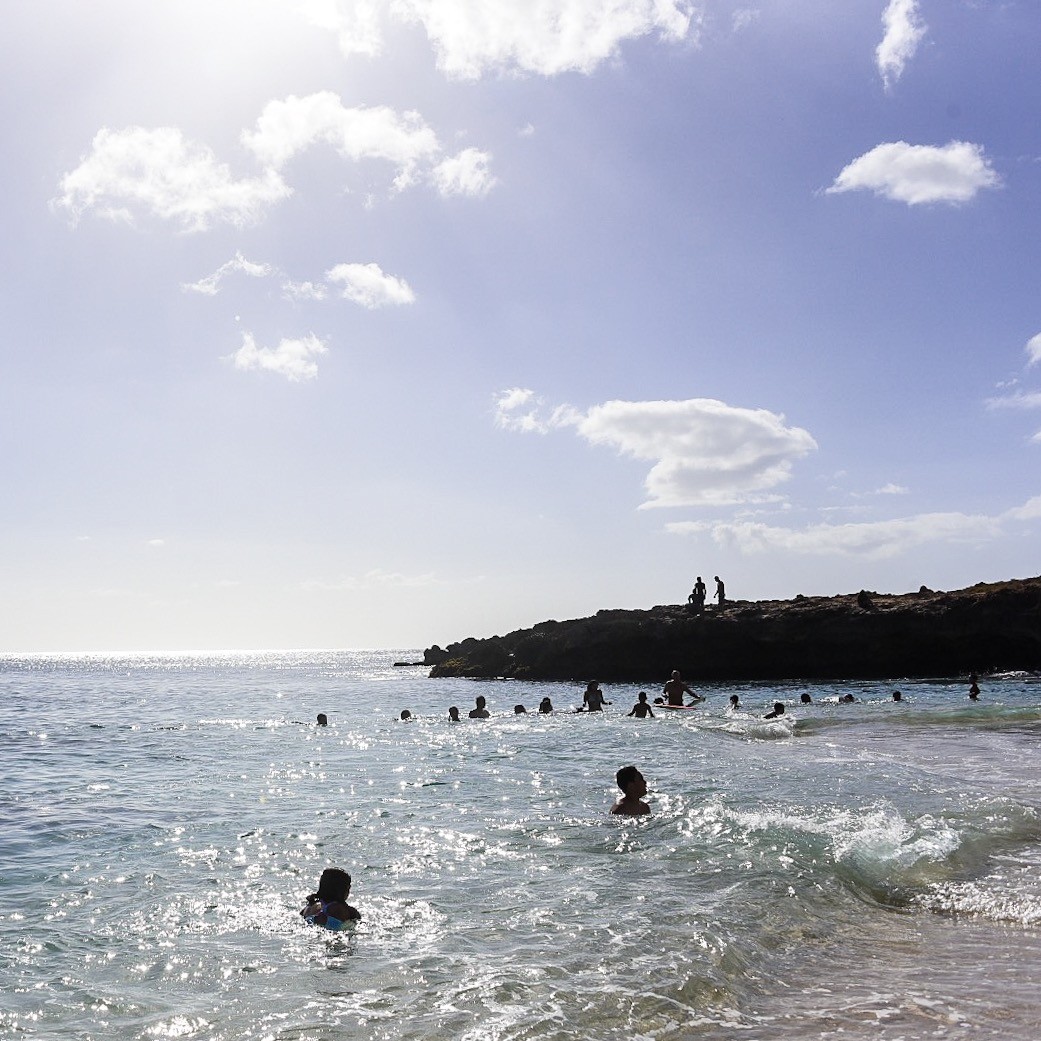 We didn't spend a ton of time on the West Coast of Oahu, but we did check out Nanakuli Beach Park which was super local, offered great swimming, and snorkeling. The shore break was a bit intense for the kids, but once you swam past it, it was glorious and calm. In some ways, this was my favorite place to swim in all of Oahu just because it got deep SO fast, you felt like you were swimming in the middle of the ocean, even though you were relatively close to shore. A local woman also ran up to us and pointed out a group of dolphins that was swimming just a little ways out, which made this stop feel extra special.
There is also a rock there for jumping (see above) and "mermaid caves." We didn't check them out because it was high tide, but Yelp reviews make it sound pretty cool.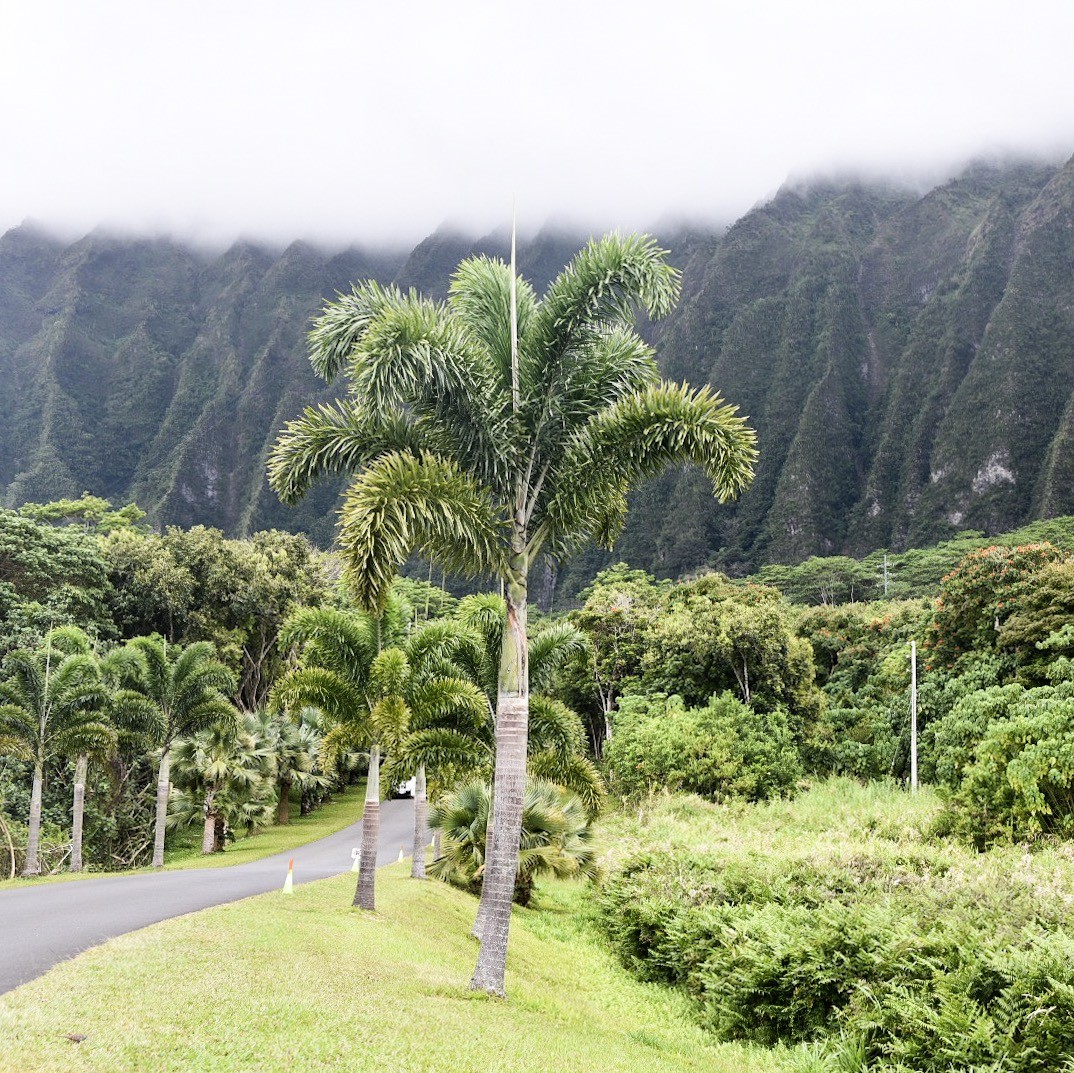 Honolulu
Although I've heard many good things about Honolulu's food scene, ultimately, we didn't prioritize spending time in the city. We did drive past Waikiki Beach which was exactly what I thought it would be: glitzy and scene-y, and completely overrun with tourists. There were high-end boutiques mixed with predictable souvenir shops, beach-side luaus, and enormous hotels.
Our best decision was to get a half dozen masaladas from the famous Leonard's Bakery which did not disappoint. My only regret was not getting a box to take home.
Botanical Gardens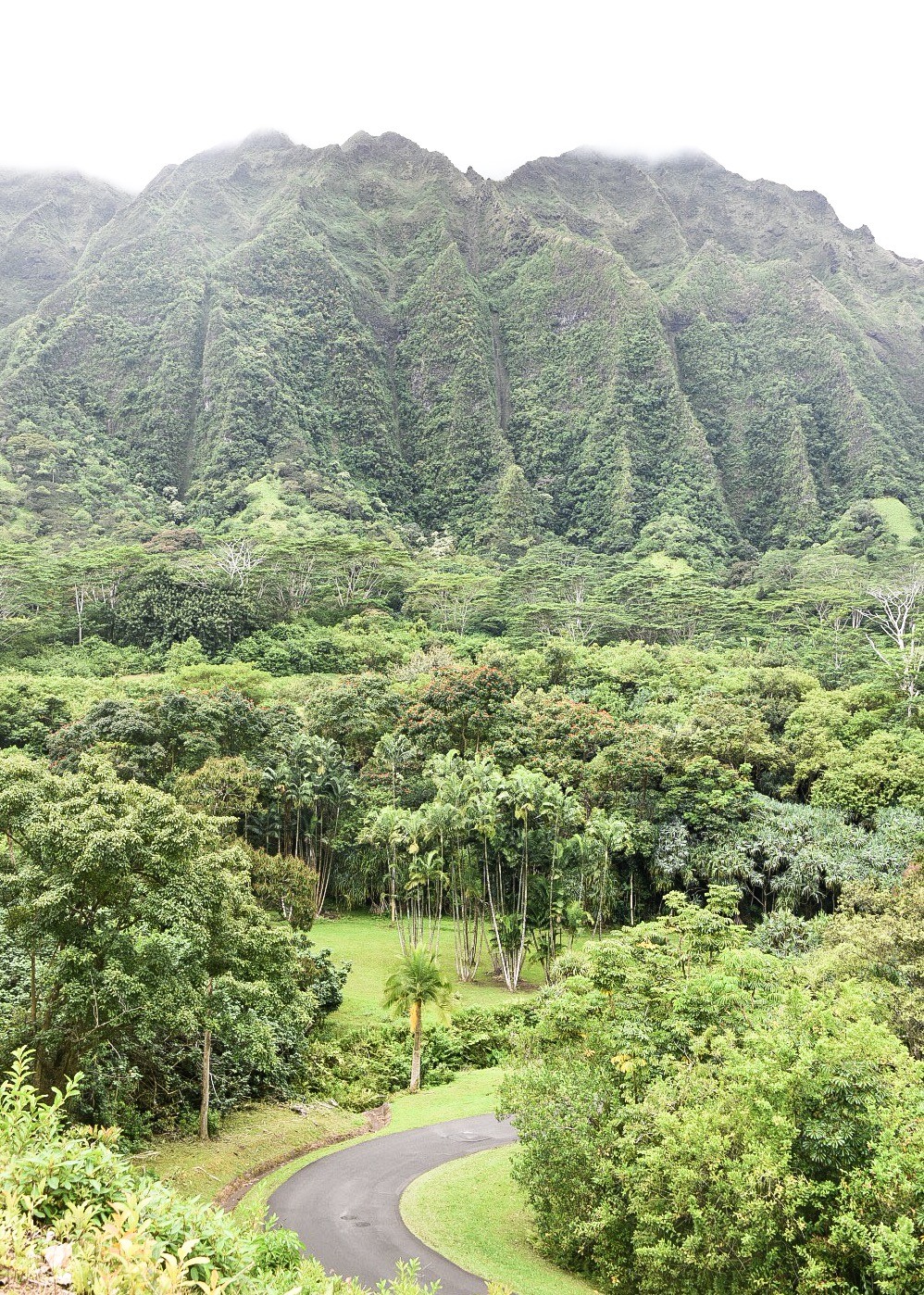 If you get bored of beaches in Oahu (can you really, though?), there is plenty of beautiful nature to explore, too. We checked out the Ho'Omaluhia Botanical Gardens, which you can drive through or stop along the way to wander. On the North Shore,  Waimea Valley is the spot to bring a picnic and hide under lush foliage.