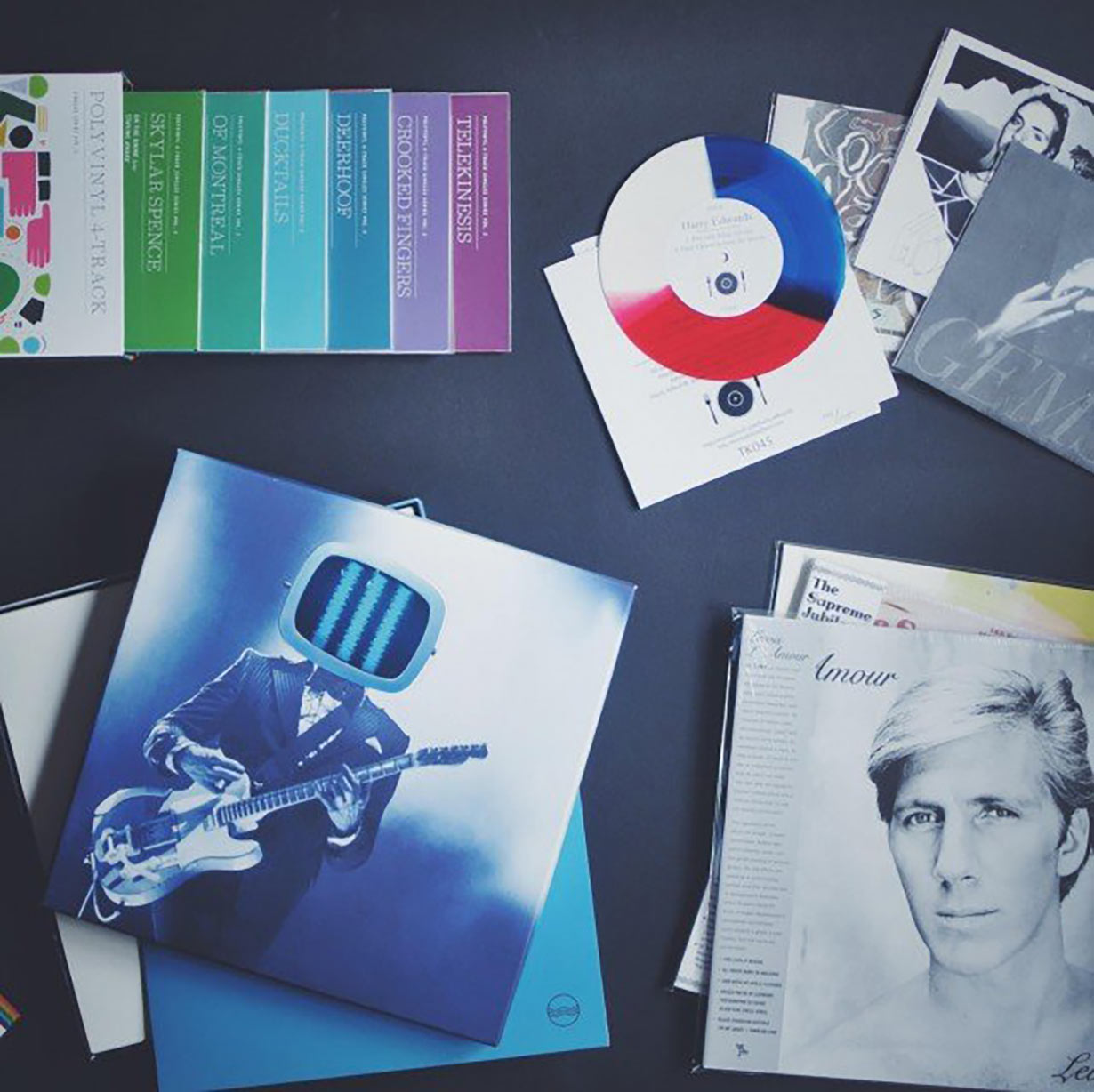 Have you checked out SOUNDS DELICIOUS, our vinyl record club for full-length cover albums? 
I'm going to let you in on a secret. Some of the most valuable vinyl records released in the past several decades were (and continue to be) released through vinyl subscription services. Nirvana's Love Buzz b/w Big Cheese 7″ was released in the Sub Pop (now defunct) 7″ subscription series and copies are now going for over $5,400 on Discogs.
More recently, copies of The White Stripes' Icky Thump on Mono sell for upwards of $400 (and was exclusively released through Third Man Records' Vault subscription service). Likewise, copies of our own releases have sold for between $150-$200 and are known to list for that much and more. I'm willing to bet those prices continue to rise as the artists we've featured grow in their careers.
Indeed, we launched our service four years ago. Since that time, numerous new services have joined us and we're always eager to welcome them to the neighborhood. It's proof of vinyl's growing popularity and, as a collector, it's a great opportunity to score rare wax for my own collection.
Of course, not all services are equal. For us, the gold standard is an exclusive release on colored wax that is limited to 1,000 copies or less. Nonetheless, even outside of those aspects of a service, there are a lot of great opportunities in the market. Below, we've listed out our favorite services (in no particular order) noting whether the music is exclusive, whether they are numbered, and what genres they specialize in:
Turntable Kitchen
Pairings Box, Coffee & Vinyl Pairings
Exclusive: Yes        Numbered: Yes        Genres: Indie / Electro / Rock / Pop
Yes, we're clearly biased, but we do think our vinyl subscription service is one of the very best. In the four years since we launched the Pairings Box we've released highly collectible, exclusive records from Local Natives, Mikal Cronin, Typhoon, GEMS, Tei Shi, MØ, Gallant, Monogem, Lucius, Cathedrals, and dozens of other incredible, up-and-coming artists. Each release is strictly limited and copies of past releases have sold for nearly $200 each.
And, you know what? We're just getting started! Each release scheduled between now and the end of the year will feature an EP's worth of material (between 3 to 8 songs) pressed to a vinyl color selected by that month's featured artist. Specifically, we'll be releasing EPs this year featuring a mix of established and up-and-coming artists including releases featuring Gallant, Justin Vernon + Sharon Van Etten, VERITE, and No Vacation.
Plus there are now two ways to subscribe: the classic Pairings Box (the vinyl, recipes, ingredients, and recipes) or the new Coffee & Vinyl Pairings (a combination coffee subscription and vinyl of the month club). Each release is hand-numbered. And, what's more, our services include a host of awesome goodies including seasonal recipes, premium ingredients (i.e. French grey sea salt harvested by hand from the French coast), and/or artisan, hand-roasted coffee (the coffee subscription is only a $5-6 dollars more than the cost of ordering the coffee itself).
Exclusive records, limited edition pressings, awesome extras, and only the best new and established artists? That's why we like to think we offer the best vinyl subscription services. You can sign up for the Pairings Box or the Coffee & Vinyl Pairings.
P.S. We recently launched a brand new vinyl record club for full-length cover albums called SOUNDS DELICIOUS.
Vinyl Moon
Exclusive: Sometimes        Numbered: No        Genres: Indie / Pop / Electronica
Vinyl Moon is still in the early stages of their launch, but their record of the month club sounds incredible. In fact, we're happy to call ourselves members. What makes Vinyl Moon unique is that each month they're releasing a vinyl mixtape featuring about 10 songs by different up-and-coming artists. In other words, each release is a unique vinyl mix curated by the same people who run the music blog The Burning Ear. Not every track will be exclusive (many won't be), but we've been told that many of the releases will include exclusive vinyl debuts. It'll all come in exclusive packaging on limited edition colored vinyl.
It's colored vinyl, strictly limited, and a nice mix of genres and artists. That's why we're eager to see how Vinyl Moon plays out once they start shipping. They've sold out of each of their first three releases thanks to pre-orders, but they are still accepting new subscribers for Volume 4.
Polyvinyl 4-Track Singles Series
Exclusive: Yes         Numbered: No         Genres: Indie / Rock
Polyvinyl's 4-Track Singles Series has been one of our favorite record of the month clubs since their launch. Each installment includes a 7" vinyl single on colored wax featuring two exclusive songs using the same 4-Track cassette recorder that gets passed around from artist to artist. This year's releases include singles by The Dodos, Ducktails, Skylar Spence, Deerhoof, Jonathan Rado (of Foxygen), Jacco Gardner, of Montreal, David Bazan, and more.
The records aren't numbered, but Polyvinyl reports that subscriptions are limited to a 1,000 copies. We particularly love that each year's selections come in a custom box specially designed to hold the releases from that year. According to their website, it's not too late to subscribe for this year.
Vinyl Me, Please
Exclusive: No         Numbered: No         Genres: Indie / Rock / Hip Hop.
Vinyl Me, Please offers a popular vinyl subscription service and, although we aren't subscribers, we've heard good things. Each month they ship subscribers a color vinyl variant and/or reissue of a contemporary classic. For example, this year they've dished up Wilco's A.M., Hot Chip's In Our Heads, The Ben Webster Quintet's Soulville, and Jay Dilla's Donuts.
Although the music isn't exclusive, their releases do include exclusive inserts, custom art prints, cocktail recipes, and (as previously mentioned) the colored variants are exclusive. Vinyl Me, Please no longer numbers their records (although they did for many of their early releases), but all releases are still limited edition. We think it's a very good choice for anyone who has just begun building their vinyl collection and wants to score some great albums.
Third Man Records Vault
Exclusive: Sometimes         Numbered: No         Genres: Jack White.
The Third Man Records quarterly vinyl subscription service is pretty much a must have for all Jack White fans. Every quarter subscribers receive a package that includes a bunch of goodies such as 12" LPs, 7" singles, DVDs, patches, flags, pins, and so forth – all related to Jack White's many musical projects including The White Stripes, The Dead Weather, The Raconteurs, and, of course, his solo project.
The music itself is only occasionally exclusive to the Vault subscription service (when they are exclusive it's typically a live album pressed to wax for the first time), but the releases always include cool exclusive color vinyl configurations, exclusive deluxe packaging, and so forth. Although they don't report the actual numbered pressed for each release, Vault releases are billed as "limited edition" and we have no reason to doubt them. We're satisfied subscribers.
Singles Club
Exclusive: Yes         Numbered: No         Genres: Indie / Psych / Electronica
Singles Club is a thoughtful and well-curated subscription based record club and quarterly music journal. Each quarter's package includes an exclusive 7″ record from that month's featured artist which has included folks such as Monster Rally, Woodsman, and Small Sur.
The individual releases are available outside of the service, but a subscription includes a smart-looking box designed to hold four releases, a 45 adapter, subscriber-exclusive colored variants of the records, a Singles Club pin, and other bonus goodies.
Graveface Record Club
Exclusive: No         Numbered: Yes         Genres: Indie / Rock / Garage
We're fans of Savannah, Georgia-based record label Graveface Records and have been subscribers to their record service for a couple of years now. The label is owned by Ryan Graveface (who plays in the groups Black Moth Super Rainbow, Dreamend, the Marshmallow Ghosts and the Casket Girls) and features releases by those bands alongside albums by The Appleseed Cast, Whirr, Dosh, Haley Bonar, Xiu Xiu, and more.
When you sign up for their subscription service you receive each of their releases, in every format it's released in, on hand-numbered, limited edition vinyl. The releases are exclusive to Graveface Records but are not exclusive to the subscription service (i.e. you can buy them separately). However, the record club editions are pressed on beautiful, deluxe vinyl configurations.
Light In The Attic
Exclusive: No         Numbered: No         Genres: World / Soul / Rock
Light In The Attic is a rad Seattle-based record label that offers rare and deep reissues by artists such as The Supreme Jubilees, Arthur, Rodriguez, and Sly Stone, alongside contemporary records by bands like The Black Angels and The Soul Investigators.
Their most recent subscription service offered the first 8 LPs scheduled for release by the label this year. Many of the releases are available on subscriber-exclusive colored vinyl although the albums are available outside of the subscription service. We've subscribed many times over the years and have always been satisfied with their selections. They're not currently accepting new subscribers, but we'd expect them to open up again to new subscribers soon.