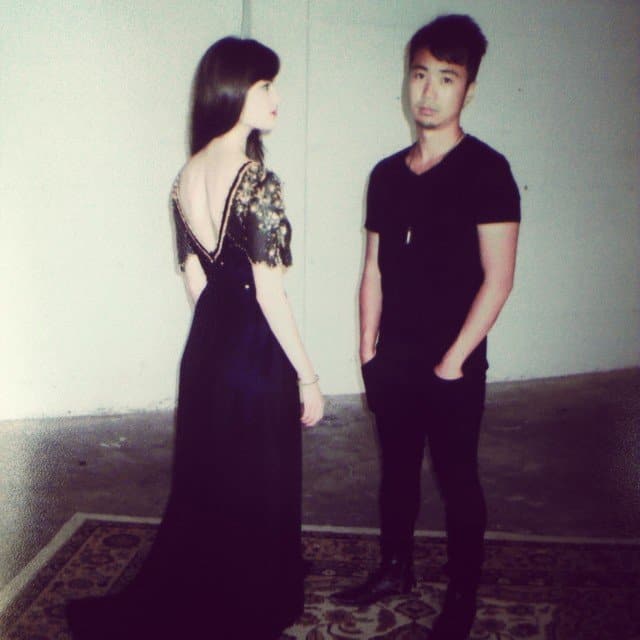 San Francisco-based boy-girl duo CATHEDRALS unveiled their debut single "Unbound" only a little more than two months ago to immediate acclaim. In fact, it took less than a week for the single to exceed 100,000 plays on Soundcloud; to climb to the top spot on the "popular chart" on Hype Machine; and to land the duo features on a host of the most popular music sites. For example, Neon Gold Records described the song as "pop of biblical proportions . . . that shines as one of the best unsigned tracks of the year." Similarly, Earmilk enthusiastically described them as a cross between Beach House, The xx, and SOHN. Meanwhile, I hailed the "stunning track" as "the most promising debut single" I'd heard in some time. It appeared seemingly out of nowhere with no bio, no names, and no other info except the fact that they were a duo from San Francisco.
Nonetheless, considering how polished their debut single is, it's hardly surprising that CATHEDRALS didn't spring up from nowhere. In fact, it's the project of Johnny Hwin and Brodie Jenkins and their first collaboration was well over a year ago. The duo had quietly and thoughtfully spent over a year perfecting their work before venturing out into the wild. Before that time, Hwin had toured in Blackbird Blackbird while Jenkins had contributed her impressive and sultry vocals to another excellent Bay Area duo, Ghost & Gale. So not only do we know who they are, we also know that it's the collaboration of a pair of smart and highly creative musicians who take their work seriously. In my experience, these are the bands that succeed in the music industry. As a result, it's easy to believe we'll be hearing a lot more from this duo in the years to come. We're incredibly honored to play our part in releasing the band's first ever single.
The throbbing and grandiose debut single "Unbound" graces our a-side. As the track unfolds, the pair craft an airy and glistening ambiance from short strummed, ringing guitar riffs and a barely-there rhythm to buoy an exchange of softly whispered come-ons. Jenkins' purrs in a sultry croon, "having you tonight, I will, when you're unbound," to which Hwin responds, "oh there's something inside that stirs when I see you." Pulses race and the beat drops, sending the tune spiraling off into a slinking, rhythmic groove. Seriously, it's sexy time.
The b-side offers the debut of CATHEDRALS' second-ever single "Harlem." Here, a skittering rhythm and bright stabs of electric guitar are underscored by short staccato bursts of Jenkins' cooing, layered vocals as she sings, "tell me what you want to know and I'll give you quite a show." The melody builds before unraveling at a fiery middle eight built from booming percussion and sharply angular guitar riffs as Jenkins beckons in vertigo-inducing slow motion, "come to my door." It's an auspicious follow up to the success of "Unbound" and further proof that they may be the band to watch in 2014.
Limited-edition. Hand-numbered. 45 rpm 7-inch vinyl. We made 400 copies on "milky clear" vinyl alongside a special edition of 100 copies on "milky clear with silver a-side/b-side" vinyl for our gold club members. It's exclusive to the Pairings Box and copies are already almost gone. Get one before it's too late.