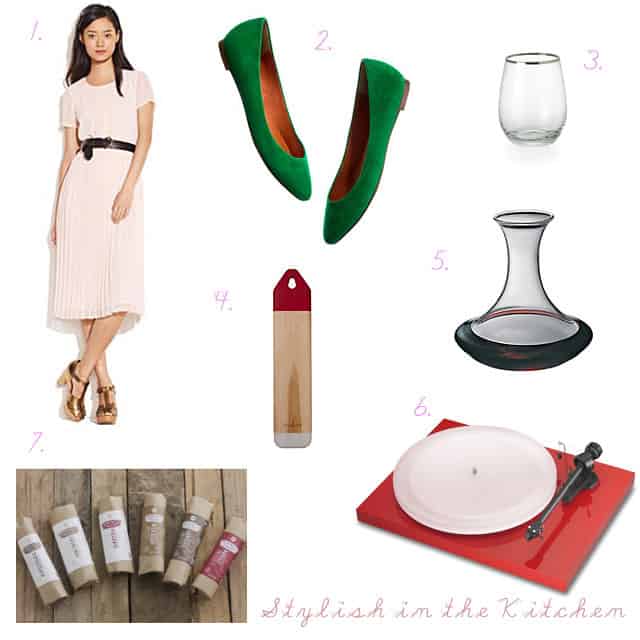 I've been thinking how I've met so many interesting people in 2012, and it has only just begun! The lovely Michelle, whom I had the pleasure of meeting at Alt Summit this year, suggested that it might be fun to see a post about being stylish in the kitchen. I loved the idea, and filed it away for future reference. Today is the day to share it with you! We'll see how this thing goes. For my first installment of Stylish in the Kitchen, I'd like to talk about the dinner party. I love throwing a dinner party, but about an hour before the show starts, I totally start to freak out: is the main course still in the oven? Why is it still in the oven? Do I have tomato sauce on my dress? Do I have stain remover to remove afore-mentioned tomato sauce from my dress? Is there enough wine? Do we have ice?
While I will continue to stress out every time I have a dinner party, I have managed to throw a lot of them. And, after the initial rush, I actually quite enjoy a good old-fashioned dinner party. I think a good dinner party involves a few key elements — obviously the company, the food, the drink, and the music. One of my favorite things about throwing a dinner party, though, is setting scene. Everyone has their own style, but I'm going to share a few of my favorite dinner party style elements.
1. The outfit. You're not going to leave your house, so throwing a dinner party is the perfect opportunity to wear an outfit that you really love, without worrying about stuff like whether you'll get a blister, getting suede dirty, or if it might get too cold out.
2. The drink serving ware. I'm pretty sure I only use our decanter when we have a dinner party but I loooove the thing. It's festive and supposedly helps the wine breathe. I have some vintage little glasses that I like to put out, but the stemless, rimmed ones above are pretty fun, too. The bonus of using stemless wine glasses? Fewer chances that your guests will spill wine all over your carpet.
3. The pre-dinner nibbles (and presentation). Everyone does the cheese plate (myself included!) but recently, I've become all about the meat plate. Some call it charcuterie. The number of companies that make delicious varieties of cured meats (we're big fans of Creminelli) is staggering, and much like you would with a cheese tasting, you could use a beautiful wooden board to display a bevy of cured meats for everyone to try. My favorite way to display an arrangement is on a gorgeous wooden board. A spicy little bite of salami with a glass of red wine? Sign me up!
4. Your music listening setup. Ok, so we're big proponents of turntables. There are lots of reasons why you should consider purchasing one, if you don't already own one (for one, you'll be able to listen to your limited edition Pairings Box 7″ singles, if you're a subscriber!). But really. A turntable is an element of style for your living room/dining room! A slick looking one is not only a great conversation starter, but it creates a warm and welcoming environment in your home. You don't need a lot of records to make it worth your while, either.
Tell us: what are you favorite tips for hosting a stylish dinner party?