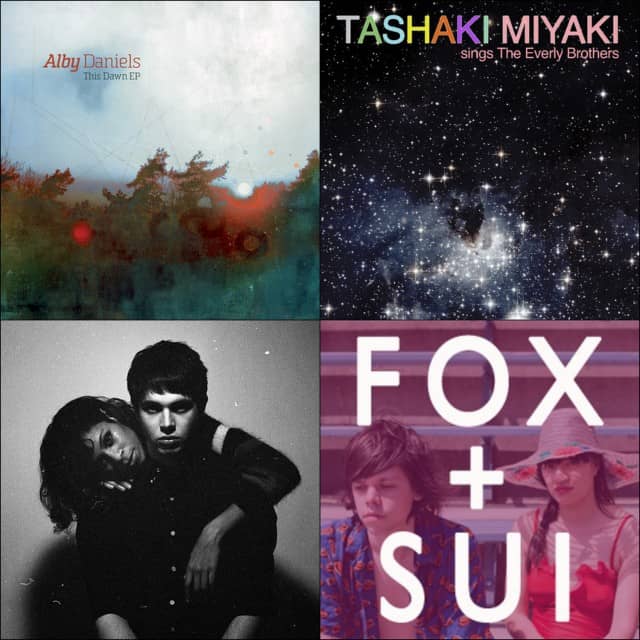 Smoldering hot new music coming at you from Alby Daniels, Tashaki Miyaki, AlunaGeorge, & Fox + Sui. These four jams pack a week's worth of sonic awesomeness into just four tunes. In other words, you're set for the week. Worry not though, we'll still have more awesome coming at you.
Alby Daniels – This Dawn
The debut EP by Brighton's Alby Daniels balances heavy-bass and rhythmic, post-dubstep grooves against Daniels' soulful English croon. The EP's title-track is a shuffling, stuttering indie R&B groove. Thanks to MTHRFNKR for this find.

Tashaki Miyaki – I Wonder If I Care As Much (Everly Brothers Cover)
L.A.-based Tashaki Miyaki have previously demonstrated a fascination with the Everly Brothers, having previously covered the classic "All I Have To Do Is Dream." This time they are offering up a reverb-soaked, feedback-steeped, shoegaze-inspired take on the Everly Brothers' "I Wonder If I Care As Much" which appears alongside their prior Everly Brothers cover on a limited-edition 7″ single from Rough Trades.

AlunaGeorge – We Are Chosen
On first listen it becomes clear that London's AlunaGeorge are poised to take over the world. You might remember their track "Disobey" which was one of the highlights from TK's February 2012 mix. "We Are Chosen" isn't a new track by the duo, but it's sexy, glitchy, indie R&B goodness that we haven't previously featured here which I think deserves a few more listens.

Fox + Sui – Petite Mort
This Aussie duo features Andras Fox from Melbourne and Sui Zhen from Sydney. They met at the Red Bull Music Academy in London and promptly started making music together. The slinking, hypnotic "Petite Mort" is one of the two tracks the pair have unveiled to date. Suffice to say that if you like good music, Fox + Sui will make you weak in the knees.