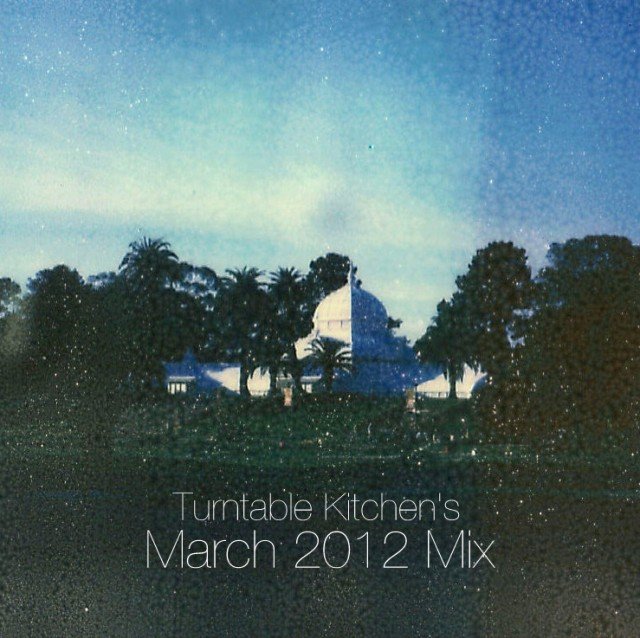 I think you'll notice right away that our March mix is a very different beast from the February mix. For example, we open this one with the sultry, shimmering new single from Beach House, whereas last month's mix opened with an upbeat, tropical-island inspired B.I.G. remix. It's indicative of the overall mood of this mix which I'd describe as cozier, more laid back, more introspective, and even a little sexier than it's predecessor. You could float through the clouds on the back of Lemonade's single. The Evy Jane single, like everything else I've heard from the duo, is irresistible. And that sexy, bassy Oscar Key Sung track will leave you asking: "Where did you get those Darth Vader powers?" What hasn't changed is the quality and breadth of the new music you'll discover on this mix. It'll help you work. It'll help you relax. And it'll go with dinner as well as any bottle of red wine.
Turntable Kitchen :: March 2012 Mix (.zip file)
01. Beach House – Myth
02. Here We Go Magic – Make Up Your Mind
03. Vacationer – Gone
04. Bondax – Only You Know (Feat. Dee)
05. Lemonade – Neptune
06. Oscar Key Sung – All I Think About (Part 1)
07. Oliver Tank – Help You Breathe
08. Evy Jane – Ohso (Max Ulis Remix)
09. Dorsh – Je t'aime
10. Bobby Womack – Please Forgive My Heart
11. Gabriel Bruce – Cupid
12. Dive – Geist
13. Field of Wolves – Don't Explain
14. Tashaki Miyaki – If Not For You (Bob Dylan Cover)
15. FIDLAR – Common People (Pulp Cover)
16. Lizard Kisses – Water Tap
17. My Friend Wallis – The Colour of Water
18. Bear in Heaven – Sinful Nature
19. Beach Fossils – Shallow
20. Sufjan Stevens – Futile Devices (Shigeto Remix)
We're now accepting new subscriptions to begin with the April Pairings Box. We've got some great stuff lined up in the next few months that you are going to want to get it on before they are sold out. Oh, and those tracks by Lizard Kisses and My Friend Wallis? They are available on one of the most collectible vinyl record I've ever seen: only 35 copies were made. You can get one here if you act fast.