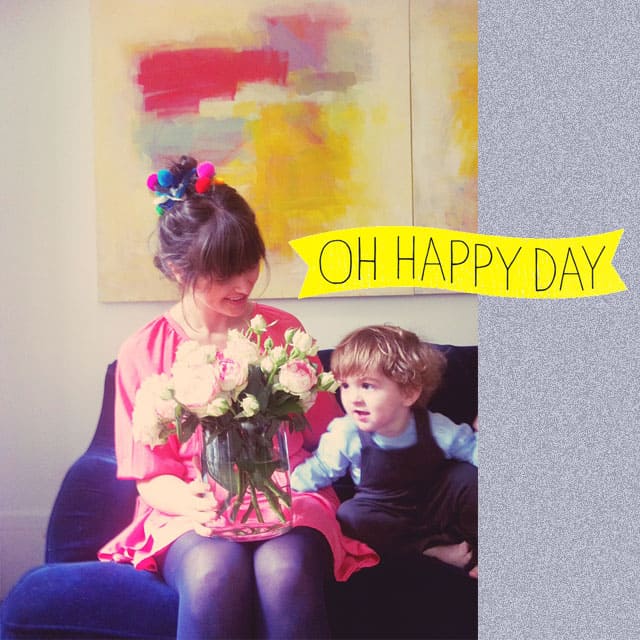 If you aren't already familiar with Jordan's blog, Oh Happy Day!, get ready to be smitten. An event planner and letterpress printer, Jordan moved her family (including her two kids and talented painter husband) to Paris, France for a year. Besides posting enviable stories about her life in France (picnics! bike rides! European adventures! macarons!), Jordan's blog is full of awesome crafty how-to's like making your own confetti, chocolate letter placecards, and piñatas . Want to have a party with a photobooth? Check out her printable photobooth props. Her blog has been seriously inspirational, helping me rediscover my love for doing things with my hands (not just cooking!). I also love Jordan's regular set of talented contributors, many of whom are folks that I adore and am inspired by. I've been following Jordan's blog for some time now and I appreciate the realness of her voice (she has also candidly shared stories of her life, motherhood, health struggles, and fears associated with jumping into the uncertainty of moving to a foreign country). We're so thrilled she's popping by the site today to share some of her favorite Paris discoveries and the places she misses from her home in San Francisco. Thanks, Jordan!
You've been living in Paris, France; what are the tastiest things you've eaten and what treats do you miss from your home in San Francisco?
I love the food in France. It's funny because while I can appreciate a good pâte, traditional French food isn't my favorite. It tends to be really sophisticated and complicated and I prefer simple meals with really fresh, good ingredients. So I tend to lean towards the French foods that fit into that category. Hearty salads and vegetable soups, cheese. Large plates of thinly sliced charcuterie. And of course, I have to mention the bakeries. Paris is amazing because it has great artisan bakeries on almost every block. I can't remember the last time I ate bread more than three hours old. It's just so convenient to eat well here. I moved to San Francisco when I was 24 and thats really where I fell in love with food and understood how to find the good stuff. I have a post here of my favorite things to eat. Right about now I'd kill for a salted caramel steamed milk from the Milk Bar in the Ferry Building or a pizza from Delfina.
What was your favorite musical discovery of 2011?
I don't listen to as much music since we moved to France. Back home I listened to music either while I was driving in a car or printing on my letterpress and here those don't exist! I do like the new Wilco album, though. Also, I want to marry Beyonce.
What was your favorite food discovery of 2011 (restaurant, ingredient, website, farmer's market)?
The restaurant Merci here in Paris really helped me realize my favorite foods! They serve lots of fresh salads but focus on hearty vegetables like green beans or cut up vegetables instead of leafy greens. It's always seasonal and flavored so perfectly. I wish they would write a cookbook. I would eat there everyday if I could.
What is your favorite under-the-radar destination for food or music?
It's not under-the-radar, but it's my favorite. Merci.
What do you want to eat more of in 2012?
I want to find a French bakery to live by in San Francisco.
*images c/o Jordan Ferney, Oh Happy Day!