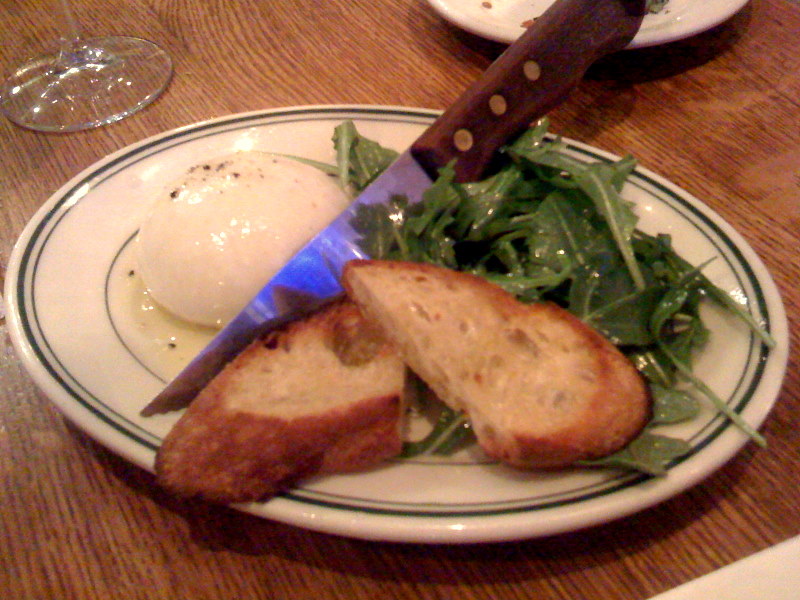 Last week, I discovered a secret to dining in the Mission: go early. It's amazing what a difference it makes when it comes to getting a treasured table at a Mission hotspot. Six is definitely not when the cool kids go, apparently.
When I studied abroad in Italy, I stopped at various different pizzerias for lunch on nearly a daily basis. The pizzas were generally sold in rectangular shapes, cut to size by request and priced by weight. For anyone who has ever been to Italy, the pizza is just different. I'm not quite sure how to put my finger on it. Even the simple margherita, with its tomato sauce and mozzarella just tastes like something else there. My experience with pizza in the U.S. has largely been in the hand tossed area. With doughy, thick crusts, an abundance of sauce and an overwhelming amount of grease. I swore by Papa John's garlic sauce in college, too.
Eating pizza in Italy is like eating a cracker with some cheese on it. You feel light, nourished. Pizzas are topped with the freshest of ingredients–mozzarella, tomatoes, basil, eggplant, potato and, yes, tuna.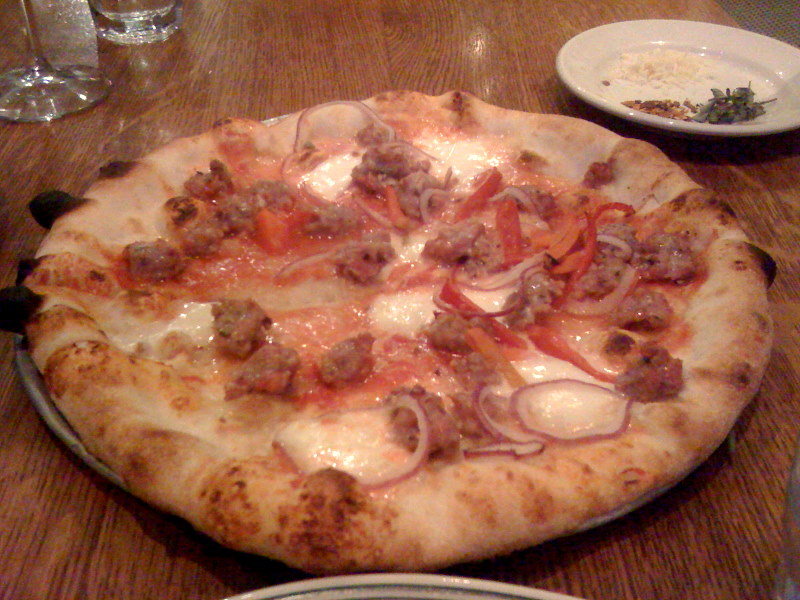 When I moved to San Francisco, I had already heard about Delfina–an Italian restaurant that had a next door neighbor that I had to try: an Italian style thin crust pizzeria. I've gone to Pizzeria Delfina on many, many occasions. Their simple, yet elegant setting is the perfect spot for a glass of wine and a few slices with a friend.
I've usually opted for simple, but splurgy: buffalo mozzarella pizza. When I went last week, though, I changed it up. We ordered the house made fennel sausage pizza, charcuterie plate and the hand stretched mozzarella. Everything was so simple, so fresh and so flavorful, I couldn't help but think about my days in Italy.
The ball of mozzarella came with a side of arugula and some toasts, though there was entirely too much more mozzarella than available toasts and we ended up partially just eating it plain (as it was lightly drizzled with olive oil). Of the house made meats, I was a big pan of the prosciutto and sausage. The pancetta was the least appealing, largely because I hardly ever eat pancetta on its own.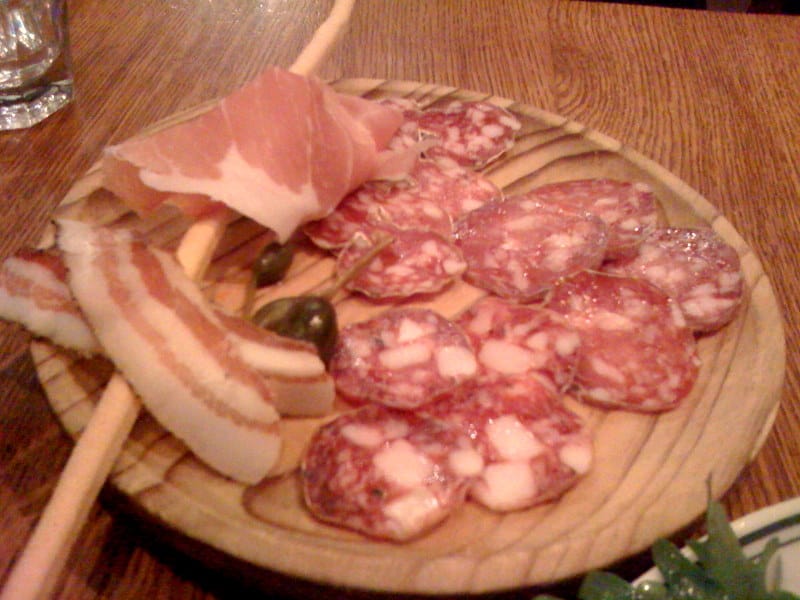 Let's talk about the pizza. A paper thin crust that is slightly charred. A delicious bite of puffed dough at the end. A light cover of cheese. Chunky, aromatic sausage. Fragrant peppers and red onions. Just spot on pizza. There are a few other places in San Francisco where you can find great Italian style thin crust pizza–Beretta, for one. But Pizzeria Delfina is the place that brings back memories of dining al fresco on a warm spring day, on the edges of countless piazzas. Plus, they start you off with some thin, crispy breadsticks, have a reasonably priced selection of wines and a fancy coffee maker that I should really take advantage of sometime. Now who could complain about that?