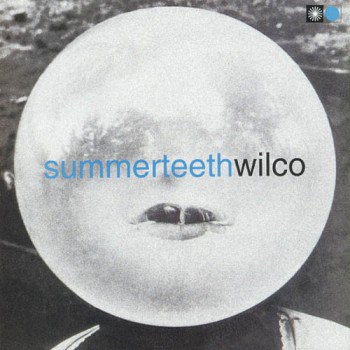 Today in our Kitchen, Kasey is featuring a recipe for lemon buttermilk sherbert.  It's sweet and smooth. It's upbeat.  It's delicious. It is that brilliant ray of sunshine painted on a happy landscape with a tart bitterness, familiar to lovers of lemon-centric desserts, prominently on display – reclining contentedly in the foreground. It has a delightful flavor that confidently foretells warm weather and spring days.  And so, it pairs well with Wilco's Summerteeth – an album with melodies filled with the warmth of pure-sunshine and lushly crafted arrangements – all carefully blended together and working in harmony as if  furtively conspiring to disguise the album's true sourness.  For example, despite it's welcoming smile and bright, rubbery tunefulness, album opener, "I Can't Stand It," nervously masks a troubled bitterness which is most apparent in frontman Jeff Tweedy's lyrics (i.e. "our prayers will never be answered again" and "the way things go – you get so low").  Similarly, "She's a Jar" has all the mannerisms and characteristics of a laid-back ballad, but nonetheless sport some pretty dark lyrics that touch on domestic abuse.  "Shot In The Arm", as the title suggests, is about drug abuse ("there is something in my veins – bloodier than blood").  And even "I'm Always In Love" which features an irresistible hook and infectiously chipper harmonies lyrically hints as inner uncertainty and trouble ("I'm worried – I'm worried – I'm always in love").  So yeah, despite the beaming and friendly pop-music rhythms and well-lit harmonies – Summerteeth presents some acidic, citrus notes that ultimately round it out.
Even if it isn't their best known album (which I suspect is the also excellent Yankee Hotel Foxtrot), it's my opinion that Summerteeth nonetheless remains as Wilco's best album to date.  Although it proudly wears it's alt-country influences on it's sleeve, it is nonetheless a classic-pop album first and foremost. Wilco's song-writing here is concise and thoughtful – intended to swiftly connect with listeners while simultaneously laying the ground-work to reward repeated listens.  And their arrangements and instrumentation are in no way compromised by the big hooks.  For example, "ELT" is a rock anthem with spacey-keyboards, big guitar riffs, catchy harmonies, and propulsive percussion, but it never feels like it is pandering over-reaching.  And the same could be said for "Nothing'severgonnastandinmyway(again)" which sounds like it borrows it's harmonies directly from the Beach Boys or the Beatles.  It's an album I keep coming back to – no matter how many times I've heard it.  Buy it from Insound.
Don't forget to head over to Kitchen to read the recipe for Kasey's lemon buttermilk sherbert, and then "heart" our songs on hypem if you like what you hear!