There's nothing more weekend-y to me than a homemade pizza. We make a fair amount of it in our house. We pour ourselves a glass or two of wine, throw on a record and let the setting sun stream through our dining room and into the kitchen. Sometimes we bump into each other in the kitchen and do a little dance (in the silliest way). We make two pizzas and eat them both even though it's entirely too much food for two people. Pizza is one of those things you don't think about making from scratch until you make it and think to yourself: why haven't I been making pizza from scratch for years? I promised to tell you about the pizza we made last week- topped with a generous amount of wild mushrooms and creamy crescenza cheese so, here it is, ladies and gents. Oh, is it here.
Crescenza is a beautiful, creamy Italian fresh cheese that melts in the gooeyiest (is that even a word?) of fashions when left at room temperature. Sliced and placed on top of a hot pizza, straight from the oven, it is pure heaven. I've gone through several breakthrough moments with pizza over the last few years. These include: breakthrough crust (Pizzeria Mozza's recipe as featured in Saveur), breakthrough tomato sauce (inspired by Heidi Swanson), breakthrough meat topping (spicy coppa crisps up like no other) and breakthrough cheese (creamy burrata and crescenza).
There are a lot of reasons this pizza just works: the mushrooms and the crescenza are both delicate enough to not overpower each other. The tiniest addition of the red pepper flakes adds the gentlest heat. The parsley plays off of the earthiness of the mushrooms. The Parmesan adds a robust saltiness. The olive oil gives the pizza a fruity flavor. And the crust? Don't even get me started on the crust. Fluffy and airy, it is the perfect canvas for the toppings. It's Sunday night, but it's never too early to start thinking about the next weekend. Don't you agree?
Wild Mushroom and Crescenza Pizza
*makes 2 10 inch pies
For the Pizza Dough (from this recipe):
extra virgin olive oil
1/2 tablespoon of active dry yeast
1/2 tablespoon of sugar
1/2 teaspoon of salt
3 cups of flour
For the topping:
2 cups of wild mushrooms (we used Hedgehog), roughly chopped
1 handful of flat-leaf parsley, finely chopped
1/2 pound of crescenza cheese, sliced
extra virgin olive oil
sea salt and pepper, to taste
1 teaspoon of red pepper flakes
Parmesan cheese, to taste
1. Prepare the pizza dough. In the bowl of a stand mixer, combine 1/2 tablespoon of olive oil, yeast, sugar, salt and 1 cup of warm water (115 degrees F). Let the mixture sit for about 10-12 minutes (until it's foamy).
2. Add the flour and mix on slow speed. Switch to a dough hook and knead the dough for about 6-8 minutes (until smooth).
3. Divide the dough into two balls. Place them on a floured baking sheet and cover with a sheet of lightly oiled plastic wrap. Allow the dough to rest for 2-3 hours (until it is nearly tripled in size).
4. Place a pizza stone on the lowest rack of the oven and heat your oven to 500 degrees F.
5. Place one ball of dough on a floured sheet of parchment paper. Use your fingers to stretch it out to a 10 inch diameter. Work from the center and be careful not to rip it. The center should be relatively thin–leave a 1 inch border of slightly thicker, puffier crust.
6. Cover the dough with a towel and allow it to rest for 15 minutes.
7. Brush the dough all over with olive oil.
8. Evenly top with the half of the mushrooms, leaving a 1 inch border topping-free. Sprinkle with about a teaspoon of parsley. Season with salt, pepper and a pinch or two of red pepper flakes. Give the pizza another nice drizzle of olive oil.
9. Transfer the pizza (on top of the parchment paper) to the pizza stone and bake for about 10 – 14 minutes (until the crust is puffy and nicely browned). While the pizza is cooking, prep the second pizza (repeating steps 5-8).
10. Carefully transfer the pizza from the oven to a cutting board and top with slices of crezcenza. Sprinkle with a bit more fresh parsley, season with some more salt and pepper (to taste), drizzle with olive oil and top with freshly-grated Parmesan cheese.
11. Place the second pizza on the pizza stone and bake for 10-14 minutes. Repeat step 9 and serve both pizzas at the same time.
Musical Pairings: The Revolving Birds – The Revolving Birds + Wild Mushroom and Crescenza Pizza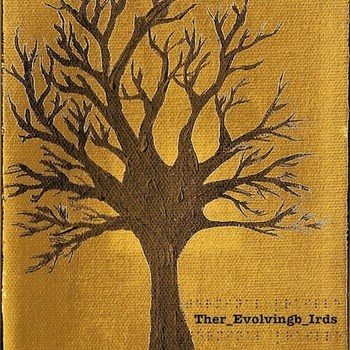 Head to the Turntable for today's pairing: The Revolving Birds – The Revolving Birds.