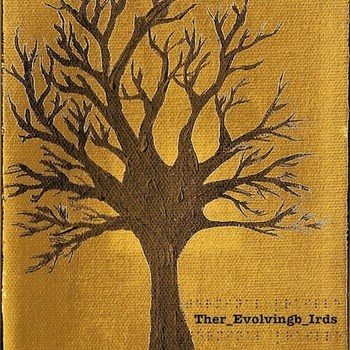 If you downloaded Turntable Kitchen's April 2011 Mix, you've already had a small taste of the spindly earthiness and atmospheric indie-pop that Virginia Beach, Virginia's The Revolving Birds are crafting.  The mix showcased "Follow You Off," which is the opening track from their excellent self-titled debut album. That track is built upon a foundation of whispery, oak-infused vocals, clean melodies and tight, crisp percussion garnished with menacing space-dust drenched static that ominously threatens to overtake the song. Like any good opening track, it grabs you attention and will leave you wanting more – in part because it knows exactly when to make a quiet and graceful exit by slowly diffusing directly into the next cut – "Birds."  For it's part, "Birds" immediately cuts through the gritty ambiance of "Follow You Off" with a more upbeat groove and swirling guitars accented with bright, humming synths before breaking down into screeching ambiance and dial tone synths.
In both cases, the foundations of the songs are straight-forward and almost rustic. Nonetheless there is always a sense that this simplicity is threatened by a noisy and invasive modernity. And by balancing these competing themes they thereby differentiate themselves from many of their colleagues. Perhaps more importantly, they demonstrate great instincts for beautiful song-writing, thoughtful song structures, catchy melodies and engaging vocals.  It's something that continuously plays out on each track on the album. This confidence and comfortableness suggest that the men behind The Revolving Birds, Colen LoCoco and Jeff Midgett, have played in a few bands and recorded a few albums before this.  They remain sure-footed through just over 30 minutes of concise, harmony-laden tracks, concluding with the tumbling, shimmering "Over the Ocean."
This album pairs well with a confident, comfortable recipe that is both rustic and modern.  And thus, this album pairs wonderfully with a new and original recipe Kasey created: Wild Mushroom and Crescenza Pizza.  Without question, this has been one of my favorite recipes that we've created.  It is flavorful, earthy, modern and just oozing with awesomeness.  And all of it's beauty rests in it's simplicity: delicious, straight-forward ingredients that are blended together perfectly.  Make it for yourself: this is a recipe you'll remember.
The Revolving Birds is highly recommended for fans of Elliott Smith, Earlimart, Yo La Tengo, Ambulance LTD and American Analog Set.  There isn't a weak spot on that album – go get it from their Bandcamp.
The Revolving Birds – Follow You Off
The Revolving Birds – Birds
Don't forget to "heart" our songs on hypem if you like what you hear!  Go now and hunt down the ingredients to make Kasey's Wild Mushroom and Crescenza Pizza.