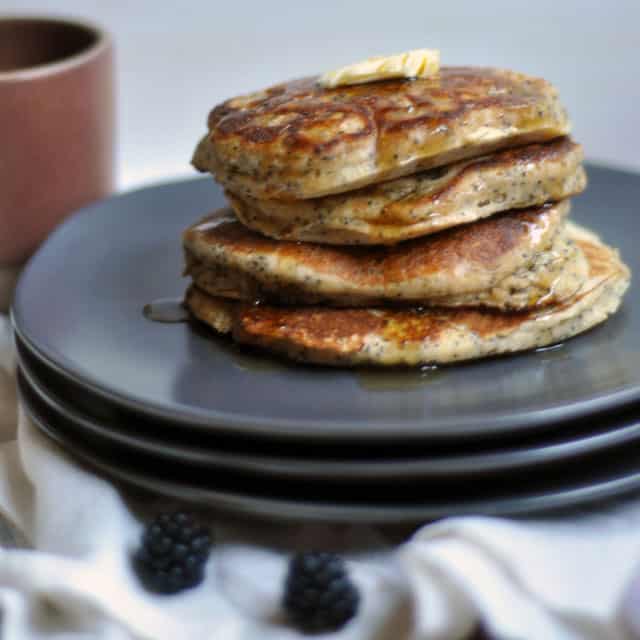 Pancakes have become somewhat of a weekly tradition for us. Most days, Matt and I each sit down to a bowl of food — he to his cereal, me to my yogurt and granola. But on Saturday morning, I often start thinking about what I'll be making for breakfast before I've even opened my eyes. I take a mental walk through my kitchen cabinets, my hands reaching for different flours, my eyes glancing over spices, extracts and fresh fruit. I peek into the fridge to see if I have buttermilk, milk, or cream. I start pondering combinations until I settle on what sounds best. By the time we're both awake and chatting, I usually have a well-prepared plan. When it comes to breakfast – and most things in life, really — there's never a question: I want sweet.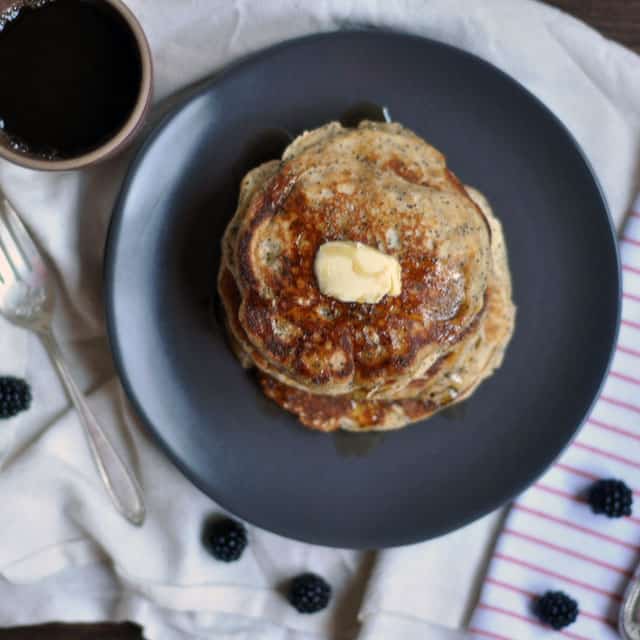 We rarely make it out for breakfast because it happens to be my favorite meal to prepare at home, and pancakes are the preferred start to my weekend. In the summer, they're punctuated with blueberries. In the fall, they're spiced and pumpkin-a-fied. In winter, fortified with oats and topped with jam (or made to resemble my favorite holiday treat). In spring, stacked with layers of fresh strawberries. In my humble opinion, you just can't go wrong with pancakes. No Saturday starts without a record on the turntable, and of course, the smell of fresh coffee brewing in the Chemex. Since I've been pregnant, I dramatically cut down my coffee intake, but the smell of coffee is still one of my favorite things about the morning. I've only recently started to appreciate a leisurely morning; I've been less concerned about being early to the market or accomplishing too much outside the home before most people have showered.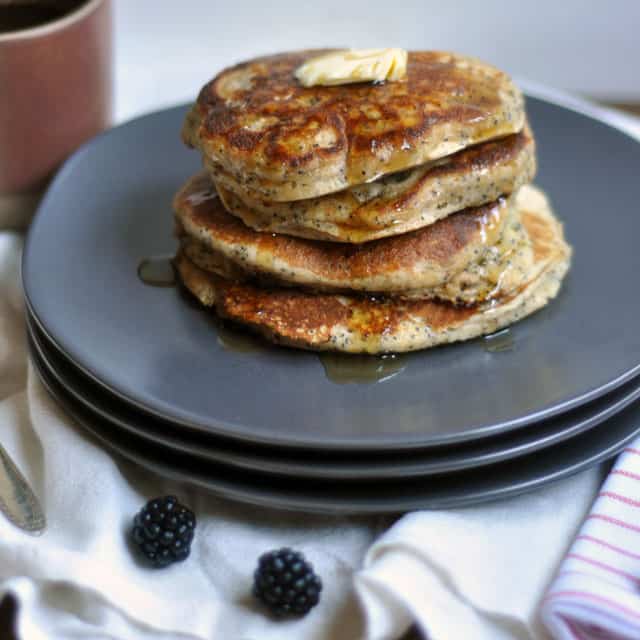 Once you've found your favorite pancake recipe (mine comes from Kim Boyce's Good to the Grain), the combination of flavors you can imagine are endless. With this particular recipe, I wanted to be reminded of the poppy seed rolls that can be found at every Russian table. I incorporated them for flavor (nutty), texture (crunchy), as well as appearance (strikingly blue-black). A drop each of almond and vanilla extracts brings to mind teatime with Italian biscotti, while maple syrup adds a little sweetness without making these pancakes sugary.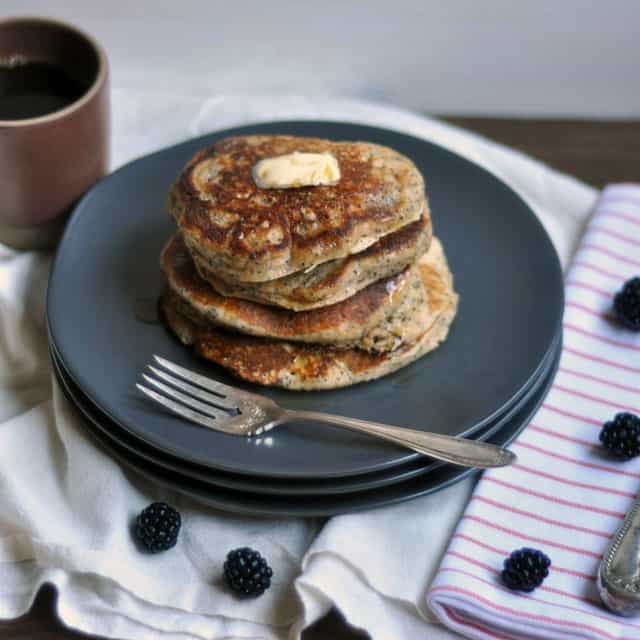 Whole Wheat Almond-Poppy Seed pancakes
*makes 8-10
1 cup of whole-wheat pastry flour
1 tablespoon of sugar
1 teaspoon of baking powder
1/2 teaspoon of baking soda
1/2 teaspoon of kosher salt
2 tablespoons of poppy seeds
1 cup of well-shaken buttermilk
2 tablespoons of maple syrup
1 large egg
1/2 teaspoon almond extract
1/2 teaspoon vanilla extract
butter, for the skillet
1. Sift the flour, sugar, baking powder, baking soda and salt into a large bowl. Whisk in the poppy seeds.
2. Combine the buttermilk, maple syrup, egg and extracts in a medium bowl and whisk until combined. Stir into the dry the mix, being careful not to overmix.
3. Heat 1 tablespoon of butter in a large, non-stick skillet* over medium heat. Pour 1/3 cup-fuls of batter into the skillet, without overcrowing the pan (I usually do 2-3 at a time). Cook, without disturbing, until bubbles begin to form on the surface. Flip and cook until the edges are crisped and both sides are golden. Continue to scoop 1/3 cup-fuls of batter into the skillet (re-butter as necessary) until you have used up all of the batter. Adjust the heat so as not to burn the pancakes. Serve the pancakes warm, with butter and maple syrup.
*You can also use a large cast iron skillet, but be sure to wipe it between batches and re-butter frequently. 
Musical Pairings: Deerhoof – Breakup Song + Whole Wheat Almond-Poppy Seed Pancakes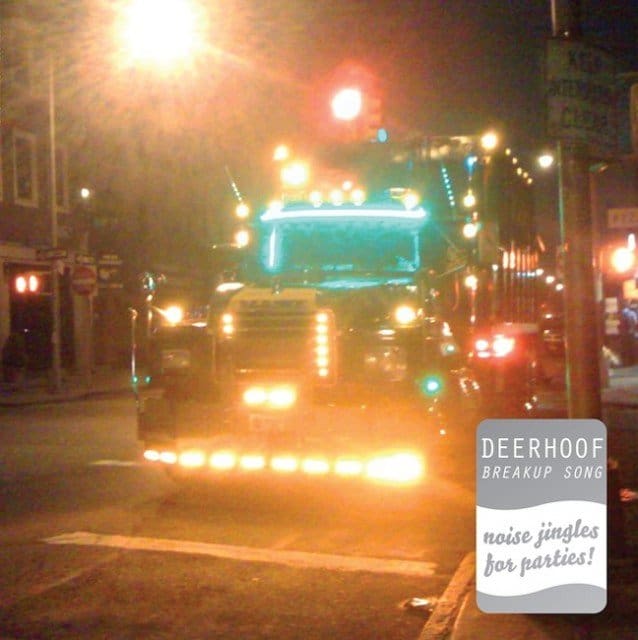 More on the Turntable.