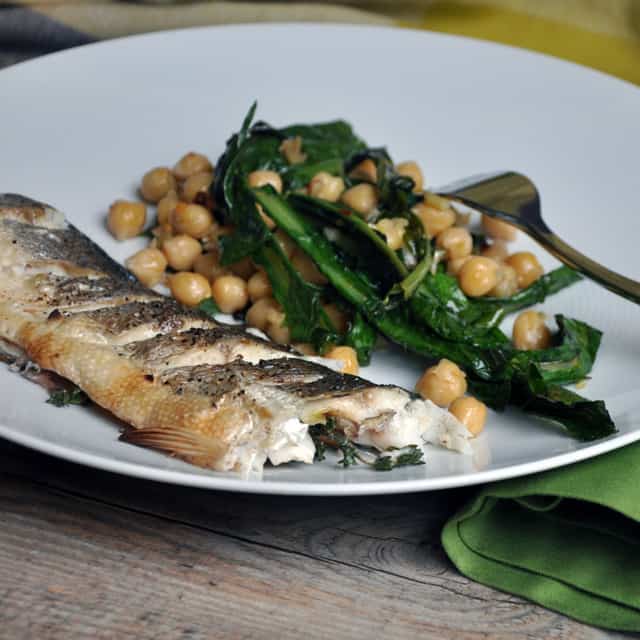 I have this thing when I love a song. I will listen to it over and over until I get sick of it. Matt never does that, unless I ask. Nicely. These days, it's Florence and the Machine's Dog Days are Over. I'm sort of the same when I get hooked on recipes or ingredients. I will eat the same thing three meals in a row. It's not that I don't like variety, it's just that — when something is really, really good, I can't quite seem to get enough of it.
Do you get that way about food or music?
So there's branzino. I first tried it at a Greek or Mediterranean restaurant and have been literally hooked ever since. I believe that Matt fears walking up to the fish counter at Whole Foods, where he knows there is frequently fresh, whole branzino, encased in ice in front of the clear glass counter. Its shimmery skin always catches my eye. I ask the guys behind the counter to clean it for me, but there are always a few scales to take care of when we get home. Cooking whole fish is something that we're relatively new at, but it's really become quite the routine.
Branzino has a buttery, almost milky quality to its flesh. When roasted, it melts on your tongue, and its skin (which I love) gets beautifully crisp, contrasting the tenderness of the meat. A good-quality, fresh fish needs little to taste good: a little salt and pepper, some fresh herbs, and a squeeze of lemon juice. Dinner is served.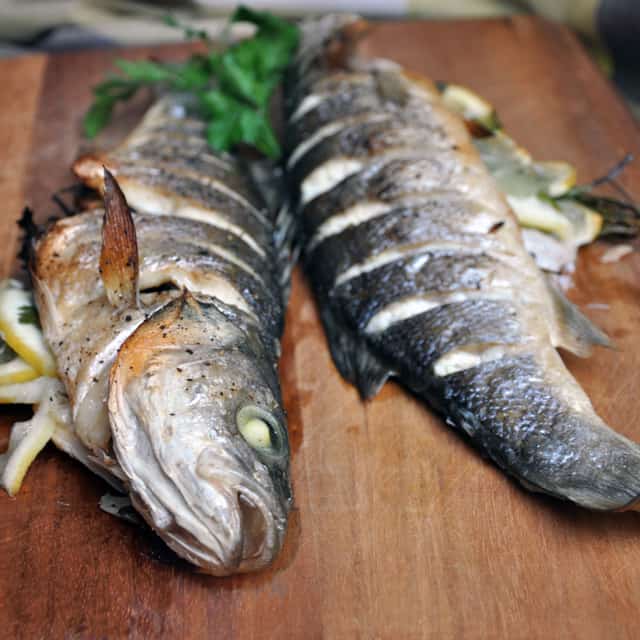 Whole Roasted Branzino
adapted from Williams-Sonoma Cooking with Friends
*serves 4

2 whole branzino (Mediterranean sea bass)
several sprigs of fresh flat-leaf parsley and thyme
1 lemon, sliced thinly
2 cloves of garlic, thinly sliced
sea salt and freshly ground black pepper, to taste
extra virgin olive oil
1. Preheat the oven to 450 degrees F.
2. Use a sharp knife to cut several diagonal slits on both sides of each fish. Rub the outside of each fish with salt and pepper and generously season its cavity. Brush the fish, inside and out, with olive oil.
3. Stuff the cavities with a few sprigs of herbs, the lemon slices and garlic.
4. Place the fish on a well-oiled baking sheet and roast for about 20 minutes (until the fish flakes easily).
5. When the fish is done, carefully slice it in half along the backbone and remove the top fillet. Lift out the backbone and toss it. Serve the deboned fish fillets with a light salad, as shown above. We served it with Heidi Swanson's chickpeas and dandelion greens (de-lish).
Musical Pairings: Bon Iver, Bon Iver + Whole Roasted Branzino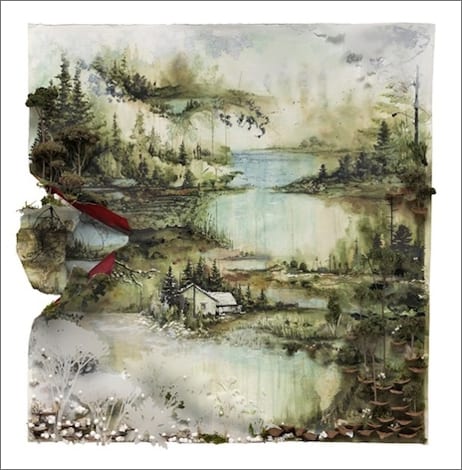 More on the Turntable.