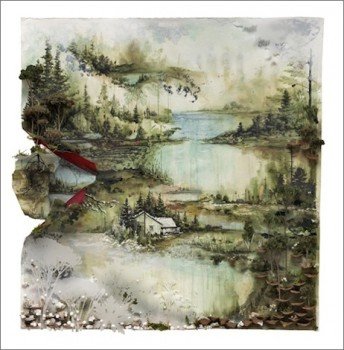 Certainly in terms of his career, Bon Iver (a.k.a. Justin Vernon) has had a pretty good past few years.  His 2007 debut album, For Emma, From Forever Ago, was greeted with nearly unanimous critical praise from every corner. Heck, it was selected as one of the greatest albums of the 2000's by both Pitchfork and Stereogum (and the opening track, "Flume", which was later covered by Peter Gabriel, made TK's prestigious list of Top "Side One, Track Ones" Released Since 2000).  He has performed live alongside Kanye West, the National, Feist, and anyone else who wasn't afraid of being upstaged by the man's voice.  He recorded tracks with Kanye West on last year's ultra-hyped My Beautiful Dark Twisted Fantasy.  And aside from Thom Yorke, I suspect there are few people in indie-rock more in demand for collaborations.  So it is fair to say that his follow-up, titled Bon Iver, Bon Iver, is highly anticipated. And that all probably translates to a lot of pressure for a second album.
So the obvious question is whether Bon Iver, Bon Iver has met its high expectations.  And I suspect the answer will be: "it depends who you ask."  Complicating that analysis is the fact that, in many ways, the success of For Emma, From Forever Ago was hardly a sure thing. Few songs on that album with the exception of "Skinny Love" and "Flume" could have been expected to have broad appeal.  And nonetheless, the sincerity and quality of Justin Vernon's voice along with his haunting and sparse melodies clearly connected with a great many people.  In that regard, Bon Iver, Bon Iver certainly has as good a chance at being a critical and commercial success as its predecessor.  Tight, organic ratatat-percussion and various sonically-textured flourishes adorn the affecting and catchy opening track "Perth."  The opener marches seamlessly through and into the soothingly-sexy and banjo-accented "Minnesota, WI" as if it were the second movement in a suite.  The brightly-lit "Towers" and the quietly-evanescent "Michicant" could also be thought of as gently-arranged highlights.
But like with his debut, Bon Iver clearly follows his creative muse unbeholden to expectations.  He is comfortable with straight-forward song-writing, but unafraid of more experimental songwriting and melodies – which he casually embraces on cuts like "Hinnom, TX" and "Lisbon, TX".  Even the production on "Beth / Rest" is arguably a ballsy move with its 80's a.m. ballad sheen and auto-tune.  But he never strays to far from the real-world. Indeed, Vernon has indicated that the album should be written as Bon Iver, Bon Iver the way you'd write a location name, and similarly the majority of the tracks (as you've undoubtedly noticed) are named after cities – primarily green, outdoorsy cities… the types of places where I suspect you could find and enjoy a whole branzino roasted with lemon and herbs like the one Kasey is featuring today.  It's a delicious, simple and homely recipe that pairs perfectly with this album.
Head to Insound to pre-order Bon Iver, Bon Iver which is slated for a June 21, 2011 release.  Then pull up a seat in the Kitchen and learn how to prepare that whole roasted branzino recipe.