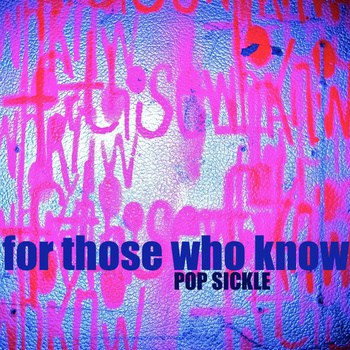 It's definitely a little sad to receive an email promoting an album by a band that has already broken up.  Such was the case when I recently received an email about Austin, Texas psychedelic shoegaze four-piece For Those Who Know.  Apparently the band's self-titled EP was released back in 2005, and the tracks that make up their latest release, Pop Sickle, were intended for the follow up. Unfortunately, during the recording process the band struggled through fights between the band members, on-stage meltdowns and many of the other pitfalls that confront young bands before they decided to eventually call it quits.  Nonetheless, even though it is a little bittersweet to know the band didn't survive the creation of the album, at least we can say that the tracks they were recording were worth the effort.  Pop Sickle is a beautifully narcotic collection of spindling, reverb & fuzz covered bombs that sound like they just can't contain all the heart, passion and aggressive energy the band poured into 'em.  Download Pop Sickle from Bandcamp.
For Those Who Know – Underground
Don't forget to "heart" our songs on hypem if you like what you hear!