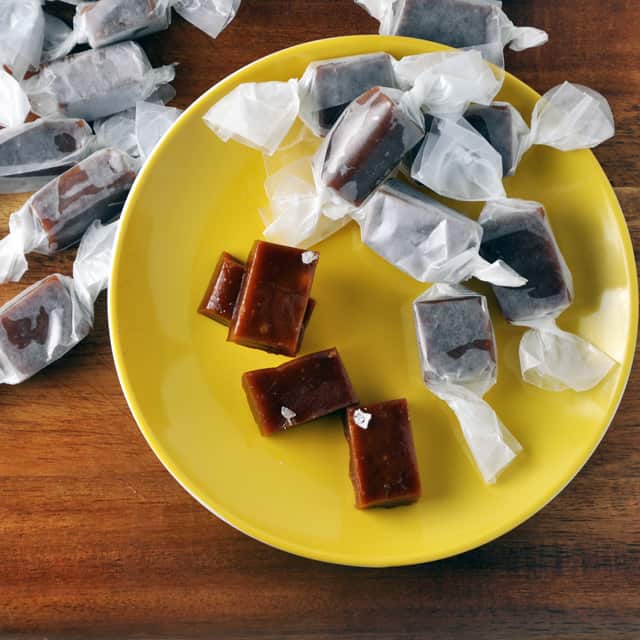 I've been reading this book that has been sitting on my bookshelf for several years now: The 4 Hour Workweek by Tim Ferriss. I received a copy at a conference I attended but never got around to actually sitting down with it. When I started, I was definitely a skeptic — I mean, one chapter in the book is devoted to how you can outsource your day-to-day tasks to a personal assistant. In India. Or Minnesota. To someone who has lived a 9-5 life for the last 6 years (or more, if you count school) this sounds absolutely ludicrous. Until you keep reading.
I'm still not finished with the book (not taking the train to work anymore really cuts down my reading time) but it's frankly been sort of inspiring. Not because I've finally realized I could move Thailand and work 4 hours a week. Or that I should fulfill a dream of hiring a personal assistant. Or because I'm hanging on every world and realized that I'm starting a new life from scratch. No, it's inspiring because it's helped me realize two very simple, yet very important things:
Things are never as bad as you think. The next time you miss a flight, lose $10,000, or find that your 50 page thesis has been wiped from your hard drive, step back for a minute, and remind yourself that all of these things can be fixed. Yes they can. Yup.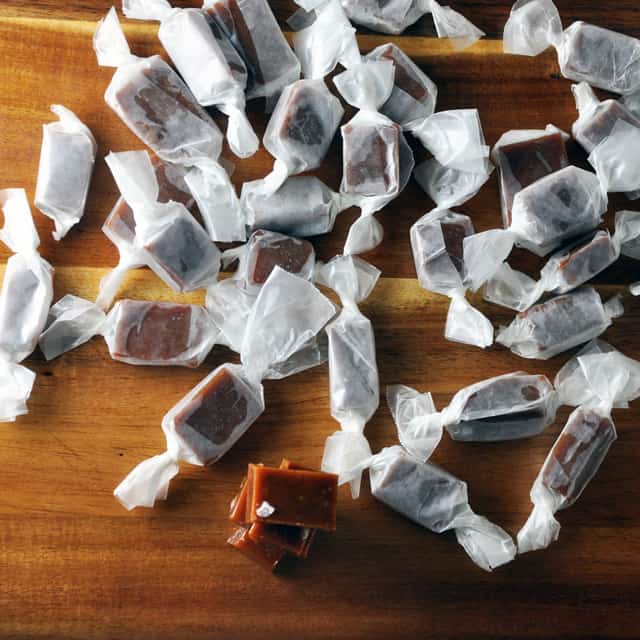 If you're not happy, then change things. If you are going to change things, change them now. Because if you're not going to do something today, then when are you ever going to do it? It means that taking a risk is inevitably more fulfilling than not, even if it costs you.
I'm pretty sure a bunch of people have had this epiphany already (and maybe they've had it due to other reasons) and maybe I'm new to the game. But it's made me sort of shift my thinking about a lot of stuff. In particular, this here little website that we've created. And where it's been. And where it's headed. So, as you've seen, we're starting to do some new things around here. Just to switch it up. And see what happens.
In honor of taking risks, I made you some candy. The kind that might stir up a little nostalgia. Salted Butter Caramels that will prevent you from talking for about ten minutes as you suck on them and then chew them until nothing is left, but a little stickiness in your teeth. Get out your kitchen thermometer (and your floss).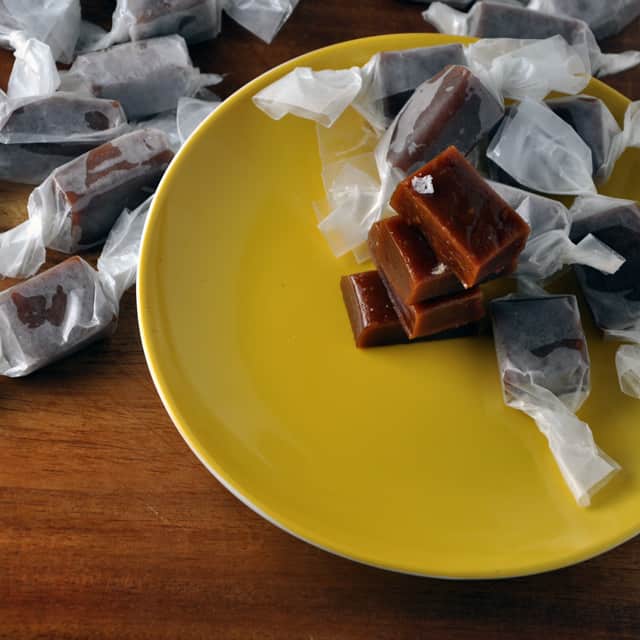 Salted Butter Caramels
adapted from David Lebovitz
Note: these caramels are hard and need to be sucked, not bit (at least when you first put them in your mouth), so don't go breaking any teeth!
3/4 cup of heavy whipping cream
1/2 teaspoon of vanilla extract
1/2 teaspoon + 1/4 teaspoon flaky sea salt (I used Maldon brand)
1/2 cup of light corn syrup
1 cup of sugar
4 tablespoons of butter at room temperature, cut into small cubes (you can use salted or unsalted)
canola oil (for the pan)
1. Line a 9-inch loaf pan with foil, wrapping the foil over the edges. Generously oil the foil and set aside.
2. Combine the cream, 2 tablespoons of butter, vanilla extract and 1/2 teaspoon of sea salt in a small pot and bring the mixture to a boil. As soon as it begins to boil, remove it from the heat and cover with a lid.
3. Combine the syrup and sugar in a medium saucepan. Attach a candy thermometer to the edge of the pot and heat the mixture, stirring until the sugar melts. Cook the mixture until the thermometer displays 310 degrees F. Stir occasionally to prevent the syrup from burning. David recommends tilting the pot towards the bottom of the thermometer to get an accurate read on the temperature.
4. Once the syrup reaches 310 degrees F, turn off the heat and stir in the cream mixture. Continue stirring until it is fully incorporated and completely smooth.
5. Dial up the heat and cook the mixture until it reaches 260 degrees F.
6. Transfer the pot to a trivet away from the heat and stir in the butter until it is completely incorporated.
7. Pour the caramel mixture into the loaf pan and allow it to begin setting for about 10 minutes. Then, evenly sprinkle with remaining sea salt.
8. Let the caramel cool before lifting the edges of the foil and placing the block on a cutting board. Peel away the foil and use a sharp knife to evenly cut the bar into rectangles.
9. Individually wrap the caramels in wax paper.
Musical Pairings: Musical Pairings: The Four Tops – Greatest Hits + Salted Butter Caramels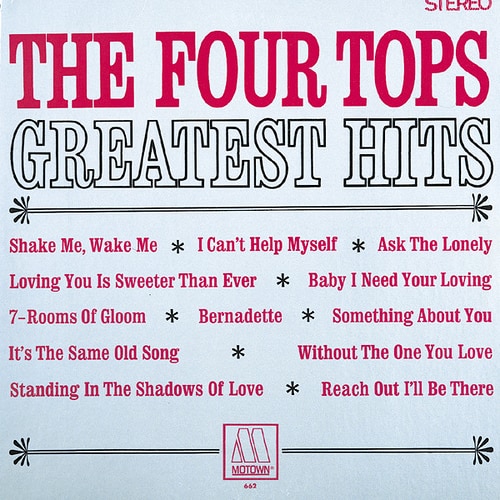 Get the scoop on the Pairing over on the Turntable side of things.