I am not typically someone that fries my food. I rarely eat fried foods out and I certainly don't make it a habit to fry food in. But for some reason, there are two things that have been on my mind since this summer: fried onion rings and donuts. I'm fascinated by these homemade 'delicacies.' A good fried onion ring is perfectly crispy on the outside and tender and chewy on the inside. It's greasy only when it comes out of the oil and isn't heavy.
I have yet to try my hand at making real homemade donuts (though I've dabbled in ricotta donut bites) but this dish that I'm sharing with you today is…well, how do I say this. It's an every guy's dish. When I say this, I don't mean, ladies don't eat steak because here I am, a red-blooded meat eater. I don't eat A LOT of red meat, but when I do, I don't apologize for it. I try to buy organic, grass-fed, sustainable beef when I can. It doesn't just taste better, but it's probably isn't loaded with the sorts of hormones and antibiotics that you'll find in a piece of meat that abides by the very basic government regulations. In any case, politics aside and feminist opinions aside, let's be real: this is a dish you make to impress a man (a meat-eating man). Because he will go weak in the knees when he bites into the slightly rare piece of meat, topped with a cheesy, melty butter. And then he will bite into one of the sweet onion rings and then he will ask you to marry him and have his babies.
It didn't happen for me that way, but I'm just saying. I have a feeling. If a man made me this steak, I might do the same, so let's put our judgments aside for a moment. It's a dish you've probably seen at a restaurant – maybe Laurelhurst Market in Portland, Oregon? And you've probably thought to yourself: there might be no better dish. And what's brilliant about it is this: you can make this at home in under an hour, with very few ingredients on hand.
It calls for beer AND vodka in the fried onion ring batter, so already you're guaranteed to have a good time before and after the meal. And the recipe makes a ton of onion rings, so you'll have extra on the side for dipping into butter, ketchup, mustard or mayo. I'd normally tell you to save room for dessert, but when you have a meal so good, it might not even matter.

Rib-Eye Steak with Blue Cheese Butter and Fried Onion Rings
Recipe by David Kreifels of Laurelhurst Market, Portland, Oregon, adapted from Bon Appetit
*serves 3-4
For the steaks:
2 1-pound, 1 inch thick rib-eye steaks
Kosher salt
For the Blue Cheese Butter:
3 tablespoons of butter (unsalted), at room temperature
3 tablespoons of crumbled blue cheese (any kind will do)
1 1/2 teaspoons of freshly-grated lemon peel
1 1/2 teaspoons of flat-leaf parsley, chopped finely
1 1/2 teaspoons of black pepper
For the fried onion rings:
1 large Walla Walla onion, cut into 1/3-inch thick rounds and then separated into rings
1 cup of flour (all purpose or cake flour)
1/2 teaspoon of kosher salt
1/4 teaspoon of baking powder
1/2 cup beer (any kind will do, but a flavorful ale would work best)
2 tablespoons of vodka
Canola, for frying
1. The night before you cook up the steaks, sprinkle them with the salt and ground pepper on both sides and place them in the refridgerator.
2. Make the blue cheese butter by mixing all of the ingredients in a bowl, mashing them with a fork to combine. You can make the butter a day ahead and let it come to room temperature before using it.
3. Preheat a barbecue or stovetop grillpan to medium-high heat and grill the steaks for about 4-5 minutes per side (or longer if you don't want medium-rare). Place the steaks on a cutting board and let them rest while you prepare the onion rings.
4. Pour the canola oil into a large pot until it reaches a depth of roughly two inches. Attach a deep-fry thermomemter to the pot and heat the oil until the thermometer reaches 350 degrees F. While the oil is heating, whisk together the flour, salt and baking powder in a medium bowl. Whisk in the beer and vodka and set the batter aside until the oil has reached the desired temperature.
5. Dip two onion rings into the batter and shake them gently against the side of the bowl to remove excess batter. Then, be very careful as you gently drop them into the hot oil. Fry the onion rings, two at a time, for about two minutes (or until they are a nice golden brown) before removing them with a pair of heat-proof tongs and placing them on a paper towel-lined plate. Continue to dip the rest of the onion rings into the batter and frying them until you are done.
6. To plate: Cut the steaks in half going across the grain and place each steak on a plate. Top each steak with a generously rounded tablespoon of blue-cheese butter and a couple of onion rings. Serve additional blue cheese butter and onion rings at the table.
Musical Pairings: The National – Boxer + Rib-Eye Steak with Blue Cheese Butter and Fried Onion Rings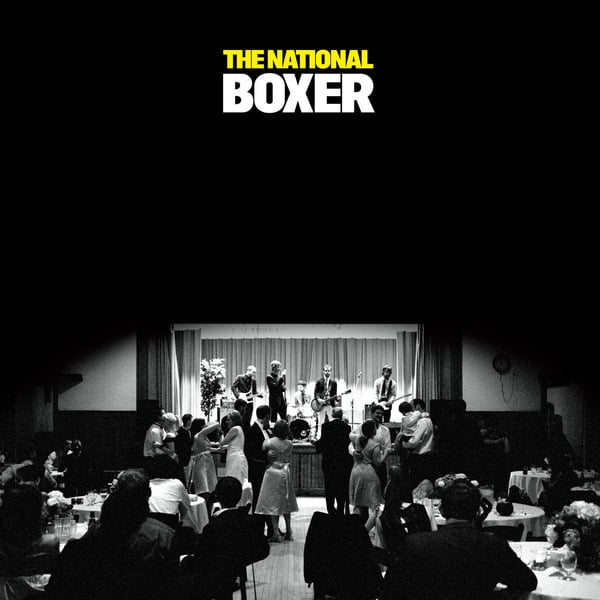 Head to the Turntable to listen to today's Pairing: The National's Boxer, a masculine album (read on to learn why).