I'm currently enjoying what I've been calling my 'funemployment' – it' unemployment, but it's fun because I have a week off before starting a new job that I'm really, really excited about. Some things I've gotten accomplished during this time: bought a car (my first in six years!), bought a new leather chair for our apartment, had a dinner party for six friends, and went skiing with my dad for a couple of days. After missing some of the best skiing earlier this year, we lucked out, driving up to Tahoe the night of the first snow storm following a warm front. The weather was perfect, the snow was fresh, and it was the first time that my dad and I had a father/daughter getaway in some time. Aside from skiing, we went out for pizza and beer, watched 'The Social Network,' went in the jacuzzi underneath the stars and made pelmeni (Russian dumplings). It was pretty awesome. We drank a lot of wine and talked a lot. Our second night in Tahoe, we got to talking about fate and luck.
My dad told me that at my age, living in Moscow, building things, and being an entrepreneur, he could have never predicted where he'd be at his age. We talked about regrets and accomplishments and a lot of 'what ifs' and it got me thinking how one decision, no matter how big or small it may be, can completely change the course of history. I met Matt by chance (or luck): he happened to move to San Francisco from Ohio and after living in a few different apartments, settled down the street from me while I chose my apartment on the basis of my roommate's job at the time, and its proximity to the freeway. Neither Matt nor I had cars, so we rode the street car to work at approximately the same time most mornings. What if I had chosen a different neighborhood to live in? Would I still have met him, somewhere? Or, what if I chosen to go to law school on the East Coast, instead of taking a job in PR straight out of college? Would I be living in the Bay Area? Or, what if my parents had never left Russia? Would I still be the same person that I am today? Movies and books have taken on this subject many times, but it's not often that I think about it. It's good to remind yourself, when times are good or bad, that there truly is a rhyme and reason to everything. You may take the roundabout way to get someplace, but somewhere along the road, something significant will happen (whether you know it or not at the time) that will shift your universe irreversibly.
A longtime fan of David Lebovitz, I received his latest treasure: a book of his favorite dessert recipes, for my birthday this past year. Since, I have made and/or bookmarked numerous recipes, but this humble cake has eluded me. I had overlooked it in lieu of shinier and fancier-sounding recipes, ones that were wrapped in prettier packages, so to speak. The polenta cake bore no picture in the book which is a shame, but also speaks to the fact that the best things in life (and the tastiest) are sometimes sitting right in front of you–albeit, not always in the prettiest package. Sometimes, they just take a little longer to uncover.
This cake had everything going for it: nicely browned on all sides, it had a mysterious crunch mixed with a tender, buttery and fruity bite accented by an elusive secret ingredient: finely minced rosemary. To say that putting fresh rosemary leaves into a cake is scary is an understatement. But, boy, do I not regret it. Despite a meal of numerous cheeses and crackers, pickled green beans, ravioli, crab, salad and copious amounts of wine, this cake was fully consumed by six people in a matter of minutes. Not a crumb was left on the plate. It proves that when the right ingredients are mixed together at the right time, in the right place, magic can happen.
Polenta Olive Oil Cake with Rosemary
adapted from Ready for Dessert: My Best Recipes
1/2 cup of butter, at room temperature (plus more for buttering the pan)
6 teaspoons of minced fresh rosemary
3/4 cup of polenta (plus more for the pan)
1 cup of all-purpose flour
2 teaspoons of baking powder
1/2 cup of fruity olive oil
1 teaspoon of salt
5 large eggs plus 2 egg yolks, at room temperature
1 teaspoon of vanilla extract
1 1/3 cup of sugar
1. Preheat the oven to 350 degrees F. Butter a Bundt pan, getting into all of the crevices. Evenly sprinkle about 2 teaspoons of the minced rosemary into the pan, rotating and tiling it so that it can get evenly distributed. Sprinkle 2 tablespoons of polenta into the pan, tiling to coat.
2. Sift together the flour, baking powder and salt in a small bowl. Whisk in the polenta.
3. In another bowl, whisk together the eggs, egg yolks, olive oil and vanilla extract.
4. Beat the butter and sugar in the bowl of a stand mixer until it is light and fluffy (about 5 minutes). Continue to run the mixer and slowly pour in the wet ingredients. Next, dial down the speed to low and add the dry ingredients, along with the rest of the minced rosemary. Stir until all of the components are fully incorporated, then pour the batter into the prepared Bundt pan.
5. Bake for 30 – 40 minutes (depending on your oven), until the cake is lightly browned and a toothpick inserted into the cake comes out clean. Cool the cake for 30 minutes before gently sliding a knife along the sides to loosen it, and inverting it onto a plate.
Musical Pairings: James Blake – James Blake + Polenta Olive Oil Cake with Rosemary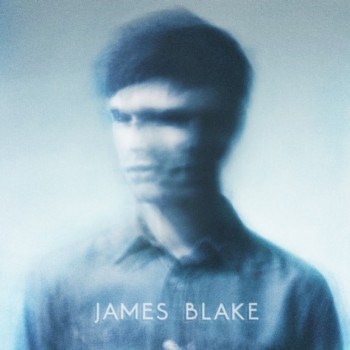 Head to the Turntable for today's Pairing!