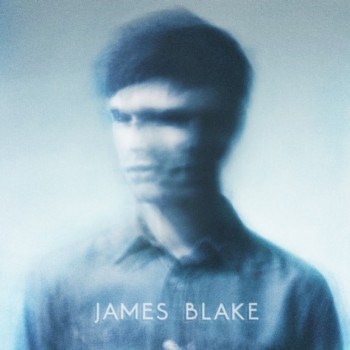 I could be accused of having music attention deficit disorder. I fall in love with albums pretty quickly, but also move on to the next one on short order. Most albums, even the ones I really like, tend to not see much play after a week or two.  In part, that is a result of starting this whole "music blogging" thing. I spend more time than ever listening to new music, and that simply leaves less time for re-listening to an album over and over again.  So with that in mind, it says something when I say that I've been listening to James Blake's self-titled debut album since the beginning of the year, and it is one of the few albums that I keep coming back to for repeated listens. It's just so good that when I want a go-to album, I can't resist it's many charms. It is lovingly textured. It is an album that sounds like you could feel it with your hands. And each song is intriguingly sparse. No instrument is used without reason, and each sound is uniquely notable: there is no "frill" on James Blake. Instead, Blake relies only on what instrumentation he needs to get the song to where it needs to be. As a result, the space in between the "sound" is as intriguing as the music itself. Imagine the xx album, but more electronic, dubby and experimental, and you have a decent sense what this album offers.
But there are plenty of other reasons to love this album. Like any great recording artist, Blake demonstrates an obsessive ear for detail.  The reverberating, rumbling bass on his remake of Feist's "Limit To Your Love" hits deep to the core, and the little finger snap that follows the rumbling bass is delightful (the sound itself diffuses like a match lighting and quickly burning out). With a deeply textured, spacious electronic heavy dub, it is so contemporary that it might just be the future. But what is maybe the album's biggest surprise, is that on repeated listens it becomes clear that it is more traditional that it at first appears. The melody and vocals on "Wilhelms Scream," for example, are pretty much pure R&B – although it is the rest of the song that breaks it from the mold.
The bottom line is this: I like this album a lot, and I've been sitting on it and waiting for a recipe to pair it with. And in some ways, I was a little hesitant to pair it with Kasey's polenta, olive oil cake with rosemary.  Visually, you wouldn't expect them to pair well together.  But, when you taste that cake, it begins to make sense.  First, that cake is freaking amazing. It was devoured with extreme prejudice at the dinner party Kasey prepared it for. Second, as one of our guests noted, it is all about texture. The polenta makes it's texture surprising and very toothsome. Third, I think it is an extremely contemporary dessert. The idea that dessert can be slightly savory, and that ingredients like olive oil or rosemary might make for delicious desserts is – at least to me – a very new concept. So yeah, I think that this pairing actually plays together unexpectedly well.
update: mp3's removed by request
James Blake – Wilhelm's Scream
James Blake – Limit To Your Love (Feist Cover)
Don't forget to "heart" our songs on hypem if you like what you hear!  And then head to the Kitchen to read the recipe for Kasey's polenta, olive oil cake with rosemary.