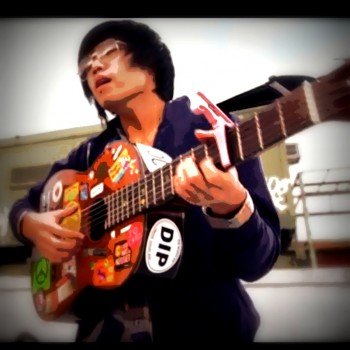 If you don't know how much I love We Are Trees debut EP, Boyfriend, then you definitely aren't a regular reader of this site. I've posted it twice, included it in a mix or two, and listed it as my top EP of 2010.  And if you haven't even heard the EP yet, well then, I feel bad for you son. You may have 99 problems, but stunningly evocative music ain't one (wow, be honest, that Jay-Z reference was way too heavy handed, huh?). Anyhow, considering how much I've poured over that EP, when We Are Trees songwriter James Nee mentioned that he was working on some new material, well, let's just say that I was pretty excited. And so this gem was an awesome surprise when I discovered it in my inbox, and even better is that he offered us the exclusive premier of the track! Titled "Afraid of Love," the track was recorded by James' in his bedroom, which is immensely fitting since it is a warm, intimate and intensely personal song about heartbreak and regret. The man seriously bears his heart on this track, and the relative rawness of the recording lends itself beautifully to the lyrical content of the song. He sings: "I should have kissed you on the lips / but I was too afraid of love / I never thought I'd have regrets / I thought I'd have other chances / I should have taken you home that night / but I was too afraid of love." So it is no surprise that the soul of the track is James' thoughtful and sincere vocals, which are accompanied by dual overdubbed and reverbating acoustic guitar and fleshed out with the warm washes of a haunting ambiance.  Lonely and singing in a room by himself, Nee is clearly able to find some solace in his own music, and because he has decided to share the recording, so can we.
Although the next EP/album is still a work in progress, last I heard there is a pretty decent chance this will end up as the album's closer. I know I can't wait to hear more, and if you are feeling the same way, I highly recommend stopping by Yours Truly to check out the video that High/Low Films recorded for them of We Are Trees performing on a Brooklyn rooftop.
We Are Trees – Afraid of Love
We Are Trees – Sunrise Sunset (from the Boyfriend EP)
Don't forget to "heart" our songs on hypem if you like what you hear! If it isn't already too late, you may be able to buy a limited edition (only 300 almost completely sold-out copies) version of the Boyfriend EP on vinyl from Collective Crowd Records or download a digital copy from iTunes.