Everyone's posting chocolate truffle recipes and heart-shaped pancakes today, so I thought I'd do something different. If you need some deliciously sweet ideas, check out the Caramelized Mascarpone-Stuffed Brioche French Toast or Little Chocolate Cakes with Whiskey Cream I posted last week.
The other day, I realized something profound. As a child, I dreamed of exactly three professions: paleontologist (my dinosaur-obsessed era), veterinarian (moving on to un-fossilized animals) and writer (my longest love affair). Telling people that you want to be a writer is usually met with a look of pity. "Good luck with that!" By the time I reached college, I stopped telling people I wanted to be a writer. Instead, I focused on more pragmatic career choices: public relations and marketing. I figured this was as close as I was going to get to writing for a living, aside from becoming a journalist.
I've written countless press releases, pitches, case studies, bylined articles and presentations and, overall, I've been pretty happy with the direction that my career has taken. But recently, I made the transition to actually write, full-time, for a consumer technology company. When people ask me, "What do you do?" I can now answer, "I write." It's pretty unreal to me, still. Writing is my therapy. I approach it the way some people might approach making a quilt or building a complex piece of technology. I build, I re-arrange, I look up words, I find better words, I cut up sentences and re-string them back together.
So what was my profound discovery? It was the realization that what I wanted to do when I grew up was write. And I'm doing it. I'm not a journalist and I'm not a published author (yet) but I write. It's what I do. And I had no idea that I'd ever actually be able to say that. It feels pretty darn great.
I realize it's Valentine's Day and I hope you're either a. planning a romantic dinner with someone special or b. celebrating with friends and/or family. There's no good reason to tell someone you love them today over any other day, but why not use the excuse? Give your friend a hug, or send him/her a nice email. Leave someone a Facebook message. Kiss someone. Eat some chocolate. Oh, and make this salad sometime (today or otherwise).
Mushrooms are one of Matt's favorite things, so I figured I'd send him a little love in the form of this salad. It's pretty simple, though you'll have to hunt down some King Trumpet mushrooms. They're thick and stalky and can be found at Asian markets and mushroom vendor stands at farmer's markets (they're also not that expensive). Sliced thinly, drizzled with olive oil and roasted, they're really delicate and earthy and are complemented by some bitter arugula and salty cheese. If you want them a little spicier, add more chili pepper, but take note: you don't need much.
Happy Love Day, loves! xx
Roasted King Trumpet Mushroom Salad
inspired by this recipe in the Los Angeles Times
*serves 4 as an appetizer or side
3/4 pound of king trumpet mushrooms, sliced thinly lengthwise
extra virgin olive oil
salt, to taste
pepper, to taste
pinch of red pepper flakes
Parmigiano-Reggiano (or Pecorino Romano) cheese
1/2 pound of washed and dried arugula
squeeze of lemon juice
1. Preheat your oven to 400 degrees F. Line a baking sheet with foil. Arrange the mushroom slices on the baking sheet so that they are not overlapping.
2. Generously drizzle the mushrooms with olive oil, sprinkle with salt and pepper, to taste, and toss in a pinch (or two) of red pepper flakes.
3. Roast, watching closely, for about 10 minutes (or until the mushrooms begin to shrivel, but not brown).
4. In a medium bowl, toss the arugula with a tablespoon of olive oil and just a squeeze of lemon juice.
5. Divide the arugula between four plates and top with mushrooms.
6. Shave thin slices of cheese on top of the mushrooms and season with freshly ground pepper and salt.
Musical Pairings: John Vanderslice w/ the Magik * Magik Orchestra – White Wilderness + Roasted King Trumpet Mushroom Salad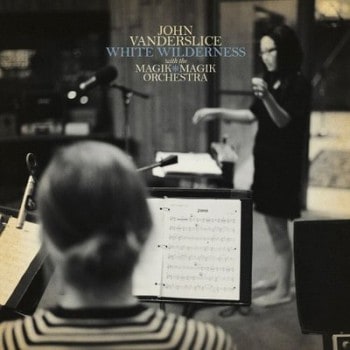 To listen to the Pairing and read Matthew's review, head to the Turntable.