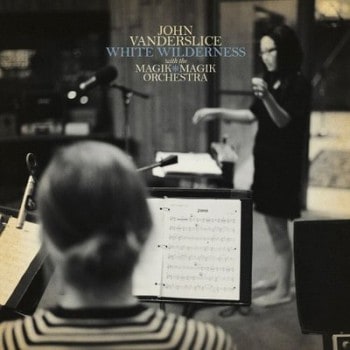 One of my favorite places to visit in my home state of Ohio is the village of Yellow Springs.  It is a great place to go for long hikes, picnics, canoeing, camping trips, ghost stories and old covered bridges.  And it is home to fun food (like Ha Ha Pizza, Young's Dairy & Ye Olde Trail Tavern) and record shops that have long specialized in vinyl records.  Food, music and the ourdoors: you see why I love this place.  I recall on one trip to Yellow Springs as a teenager I had bought a Cure record that had a sticker on it that read: "Play This Record Loud!"  I'm not normally inclined to tell others how to listen to their music (not that I won't make suggestions), but I do believe that if you are listening to the latest John Vanderslice album, White Wilderness, with the volume turned low, well then, you are doing it wrong. So yeah – this album should come labeled with a "Play This Record Loud!" sticker.
There are a number of records that I would suggest playing loud – and for a variety of reasons. AC/DC records, for example, demand to be listened to with the volume cranked on high. And that is because pretty much every song AC/DC ever wrote was a fist-pumping, electric-guitar wailing, rock n' roll anthem. But that is also a very, very different sort of album than White Wilderness – which nonetheless, also should be listened to loud.  Unlike AC/DC albums – White Wilderness is plaintive, thoughtful and meticulously woven.  You'd really have to mangle the definition to describe any song here as an "anthem."  So you listen to White Wilderness on high because only then can you feel truly enveloped in the hand-crafted and lushly orchestrated sonic bouillabaisse that J.V. & Magik * Magik Orchestra have prepared. Only then can you really appreciate the finer subtleties prepared by one of indie-rock's finest producers and one of the most intriguing and indie-rock friendly orchestras.  And there are a lot of subtleties to savor here.
J.V. writes some of the smartest tracks in the indie-music scene.  And Minna Choi, the arranger and conductor for Magik * Magik, is as meticulous an arranger as John Vanderslice is a producer.  While the result isn't the most accessible pop music you'll hear all year, it is definitely an album that is worth spending time to get to know.  "Sea Salt," "Convict Lake," and especially "After It Ends" are the most conventional Vanderslice tracks on the record, and wouldn't have been out of place on his prior records (although that swelling brass section that booms like crashing waves across the instrumental chorus of "Sea Salt" certainly makes that track come to life…  and the slinking oboe and the soaring string section on "Convict Lake" are clearly the tracks co-stars).  Conversely, "The Piano Lesson" is glorious primarily because of the angelic harmonies, organic percussion, plucking string section, grumbling oboe and off-kilter piano provided by the Magik * Magik Orchestra.  No offense intended towards J.V., but he could have stayed at home for the recording of that song and it would have still been phenomenal.  Nonetheless, even if a a number of these songs didn't demand this collaboration – they certainly benefit from it.  In other words, this is a musical pairing that definitely works.
For our pairing, I wanted an earthy, crisp recipe using ingredients from our local farmer's market (J.V., who formerly worked at Chez Pannise in Berkeley, is a devoted fan of the Bay Area's Farmer's Markets).  So with that in mind, Kasey's roasted king trumpet mushroom salad is the perfect pairing for this album.  It features gently sauteed mushrooms, crisp farm-fresh arugula, and shaved Parmesan: this recipe is mmm mmm good.
John Vanderslice – Sea Salt
John Vanderslice – Karma Police (Radiohead Cover)
Head to the Kitchen and check out the recipe for Kasey's roasted king trumpet mushroom salad.  Don't forget to "heart" our songs on hypem if you like what you hear!