There's a lot to be said for knowing how and when to relax. Some people are too good at it, others, not good enough. Which are you?
I know how to relax about as well as I know how to speak Mandarin. It's a completely foreign language to me. When I have free time, I fill it–whether it's with throwing a dinner party at my house, going to a farmer's market, leaving the city to go for a hike, reorganizing my bookshelf, or taking on laborious kitchen projects. Sometimes I have the dilemma of having recently done all of the above and having several hours to sit at home, with time at my leisure. Even with a few hours of 'free time' on my hands, I start to feel consumed by boredom.
A strange thing happened to me in these last two weeks: Matt and I bought a car–my first car in six years. I had become accustomed to my life being under the control of public transportation and my two feet. Out of necessity, I would have to allot several hours to grocery shopping, a trip to Dolores Park, and a ride out to a restaurant on the other side of the city. But a magical thing has occurred: I am no longer in need of a time cushion.
The other day, we drove home from a friend's birthday (from North Beach, no less) and arrived home in just under 20 minutes. No waiting for cabs or buses. In San Francisco, a city that is filled with buses, street cars and underground trains, you'd be hard-pressed to find just one that runs on schedule (or has an intuitive, uniform system of entrances, exists and payment systems that make sense to anyone without a pHD). For a city much smaller than New York (I tried to calculate the precise numbers but number crunching is really not my thing), we sure make distances seem much, much further. The next day, we hopped in our car and went for a hike in Marin County and then popped by Whole Foods to pick up some groceries. Every transition was so seamless, so effortless, so time-efficient. All of a sudden, I'm reminded of the way that cars constrict space and time. A whole new world has opened to me. One in which I feel like I have more…time. I feel like I've re-joined the modern world.
On the flip side, I'm commuting, which means no more reading on the train, and zoning out, but regardless, the weekend is my oyster. So I'm going to work on something that I know will make Matt happy: I'm going to try to relax more. I'm going to try to be late to the Sunday morning farmer's market once in a while. I'm going to try to embrace brunch more often. And I'm going to let myself live a little less…busily.
Step one: making him one of his favorite breakfasts – French Toast. This isn't just ANY French toast, though. It's made with homemade brioche bread (I'll share the recipe soon), is caramelized with the help of a little butter and brown sugar, stacked high and stuffed with creamy mascarpone cheese, drizzled with a homemade berry-maple sauce and sprinkled with powdered sugar. I'm a good wifey.
Being that that holiday that starts with a 'V' and ends with 'Day' is coming up soon, I thought I'd spread the French Toast love. It's best eaten in your pajamas. Because I said so.
Caramelized Mascarpone-Stuffed Brioche French Toast
very loosely inspired by this recipe in Bon Appetit
*serves two
4-5 1-inch slices of brioche (homemade if you have it)
2 large eggs
1 cup of milk
1 teaspoon of cinnamon
pinch of nutmeg
1 teaspoon of pure vanilla extract
1/2 teaspoon of hazelnut extract (optional)
3 tablespoons of brown sugar
3 tablespoons of butter, at room temperature
For the Berry Maple Syrup:
1/2 cup of frozen assorted berries
1/3 cup of pure maple syrup
mascarpone cheese
powdered sugar
1. Mix the butter and brown sugar with a fork, in a small bowl.
2. Whisk together the eggs, milk, spices and extracts.
3. In a small saucepan, combine the berries and maple syrup. Dial the heat up to medium, and stir the syrup occassionally while you are making the French toast. The sauce will thicken the longer you cook it. Remove from heat once it reaches a desired consistency.
4. Heat 2 tablespoons of the brown sugar-butter in a cast iron skillet over medium-high heat. Soak each piece of brioche in the egg-milk mixture, then place into the skillet, cooking for about 3-4 minutes.
5. Briefly stick the butter into the microwave to melt it and make it more spreadable. Using a silicone brush, spread some more of the butter-sugar mixture over the cooking slices of brioche. Flip and cook for a few more minutes (until both sides of the bread are caramelized). Dial down the heat if you think the bread if browning too quickly.
6. Repeat with the rest of the bread slices.
7. To assemble: place one slice of bread on a plate, spread some mascarpone cheese over it and top with another slice. Repeat. Top with another slice (I prefer a stack of 2-3 slices). Scoop the berry syrup on top and sprinkle with powdered sugar.
Musical Pairing: Bill Withers – Live at Carnegie Hall + Caramelized Mascarpone-Stuffed Brioche French Toast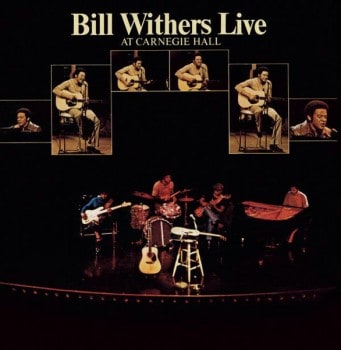 Listen to tracks from Bill Withers' Live at Carnegie Hall (and read about why it pairs with this dish) over on the Turntable.