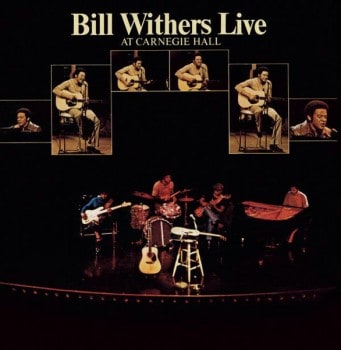 When I wake up in the morning, and the sunlight hurts my eyes, and something, without warning, rests heavy on my mind, then I look at the decadent stack of mascarpone stuffed French toast Kasey prepared for breakfast, and I know it's going to be a lovely day. Seriously, if you find yourself needing an early morning "pick me up" after a rough week, I highly recommend treating yourself to this recipe.  It is so delicious, you know it has to be bad for you. After all, nothing this good can be healthy. Still sometimes you need to just let it all go and treat yourself. In my opinion, what is bad for your waistline can be good for your soul. So you'll need an album that is just as sexy, just as sweet, just as decadent and just as bad-ass as this recipe. Something as upbeat and good for your soul as that French toast recipe.  I suggest giving Bill Withers' Live at Carnegie Hall a spin.
Recorded live in October of 1972, Live at Carnegie Hall is a revelation, especially if you are only familiar with Withers via his most popular studio recorded tracks. (i.e. "Lean On Me" and "Just The Two Of Us" for example). Indeed, Bill Withers is arguably one of the greatest song-writers (like within the Top 5) of the 70's and 80's, but he can be easy to overlook by many fans of contemporary music because, to put it bluntly, the production on a number of his tracks are very out-of-fashion at the moment. This is especially true of tracks like "Lovely Day," "Just The Two Of Us," and to a lesser degree "Lean On Me" and "Use Me."  So that is where this live album comes into the picture, as it captures the rawness, brilliance, and emotional-depth of the source material while foregoing the studio sheen and out-of-date production. Sure, I'd kill for a version of this live document that captured a little less of the crowd's enthusiasm, but that is a minor issue. But I don't want to give the wrong impression, not all of Withers' studio recordings haven't aged well: "Lonely Town Lonely," "Ain't No Sunshine," "Harlem," "Kissing My Love," and the Blacktreet "No Diggity"-sampled "Grandma's Hands" are as soulful and funky as they ever were, and get plenty of play in my house. These are definite treats that justify picking up a good best of compilation and playing the crap out of 'em. But for my money, no other single Bill Wither's album is as solid and sonically satisfying as Live at Carnegie Hall.  The energy and groove of the funky bass-line on this eight and a half minute long rendition of "Use Me" can't be beat.  And why not?  After all, Withers is joined by his highly talented backing band consisting of drummer James Gadson, guitarist Bernard Blackman, and bass player "Quiet" Melvin Dunlap.  Even the already pristine "Ain't No Sunshine" feels further fleshed out in it's live setting as Withers and company successfully mine the tune for even more gold.  So my recommendation is to score this record and score some more gold for your collection.
As a little bonus, I decided to include Bill Withers' "Grandma's Hands" (which was his second single) and Blackstreet's "No Diggity" which (as mentioned above) samples the track.  Enjoy.
Bill Withers – Use Me (Live at Carnegie Hall)
Bill Withers – Grandma's Hands
Blackstreet – No Diggity
Don't forget to "heart" our songs on hypem if you like what you hear!  Then head over to the Kitchen to read Kasey's recipe for mascarpone stuffed French toast.