I was hoping to do a little experiment: to write in the third person. But each time I tried, it felt entirely unnatural. I've always had trouble with fiction. Each time I read a brilliant book written in the third person by someone who has had no personal experience with the setting, context or characters that they are writing about, I am in awe. Thing is, every fiction story I've ever written has been at least mildly based on a true story. I've always argued to myself that stealing your own good stories is just as well as stealing other people's good stories. This is all well and good, until you run out of good stories to tell – and then you must really turn to fiction.
Luckily, I don't think I have yet run out of good stories, but nevertheless, once in a while, I find that I am repeating myself–in real life and on the blog. I'm a big believer in telling a good story more than once. Most of my friends don't mind. The same is sort of true with recipes. They're kind of like other people's good stories, retold, over and over again by different people, with different accents and in different languages.
When we traveled to Argentina, we saw a lot of Matambre on restaurant menus, but our eyes were always drawn to thick, buttery pieces of steak, so we never actually tried this classic. A few months ago, I was flipping through one of my Canal House cookbooks and my eyes landed on the Canal House's version of Matambre. It looked so beautiful and sounded relatively hassle-free, so I decided to give it a try. Because this Matambre has become my story, I adapted it to us: Matt doesn't like olives, so we swapped in capers, and I whipped up a batch of my own harissa paste (though you can certainly use a premade kind). We also cut the recipe down a bit since we weren't having anyone else over for dinner (though this recipe makes enough to feed 3, easily, and 4 as a starter).
Matambre can be served hot or cold and the beauty of Canal House's technique is that it recommends chopping the filling ingredients to make a thickish paste. No one ingredient dominates the flavor, so the result is quite complex: spicy and salty, peppery and herby.
Matambre
adapted from the Canal House Cooking Volume No 3
*serves 2-3 as a main course, 4 as an appetizer
One 1 1/2 pound flank steak
1 hard boiled egg, chopped
1/2 cup of flat-leaf parsley, minced
1 1/2 tablespoons of capers, minced
1/4 cup of fresh breadcrumbs
4 anchovy fillets, minced finely
1 clove of garlic, minced
1 tablespoon of homemade harissa (recipe below)
extra virgin olive oil
salt and pepper, to taste
1. Preheat your oven to 350 degrees F. Meanwhile, combine the chopped egg, parsley, capers, breadcrumbs, harissa, garlic and anchovies in a bowl. Mash everything together with a fork, until well-mixed.
2. Place the flank steak on a cutting board and very carefully slice it in half without cutting all the way through it. Leave about a half-inch seam so that you can open it as you would a book.  Cover the steak with a piece of plastic wrap and then pound it with a meat pounder to tenderize it.
3. Evenly spread the filling over the open steak, then roll it up tightly and tie it with kitchen string, as you could a package.
4. Season the meat evenly with salt and pepper.
5. Heat about a tablespoon of olive oil in a large cast-iron skillet over medium-high heat. Cook the meat for a few minutes, turning it to brown it on all sides.
6. Transfer the meat to the oven and roast until a meat thermometer inserted into the center registers 125 degrees F.
7. Remove the meat from the skillet and let it rest for about 15 minutes before removing the kitchen string and slicing it into one inch slices.
Homemade Harissa
recipe adapted from here
7 dried ancho chilies
3 dried red chilies
3 cloves of garlic, minced
1 teaspoon of ground coriander
1 teaspoon of ground caraway seeds
1/2 teaspoon of cumin
1/2 teaspoon of salt
2-4 tablespoons of extra virgin olive oil, plus more, to taste
1. Soak the chilies in hot water for about 30 minutes, until they are soft. Slice through the chilies and remove most of the seeds and the stems. Chop them roughly.
2. Combine all of the ingredients, along with the chopped chilies, in a food processor and blend until the mixture forms a thick paste. Add more olive oil, if necessary. Store in the refrigerator for up to one month. If it gets dry, just add more olive oil.
Musical Pairings: tUnE-yArDs – w h o k i l l + Matambre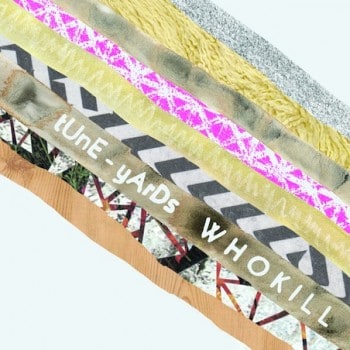 Head to the Turntable to read the review and listen to the Pairing.