When you are a wordy person, there is an expectation that you should always know what to say. Wordy people know how to write a thank you card, a Maid of Honor speech, an anniversary toast and a condolence letter. Wordy people can be inspired, but they can also write the appropriate thing without any inspiration at all. Wordy people tend to be good at talking, too. Stuff like expressing their love, sorrow and apologies.
There've been a lot of really great things happening for Turntable Kitchen (podcasts and television segments and interviews). But it's been a bit of a rough weekend, and while I'm normally quite the wordy person, I feel…at a loss for words. Life happens – sometimes you can write about it, and sometimes you can't. And that's ok. Words have weight and sometimes, you just want to be weightless.
That's the great thing about food – it doesn't require a lot of words to be shared and enjoyed. So today I'd like to share some cupcakes with you. They're made with spelt flour. And they're full of carrots and ginger. And topped with some maple cream cheese frosting. I made them a few weeks ago to celebrate a new life coming into this world. They are happy cupcakes. And we could all use a little happy.
Spelt and Carrot-Ginger Cupcakes
Inspired by The Doctor's Dishes, Desserts and Decor + Smitten Kitchen
*makes 22 cupcakes
1 cup of spelt flour
1 cup of all-purpose flour
1 cup of brown sugar
3/4 cup of canola oil
3 large eggs
1 teaspoon of baking powder
1 teaspoon of baking soda
1 teaspoon of cinnamon
a pinch of freshly-grated nutmeg
1 teaspoon of freshly grated ginger
3 1/2 cups of grated carrots (from about 4 carrots)
For the Maple Cream Cheese Frosting:
16 ounces of cream cheese, at room temperature
1 stick of butter, at room temperature
2 cups of powdered sugar
1/4 cup of good quality, real maple syrup
1. Preheat your oven to 350 degrees F and line a muffin tin with cupcake liners.
2. Combine the eggs and sugar in the bowl of a stand mixer and beat on high speed, until the mixture is thick and light-colored (about 2 minutes). Slowly pour in the oil with the motor running.
3. Sift in the flours, baking soda, baking powder and spices, beating to combine. Stir in the grated ginger and carrot until well-incorporated.
4. Spoon the batter into the cupcake liners, filling each one about 2/3 full.
5. Bake the muffins for about 15-18 minutes (or until a toothpick inserted in the center comes out clean).
6. Let the cupcakes cool and make the frosting.
7. Make the frosting: combine all of the frosting ingredients in the bowl of a stand mixer and beat until fluffy. Refrigerate the frosting for 20-30 minutes before pouring it into a piping bag fitted with a star tip.
8. Frost the cupcakes and store in the refrigerator until serving.
Musical Pairings: Charles Bradley – No Time For Dreaming + Spelt and Carrot-Ginger Cupcakes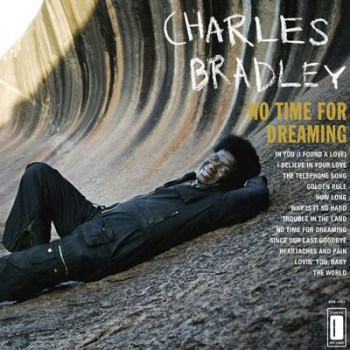 Head to the Turntable for today's Pairing.