Few things are more satisfying than writing in the rain. For a person who tends to be go go go, rain is a great excuse to throw on a pair of sweats, curl up on the couch, pour yourself a steaming cup of tea, and write.
Do you write? What do you find is your optimal 'writing place' – both physically and mentally?
So many books have been written about writing – it's fascinating to hear about what elements help a person let their creativity out. I often tend to write quietly. Unlike when I cook, I often force Matt to throw on a pair of headphones so that I can get into the writing zone. Once I've caught my groove, I actually like to listen to music that fits whatever writing mood I'm in. If it's reflective, I choose artists like Sufjan Stevens, Mirah, and Typhoon. Lyrics inspire me. I admit that I worshiped Alanis Morissette as a teenager.
Strangely, when I'm writing at work, I jam out to all sorts of pop that Matt would shudder to even mention on the site. They get me on a roll – writing becomes akin to a workout.
I say all this because I find that music fits writing similarly to the way that it fits cooking – it's all about the place and time, the flavors, the inspiration. This recipe isn't specifically a rainy day one – I promise you'll enjoy it just as much when it's sunny, but it begs a comforting melody.
I adapted this from a recipe I found in Saveur (they adapted it from a place I'm dying to try in Brooklyn: Marlow & Sons). It's the sort of dish that looks beautifully effortless, earthy and warm. A brothy blanket of chickpeas, little clams and bitter greens topped with a butter-basted, delicate fish. Oh how I wished I had a filet with crispy skin on it. Regardless, whether the fish you have has skin or doesn't, this is definitely a can't miss.
Next time I'm in Brooklyn, who wants to go to Marlow & Sons with me??
Butter-Basted Sea Bass and Clams in Chickpea Broth
adapted from Saveur (recipe based on one from Brooklyn's Marlow & Sons)
*serves two
2 filets of sea bass or black bass (about 3/4 of a pound)
extra-virgin olive oil
1 clove of garlic, sliced thinly longways
1 sprig of fresh thyme
1 onion, halved and thinly sliced
1 dried chile de árbol, crumbled
1/2 of a 15 ounce can of chickpeas
salt and pepper, to taste
3 ounces of fresh chorizo, casings removed
12 littleneck clams
1 cup of chopped radicchio or escarole
1/4 cup of flat-leaf parsley leaves, chopped
2 tablespoons of butter
1. Heat a few tablespoons of olive oil in a large saucepan over medium-high heat. Once the oil has had a chance to heat up, add the chopped onion, garlic, sprig of thyme and crushed chile. Stir to combine, and let cook, stirring every so often, until the onions have softened. Add in the chickpeas in their juice along with 2 cups of water.
2. Dial down the heat and simmer the broth for about 20 minutes. Season with salt and freshly ground pepper, to taste, and turn off the heat. While the chickpea broth is cooking, scrub and clean the clams (make sure you've given them some time to breathe – this will release any dirt trapped inside of them).
3. Heat about a tablespoon of oil over medium-high heat in a medium, nonstick skillet. Crumble the chorizo into the skillet and cook, stirring, until it's browned. Transfer the chorizo to a plate lined with paper towels (leave the fat behind).
4. Reheat the chickpea broth, bringing it to a boil. Add in the clams, cover the pot, and cook for about 4-6 minutes, until all of the clams have opened. Discard any that haven't. Stir in the chopped radicchio, chorizo and parsley. Keep the broth warm while you cook the fish.
5. Heat a tablespoon or two of olive oil in a large non-stick skillet over medium-high heat. Season the filets with salt and pepper. Once the skillet is hot, place the fish into the skillet. If your filets have skin on them, be sure to place them skin side down. Cook the fish without moving it for about five minutes. Use a spatula to gently press the fish down (if your fish has skin, this will help it crisp).
6. Flip the fish, pour off some of the oil and add about a tablespoon of butter, basting the fish with it once it melts. Cook the fish, basting it, for a few minutes until it fully cooks through.
7. To serve, spoon the chickpea broth and clams into wide soup bowls. Top with the fish. Serve with crusty bread.
Musical Pairings: Thao & Mirah – Thao & Mirah + Butter-Basted Sea Bass and Clams in Chickpea Broth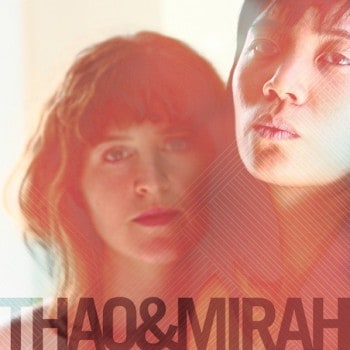 To read about today's Pairing and download or stream the track, head to the Turntable!