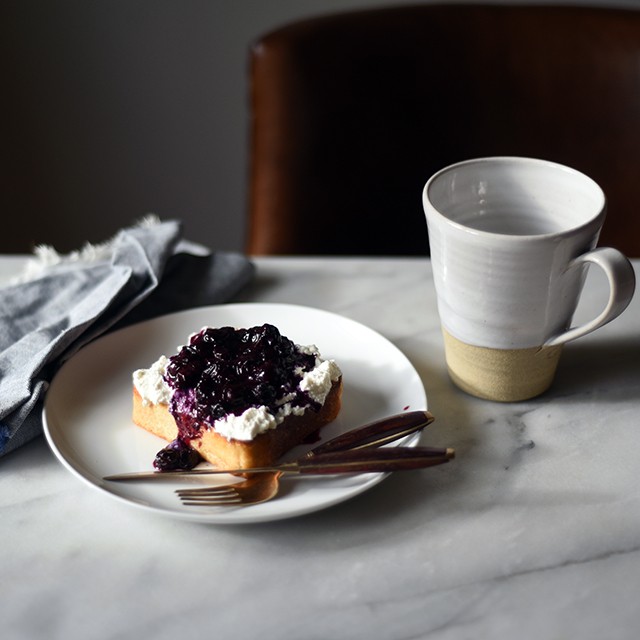 Back when we took our first family trip to Los Angeles as a family of three (!!!), we did something I feel is probably out of the question for a few more years. We went out to brunch. To a really popular joint, no less, called Sqirl — you may have heard of it?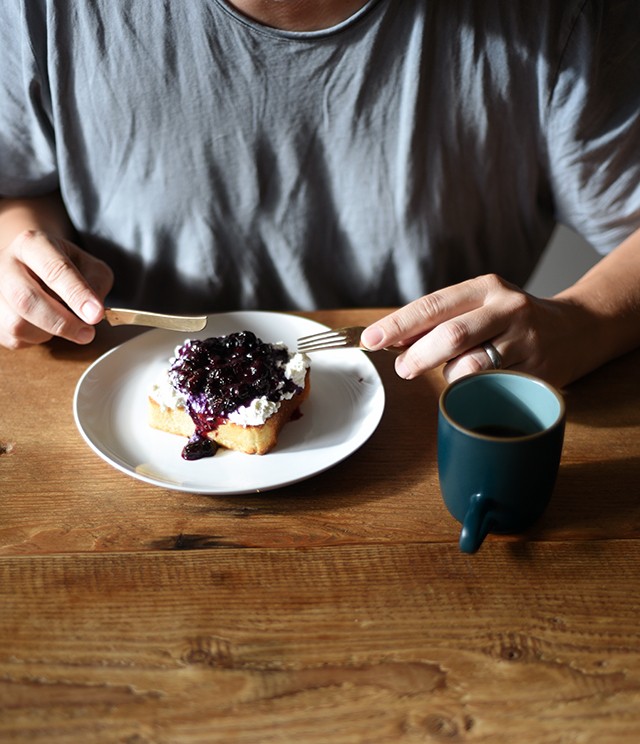 It was already a popular spot when Bon Appetit profiled the restaurant and made its burnt ricotta toast famous coast to coast. The concept of burnt toast sounds both genius and odd, and I was intrigued enough to order it. Needless to say, my mind was blown. Beyond the surprising delight that is perfectly burnt brioche, was the mound of ricotta and seasonal jam atop of it.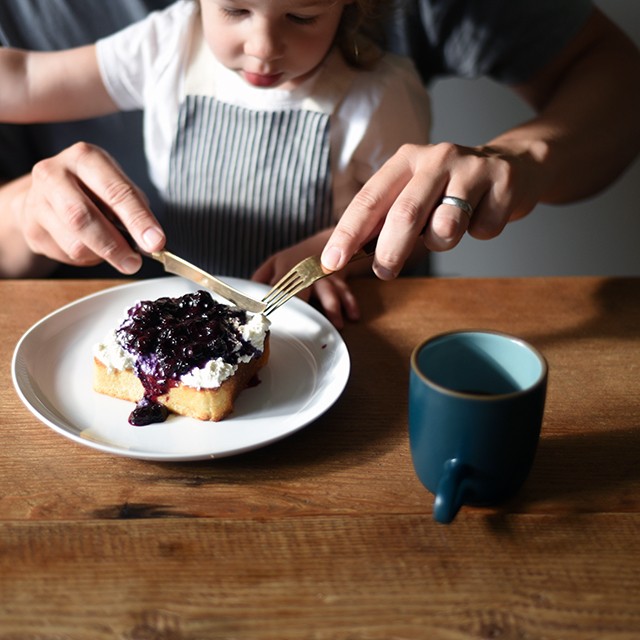 Somehow, I had never gotten around to putting ricotta and jam on toast, but the beautiful cookbook Simple Fare reminded me of the joy I could recreate at home.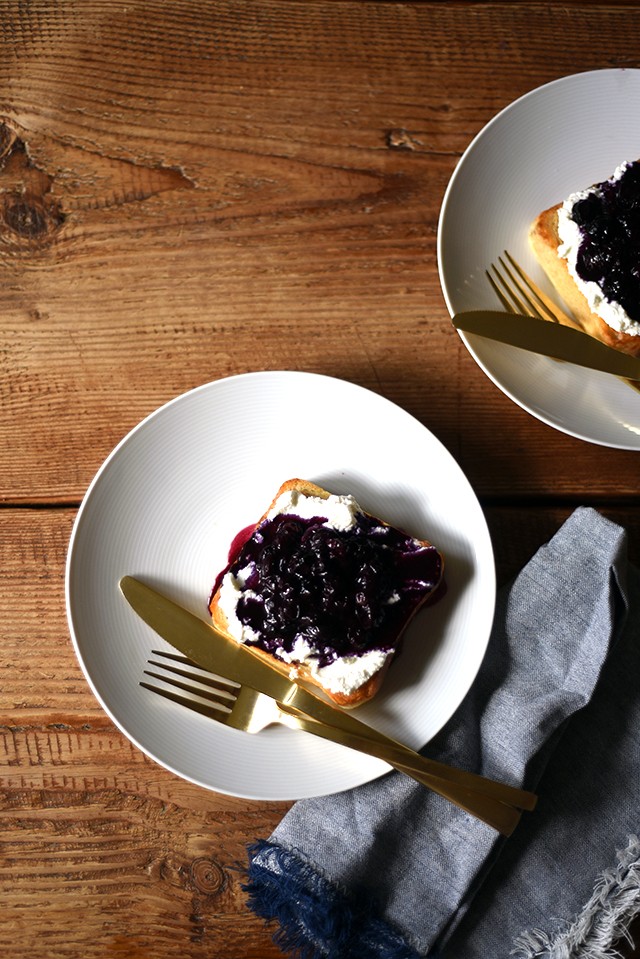 To be perfectly clear, this is NOT Sqirl's burnt ricotta toast. Rather, this is my version of ricotta on toast. It came together super quickly a few weekends ago, and felt like a departure from our usual weekend breakfast routine. The quick jam recipe, which is barely adapted from Simple Fare, makes use of the copious amounts of blueberries we've had in our house (summer in Seattle, people!) and basil growing in our garden. If you have the time, try making your own ricotta, but if not, a good quality store-bought ricotta will do the trick. Here's the thing about the jam: it's made with butter. And it's important to eat it warm. The buttery richness makes it to die for.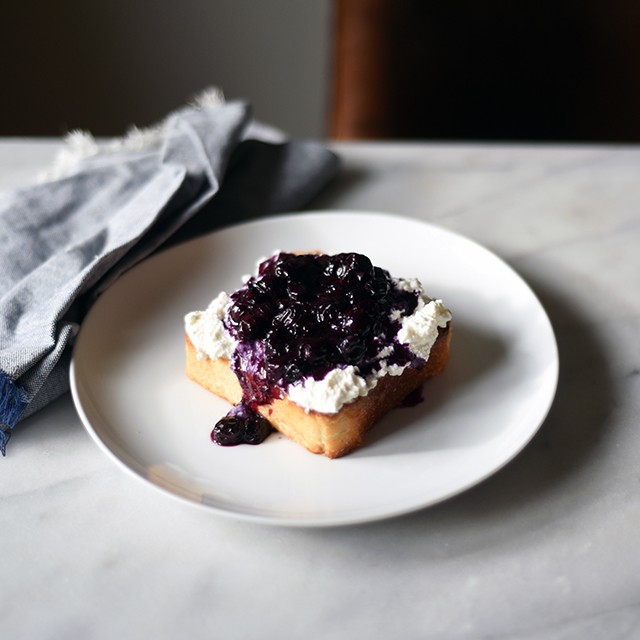 I recommend splurging on a bakery loaf (or homemade bread) for this one. We love the pullman loaf from Tall Grass Bakery in Ballard, Seattle.
Ricotta Toast with Blueberry-Basil Quick Jam
inspired by Sqirl, jam adapted from Simple Fare
For the toast:
4 2 inch thick slices of Pullman loaf
1 container of whole milk ricotta (best you can get your hands on, or homemade)
2 tablespoons of melted butter (for the bread), plus more, as needed
For the jam:
4 cups of blueberries
2 tablespoons of sugar
2 teaspoons of balsamic vinegar
3-4 fresh basil leaves
2 tablespoons of butter (IMPORTANT)
1. Preheat your oven to 400 degrees F. Combine the blueberries, sugar, butter, balsamic vinegar, and basil leaves in a cast iron skillet. Place in the oven and roast for about 15 minutes, tossing occasionally.
2. Transfer the skillet to the stovetop and cook over medium-high heat, tossing occasionally, until you've achieved the desired thickness. This should take about 5 minutes. Remove the basil leaves and let sit while you prep the bread.
3. Brush both sides of your toast with the melted butter. Spread the slices of bread on a baking sheet and place in the oven for 2-3 minutes. Flip the bread and toast for another 2-3 minutes. Watch carefully. You want your bread to get a little golden / toasty.
4. Remove the bread from the oven and let cool slightly.
5. Divide the toasts among plates. Scoop a generous amount of ricotta into the center of each piece of toast, spreading it almost to the edges. Then, take a generous scoop of blueberry jam and drop it in the center of the ricotta. The key here, with all of the elements, is to use a GENEROUS amount. You want the ricotta and jam to spill over the sides. Enjoy the delicious mess.
I should mention Karen's note on the jam: you want to eat it warm. If it's been in the fridge, reheat it before consuming again. It's great on toast, waffles, pancakes, and atop yogurt.
Coffee mug in top photo c/o Farmhouse Pottery.