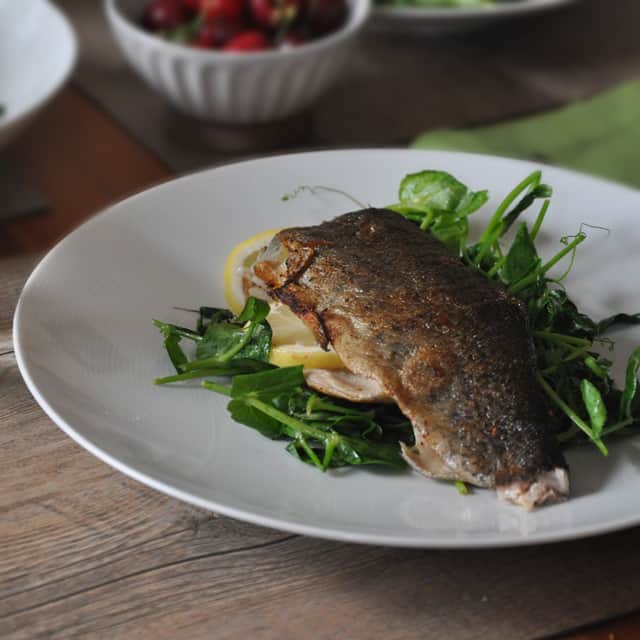 Do you ever think about someone's hands? The creases between their fingers and their palms, the shape of their fingernails, the way they hold a watch, or the indentation that a ring makes in their fingers? The hands of the people we love are particularly fascinating because we know them so well. This past weekend, the amazing photographer, Penny De Los Santos, hosted a 3 day food photography course that was live-streamed, free, on the web. Every spare minute I had over the weekend, I voraciously ate up her teachings (I even had my laptop on the kitchen counter while making dinner).
Of the ridiculous amount of useful tips and guidance that Penny provided, I walked away with a few very important lessons: to shoot food with feeling, and to capture it from above, or at the 3/4 angle. This was, people, a serious breakthrough for me. I always try to shoot food with feeling. But I'm never quite sure if what I see is what you see. You see? So this weekend, I had a dinner party and I cooked a lot. And then Matt and I had a simple, tasty meal. And I photographed a lot, trying to channel a little bit of Penny. I realized that the photos I share here don't have to be flawless. They don't need to zoom into every detail. They don't need to be perfect because, let's face it, when are things ever perfect?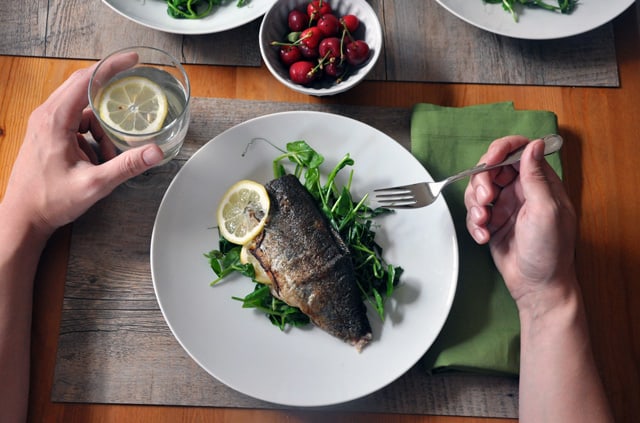 So, I focused on hands. And not just the food but our MEAL. The act of us sitting down at our dinky little Ikea table, laying out forks and knives, moving our fruit bowl to make room for a bowl of sauteed greens. Brightening things up with a few sprigs of mint in a mason jar. When I look at these photos, they speak a little differently to me than some of the other photos I've shared here on the site. And I'm hoping to continue exploring.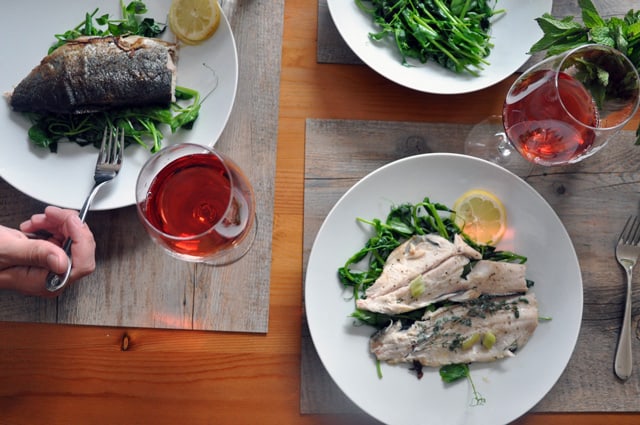 Do any of you have any tips for photographing life, food and stills? I'd love to hear them in the comments. Anyone else tune into Penny's seminar and have other tips?
And now, trout. This is the second trout recipe I've featured recently which is funny because it might only be the second time I've ever cooked trout at home. But I see it everywhere, it's local and fresh and I think it's quite tasty. This is the simplest preparation of it and this recipe is hardly one you have to follow exactly. It's the perfect simple weekend meal for two.
Simple Whole Trout with Green Garlic, Lemon and Pea Tendrils
serves 2
2 whole trout, cleaned and de-boned
1/4 of one green garlic bulb + stem
4 sprigs of fresh thyme
1 whole organic lemon
bunch of pea tendrils
kosher salt
sea salt and freshly ground pepper
1 tablespoon of butter
olive oil
1. Rub the trout with a generous amount of kosher salt and pepper both inside and out. Thinly slice the green garlic bulb and about a tablespoon's-worth of the green garlic stem.
2. Slice the lemon in half and then cut four slices from one half (set the rest aside).
3. Fill each fish cavity with two lemon slices, two sprigs of thyme and half of the green garlic.
4. Melt the butter in a large, non-stick skillet over medium-high heat. Once it's melted, add the fish, whole, into the skillet, gently placing it on one side. Cook for several minutes on one side (make sure to crisp up that skin nicely) before using a pair of tongs to carefully flip it to its other side. Continue cooking for several minutes. You may need to flip the fish again to make sure the inside is completely cooked (it should not be transparent and should flake easily with a fork).
5. Remove the fish from the skillet and keep warm on a plate.
6. Heat a tablespoon or so of olive oil in a large skillet. Toss in the pea tendrils (I recommend cutting off the tougher stems). Season with sea salt, pepper and a teaspoon of freshly-grated lemon zest (from the lemon you used earlier).
7. Saute briefly before evenly dividing between two plates.
8. Chop the head and tail off of the trout before placing it on top of the sauteed pea sprouts. Season to taste.
Musical Pairings: Port O'Brien – Threadbare + Simple Whole Trout with Green Garlic, Lemon and Pea Tendrils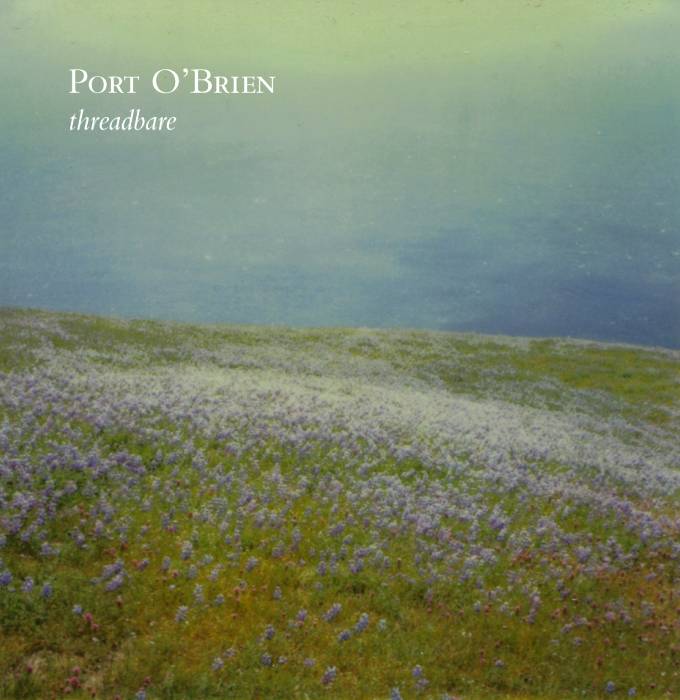 Head to the Turntable for more on today's Pairing.