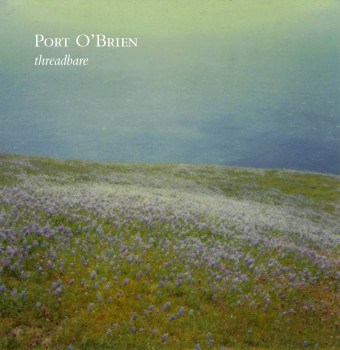 Some recipes have the ability to transport you to another place. And sometimes that is what you are looking for.  But then other recipes have a tendency to ground you to where you are and to make you feel more connected to the area around you. The whole trout with green garlic, lemon and pea tendrils recipe is the latter sort of recipe. It feels very "of the Earth" and consists of local, seasonal Bay Area ingredients like trout (frequently caught in Bay Area lakes and rivers), garlic, and pea tendrils. It's a recipe you could harvest yourself, or, more likely, pick up the ingredients for at any local Bay Area farmers' market this Spring.  It is also an honest, natural recipe that packs a lot of flavor.  And so it made sense to pair it with the album threadbare by Bay Area folk-rockers Port O'Brien.  It's a locally recorded album that is straight-forward but thoughtfully arranged with rickety, wood-hewn rhythms and loose, acoustic melodies.
And, like the recipe, it is clear that there is an honesty and warmth in Port O'Brien's music that is a result of their backgrounds.  Specifically, the heart of Port O'Brien is a duo consisting of Van Pierszalowski and Cambria Goodwin.  Pierszalowski spends summers working on his father's commercial fishing boat and Goodwin works at a bakery at a Larsen Bay cannery working alongside 50% of the Port O'Brien rhythm section (Caleb Nichols).  Thus, to the degree, that Port O'Brien's music is rustic, expansive and folk-inspired, it is no doubt a reflection of who they are and their particular backgrounds.  Threadbare is one of the best and most underrated albums from 2010.  Buy threadbare from Insound.
Port O'Brien – My Will Is Good
Head back to the Kitchen to get the scoop on that Whole Trout with Green Garlic, Lemon and Pea Tendrils recipe.