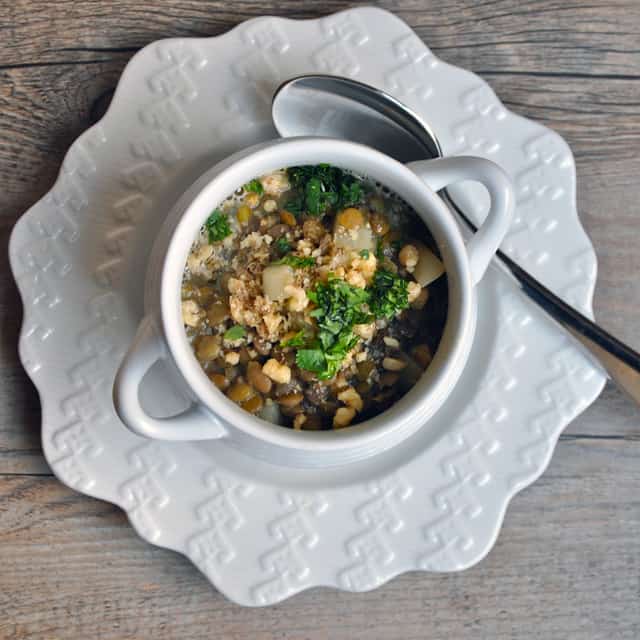 It might be a strange time to be posting about lentil soup and turnips, but I promise that it's worth your time. You see, I've had this cookbook, Cooking with Italian Grandmothers (a Christmas gift from a friend) sitting on my bookshelf for some time now. I've made a few things from it (a baked cauliflower with ricotta which I hoped would convince me to like the vegetable — mmm, still not 100% convinced) but more than anything, I've been taking mental notes to make a bunch of recipes from it.
The book is not just a cookbook, but a collection of stories from Italian grandmothers from different parts of Italy. The wide range of recipes really highlight just how different Italian food is from region to region. There are cakes and cheeses from the mountainous regions of Italy, pastas specific to places like Calabria and Liguria, walnut liquor and polenta with cream and gorgonzola, among dozens of vegetable side dishes, cookies, meats and grains. The book talks about cooking at home in such a warm way, it makes you want to set aside an afternoon to roll out your pasta and get your hands into a bowl of butter and flour. The recipes are approachable and most of the ingredients they call for are readily available at produce markets and your local grocery store.
When I lived in Italy, I always noticed the put together, vigorous older women on the streets  — shuffling quickly with a purpose, carrying more than I could imagine balancing between two hands. I didn't get to experience a home stay in Italy, so most of the cooking I did was simple (spaghetti with Parmesan, thin steaks with garlic, parsley and olive oil). Had I had an opportunity to cook with an Italian grandmother in Italy, I surely would taken even greater advantage of the ingredients that surrounded me for the three months that my home was a Medieval walled city.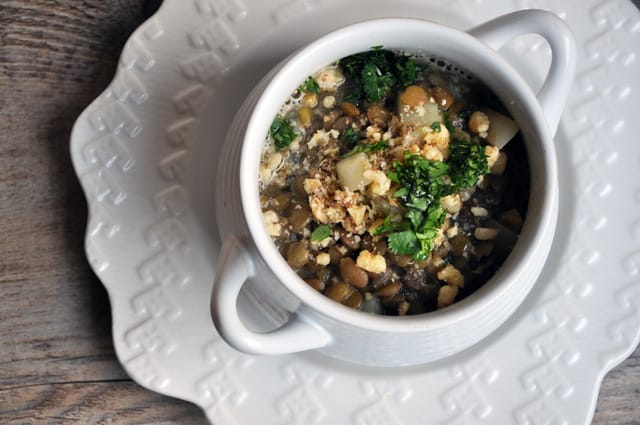 This soup  — despite its winter-sounding ingredient list  — is actually quite Spring-like. Turnips are turning up at my farmer's market regularly. I love the baby ones that I can eat raw and these are the ones that I use for this soup. The herbs you use are really up to you — if you have savory, use a teaspoon of that and cut down the thyme and marjoram. The balance between the earthy lentils and the vibrant — almost sweet — turnips is really spectacular. Giving this dish a Georgian (the country, not the state) twist is a garnish of pounded walnuts and parsley. A drizzle of fruity olive oil brings it all together.
When I dig into this soup, I imagine myself sitting near a bright and sunny window in a little apartment in Italy, with a cold marble floor and a view of orange tile-roofed buildings and a handful of ladies below, strolling the streets, effortlessly carrying their groceries home, some linked arm-in-arm.
Lentil and Turnip Soup with Pounded Walnuts
adapted from Cooking with Italian Grandmothers
The original recipe calls for a mix of herbs that include savory, which I didn't have. I ended up upping the amount of thyme and marjoram. While the original recipe suggests you can substitute dried herbs if you don't have fresh, I prefer not to use them here  — I find that the soup is really about fresh herbs and I'd highly recommend waiting until you have some hand on to make this. Don't  — I repeat  — don't forget the topping. The pounded walnuts, parsley and additional olive oil take this soup from humble to sophisticated instantly.
For the soup:
1 1/2 cups of small, green lentils
1 1/2 cups of medium-diced baby turnips
1/2 cup of dry white wine
6 cups of water
1/2 of a small dried chili pepper, crumbled
3 teaspoons of fresh thyme leaves, minced
3 teaspoons of fresh marjoram leaves, minced
4 cloves of garlic, minced
1/4 cup of extra virgin olive oil
salt and pepper, to taste
For the pounded walnuts:
1/3 cup of walnuts, pounded roughly with a mortar and pestle (don't pound into sawdust; leave a few small chunks for texture)
1 tablespoon of flat-leaf Italian parsley, finely chopped
extra virgin olive oil, to taste
1. Combine the garlic, herbs, hot pepper and olive oil in a medium pot. Bring the heat up to medium and saute for several minutes (until the garlic begins to golden).
2. Add the lentils, mixing them with the herbs and garlic. Next, add the wine, stir, and add the water.
3. Cover the pot, partially, and cook the soup for about 40 minutes at a medium to strong simmer. If the soup starts looking dry, add more water. Next, add the turnips and about a teaspoon of salt. Simmer for another 20 to 25 minutes. If you like your soup on the stewy-ier side, let it thicken. If you prefer for it to be a bit runnier, add some more water.
3. Once the turnips are tender and soft, remove the soup from the heat.
4. Ladle into soup bowls and top with a tablespoon of pounded walnuts, a sprinkling of parsley and a generous drizzle of olive oil. Season with a bit more salt and freshly ground pepper.
Musical Pairings: House of Wolves – Fold In The Wind + Lentil and Turnip Soup with Pounded Walnuts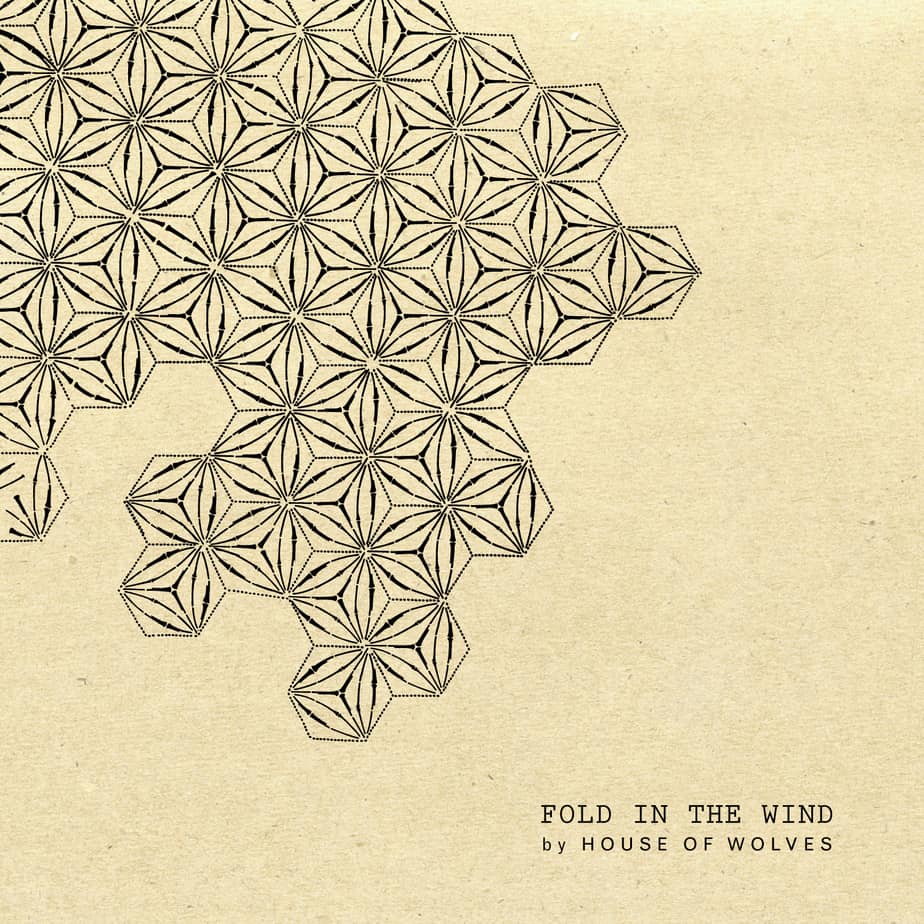 Get the full scoop on this album by heading to the Turntable.