Old habits die hard. I have this alarm clock that I have had for about 8 years now. I bought it from a Chinese store in Siena, Italy as a replacement for one that stopped working. It's a travel alarm clock, so it's rather small (it fits in the palm of my hand), silver and lightweight.
It does exactly two things: displays time and allows you to set an alarm. But it does so in a very endearing way. When you push the buttons to change the time (minute by minute, hour by hour), it makes a ringing sound and when you decide to stop at a time, it announces the time to you in a female voice, in Italian, loudly. She says to me, "Sono le ore sette e venti-due!"). The lady never misses a beat. This alarm clock offers 3 different alarm options: 1. the sound of Cicadas on a warm summer evening. 2. A rooster. 3. Something that vaguely sounds like a fire alarm.
Sometimes I hit one button too many times and find myself nearly jumping out of bed to the sound of that rooster. I have changed the battery in this alarm clock (two triple As) exactly once. I shutter to think what would happen if this little warrior gave out on me one day.
I feel similarly about a lot of things I own: my 5th grade softball t-shirt (we were the Phillies, ironically), my carry-on suitcase with a broken zipper, my gray wool turtleneck sweater that's completely out of style but the first thing I pack whenever I am going somewhere cold. I like things the way I like them – even when they're a little backwards (or 10 years out of date).
Chicken is one of those things that I feel like people feel strongly about. Once you find the right roast chicken recipe, you kind of swear by it for the rest of your life. I've found a few chicken recipes that I've sworn by (this one, for example). But chicken gets boring sometimes – even when it's your favorite recipe. Which is why, I decided to venture out of my chicken comfort zone to the the little Spring chicken, the cornish hen, the poussin. Sized for just one person to enjoy, the cornish hen is similar to a quail in that it's served one per person. Roasted whole, it doesn't need to be carved with a heavy duty knife. Nor does it take a lot of planning. Surprisingly, cornish hens aren't even that expensive (about $5 for one at my local Whole Foods).
Thumbing through the Blackberry Farm Cookbook (gorgeous, if you haven't seen it or thumbed through it),  I was surprised to find a recipe for poussins roasted with a sumac-ginger butter – both ingredients I don't associate with the South. Brilliant recipe, as it turned out, though. The sumac (a lemony, tart spice you can find at most Middle Eastern stores) is ever-so light, and the ginger lends just a hint of aroma to the chicken, which crisps beautifully atop slowly caramelized onions. I refuse to part with my alarm clock, but I'm certainly open to changing my relationship with poultry.
Roasted Cornish Hens with Sumac-Ginger Butter
adapted from The Blackberry Farm Cookbook
*serves 2 (double the recipe to serve 4)
2 cornish hens (or poussins)
1 large sweet onion
1/2 stick of room temperature unsalted butter
3/4 tablespoon of ground sumac
1/2 tablespoon of grated fresh ginger
vegetable oil
kosher salt, to taste
1. Preheat your oven to 475 degrees F. Slice the onion into 1/2 inch thick slices and place them on the bottom of a large cast iron skillet. Brush them with some vegetable oil.
2. Mix the butter with the sumac, ginger and salt in a small bowl until well-combined.
3. Rinse the hens from the inside and outside and dry them off with paper towlels. Sprinkle both the outside and inside cavities with a bit of salt. Next, loosen the skin over the breasts and evenly divide and spread the butter mixture over the breasts of each bird. Massage the skin to distribute the butter.
4. Cut a small slit in the skin just above the leg bone of each bird. Criss cross each bird's legs, slipping one leg bone into the small slit of the other to hold them in the crossed position. Place the birds over the onions in the skillet.
6. Roast the birds for approximately 30 minutes (until the skin begins to bubble and brown) then turn down the temperature of your oven to 350 degrees F, roasting for about 10-15 more minutes (or until a thermometer inserted into the thickest part of the thigh reads 170 degrees).
7. Allow the birds to rest for a few minutes before serving. Serve alongside the caramelized onions and a vegetable side of your choice (we ate them with my favorite brussels sprouts recipe from Heidi Swanson at 101 Cookbooks).
Musical Pairings: Keep Shelly in Athens – In Love With Dusk + Roasted Cornish Hens with Sumac-Ginger Butter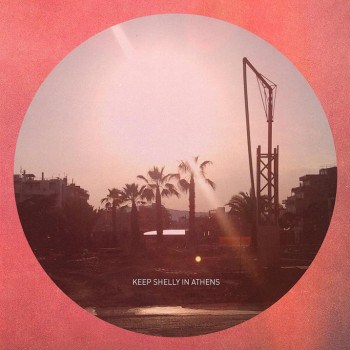 To the Turntable for today's Pairing, friends!