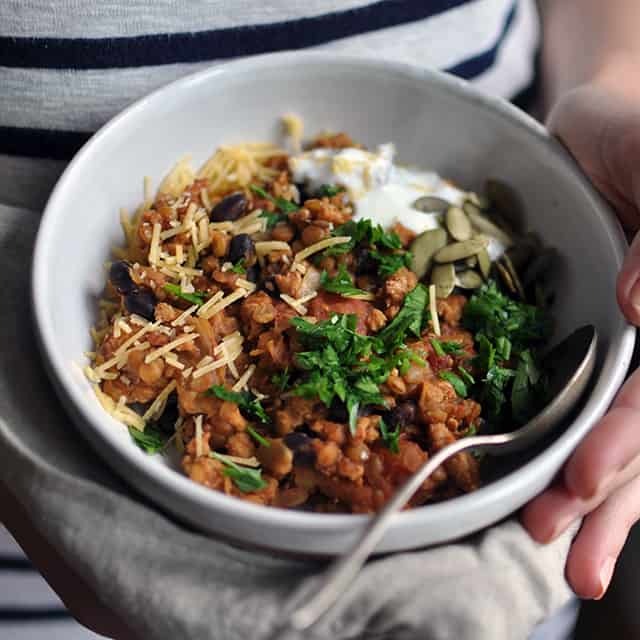 This post was created in partnership with Canadian Lentils. All opinions are my own. Thanks for supporting our sponsors, who help us do what we do! 
Chili is one of those recipes that our family turns to over and over again. It's a guaranteed crowd pleaser and a life saver because it can be thrown together quickly and typically makes a big enough batch to last for more than one meal (something rare around these parts).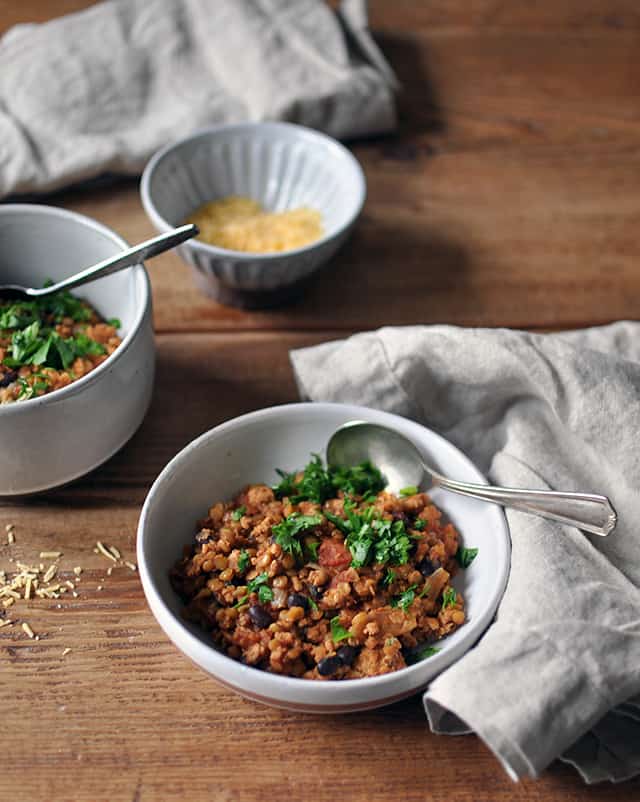 Nights when we have leftover chili tend to feel like vacation because they give us a precious extra hour to spend with our kids at the end of the day (time that would otherwise be spent cooking and cleaning). One of our most popular Pairings Box recipes was this spicy turkey chili, which we then tweaked to make this turkey and white bean chili. To be honest, I haven't strayed much from my go-to recipes, until I started brainstorming lentil recipes. And it hit me: why not make lentil chili? Lentils have a similar meaty texture, and I turn to them often when making soup.
Lentils are incredibly nutritious; they're packed with protein and fiber, not to mention folate. They're also naturally gluten-free so they're a great choice for anyone with a gluten sensitivity. What's more, like beans, lentils are really inexpensive, especially if you purchase them in bulk. I like to keep my pantry stocked with a variety of lentils, including red, green, and black. I use lentils in soups, salads, stews, and from now on, chili. You can omit the beans from this recipe entirely, but I like using them for added color and texture.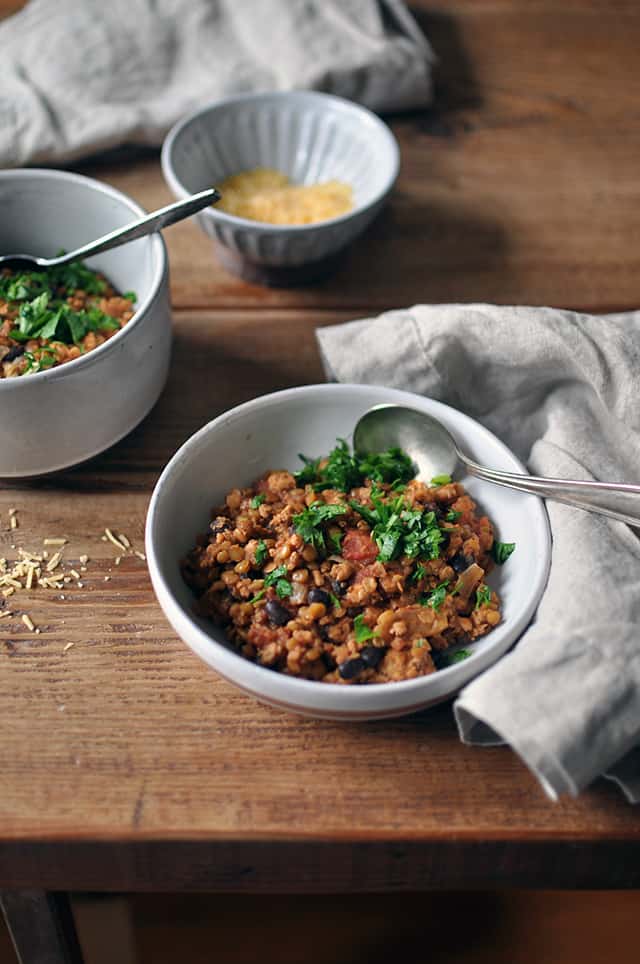 This chili was a win for all members of our family, including the babies. If you like spice, you can definitely kick things up a notch by stirring in some chili flakes or hot sauce.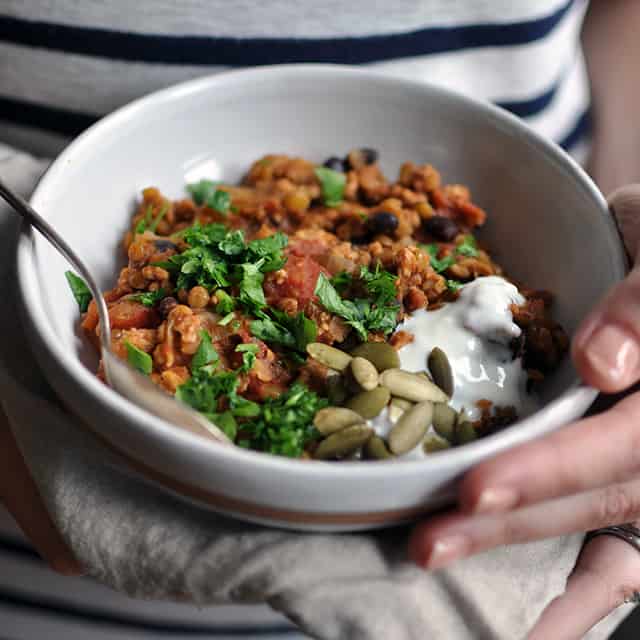 Lentil Chili
2 tablespoons of olive oil
1 onion, diced
2 large garlic cloves, minced
1 cinnamon stick
1 teaspoon of dried marjoram
3/4 tablespoon of chili powder
1/2 teaspoon of smoked paprika
1 tablespoon of cocoa powder
3/4 tablespoon of ground cumin
kosher salt & freshly ground pepper, to taste
1.5 pounds of ground turkey breast
30 oz of diced tomatoes, in their juices
1/2 cup of split red lentils
1/2 cup of whole green lentils
1 15 oz can of black beans, drained
1 cup of chicken broth
yogurt, chopped cilantro, grated cheddar cheese, and pumpkin seeds for garnish
1. Add the olive oil to a heavy bottom sauce pan or dutch oven. Add the onion and spices and cook, stirring, until the onion begins to soften (about 3-5 minutes). Add the garlic and continue cooking, stirring occasionally, for a few more minutes.
2. Next, break up the turkey using your hands, and stir it into the pot. Cook until browned, then add the tomatoes, lentils, and black beans. Stir to combine, then add the chicken broth.
3. Cover the pot with a lid and dial down the heat to medium-low. Cook for about 15 minutes, then remove the lid, stir, and continue cooking for another 10 minutes or so, until the lentils are soft. You can add more broth or water, if the chili is too thick for your liking. Taste the and adjust seasonings. Remove and toss out the cinnamon stick.
4. To serve, divide chili among bowls and garnish with a scoop of yogurt, chopped cilantro, grated cheese, and pumpkin seeds.
This post was created in partnership with Canadian Lentils. All opinions are my own. Thanks for supporting our sponsors, who help us do what we do!