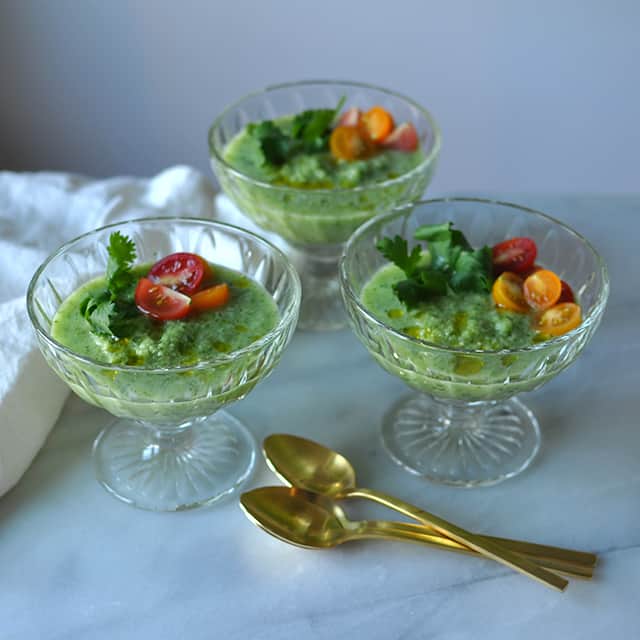 I give my mom a lot of credit for developing in me a love for fresh produce. Like many people my age, I lived through a time when we drank soda, ate frozen fish sticks, and ate a lot of Eggo Waffles (no regrets!). But that didn't seem to interfere with our family's intake of fresh fruit and vegetables. If our family had its own food pyramid, cucumbers and tomatoes might just take up a significant block. Later in life, I would meet people who didn't like one or the other — either due to flavor or texture — and I'd generally stare at these people blankly, wondering what in the world they ate. Isn't it funny how you get so used to how your family eats that when presented with other people's eating habits, you feel shocked?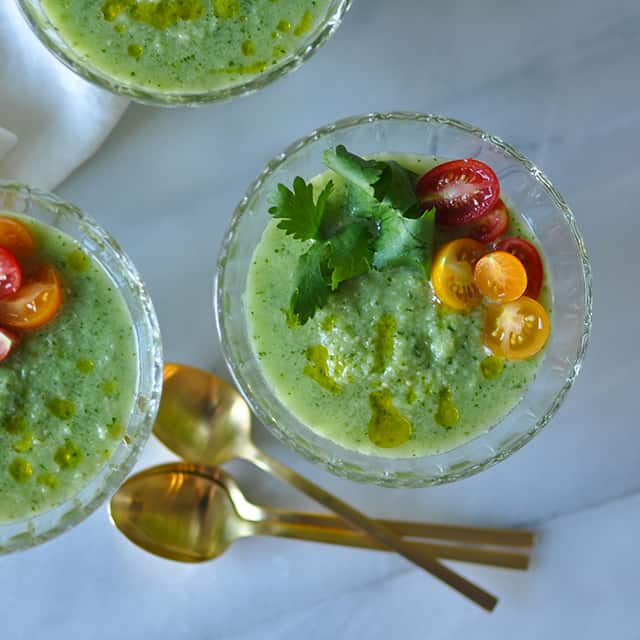 Although my mom has always been a great cook and an improviser, when we moved to America, she was introduced to the great Ina Garten. Ina took a lot of guesswork out of cooking, particularly when it came to Americanizing traditional ingredients. In addition to schooling America on what it means to be a general badass, Ina gave my family the gift of minestrone soup, roasted salmon, and gazpacho. My mom has been making Ina's gazpacho for years, but I only recently learned that her killer soup isn't a family heirloom.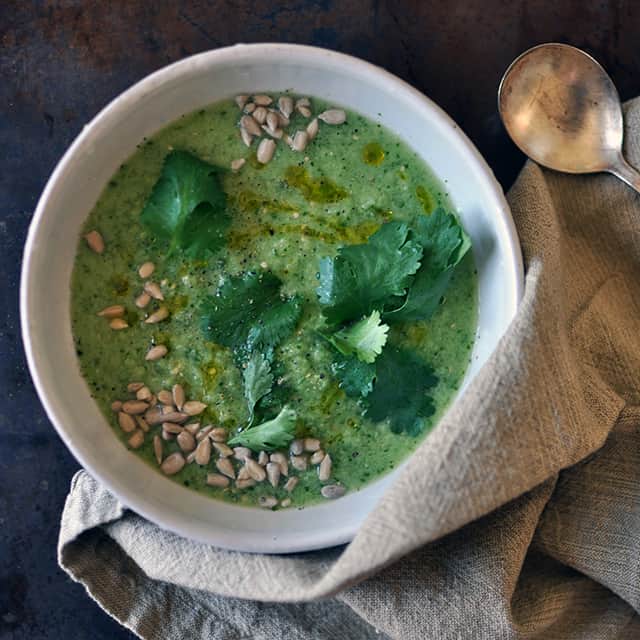 Needless to say, we've been a gazpacho family for as long as I can remember. One of the things I've loved most about living in Seattle is the fact that for the first time in over a decade, I'm getting to experience a 'real' summer again. From what my friends tell me, Karl the Fog is back in full force in San Francisco, where the current style choices are chunky cardigans and ankle booties. Meanwhile, here in Seattle, it's been hot as hell, and most nights, we throw open all of the windows and turn on our fans. As a result, the last thing I often want to do in the evenings is turn on the oven.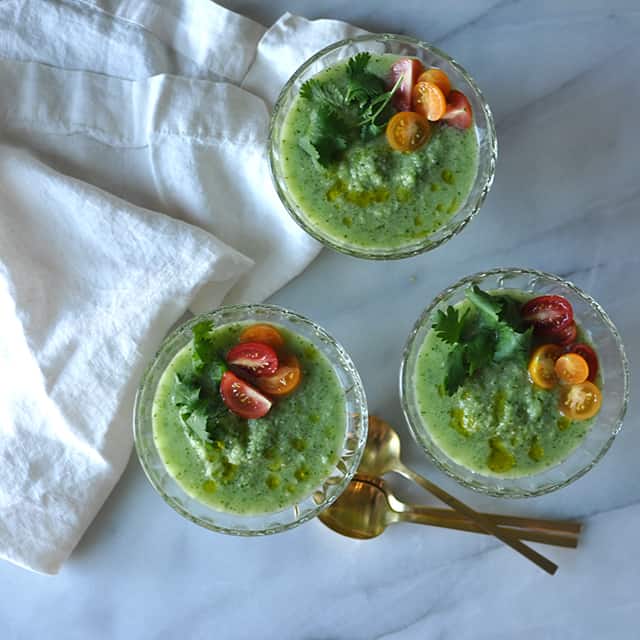 On a particularly hot day, I was trying to come up with some dinner ideas that didn't require me to sweat and it hit me: gazpacho! Of course! I've been on a green food kick lately. No, seriously. So unsurprisingly, I started researching some green gazpacho options and stumbled upon this one. I love, love tomatillos (tomatillo salsa is my favorite) but I had no idea I could cook with them without actually cooking them.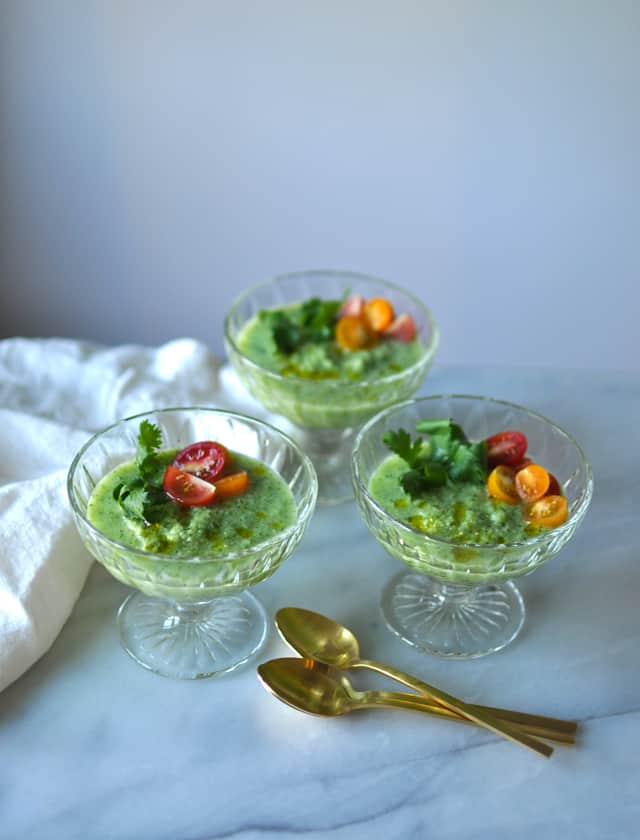 This gazpacho tastes like a day at the beach, with a side of margaritas. I can't think of a better way to enjoy summer.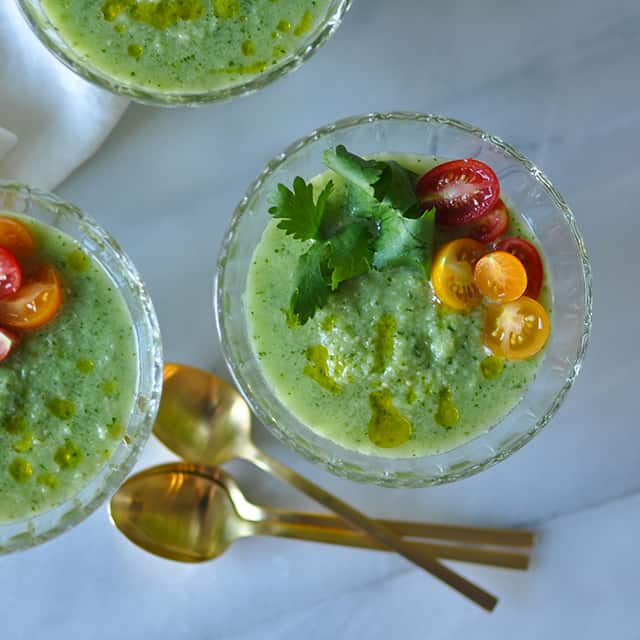 No-Cook Green Gazpacho
adapted from Bon Appetit
1 large English cucumber
1 pound of tomatillos
1/2 of a white onion, thinly sliced, then rinsed under cold water
1/2 pound of poblano chiles, cored, seeded, and roughly chopped
1 large garlic clove
1/4 cup of olive oil
1/4 cup of brown rice vinegar
1 tablespoon of roughly chopped parsley
1 tablespoon of roughly chopped cilantro, plus more for garnish
Kosher salt and freshly ground pepper
sunflower seeds, for garnish (optional)
1. Rinse the tomatillos and remove them from their husks. Then, peel the cucumber and cut it into quarters.
2. Combine the tomatillos, cucumber, onion, poblano chiles, garlic, olive oil, vinegar, parsley, and cilantro in a high power blender. Puree until smooth, then season with the kosher salt and freshly ground pepper.
3. Transfer the soup to a lidded container and chill for several hours before serving. To serve: divide among bowls, drizzle with olive oil, sprinkle with sesame seeds, garnish with cilantro leaves, and season with freshly ground pepper, to taste.