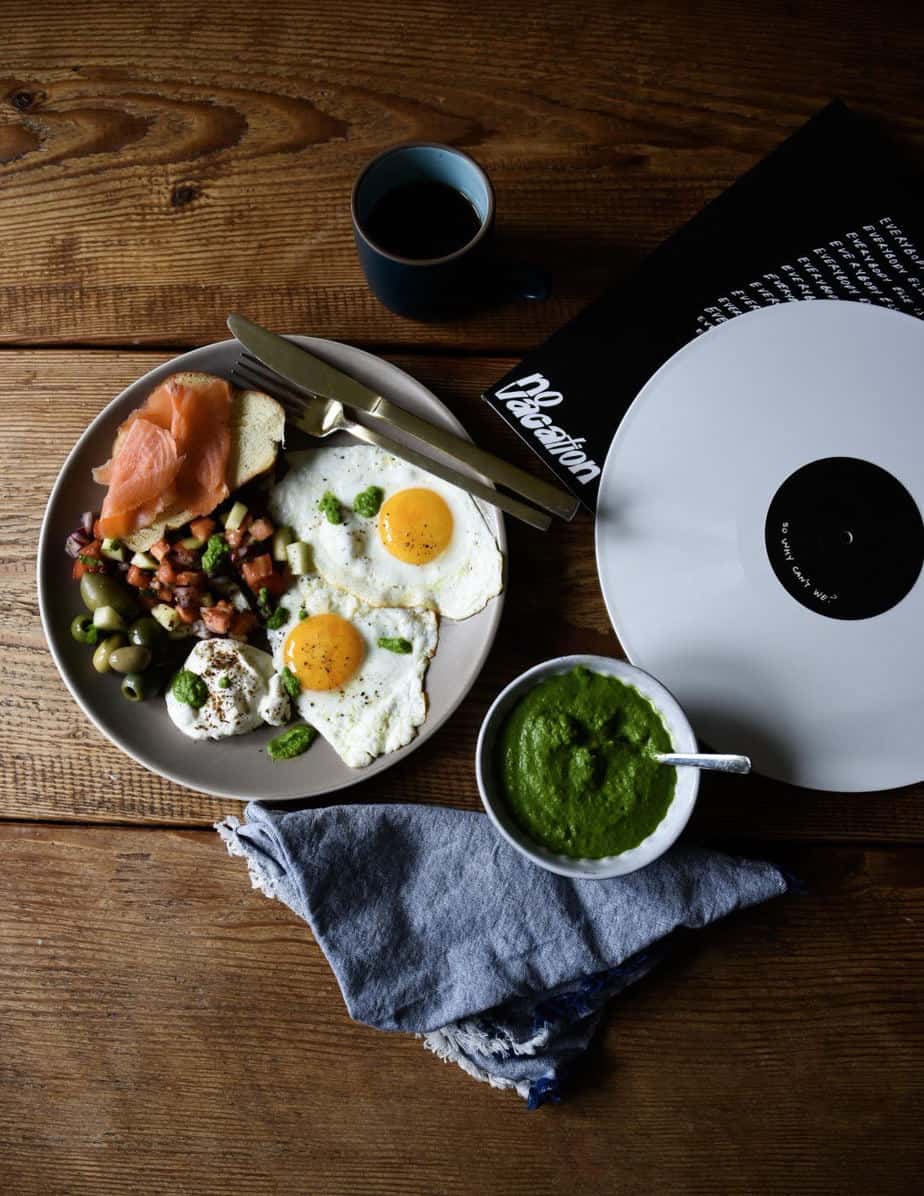 You might not know it, but breakfast in our house is kind of a big deal. Saturdays are pancake mornings. A kid is usually asking for pancakes by 8 am. We have our routine down pat. Most Saturdays, we stick with our usual (buttermilk with whatever flour we have on hand). But we've expanded to now regularly include dutch babies (we have to make two now to feed our family of five!).
Sundays are for "eggs and sausage," as our four year old son, Noah, likes to say. We don't always have eggs and sausage. Sometimes, it's eggs and bacon. Sometimes, it's eggs and bacon AND buttermilk biscuits. Let's face it: those are the best Sundays. The problem with our Sunday breakfasts is that our girls don't eat eggs. You heard right. If you have kids, you might not be surprised to hear that our kids are the pickiest eaters on this side of the Mississippi. But it's true.
So, while Matt, Noah, and I chow down on scrambled eggs, the girls usually eat some variation of what they eat during the week — oatmeal, yogurt, or cereal. I'm really into our weekend breakfast routine, but the thing we we don't eat much is fried eggs. I don't think Noah has figured out that there's nothing better than a fried egg!
Breakfast is, by far, my favorite meal. I like dinner, too. Lunch I can totally skip. I'm seriously one of those people that eats whatever they can scrounge up in the fridge for lunch. Lunch always feels rushed and uninspired. It's like a weird abomination of breakfast mixed with dinner. I'll never understand brunch.
Anyway, back to BREAKFAST. The best meal of the day. You can eat whatever you want for breakfast! Sweet, savory, spicy, salty, pickled, fried, vegetarian, fish, meat…I think a lot of people think breakfast is boring but it can be your most inspired meal of the day — especially if you explore the variety of foods that people all of the world eat for breakfast. When Breakfast: The Cookbook arrived on my doorstep, I was mesmerized. The book explores breakfast around the world — from the Philippines to Russia, Israel to Australia. Aside from breakfast, my favorite thing is travel, so you could say this cookbook is my two favorite things mashed up into one.
A few weeks ago, I was inspired to make the Israeli breakfast plate which looks way more ornate than it actually is. Aside from the schug, there's little else you actually have to cook (besides the eggs)…which makes this the perfect thing to serve if you're having, say, a few friends over for a late breakfast. I refuse to call it brunch. The spicy green sauce can be put on anything from roasted potatoes to fish, so don't worry if you have leftovers. The labneh is easy as pie to make at home, but you can also pick some up from the store.
Whatever you do: don't skip anything…it's the sum of its parts that makes this breakfast dish one to remember.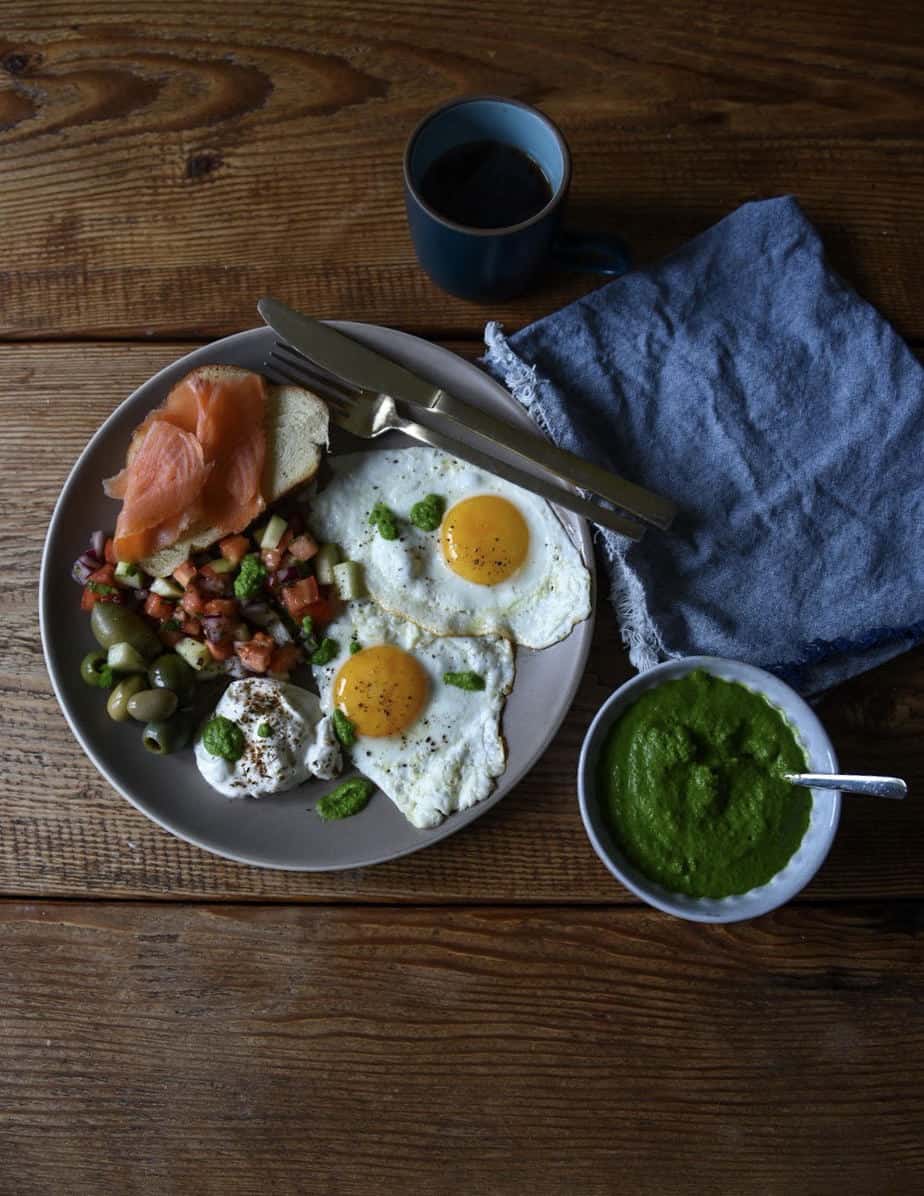 Israeli Breakfast Plate
adapted from Breakfast: The Cookbook
4 sunny side up eggs
Schug (recipe below)
1/2 cup of labneh (homemade or store-bought)
Mixed olives
Smoked salmon or lox
Sliced challah
Middle eastern chopped salad (recipe below)
For the Schug:

1 jalapeno chili, seeded
1 poblano chili, seeded
1/2 cup of chopped cilantro
1/2 cup of chopped parsley
2 cloves of garlic, smashed
Pinch of ground cardamom
Kosher salt and freshly ground pepper
3 tablespoons of olive oil

For the Middle Eastern chopped salad:
1 large tomato, diced
2 Persian cucumbers, diced
1/4 red onion, finely diced
2 tablespoons of finely chopped parsley
2 tablespoons of lemon juice
3 tablespoons of olive oil
Kosher salt and freshly ground pepper
1. Combine the jalapeno, poblano, cilantro, parsley, garlic, cardamom, and salt and pepper in a food processer. Pulse until chopped, then drizzle in the olive oil and continue to process until smooth. Set aside.
2. Make the chopped salad: combine all the salad ingredients in a bowl, tossing to coat in the lemon and olive oil.
3. To plate: divide the fried eggs between two plates. Arrange the labneh, salad, olives, challah, and smoked salmon around them. Drizzle with a tablespoon or two of schug.