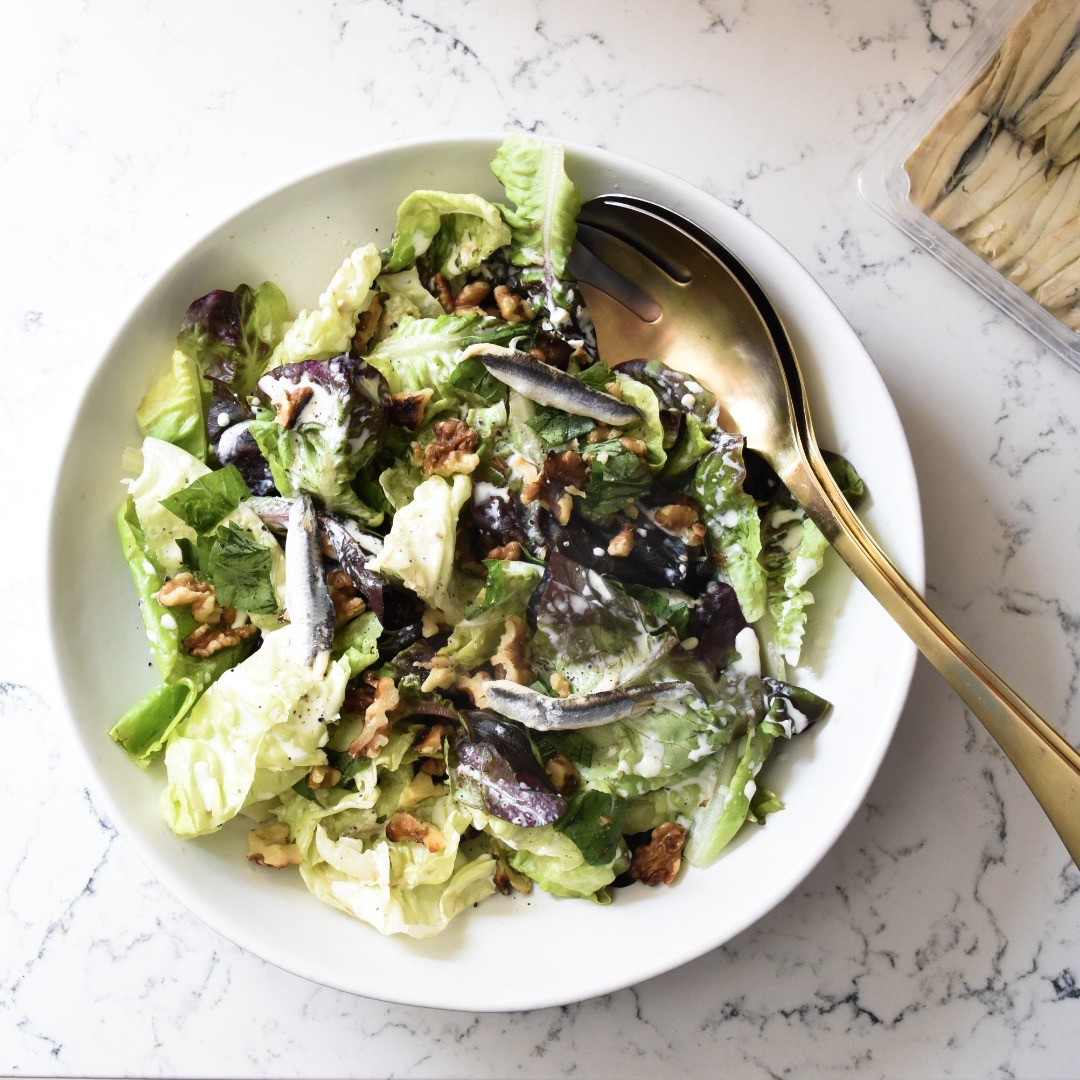 There are certain foods that are quite polarizing: oysters, olives, licorice, and anchovies. And while I have a very strong dislike of licorice, the others are some of my favorite things. I'm generally a sweet person: always opt for pancakes and waffles over omelets and the like. But I love, love salty little nibbles.
When Carla Lalli Music's Where Cooking Begins: Uncomplicated Recipes to Make You a Great Cook landed on my desk, I have to say I had "the moment." The truth is, I have a lot of cookbooks, but there is a small selection that feel like they're literally habit-altering. Good to the Grain changed the way I bake on a very fundamental level (incorporating more whole grains). Dining In changed how I make buttermilk biscuits (I'll never go back) and treat fruit and vegetables. Franny's: Simple Seasonal Italian changed my approach to pizza dough. I could go on.
But today, let me share with you one recipe that — albeit simple — I think you need to add to your repertoire. The fact remains that most salads are boring. And most lettuce is wilted. Most salad dressings are only mediocre.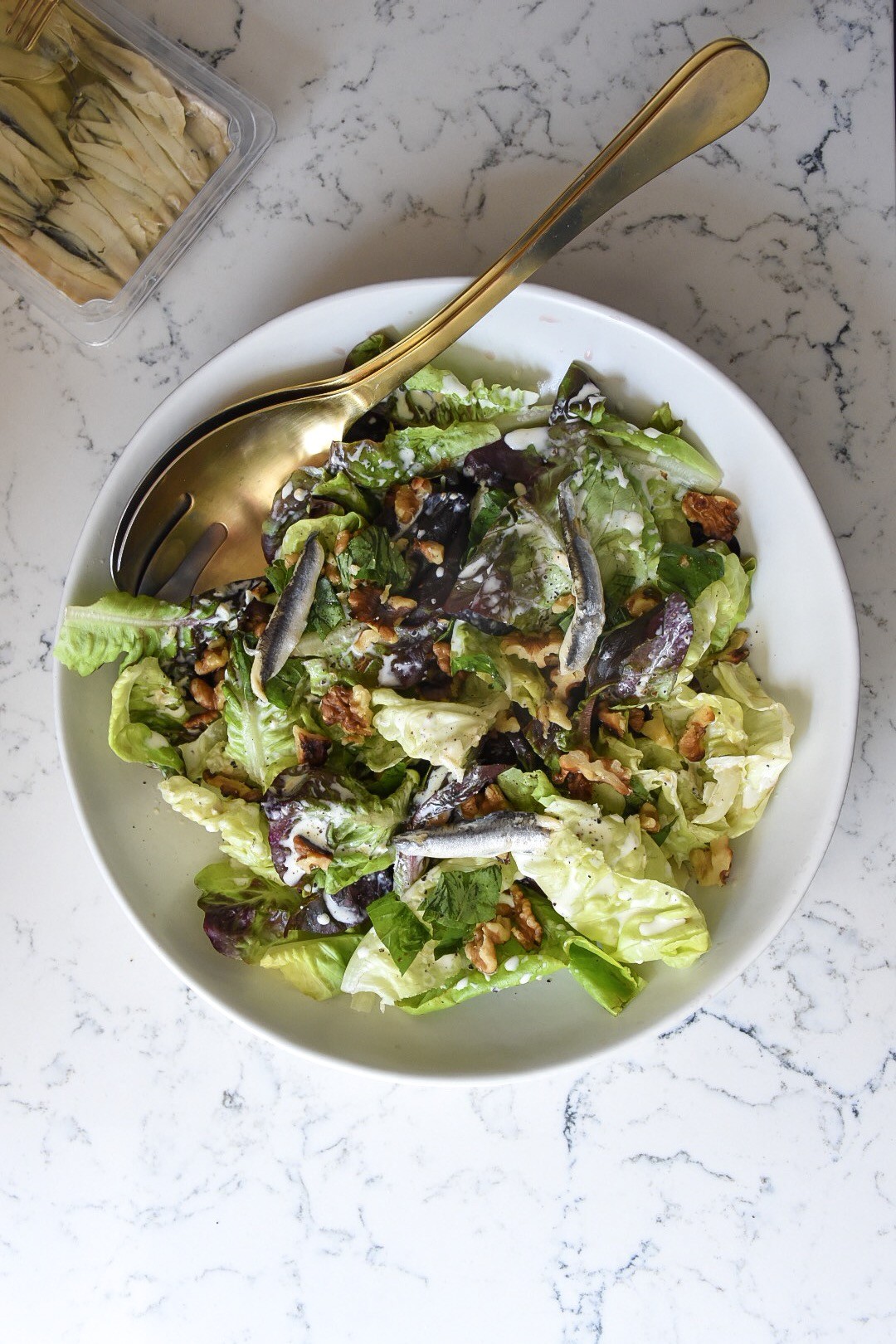 I ask you to behold the Butter Lettuce Salad with Anchovy Cream. Delicate, crunchy lettuce, dressed in salty, creamy, dressing, topped with crunchy nuts and, my addition: plenty of extra anchovies in oil.
There are many other recipes in the book that I believe are habit-changers: her rotisserie-style roasted chicken, baked directly on the rack, dripping juices into a baking sheet of potatoes below. And her gingered cucumbers (another recipe I hope to share soon).
All that's to say: regardless whether it's spring, summer, or early fall: if you're able to get your hands on some beautiful lettuce, you must make this salad, pronto. Also, I ran with Carla's approach of sticking with whatever's fresh and swapped in fresh basil for parsley. I have to say that the results were truly phenomenal.
Butter Lettuce Salad with Anchovy Cream
adapted from Where Cooking Begins: Uncomplicated Recipes to Make You a Great Cook
2/3 cup of heavy cream
2 oil packed anchovy fillets, plus more, for salad topping
Handful of fresh basil leaves
3 garlic cloves, smashed
Kosher salt and ground pepper, to taste
Few handfuls of walnuts
1/4 cup of olive oil
1 tablespoon of roughly chopped basil
3 cups of roughly torn butter lettuce leaves (or any kind of super fresh baby lettuces)
2 teaspoons of red wine vinegar
Maldon salt, for servin
1. Combine the cream, anchovy fillets, basil, garlic, a pinch of salt, and ground pepper in a small pot. Bring to a gentle simmer, then remove from the heat and let sit for about 10 minutes to let the flavors meld.
2. Add the walnuts and olive oil to a small skillet and cook, occasionally tossing with a wooden, until golden and toasty-smelling. Transfer the nuts to a cutting board and roughly chop them. Season with salt and toss with chopped basil.
3. Remove the basil leaves from the cream, then use a fork to mash the anchovies and garlic into the cream. Season with more salt and pepper, as needed.
4. Add the lettuce to a large salad bowl. Toss with the vinegar and some flaky salt. Generoulsy spoon the dressing over the lettuces. Top with toasted walnuts and a few more anchovy fillets. Eat straight away.