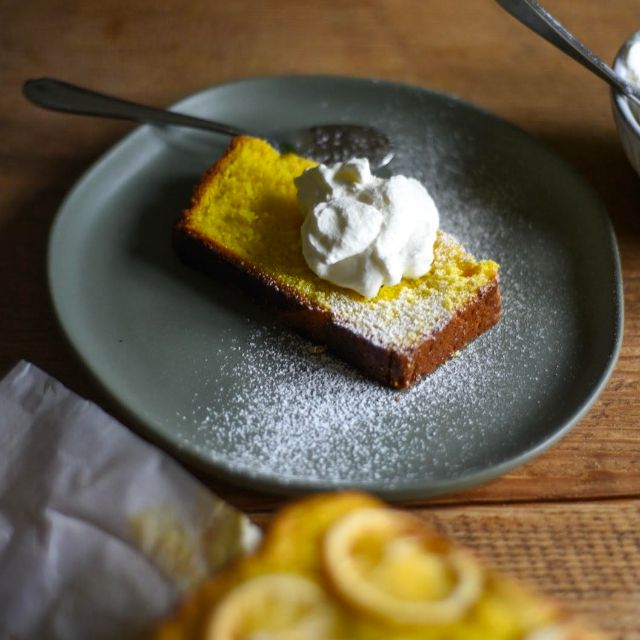 I'm a card-carrying member of the Alison Roman fan club. I've made The Cookies and The Stew. I watch all of her Instagram videos, and I basically want to live inside of her cookbooks — Dining In and the newest, Nothing Fancy.
Alison Roman loves anchovies. And so do I! She loves a bold orange-red lip and nails to match. And you guessed it, so do I. I'm not alone in adoring this woman. There are hundreds of thousands of millennial and Gen X women (and men) across America who are as enamored as I am.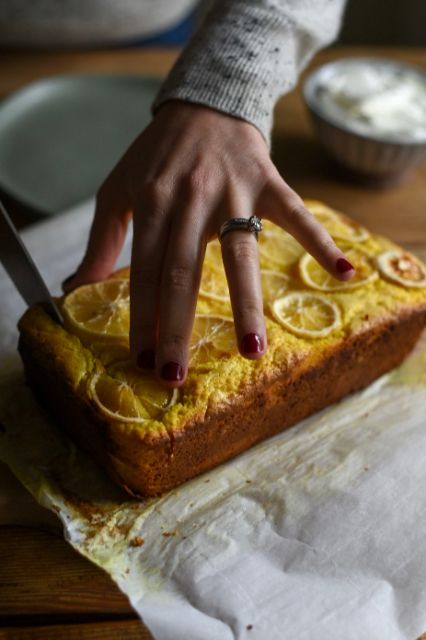 I've had Alison newest book for less than a week and I've already made the tomatoes slathered in fennel-anchovy dressing, the roast chicken with dates and lemon, and this. THIS. A turmeric lemon cake that takes your average lemon tea cake and amps it up several notches.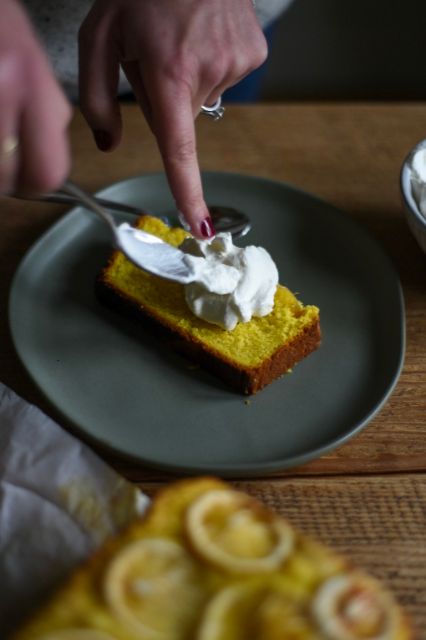 First, let's talk about color. Yes, it is in fact electric yellow. The sunniest, happiest cake you can make as you transition into winter hibernation. Second, if you are afraid of turmeric, do not be afraid of this cake. The turmeric flavor is very mild. I'd say it adds a bit of warmth without taking away from the lemon-forward taste. Third, you should absolutely not deprive yourself or anyone else of the whipped cream topping. You can eat this cake without whipped cream. But why?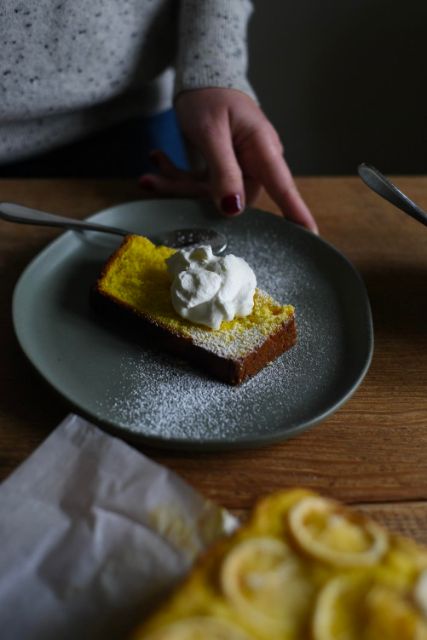 In non-cake related news, we are deep, DEEP into our basement renovation which has turned into more than we ever bargained for. In a nutshell, we're replacing the knob and tube wiring on all three floors in our house which means basically tearing up every room. Needless to say, you can find me with a bottle of wine, this cake, a bowl full of whipped cream…wondering why I ever decided to take on another renovation. But soon, SOON. I will remember just how good it feels to be on the other side.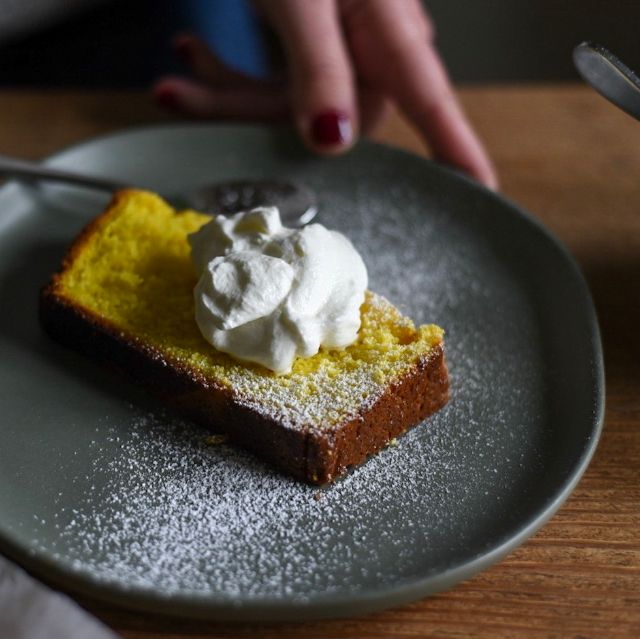 Lemony Turmeric Tea Cake
Adapted from Nothing Fancy
1 1/2 cups of all purpose flour
2 teaspoons of baking powder
1 teaspoon of kosher salt
3/4 teaspoons of ground turmeric
1 cup of sugar, plus 2 tablespoons for dusting the top of the cake before baking
2 tablespoons of lemon zest
2 tablespoons of freshly squeezed lemon juice
3/4 cup of sour cream
2 large eggs
1/2 cup of unsalted butter, melted and cooled
Thinly sliced lemon rounds (seeds removed), for topping
Whipped cream, for serving
1. Preheat your oven to 350 degrees Fahrenheit. Grease a 9 x 4 inch loaf pan with butter and line with parchment paper, leaving an overhang on both sides.
2. Combine the flour, baking powder, salt, and turmeric in a medium bowl.
3. Add the sugar and lemon zest to another bowl and use your fingers to rub the zest into the sugar. Whisk in the sour cream, eggs, and lemon juice.
4. Add the wet mixture to the dried mixture, stirring until the flour has been incorporated. Stir in the melted butter.
5. Transfer the batter to the loaf pan and use a silicone spatula to smooth the top. Arrange the lemon slices on top and sprinkle everything with sugar.
6. Bake for about 50-60 minutes, or until a toothpick inserted into the center comes out clean. The top should be golden and lemon slices beginning to caramelize. Let cool before remove from the pan, slicing, and serving along with the whipped cream.