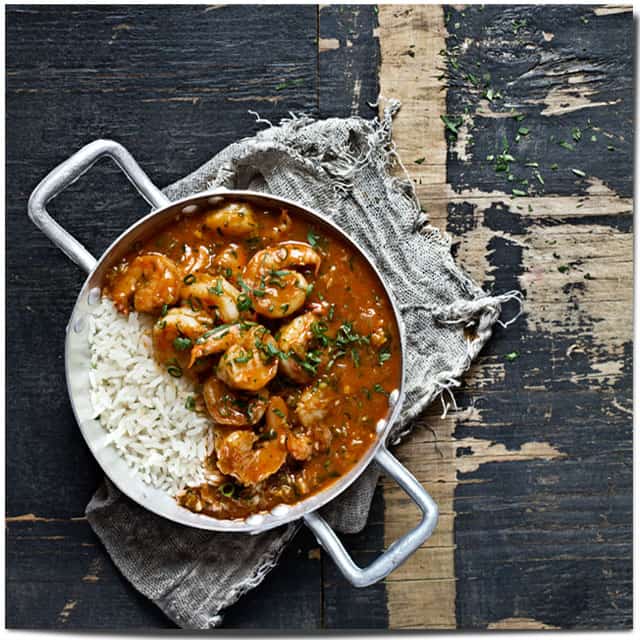 I've been a huge fan of Amanda's beautiful site, give me flour, for some time now. Her writing makes me want to travel to her homeland of Brazil, which she reminisces about often. And her photography, well, it speaks for itself. From gorgeous desserts to breads and stews, her photos capture the magic of food, cooking, travel, and memory. I'm so thrilled to have Amanda stop by Turntable Kitchen today to share her recipe for Shrimp Etouffée with you all. Just in time for Mardi Gras! Thanks so much, Amanda! ~Kasey
My first Christmas gift in the US territory was snow, lots and lots of snow. My second one was Shrimp Etouffée.
It was December 2009 and after a year and a few months living in the cold, gray and mysterious Chicago, we realized it was time to hit the road, to explore new horizons. I don't remember exactly what lead us to New Orleans, all I know is at that time heading south sounded the best option for us "novice snow drivers."
And so we left, heart full of expectation, head loaded of preconceptions and in no hurry at all. Our first meal was a crispy fried chicken, farm kitchen style, in some place in Missouri followed by two more state border crossings and our first night in our first planned destination, Memphis. You know, "home of the blues, birth of rock and roll." We couldn't avoid it.
And we acted as tourists are supposed to, buying all the ideas they were selling to us — a duck parade, the king's house and its crazy luxuries, the nowadays touristic blue clubs and restaurants on Bale Street, the reconstitution of a crime at Lorraine Motel, the fantastic ribs at Rendezvous. So far, everything was meeting our expectations.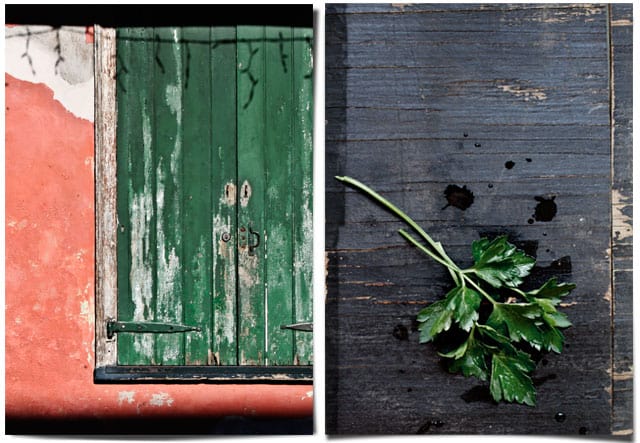 Things changed when we got to New Orleans a couple days later, though. No, that was not the America we knew anymore. It seemed we had driven much more than a thousand miles. We were transported to a much farther place, like a grandma's sister's house or some other distant relative's home. The architecture of the houses, the colors on the walls, the omnipresent spirit of Mardi Gras were just a few of the elements we discovered we had in common.
New Orleans' kitchen was really a surprise. My knowledge about it was limited to a small cookbook a friend gave me a decade ago. At the time, I was still living in Brazil. And a book can't give you the dimension of any cuisine, its flavors or perfumes.
I don't think, for instance, one can find a plate of rice and beans in any other place like you do in New Orleans. And then there were the beignets, the po' boys, gumbos, jambalayas, alligator sausages, muffulettas, and the magnificent shrimp etouffée.
It was December 25 of 2009, the day I ate my first etouffée. And I remember it as clearly as I had just finished my bowl: perfectly cooked shrimp in an indulgent, vibrant orange creamy sauce handling all layers of flavors one dish can possibly handle. There is no better way to bring carnival to your table.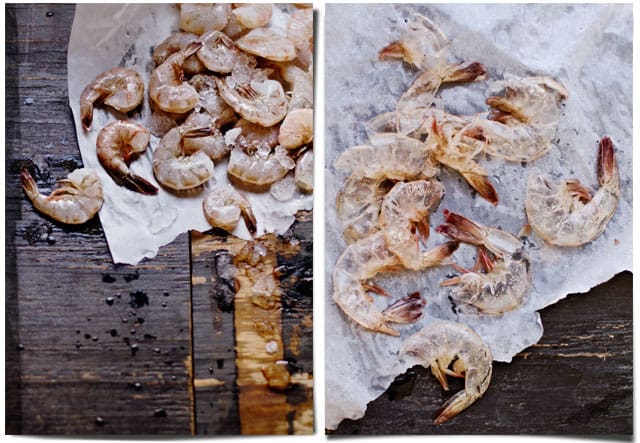 I came back and immediately started to look for a good recipe. A few weeks later, my English teacher came with a local book published by the Louisiana Office of Tourism called Season the day with Louisiana's fairs and festivals, a collection of local recipes given by people from different parts of the state. It has probably a handful of different recipes of shrimp etouffée and I used them as reference to create my own, with lots of garlic of course.
The major thing you have to have in mind is ettoufée requires not a lot of work but a bit of time. But it is worth each minute you spend building your stock and thickening your base, I guarantee.
Start by buying raw shrimp that has been already cleaned and de-veined but is still unshelled. The shells are the most important ingredient in our stock.
Shrimp Stock
½ onion, about ½ cup, chopped
1 carrot, about ½ cup roughly chopped
1 stalk celery, about ½ cup, roughly chopped
1 bay leaf
3 sprigs parsley
1 tbsp tomato paste
½ pound of raw shrimp in their shells (shells for stock and shrimp for the final dish)
Peel shrimp by holding the tail and lifting the shell upwards and away from the body. Reserve the shells. Put shrimp in a bowl, season with 1 tsp of salt, 1 tsp olive oil, a finely chopped garlic clove, a pinch of freshly ground pepper and set it on the fridge.
In a medium sauce pan over medium heat, sauté shrimp shell until it turns pink. Add tomato paste and, stirring constantly, cook for one more minute. Add onions, carrot and celery. Pour in 4 cups (about 1liter) of water. Add bay leave, parsley and cook for half an hour to 45 minutes.
Meanwhile, prepare the ingredients for the ettouffée.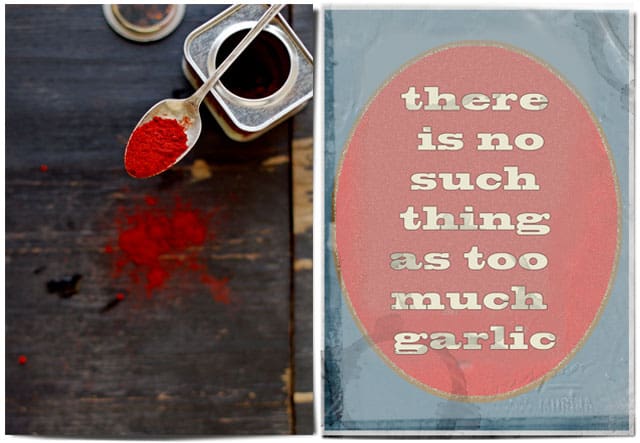 Shrimp Etouffée
1 small onion (1 cup), finely chopped
½ green bell pepper (1/2 cup), finely chopped
½  stack celery (1/2 cup), finely chopped
3 garlic cloves, finely chopped
½ stick butter
2 tbsp all-purpose flour
2 tbsp tomato paste
1l shrimp stock
1 tsp smoked paprika
Black pepper, salt,
Green onion, chopped
Parsley, chopped
In a heavy skillet, melt the butter. Add the onion and celery and cook over moderate heat until translucent, about 5 minutes. Add bell pepper, garlic and cook for 2 minutes. Add flour and cook, stirring constantly, for 5 minutes.  Add tomato paste and stir well. At this point, everything will come together and look like a thick batter. Add shrimp stock, a bit at a time, stirring constantly to avoid lumps. Bring to a simmer and cook for about 20 minutes, stirring a few times, until mixture is thick and shiny. Stir in smoked paprika, salt and black pepper. Cook for extra 5 minutes.
You can make everything in advance up to this point. In fact, from all I have learned and tasted, it is even better if you prepare your base on the day before to intensify the flavors. It is not mandatory tough, please, don't feel pressured here.
The last step is to add pre seasoned shrimp in hot etouffée and let it cook for 2 to 3 minutes, until they curl and turn pink. Just keep an eye on it; you don't want you shrimp to be overcooked.
Turn off the heat, stir in parsley and green onion and serve over cooked rice. Enjoy!