Fish tacos. Do they make you wish you were sitting on a beach in Mexico, sipping on a Corona with lime? The first time I tried fish tacos was, naturally, in San Diego. A specialty of Baja, California, they are, in my opinion, the perfect food. Most fish in fish tacos is either batter fried, pan fried, or grilled, and the tacos are generally made with flaky white fish such as cod, mahi mahi or tilapia.
This 4th of July, I accepted the inevitable–there was no BBQ to be had. I was a little sad that I didn't actually plan anything involving a BBQ, but as soon as I decided that I was going to create the Mexican spread of my dreams, I surely forgot all about burgers and hot dogs. Having purchased a pound of ling cod, corn tortillas and dried hibiscus flowers to make a refreshing drink called Agua de Jamaica, I was ready to start the prep work for my tacos. I greatly adapted a recipe that I found on Epicurious.com. I whipped up a spicy fresh tomato salsa with adobo sauce while my fish and red onions marinated on the counter. If you've never purchased a can of chipotle peppers in adobo sauce from a Mexican market– I highly recommend it. It lasts for a while in the fridge and adds a fantastic smoky, heat to salsas, soups and marinades. One warning, though, don't go overboard. And when I say overboard, I mean any more than a teaspoon. Seriously, half of a teaspoon of hot adobo sauce is usually enough for you to taste the flavor–and feel the heat in your mouth.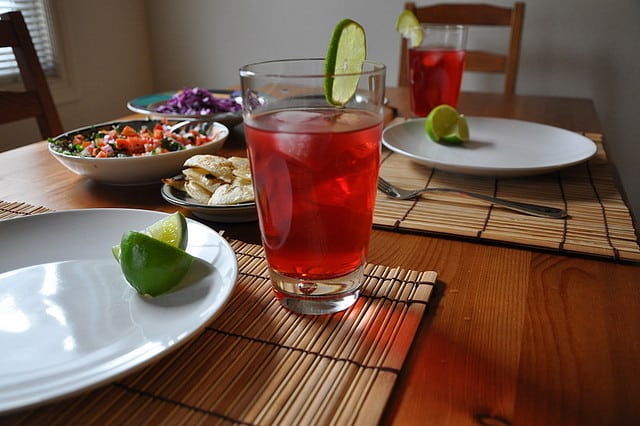 Of all of the fish tacos that I have eaten in my life, I have to say that these were some of the best. I didn't really expect it, to be honest. The marinated red onions (which I kick myself for not making earlier–they're SO easy) were definitely key, as was the salsa. I downplayed the oregano in the fish marinade, and am glad I did so. This recipe is all about chili, jalapeno, cilantro and lime, so be sure not skimp.
One of the best thing about these tacos is that you can easily double or triple the recipe, or halve it–if you're having a party of one. For a festive touch, I recommend whipping up the Agua de Jamaica I mentioned–I used a recipe from Heidi Swanson's Super Natural Cooking, but Tim over at Lottie & Doof has a great (appropriately-timed!) recipe on his site as well. I recommend using raw, unrefined sugar.
Fiesta!
Fish Tacos with Spicy Salsa and Pickled Onions
* taco recipe adapted from a recipe by Lourdes Castro in Simply Mexican; salsa is my own creation
*this recipe will serve 2 hungry eaters for dinner, without any additional sides, but can serve 4 if you're making other dishes for the meal.
For the pickled onions:
1/2 red onion, sliced thinly using a mandoline or sharp knife
Approximately 3/4 cup of red wine vinegar
For the fish:
1/4 cup of extra virgin olive oil
1 1/2 teaspoons of Mexican chili powder
1/2 teaspoon of dried oregano
1/2 teaspoon of ground cumin
1/4 cup of roughly chopped cilantro leaves
1 jalapeño pepper, cleaned and finely chopped
1 pound of cod, cut into 4 pieces.
Salt, to taste
For the salsa:
2 roma tomatoes, chopped
1/2 jalapeño pepper, chopped finely
1/4 cup of finely chopped red onion
1/4 cup of finely chopped cilantro
salt & pepper, to taste
1/2 teaspoon of adobo sauce (from a can of chipotles in adobo)
juice from 1/2 lime
Additional garnishes:
red cabbage, thinly sliced and chopped
chopped cilantro
lime wedges
corn tortillas, for serving
1. Marinate the onions by putting the slices in a small bowl and fill with red wine vinegar until it covers the onions. You can pickle the onions for a minimum of 30 minutes, or a week.
2. Marinate the fish. To make the marinade, combine the olive oil, spices, cilantro and chopped jalapeño in a small bowl. Place the fish in a medium bowl, cover with marinade, coating well, and allow to sit for 20-30 minutes.
3. To make the salsa, combine all of the salsa ingredients in a medium bowl, tossing to mix well. Add more or less adobo sauce, to taste, but keep in mind that it is VERY hot.
4. To cook the fish, heat a nonstick pan over medium-high heat. Season the fish with salt and place the pieces into the pan. Cook for 4 minutes on one side, then flip and cook for another 2. Take the pan off the heat, and use a spatula to break up the fish fillets into smaller bits, making sure to mix it well with the cooked out marinade, and scraping any bits from the bottom of the pan.
5. To prep the corn tortillas, place four at a time between two damp paper towels, and microwave for 45 seconds. Place the warm tortillas, wrapped in the paper towels, or a towel, on a plate and cover with another plate to keep warm.
6. To assemble: scoop the fish into the center of one tortilla. Top with salsa, sliced cabbage, cilantro and pickled onions. Squeeze a bit of lime over the top.
Musical Pairings: Girl Talk – Feed the Animals + Fish Tacos with Spicy Salsa and Pickled Onions
Although fish tacos may not seem like an intricate dish, after trying this recipe, I think you'd agree that the quality of any fish taco is heavily dependent upon the individual ingredients you use to make the taco. That is to say – each ingredient is important. That is certainly true with this recipe, which is fantastic. Here, the pickled onions are every bit as important as the fresh, spicy salsa, which is then as important to this recipe as the seasoned fish. In other words, lots of small parts contribute to create a delicious, flavorful taco that seems fun and effortless. These tacos are fun for dinner for two, but are also excellent party food. Girl Talk's album Feed the Animals is similarly fun, seemingly effortless party music, and is successful in part due to the well thought out selection of quality pieces that comprise the whole. The full review is over on the Musical Pairings side.
Matthew