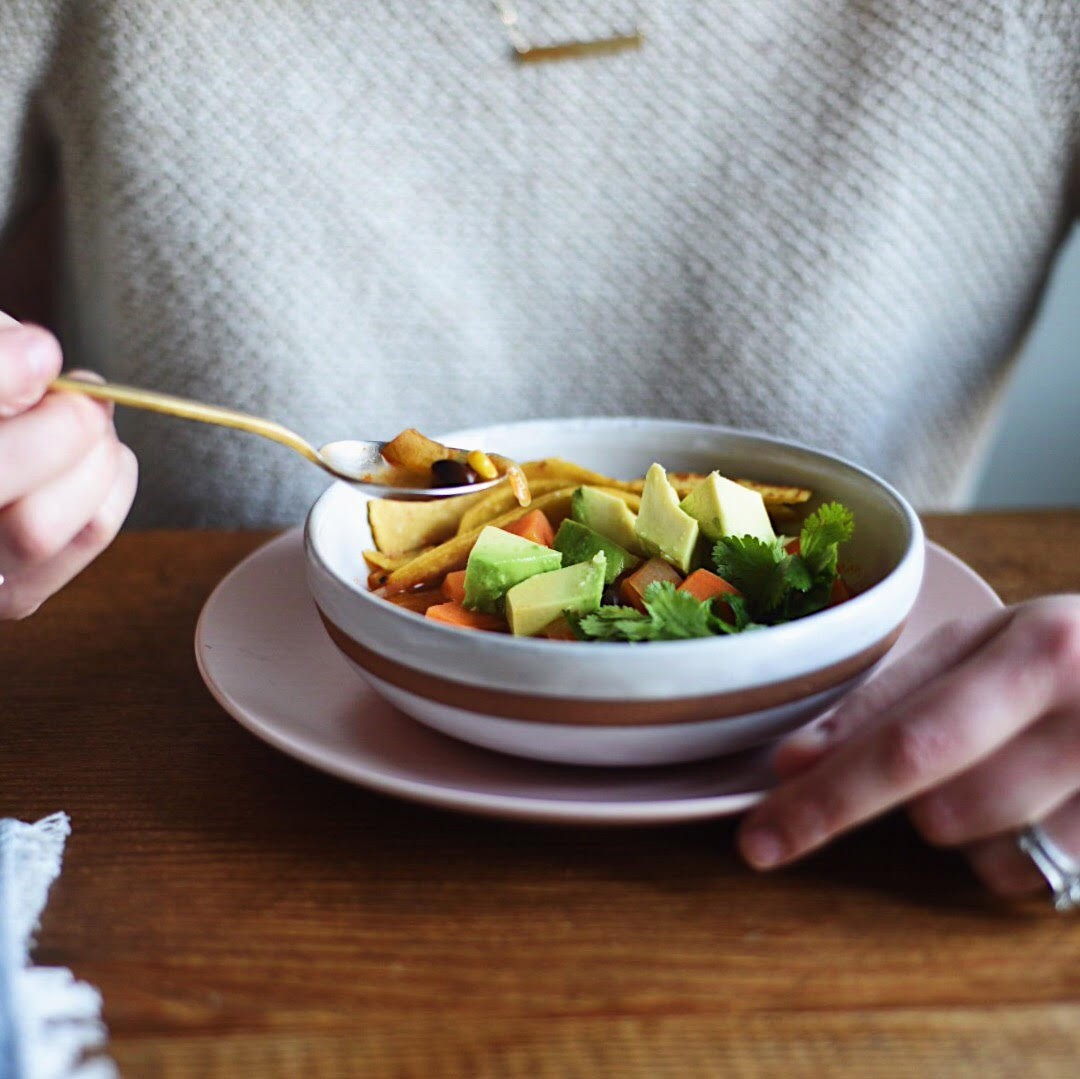 Our friend Melissa, The Faux Martha, just came out with a cookbook that I think you're really, really going to love. It's called The Minimalist Kitchen, and it's everything I've grown to appreciate Melissa for: practicality, simplicity, honesty, approachability, and perhaps most importantly, delicious food that's unpretentious and totally attainable. Today, I'm sharing a Chipotle Tortilla Soup recipe from her book (more on that later).
Melissa and I entered into new motherhood around the same time, and I remember in those early days, we'd exchange emails about what motherhood looked like from the outside, and what it was really like day to day, and hour by hour. For a lot of friends, motherhood coincided with a different schedule and very different priorities — a lifestyle that didn't necessarily support long hours spent at the oven, or tedious weekday meals. Long gone were the days that I would post 3 + recipes / week on the site.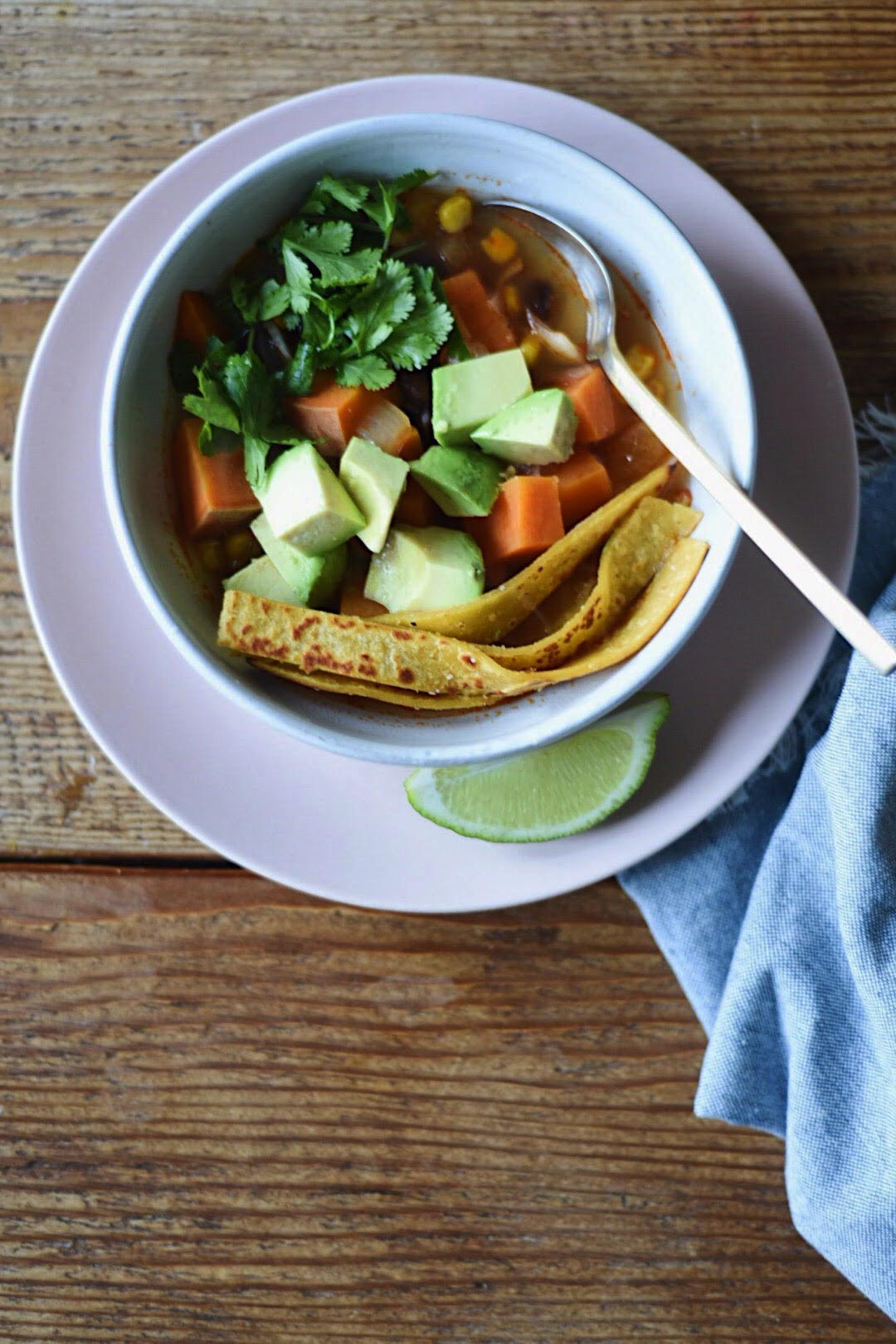 The second time I became a mother (to two more babies at one time!), the straw had broken this camel's back. I was in a rut. Dinnertime became my most dreaded time of day. I anxiously awaited the chaos that would ensue between 5 pm and 9 pm.
I wondered how anyone could do it, but with a full time job and a baby (and later, two more babies), I hardly had the time to cook, no less write about what I was cooking.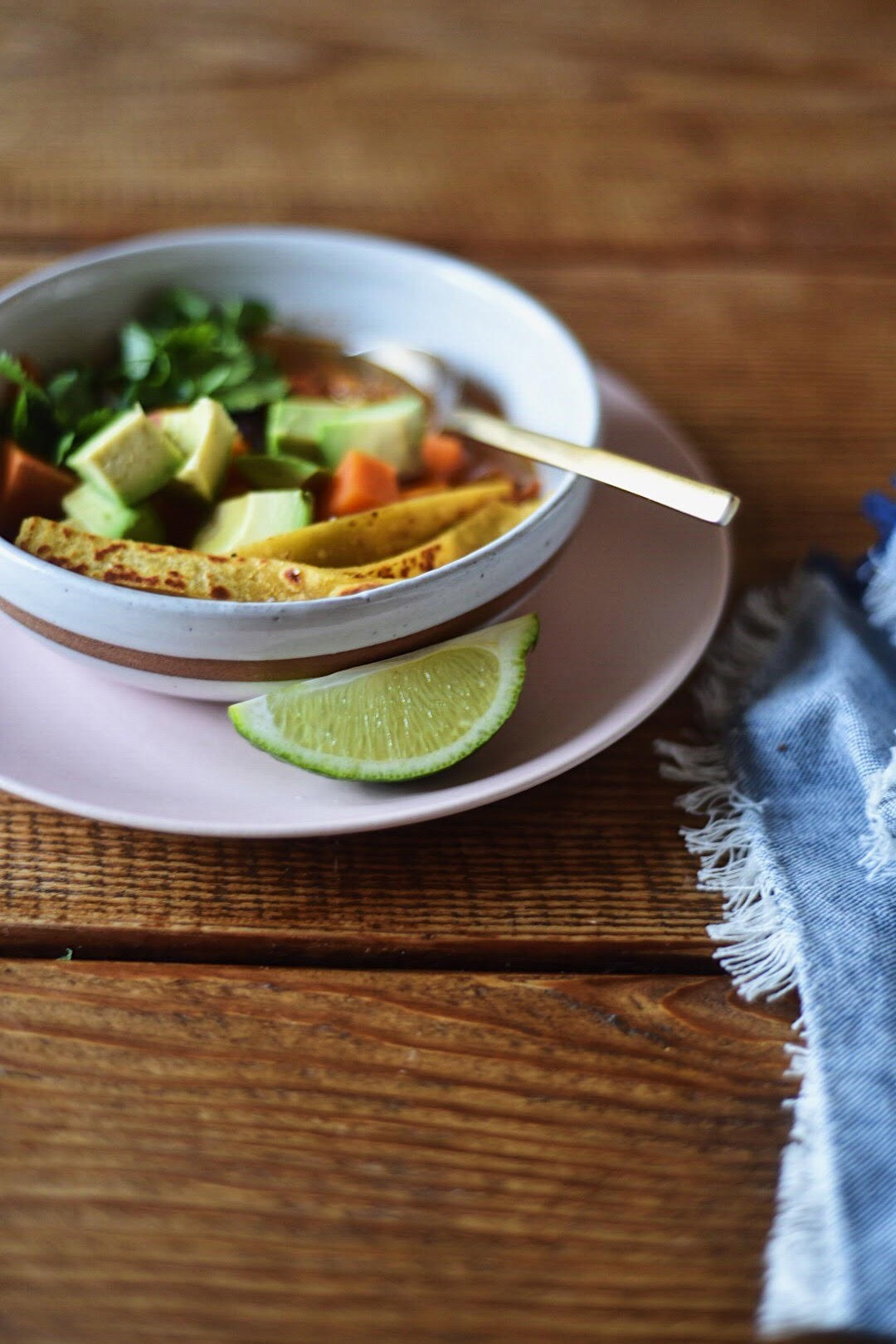 I had a business to run, though, so Matt stepped in to help with Pairings Box recipes, and we quickly optimized our process. That left little time for me to do much of anything else. I wasn't just burned out. I was completely and utterly uninspired. The kitchen became my foe.
The problem was, I realized, that my expectations for dinnertime (and all other meal times) didn't match my reality: I had limited time to meal plan, grocery shop, and cook. The thing I loved doing the most became the thing I enjoyed the least.
I was crushed.
I knew I wanted to cook nutritious, homemade meals for my family, but I needed to do it in under 45 mins per day. I realized that in order to make this happen, I needed to get organized. And as someone who finds calm in order, I knew I had to make the kitchen my friend again. This is what Melissa's book is all about: becoming friends with your kitchen (again, if you're like me). Her headnotes are some of my favorites: like a tip for mixing the muffin crumble right before topping, so as to only have to wash your hands once.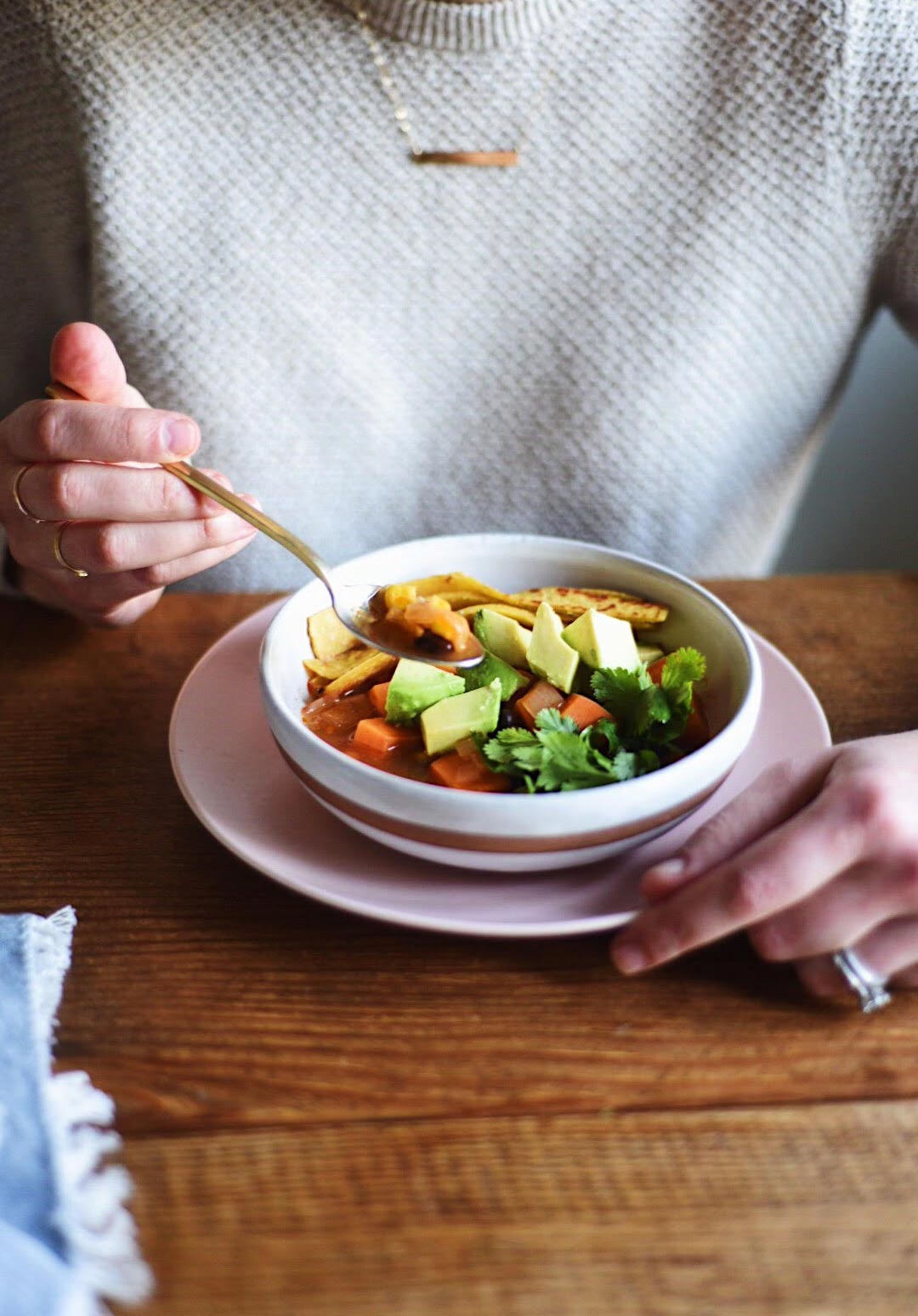 This Chipotle Tortilla Soup, though, is a brilliant one pot meal that comes together incredibly fast, is affordable, and yet, packs all the flavors of your favorite Mexican restaurant. Matt, who typically isn't a huge fan of me skipping meat, was SO DOWN with this meal I actually made it twice in one week. If you have kiddos who are sensitive to spice, I recommend that you dial down the chipotle peppers in adobo.
Also, we didn't have cotija cheese, so we left it out, but by all means, go get some. And this book! Congratulations, Melissa!
Chipotle Tortilla Soup
adapted (slightly) from The Minimalist Kitchen (now available!)
For the soup:
2 teaspoons of olive oil
1 cup of finely chopped onion
1 cup of frozen corn (we used fire-roasted)
1/2 teaspoon of kosher salt
2 cloves of garlic, minced
1 1/2 tablespoons of pureed chipotle peppers in adobo
1 tablespoon of tomato paste
1/2 teaspoon of ground cumin
1 quart of chicken stock (sub vegetable stock if you want to go vegetarian)
1 15 ounce can of black beans (drained and rinsed)
1 teaspoon of honey
1 1/2 cups of cubed sweet potatoes
For the tortilla strips:
1 tablespoon of olive oil
4 corn tortillas, cut into 3/4 inch strips
kosher salt, to taste
For garnish:
diced avocado
lime wedges
chopped cilantro
cotija cheese (optional)
1. Heat the olive oil in a large soup pot over medium-high heat. Add the onion and corn. Stir in the salt and cook for about four minutes.
2. Stir in the garlic, cooking for about 30 seconds, then add the chipotles in adobo, tomato paste, and cumin. Cook for 1 minute.
3. Add the stock, beans, and honey. Simmer for 5 minutes. Add the sweet potatoes, and cook until tender (6-9 minutes). Taste and add more salt and/or honey, if needed.
4. To make the tortilla strips: heat a cast iron skillet over medium-high. Add the oil and toss in the tortilla strips. Cook, tossing occasionally, until they're crispy and golden (but not burned). This should take around 5-10 minutes.
5. Season the tortilla strips with salt, to taste.
6. Divide soup among bowls and top with avocado, cilantro, tortilla strips, cotija cheese (if using), and give everything a drizzle of lime juice.