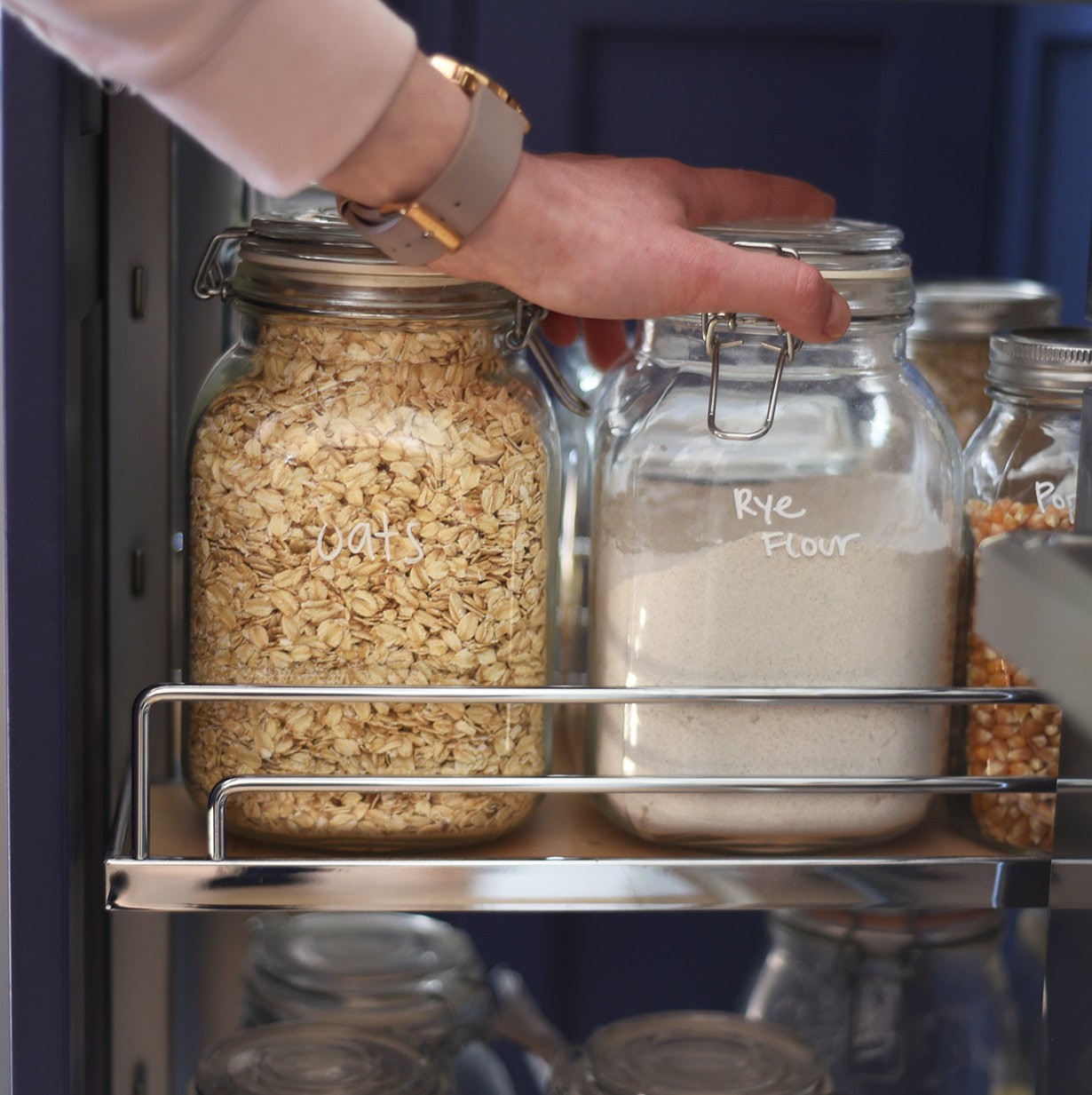 This is a sponsored post in partnership with The Container Store. All words and opinions are our own. Thank you for supporting the brands that help us do what we do!
One of the most influential books I have read in the last few years is, no doubt, Marie Kondo's love story about tidying up. It might surprise you to learn that it had such a profound impact on me, but it came at a time when I needed a reset, both mentally and physically.
I never realized just how much clutter could affect my well-being. Fast forward a few years (post my initial Marie Kondo-inspired purge) and we're living in Seattle, in our dream new kitchen…and a lot of stuff we had accumulated in a lot of awkwardly-sized drawers and cabinets. With deep cabinets and many new drawers, we were so overwhelmed with space, we weren't actually sure how to be USE it. We found ourselves sticking random stuff on shelves just because they were empty (joy!). Compared to our old kitchen, which felt like it was exploding at the seams, our new kitchen has ample storage and counter space, but our existing organization and storage solutions just weren't cutting it.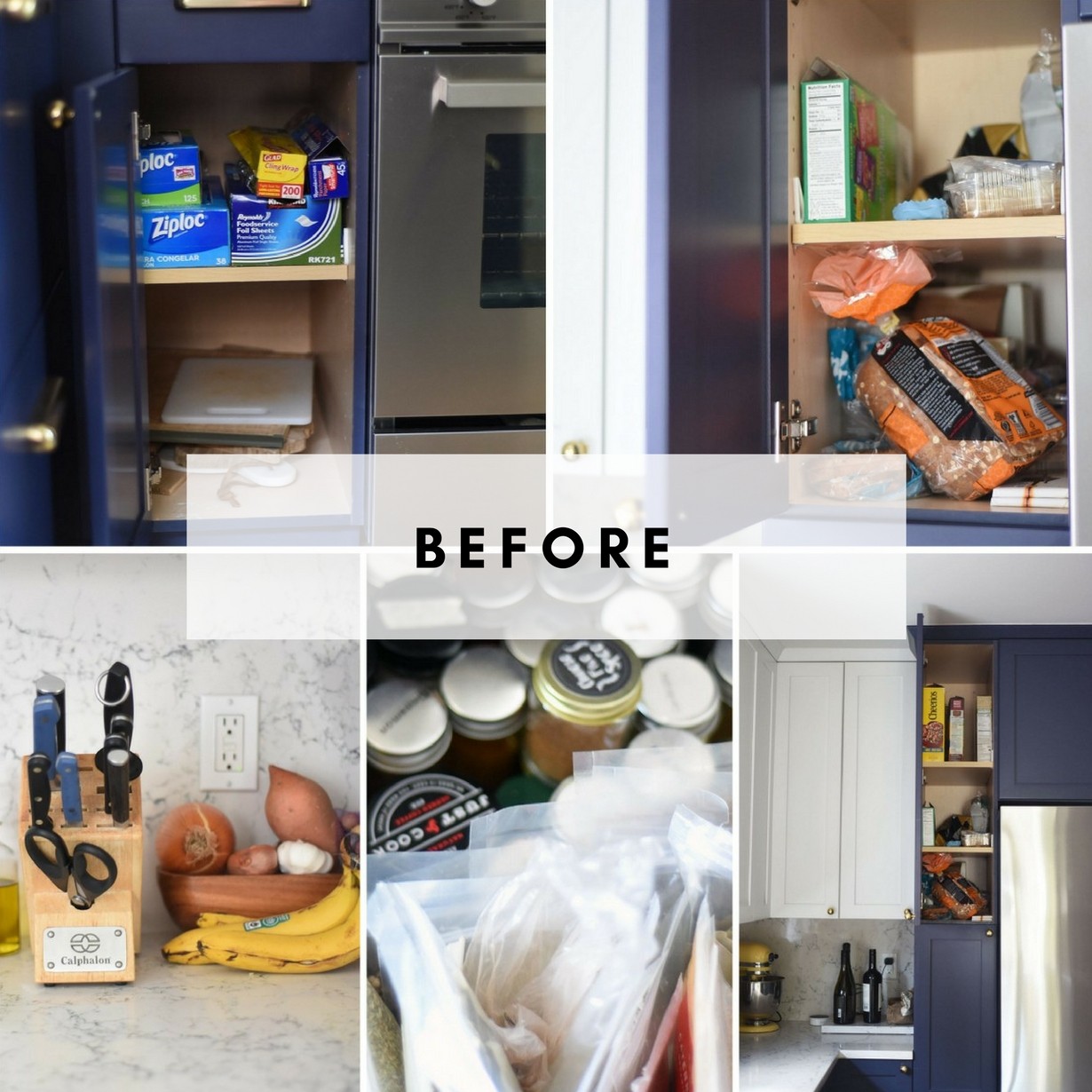 If I'm being perfectly honest, the number one thing I was MOST excited about in our new kitchen was undoubtedly the pull-out pantry (made custom by Ultracraft Cabinetry). With smart design, we were able to expand the footprint of our kitchen and our storage space, without actually adding much space. You bet that I couldn't wait to organize all of my spices, beans, cereals, and coffee. I had a few goals for our kitchen (in addition to having it be a beautiful and functional workspace where we'd love hanging out):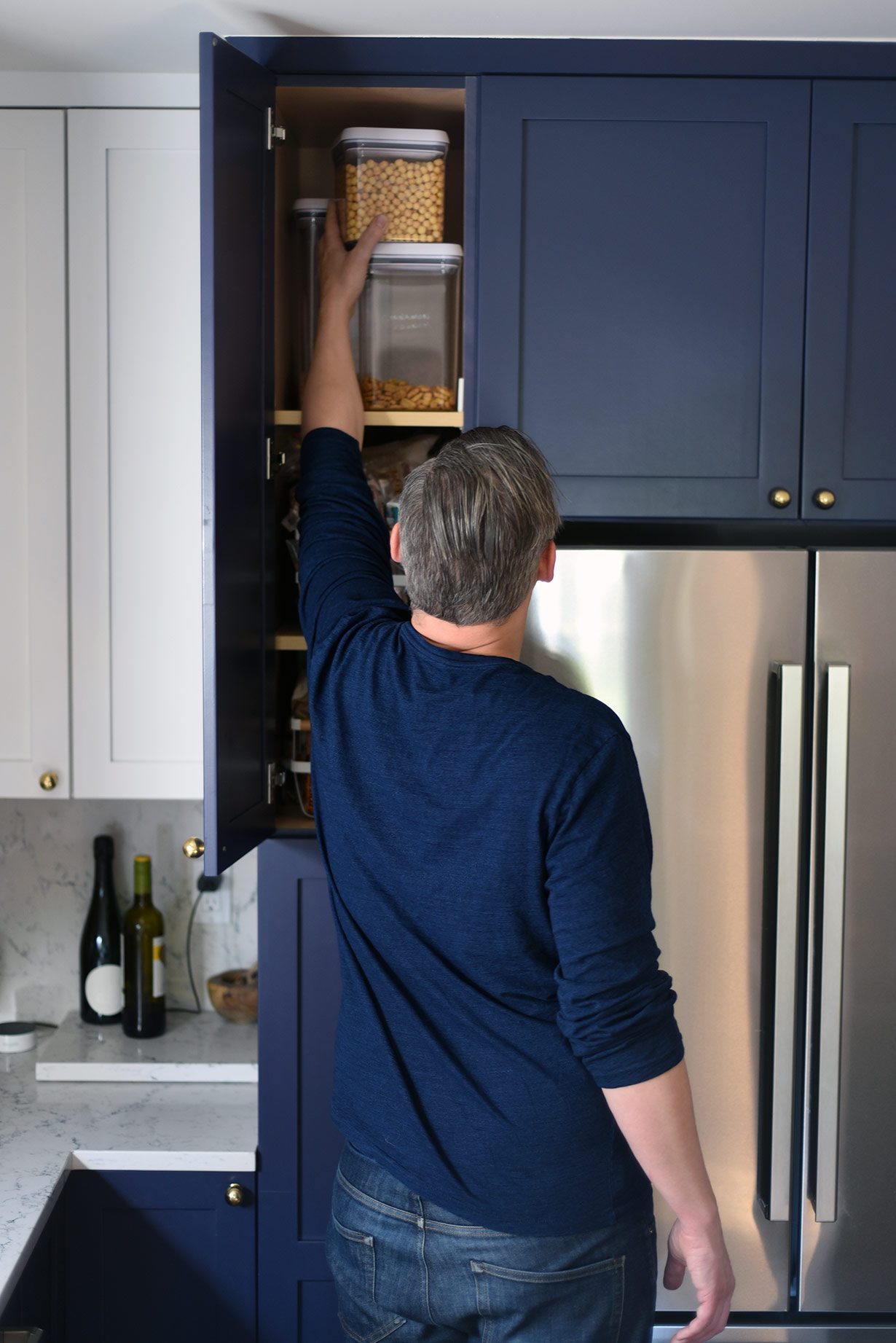 I wanted to be able to quickly scan ingredients, including spices, herbs, and a lot of items that resided in bulk bin baggies, or labeled with washi tape labels I could barely read.
I wanted to make better use of our deep shelf pantry and deep shelf drawers, which provided plenty of space, but can be difficult to access
I wanted to separate out ingredients that we use frequently and make them more accessible on our counters (aesthetics were important, too!)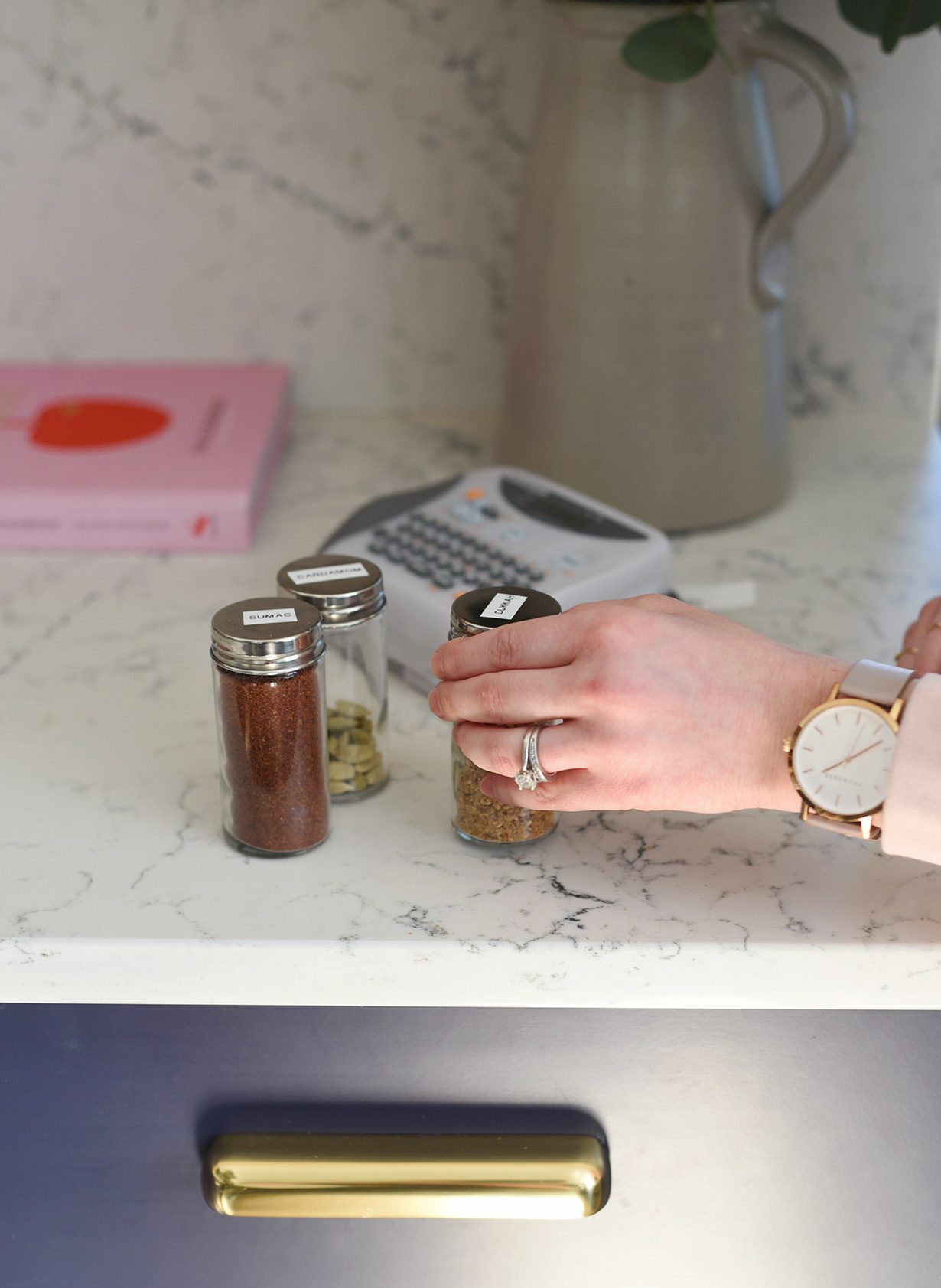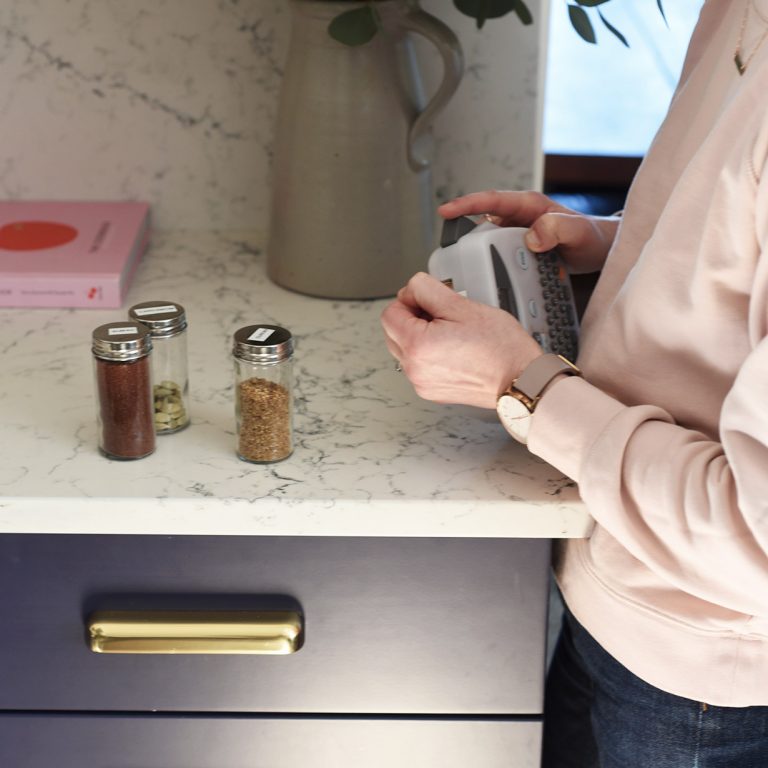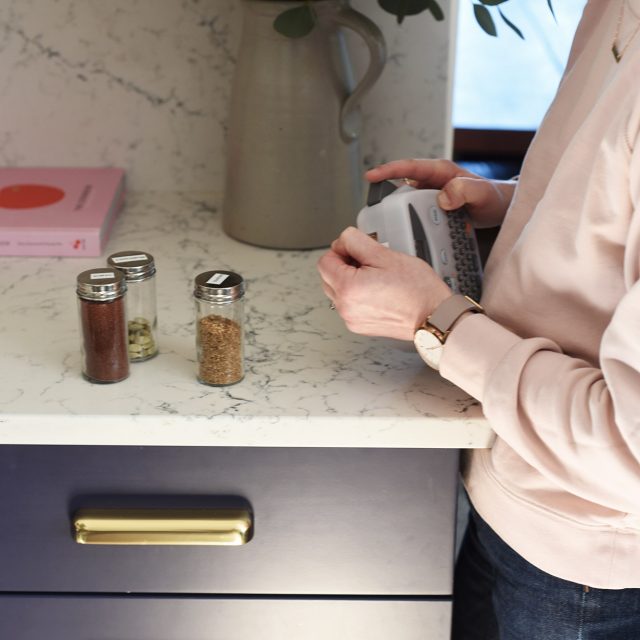 We teamed up with The Container Store to make our pantry and kitchen organization dreams come true, and all I can say is that once you start, you can't stop. Armed with my new label maker and glass spice jars, I reorganized my entire spice collection, which, as you might guess, is large. I tossed a lot of outdated ingredients, and replaced all the hard-to-read labels. I opted to store my spices in a drawer. With all the new labels, it's so much easier to see what I have when I am cooking, and what I might need more of.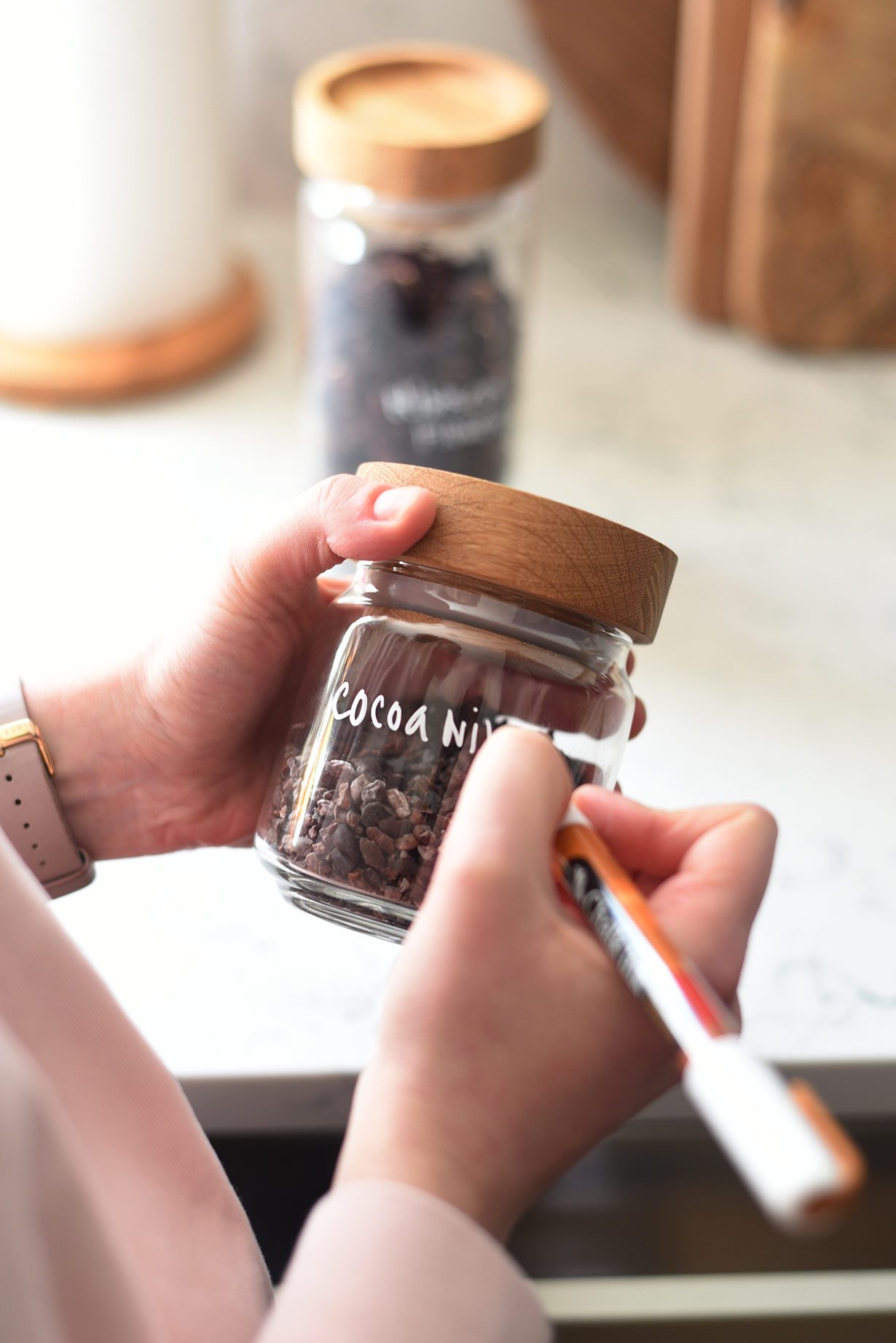 Since we use the bulk bin often, but switch things up a lot (like cereals and grains), I opted to use the chalkboard marker to label our pull-out pantry glass jars. It wipes off easily for times when we run out of brown rice and want to use the same jar for white rice.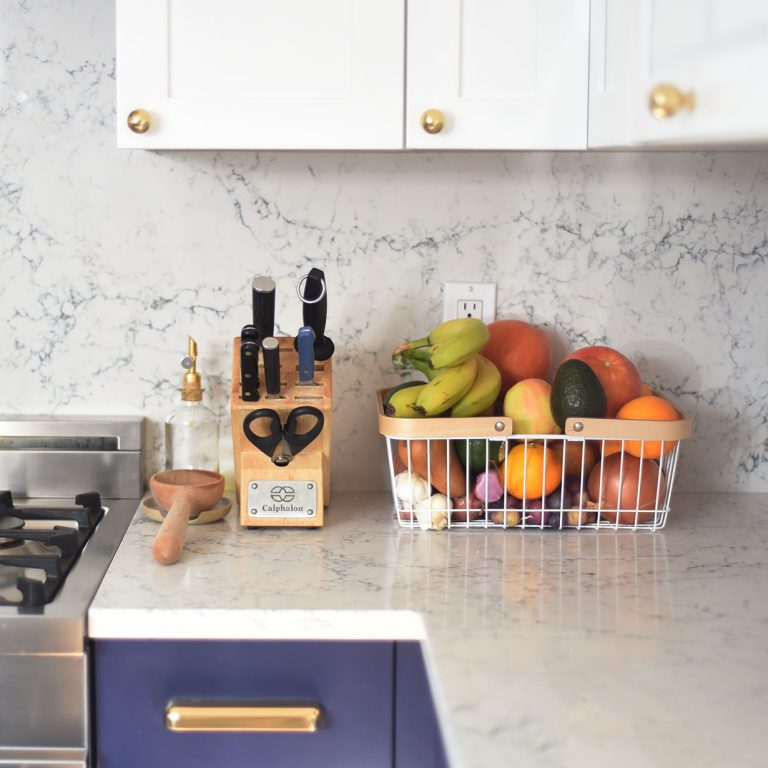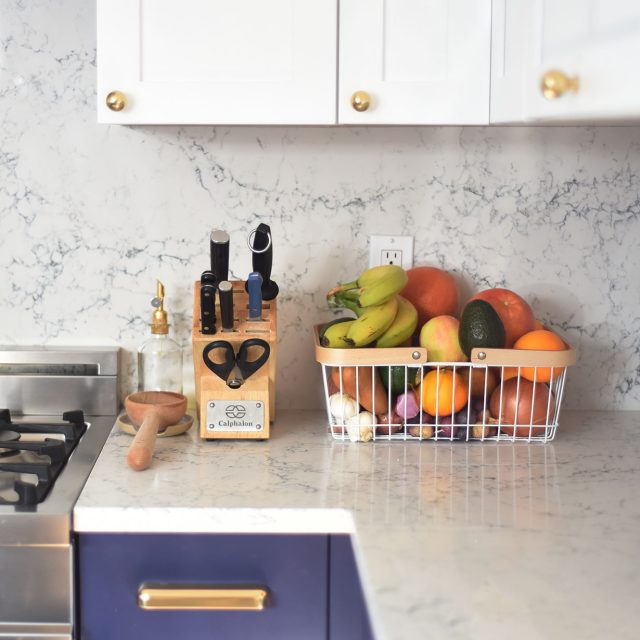 I got these giant acacia wood-lidded glass jars for all-purpose flour and oats, two bulk bin ingredients I probably use most of. I actually have backup glass jars with these two ingredients in my pull-out pantry, too! I know. But it seriously sucks when you want to make a batch of oatmeal for 5 or buttermilk biscuits on a Sunday morning and you realize you're out of oats or flour.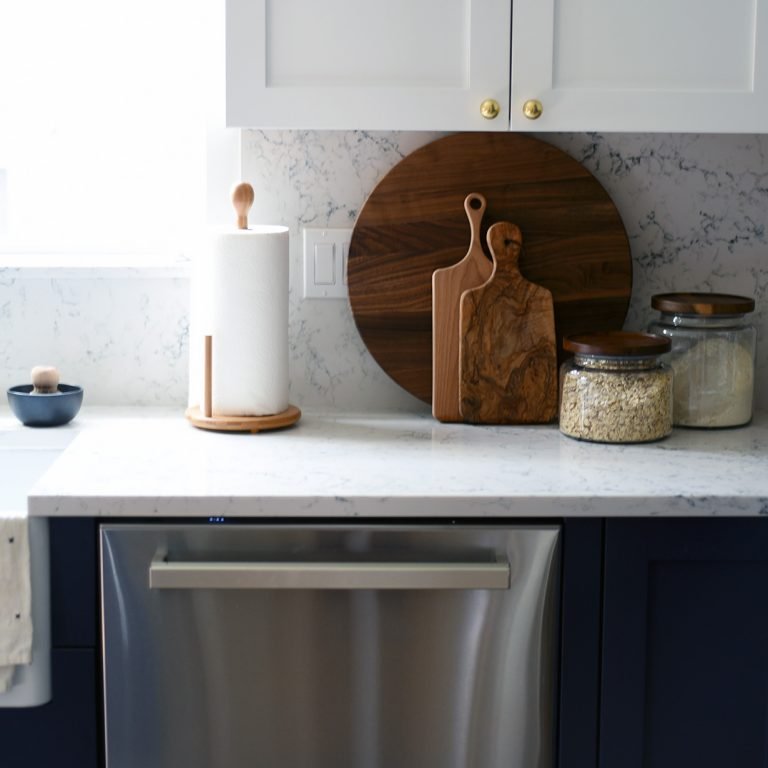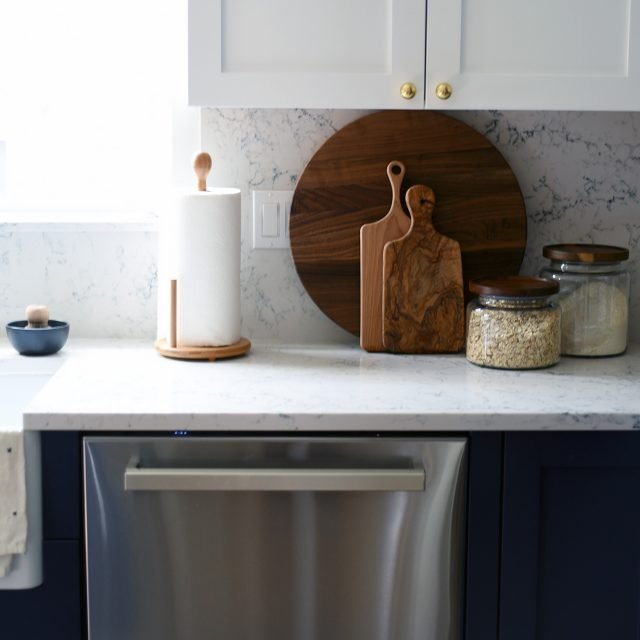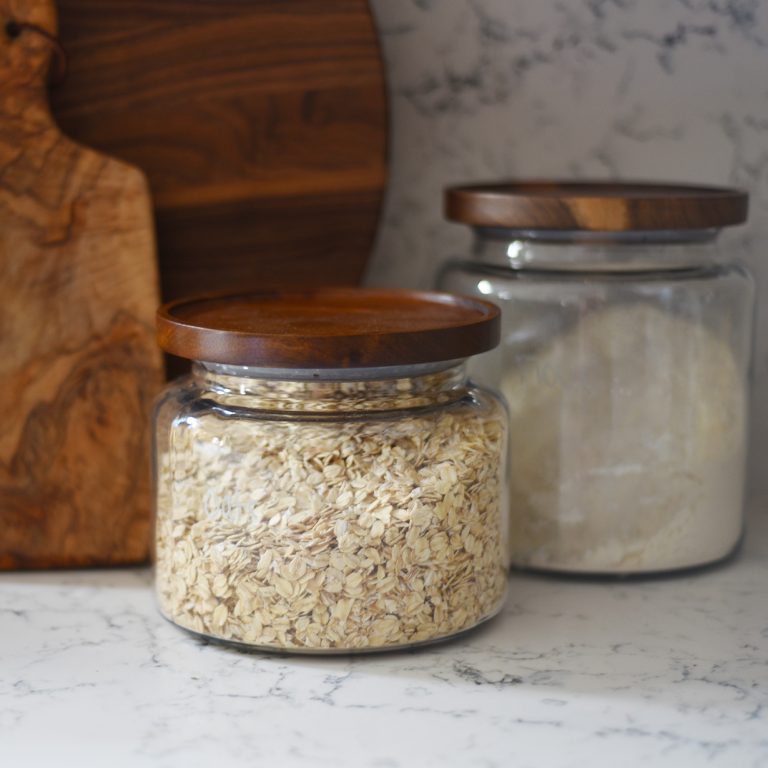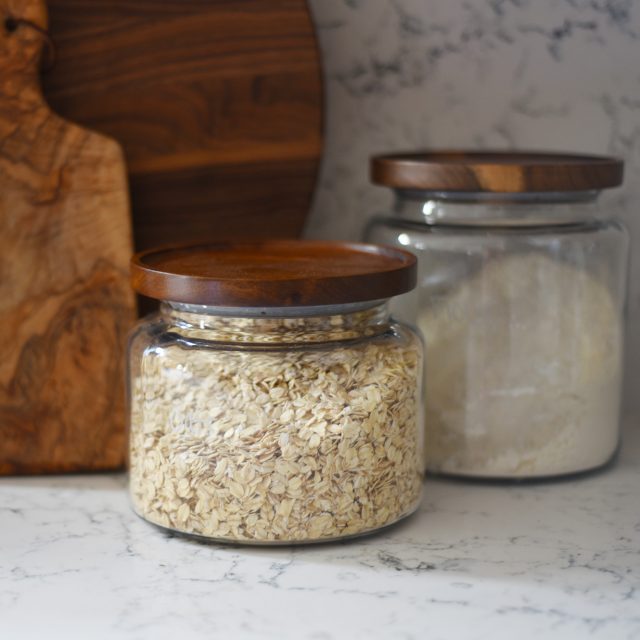 To keep our coffee beans and teas fresh, we like these aluminum containers.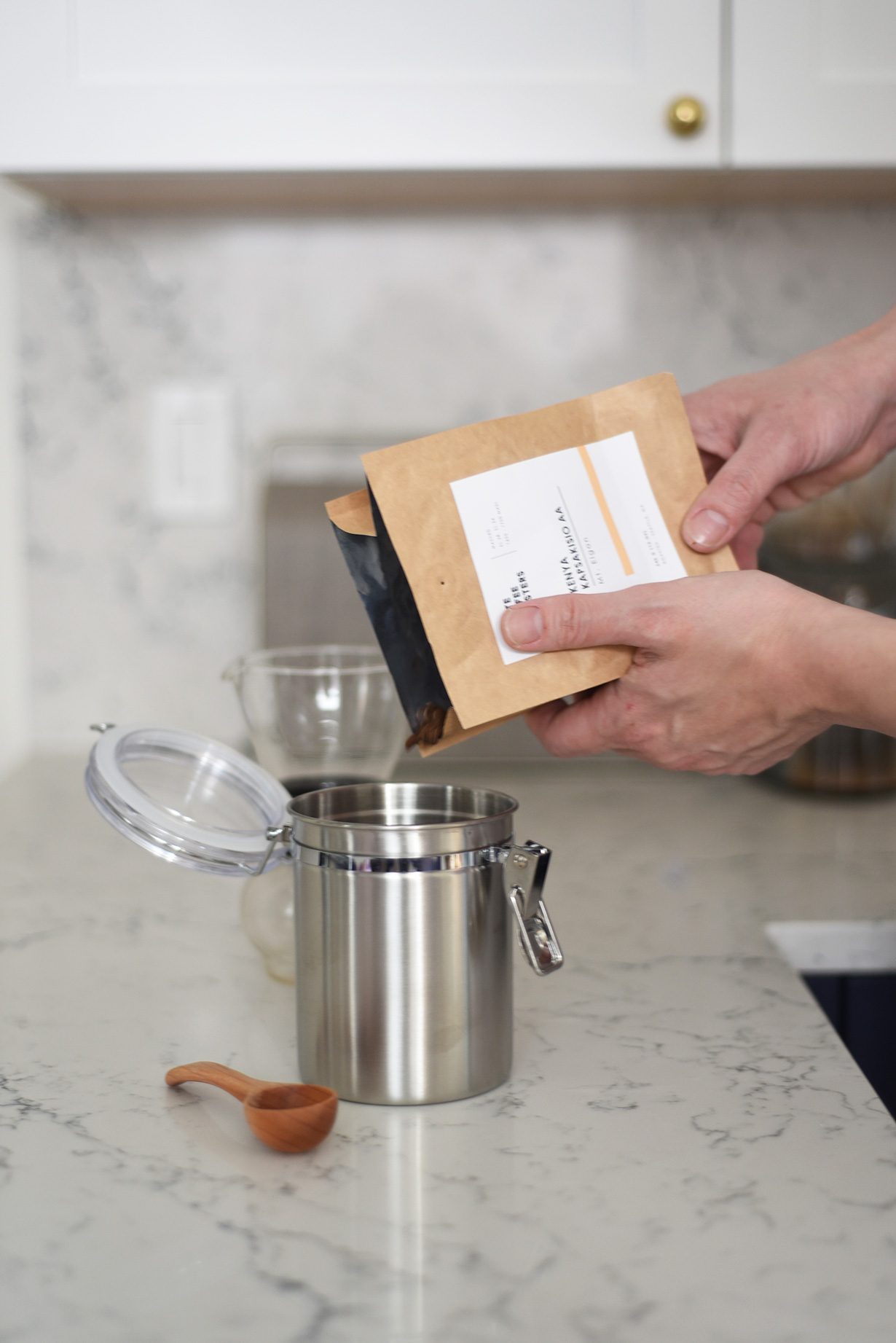 And for the deep cabinets that flank our gas range, we grabbed these plastic bins, which make it easy to access household items like foil, parchment paper, and Ziplock bags, as well as accessories for our juicer and food processor.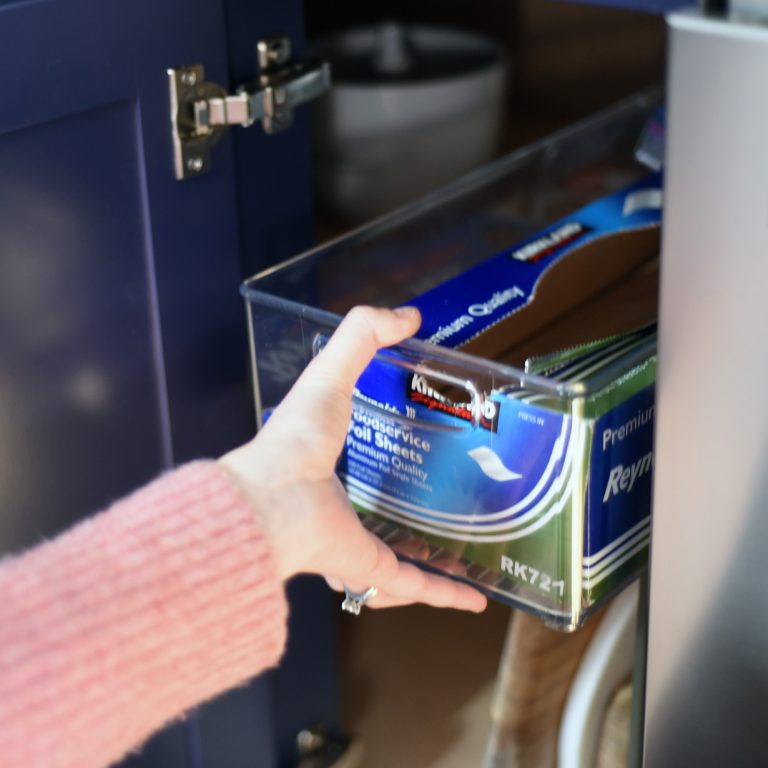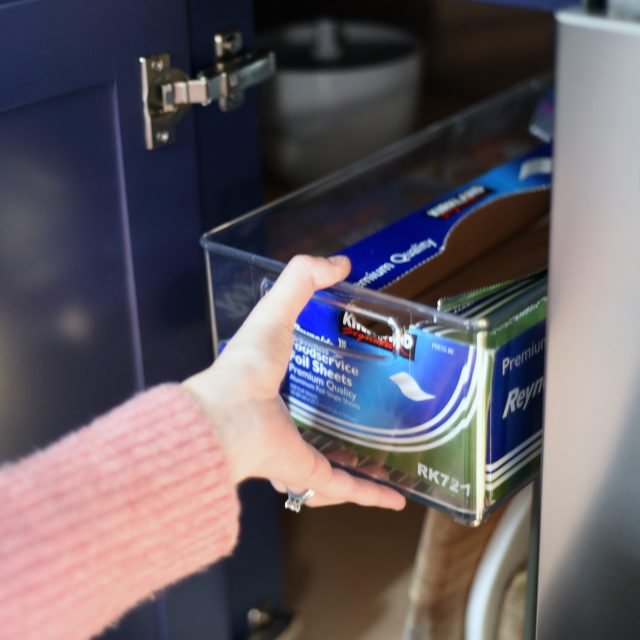 The deep drawer above the pull-out pantry has also gotten WAY more organized with these beautiful wood-accented baskets that we use primarily to store dried pastas, bread, snacks, and chocolate ? Our kids know this is where the good stuff is. And we can't have enough of OXO's pop lid containers, which are perfect for everything from cereal and pretzels to powdered sugar and nuts.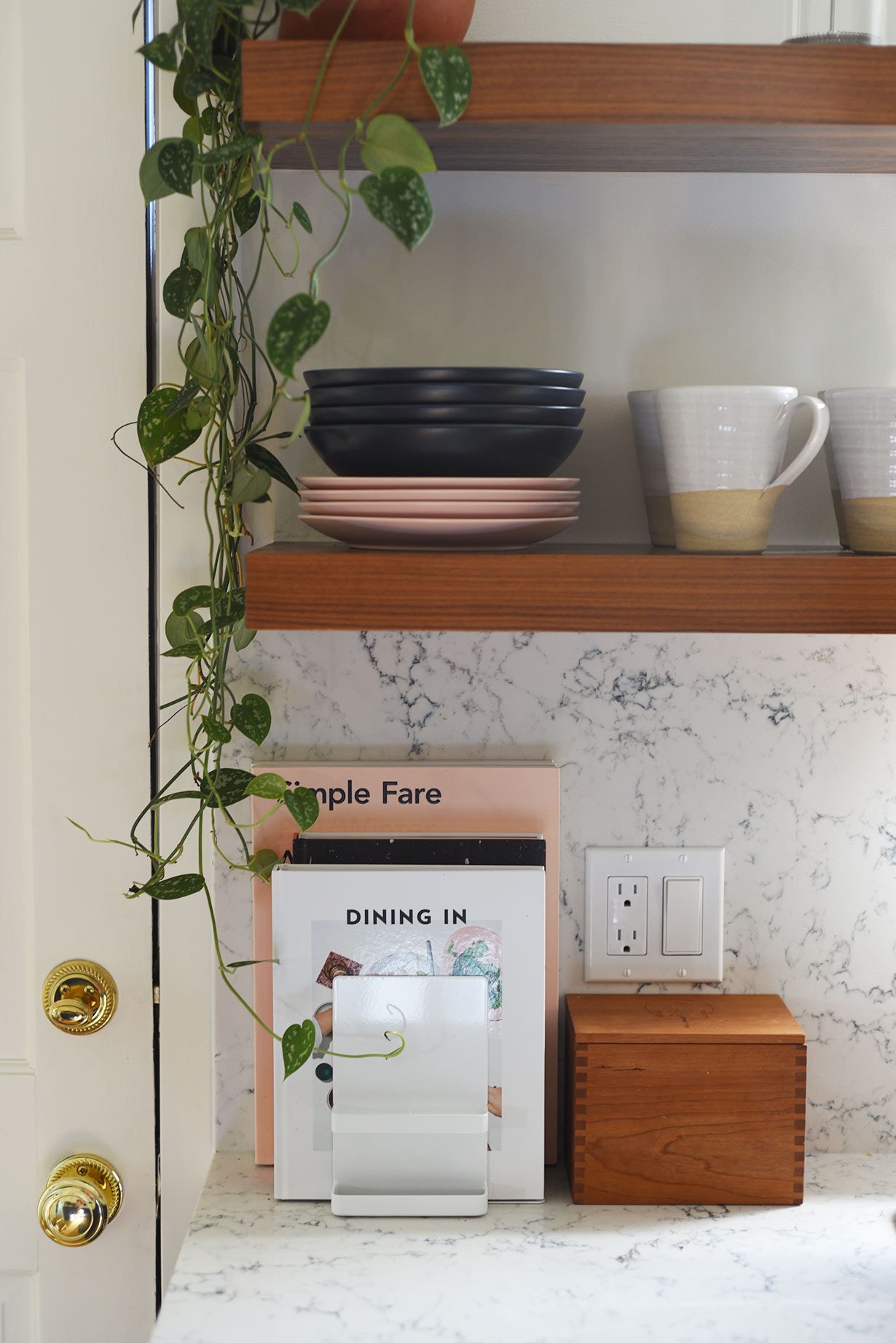 Pictured above: White Tower Bookends
Good news if you're looking to organize your kitchen: The Container Store's annual Kitchen Sale is happening now through April 1 st. You can receive 25% ­off hundreds of the kitchen and pantry products you need to accomplish all of your kitchen projects.