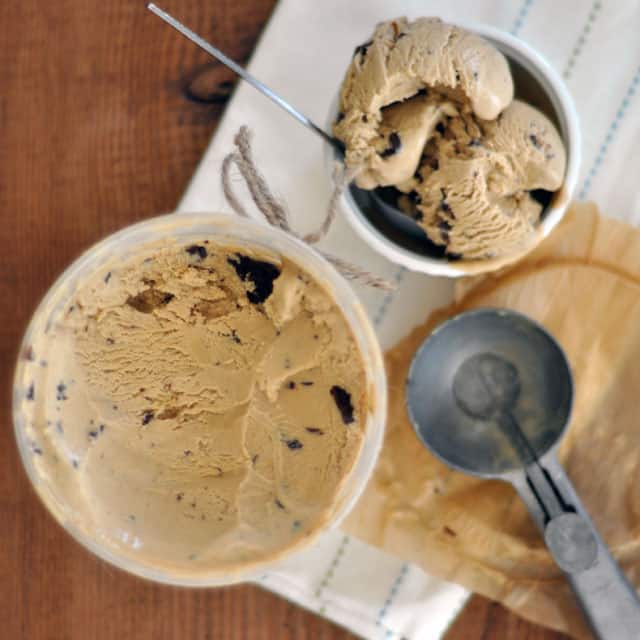 To love a city is to get involved in a complicated relationship. It means to persevere in the face of inconveniences — stairs and cobblestones, small aisle ways and laundromats. The thrill of city life is knowing that the best is always out there, but the worst is always out there, too.
I've been a city dweller now for much longer than I was a suburbanite and while my feelings waiver, I'm still enchanted. I love the wonders of new restaurants, bars, and coffee shops constantly opening and closing, and the excitement of getting dressed up to be seen (whether it's just at the park or at a party). People still flee from the city, but many come back. I've seen it happen.
The American city, like America itself, does not have a single face. A few years ago, I visited a friend in New Orleans, a city I did not see prior to the massive destruction it endured in the form of Hurricane Katrina. But, only a few years after the horrible event, this city was in a state of rebuilding. But it wasn't just rebuilding its infrastructure, it was rebuilding its character, its businesses, its people, its food, its music.
I discovered a city that was nothing like any city I had ever been in. There was something hanging in the air, and it wasn't just the moisture. It was a fierce presence behind a thick layer of Southern Charm; I'd never before been called 'baby' by a stranger, and curiously, I did not mind. Even their coffee tasted different. Laced with chicory, Cafe Du Monde's coffee is a New Orleans institution.
A major tourist attraction in its own right, the main square location is packed to the gills, and the waiters run an endless supply of milky coffee and hot, fried beignets dunked in powdered sugar. Despite the heat, I still remember the euphoric feeling of dipping fried dough into a cup of coffee that instantly became showered in sugar. All those metal napkin containers, sprinkled across every table, could hardly stop the mess from happening. When you eat a beignet at Cafe Du Monde, fact is: you will get covered in powdered sugar.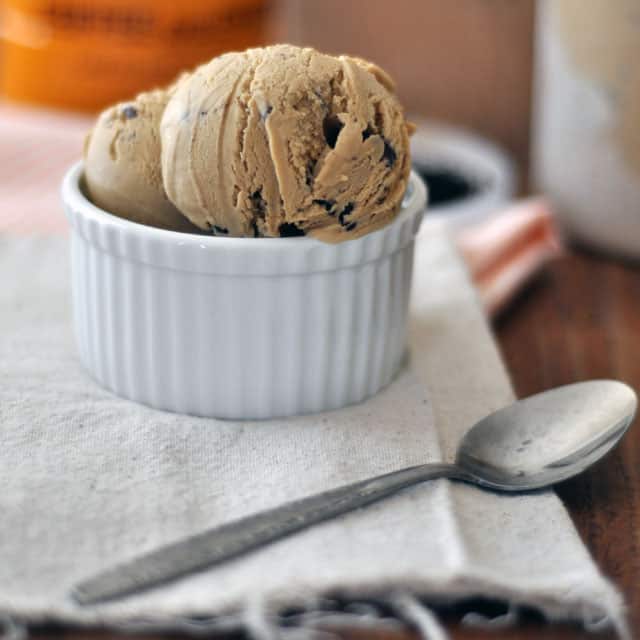 My trip was brief, but my memories have lingered, and so has a tin of Cafe Du Monde coffee that I discovered at a local grocery store and immediately purchased, not because I love the taste of it (truth is, I prefer our San Francisco standbys: Blue Bottle, Four Barrel and Sightglass) but because it was the rediscovery of this city I loved; a great American city.
I used it to make ice cream, steeping the flavorful ground beans using a recipe from Jeni's Splendid Ice Creams at Home. As the ice cream spun and spun, I poured in some melted, dark chocolate, which quickly hardened and broke into what Jeni calls 'chocolate freckles.' Despite the lack of heat, humidity, and that Southern Charm, I tried to relive that moment in time, as I so often do through food.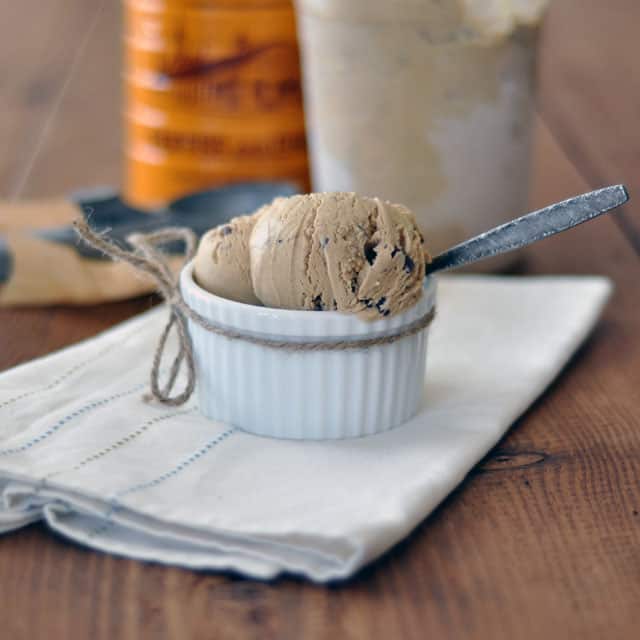 Cafe Du Mond Coffee Ice Cream with Chocolate 'Freckles'
adapted from Jeni's Splendid Ice Creams at Home
*makes 1 quart
We were so thrilled to work with the fine folks (including Jeni herself!) of Jeni's Splendid Ice Creams on a collaboration for the May Pairings Box. Jeni's cookbook recently won the prestigious James Beard Award. Frankly, I could adapt her ice cream recipes every week. If you don't already own the cookbook, I would strongly recommend you get it (and an ice cream maker, if you don't already have one). Homemade ice cream is one of the best things in life. Although we are completely sold out of the May Pairings Box, you can subscribe starting with the June Pairings Box.
2 1/2 cups of whole or reduced fat milk
1 tablespoon + 2 teaspoons of cornstarch
3 tablespoons of cream cheese, at room temperature
pinch of fine sea salt
1 1/2 cups of heavy cream
3/4 cup of sugar
3 tablespoons of light corn syrup
heaping 1/3 cup of Cafe Du Mond coffee (or another dark-roast ground coffee)
For the chocolate chunks:
4 ounces of high-quality dark chocolate, roughly chopped
1. Mix 2 tablespoons of milk with the cornstarch in a small bowl to make a smooth slurry. Whisk the cream cheese and salt in a medium bowl until smooth.
2. Combine the rest of the milk, sugar, cream, and corn syrup in a medium pot. Bring the mixture to a slow boil over medium heat and boil for four minutes before removing from the heat.
3. Stir in the ground coffee and let steep for five minutes. Strain the mixture through a fine mesh sieve, lined with a cheese cloth. Squeeze the ground coffee inside the cheese cloth to release as much liquid as possible. Then, toss the coffee in the cheesecloth and pour the strained mixture back into the pot.
4. Whisk in the cornstarch slurry, then bring the mixture back to a boil over medium-high heat. Cook, stirring the mixture, until it begins to thicken (this should take about one minute). Whisk the cream mixture into the bowl with the cream cheese until it's smooth.
5. Transfer the ice cream base into 1 gallon Ziploc freezer bag and seal tightly. Place the bag in an ice bath (fill a large bowl with cold water and ice) and let sit until completely cooled (about 30 minutes).
6. Melt the chocolate in a double broiler. Remove from the heat and allow it to cool slightly.
7. Transfer the ice cream base to an ice cream maker, and process according to the manufacturer's instructions. Once the ice cream is relatively thick and creamy, slowly drizzle in the melted chocolate. It will harden and break up into small pieces as the ice cream continues to churn for another few minutes. Break up any large chunks of chocolate, then transfer the ice cream to a storage container with a tight-fitting lid. Press a sheet of parchment paper directly over the ice cream, cover, and freeze for at least four hours.
Musical Pairings: Ghibli – Rare Pleasures + Cafe Du Monde Coffee Ice Cream with Chocolate 'Freckles'


More on the Turntable.