I'm still a pickling newbie, but something about putting things in jars gets me really excited. The really cool thing about pickled veggies is that they become so much more than their original selves. For example, these spicy green beans from a new cookbook I've been loving, DYI Delicious. Take the green bean: a humble vegetable that can be sauteed, boiled, added to soups and salads. Now, turn him into a pickle: still crunchy, a little less green, spicy, salty and briny, he can be eaten alongside a beer, stuck in a Bloody Mary, chopped up in a salad, tossed with some boiled potatoes, etc. etc. etc. This green bean is wearing a fiesta hat.
When I first decided to make these pickled green beans — as it often happens — I bought all of the ingredients I needed thinking I already had mustard seeds at home. What I had, though, was black mustard seeds typically used in Indian cooking. I thought to myself, "Drat, it is raining and I just spent two hours getting to and from the grocery store and going back out again is entirely unreasonable." But I still really wanted to make these pickles. I hadn't cooked much with the black mustard seeds, but I decided that if I were to have Indian Spicy Pickled Green Beans, life wouldn't be so bad. After all, I was already modifying the recipe and using jalapeno peppers, rather than their milder red chile counterparts.
I proceeded with the recipe, swapping in the black mustard seeds (and adding a bit more water to my pickling liquid as it didn't quite cover the beans) and placed my jar in the fridge for two days. I waited patiently until oh-glorious-time-to-open-my-pickles-day came around. I opened the lid and popped a spicy green bean in my mouth and I knew I was hooked. Pickling is my adult project, like making Indian bead bracelets and paper mache cats (don't ask) were my childhood projects. Some people knit and some people carve wood into furniture and some people go fishing and some people pickle. I am not 'someone who pickles' but after my few minor attempts at pickling, I'm starting to think I could be. Case in point: a big box of 1-quart Ball Mason jars have now made a home inside my closet, just ready to be filled with jams, preserves and pickles.
Spicy, Picked Green Beans
*adapted from DYI Delicious
Note: if you are using Indian black mustard seeds, take note: they're slightly more pungent. Typically, yellow mustard seeds are used for pickling.
1 – 1 1/2 pounds of green beans, left whole, stems trimmed off
1 jalapeno pepper, quartered and seeded
2 cloves of garlic, sliced thinly
a few sprigs of fresh dill
2 cups of distilled white vinegar
1 cup of water
1 tablespoon of sugar
2 teaspoons of kosher salt
1 teaspoon of mustard seeds (black or yellow: the original recipe calls for yellow, but I swapped in black and thought they worked just fine)
1. Properly sterilize a 1-quart mason jar (I boil mine for about 5-10 minutes in a large pot).
2. Once you have sterilized your jar, pack it with the green beans, dill, peppers, and garlic – everything should fit snugly.
3. Combine the water, vinegar, sugar and salt in a small pot over medium heat. Boil for several minutes before pouring the mixture over the green beans. (I increased the amount of water and vinegar in the recipe as the original amount didn't quite cover my green beans.)
4. Place the jar in the refrigerator, allowing the flavors to meld for a few days before opening (Vanessa recommends three, but we ate ours after two).
Musical Pairings: The Decemberists – The King is Dead + Spicy, Pickled Green Beans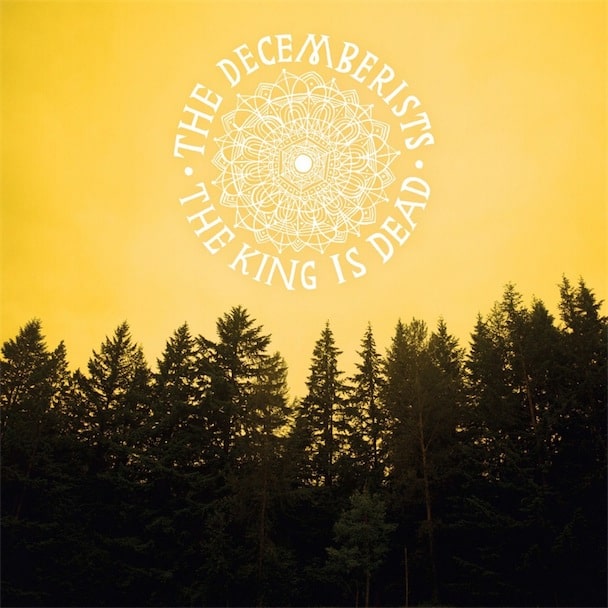 To grab today's Pairing, head on down to the Turntable.