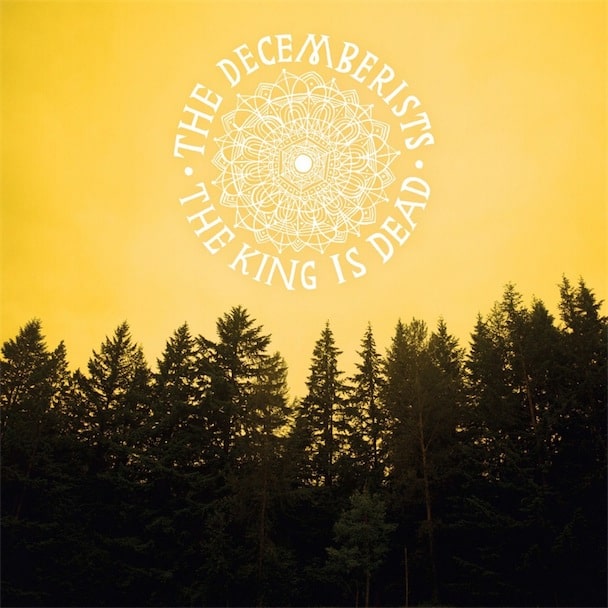 If you hadn't been paying close attention, the Decemberists' latest album, The King Is Dead, may sound like a somewhat unexpected departure for a band that had so recently recorded and released the crunchy-rhythms, metal-inspired riffs and weird-fiction themes of Hazards of Love. The King Is Dead is a pretty straight-forward country-folk album, featuring Gillian Welch, David Rawlings, and R.E.M.'s Peter Buck playing significant supporting roles that very clearly contribute to the overall sound of the album. And there isn't a loose narrative or concept unifying the songs. Oh, and as far as I can tell, none of the songs' characters are murdered, raped or forced to engage in massive-scale acts of prostitution (though I think there are some pretty serious threats in the lyrics of the track "Rox In The Box"). So yeah, The King Is Dead is pretty different from many of their previous albums.
But really, I think The King Is Dead was pretty well foreshadowed. The group demonstrated their love for country western music at the very beginning of the tour for Hazards of Love having performed a cover of the Louvin Brothers' "If I Could Only Win Your Love" on several nights.  Hell, even portions of the lyrics could have been predicted. After all, who can work through the depths of David Foster Wallace's Infinite Jest and not discover some inspiration. The novel is so awe-inspiring, it requires a heart as cold and unfeeling as those of Les Assassins des Fauteuils Rollents to be unmoved upon completion.  And indeed, The Decemberists' front-man Colin Meloy clearly demonstrates that he is not immune following his participation in the Internet-based Infinite Jest reading group,  Infinite Summer, as he alludes to the novel on the track "Calamity Song" in which he sings  of "the year of the chewable Ambien tab." Personally I was hoping Meloy would write a 20 minute long suite of songs inspired by Eschaton. But I digress. The point is that this wasn't so unexpected.   And really, some of this album's best moments (all of the track "January Hymn" for example) aren't that different from the band's earliest ballads: acoustic instrumentation, sea-shanty inspired melodies and thoughtful, well-written lyrics.  It is rustic and straight-forward with no gimmicks. And yet it is also modern and complex in character. For these reasons, I think that the spicy pickled green beans Kasey is featuring in the Kitchen today is a perfect metaphor for the Decemberists' song-writing on The King Is Dead. There is nothing complicated about the spicy pickled green beans recipe, but those highly addictive green beans are nonetheless so crisp and complex in flavor. Trust me, after you try these you'll never look at a green bean the same way again.
So, by now, you have a sense of what the album sounds like (country-folk with nerdy literary references for lyrics), and so naturally the next question is whether it is actually any good or not. And, yes, I'm happy to report that The King Is Dead is an excellent album. The album's first single is the nimble and flowery "Down By The Water", which is also the album's most upbeat and catchy moment – packed with whimsical hooks and earthy rhythms. The resonant and lively "Calamity Song" is the type of song I know I've craved ever since the first time I heard R.E.M.'s Document.  "All Arise!" is a lively and pastoral barn-raiser. "This Is Why We Fight" is scintillating  and shimmery evidence that The Decemberists' aren't backing away from melodic, epic rock songs.  And the aforementioned "January Hymn" and it's companion "June Hymn" are some of the band's prettiest tracks to date. In other words, there is an album's worth of material here that will please any fan of The Decemberists.
Pick up the deluxe edition if you can afford to part with the cash. It is worth it. It comes beautifully packaged and includes a DVD, a CD version of the album, a thick white-vinyl copy of the record, a hard covered book, a limited edition print and a one of a kind Polaroid (here is a poor scan of the picture packaged with my copy).  You can score if from the band's website.
The Decemberists – January Hymn
Don't forget to "heart" our songs and subscribe to our feed on hypem if you like what you hear.  Then head back to the Kitchen to read how to prepare some spicy pickled green beans for your home.