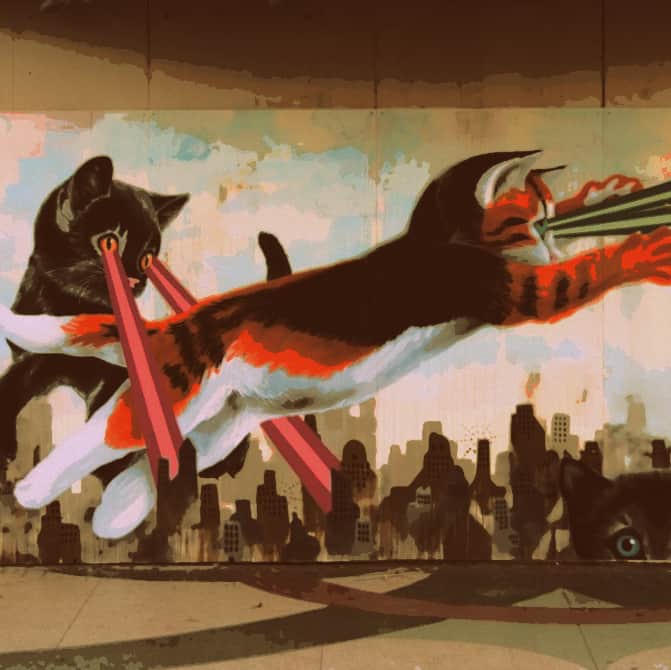 The January 2011 mix is dedicated to the ridiculously awesome Laser Kittens mural that once graced Divisadero Street in San Francisco. That mural was the game. So with any luck this mix will sound somewhat as awesome as the picture above looks with lots of laser-like sounds, pouncing kittens, and a dash of urban grittiness. In that regard, the January mix is quite different from the December mix in a number of respects, but it is still notably low on straight-forward indie-rock. I guess this is just a reflection of where my head has been recently. Still, there is a ridiculous amount of great music here.  I hope you find something new that you like.
Turntable Kitchen :: January 2011 Mix (.zip file)
01. Lykke Li – Get Some
02. La Sera – Devils Hearts Grow Gold
03. Work Drugs – Third Wave
04. Bronze – Count To Two
05. Kissed Her Little Sister – Cocaine Blues (Johnny Cash Cover)
06. Mickey Brown – Wild Child
07. Drake – Fireworks (Deadboy Slo Mo House Edit)
08. Tor – Aperture
09. Wick-It The Instigator – Go Get Tangerine (Big Boi vs. The Black Keys)
10. J. Cole – Lights Please (Vodka & Milk Remix)
11. Evenings – Beta Thought
12. League – Golden Maps
13. Craft Spells – After the Moment
14. Star Slinger – Dutchie Courage
15. Levek – Muhammed Ali and Me
16. Dirty Beaches – Lord Knows Best
17. unouomedude – Kiss Me (Six Pence None The Richer Cover)
18. Papercuts – Do What You Will
Don't forget to "heart" our songs on hypem if you like what you hear!