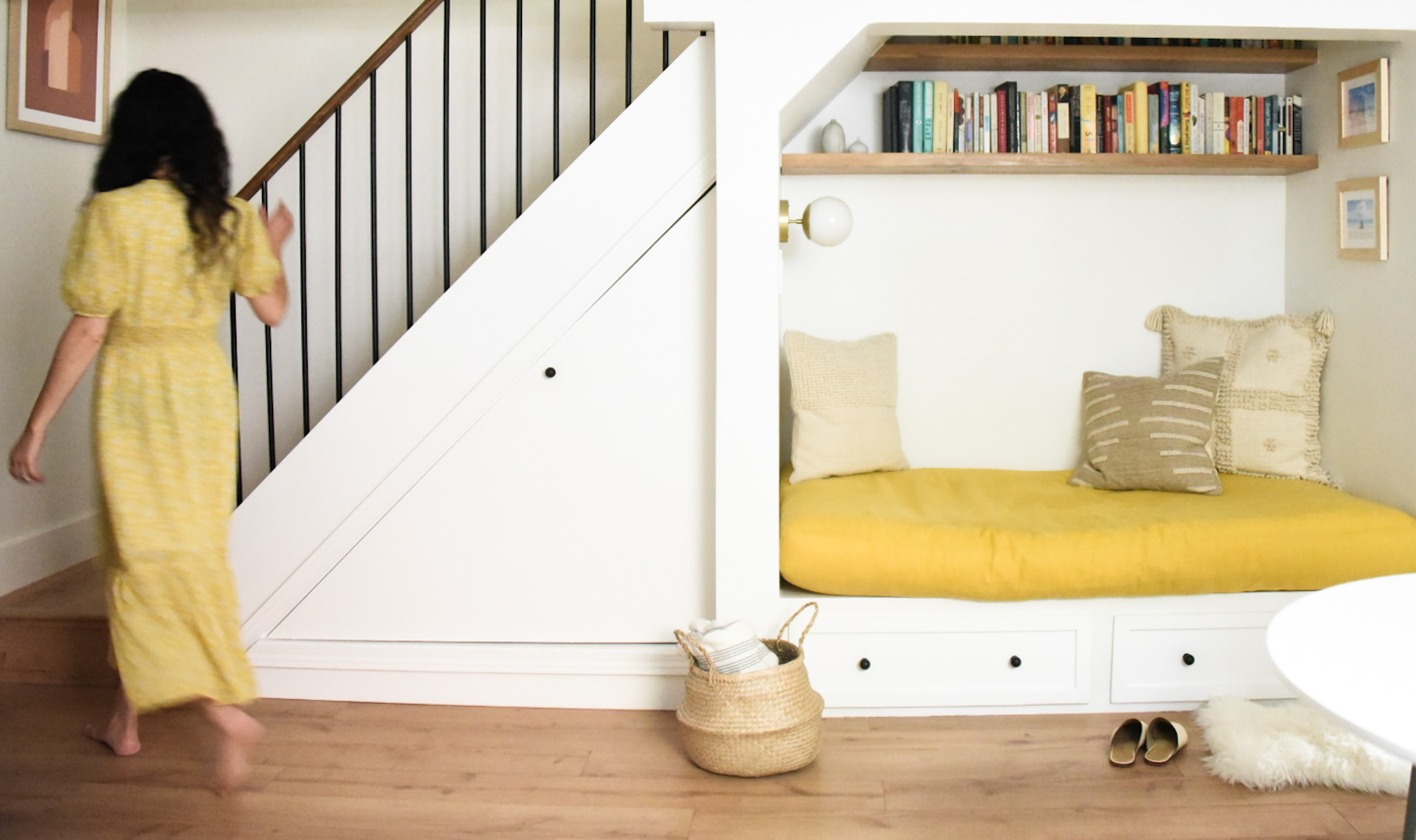 This post is sponsored. All opinions are my own. Thanks so much for supporting the brands that help us do what we do!
If you've been following our downstairs renovation saga, you probably already know that we started this project back in September 2019. What was supposed to take 10 weeks took over 10 months. But, after all the stress and craziness, we finally finished. Last month, we showed you our new bathroom. Today, we'd like to take you on a tour of our brand new, multi-use family workspace / chill space. Before we get in to the "after," check out a few pics of the "before."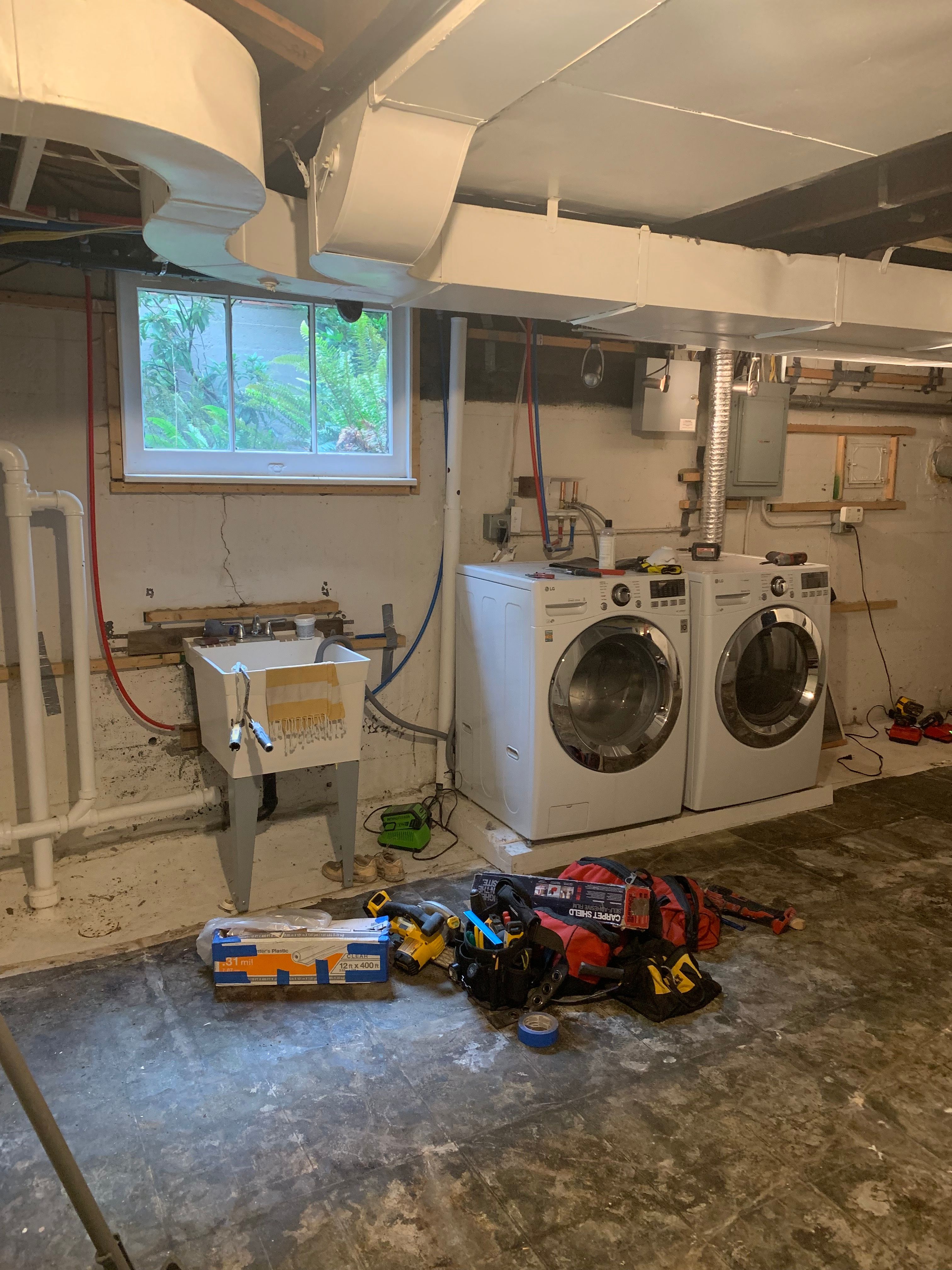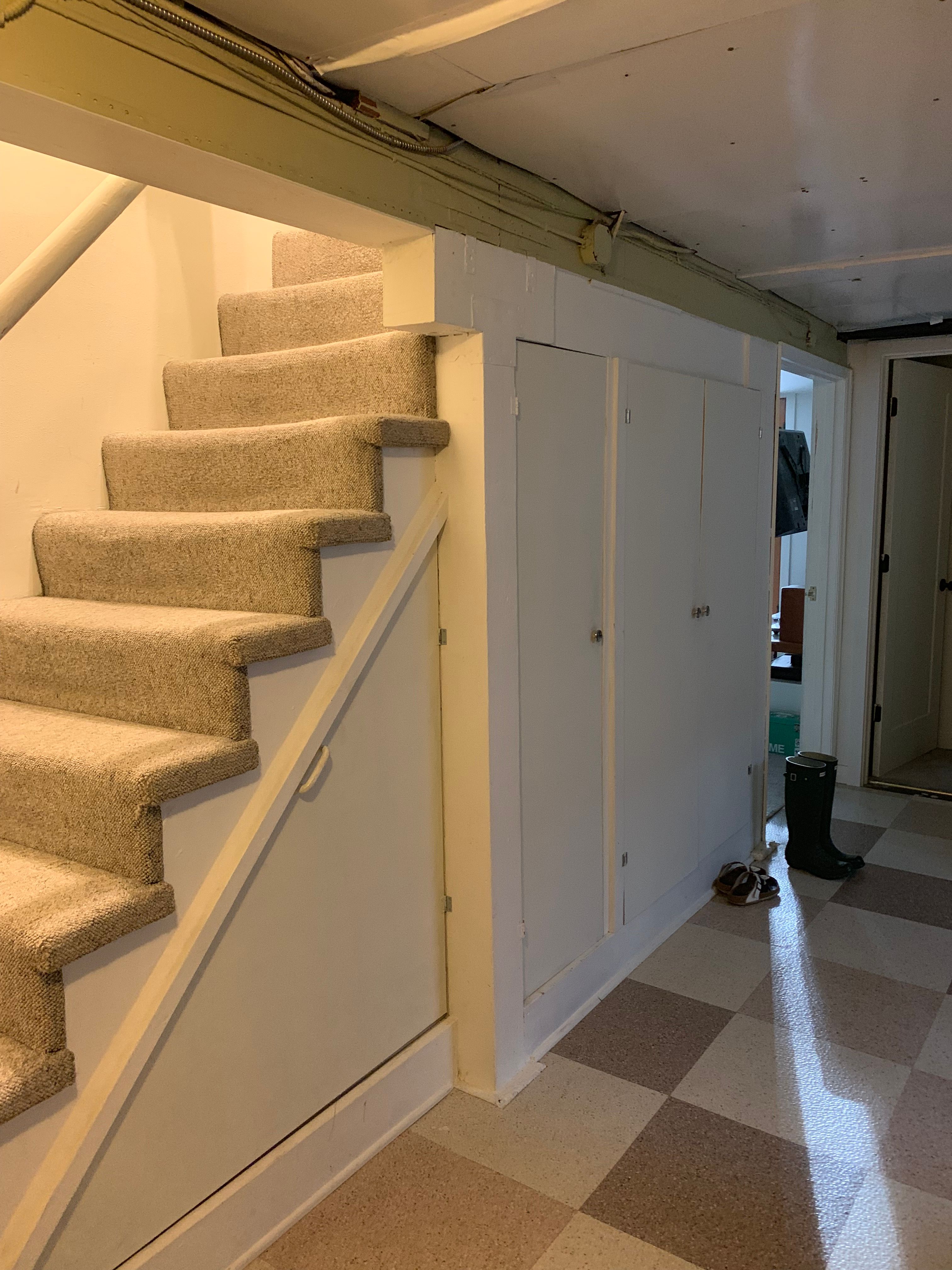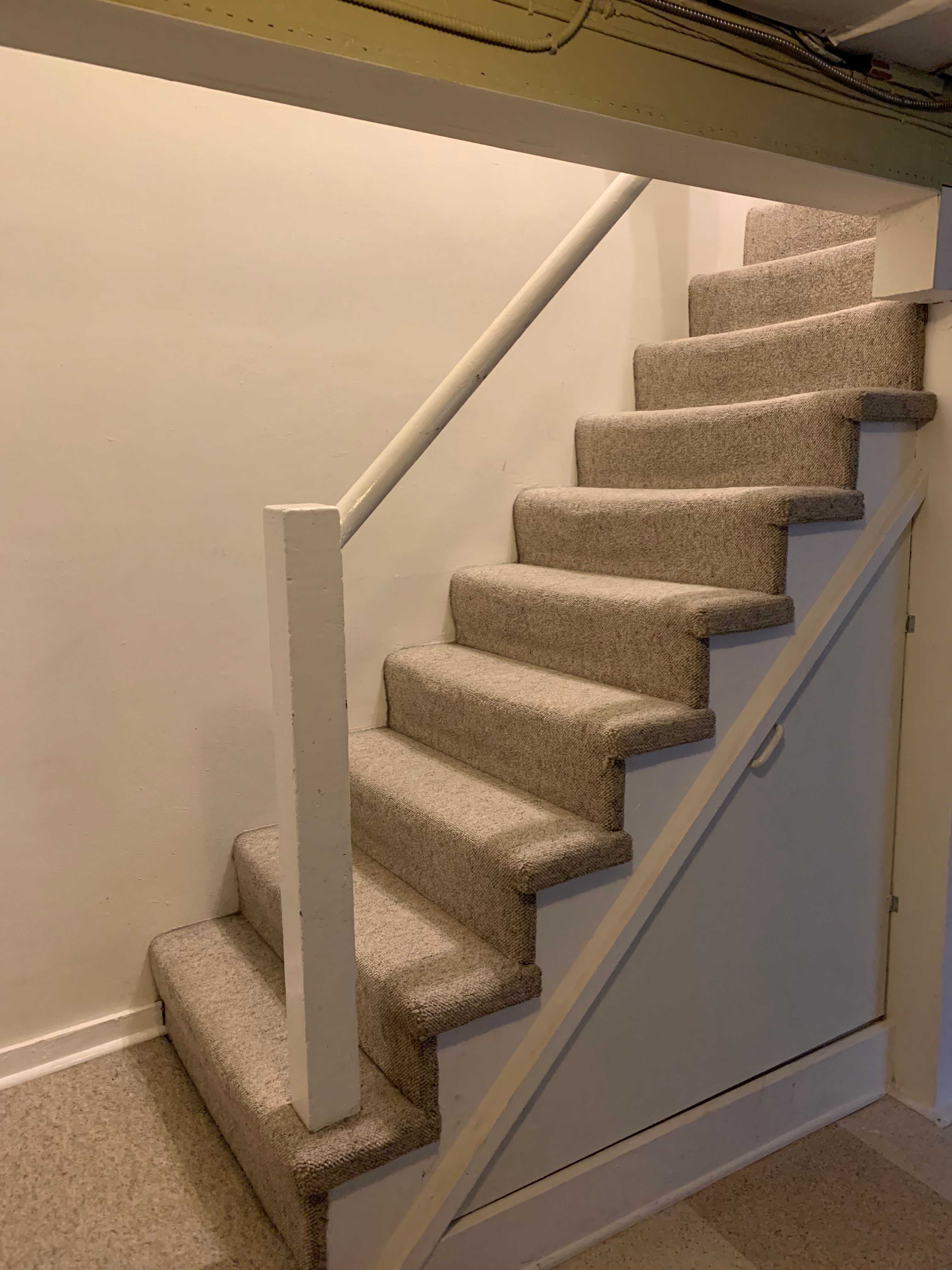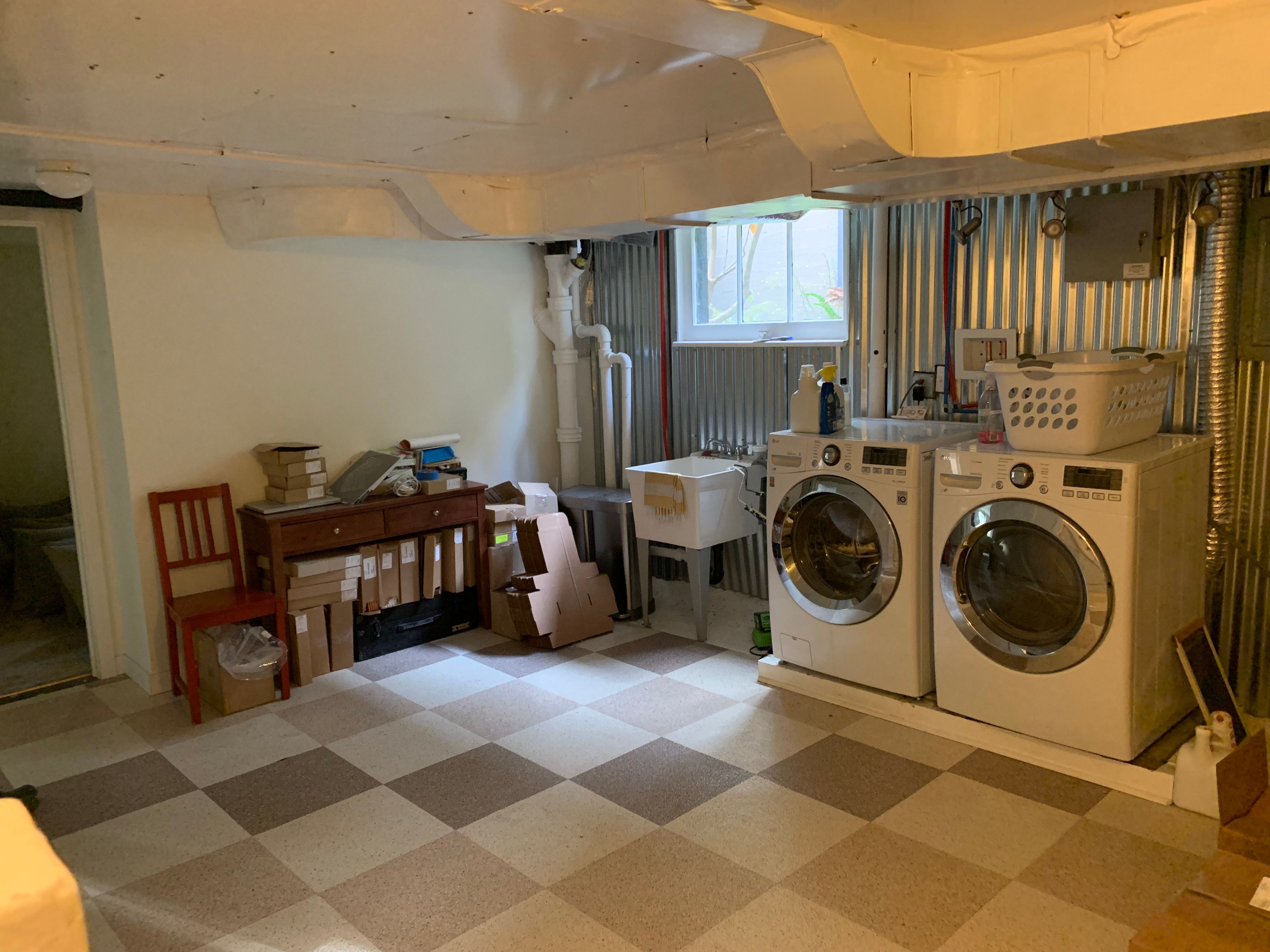 The last seven months have been heavy on my heart in so many ways: the pandemic, the fight against systemic racism (and current political climate of hate and division), West Coast wildfires, the unexpected loss of my beloved grandfather, more wildfires, toxic air quality, the loss of RBG… This year, it has felt like the bad news just never ends. While this renovation was incredibly stressful pretty much from start to finish, having it complete just in time for winter feels like a small blessing in an otherwise hellscape of a year.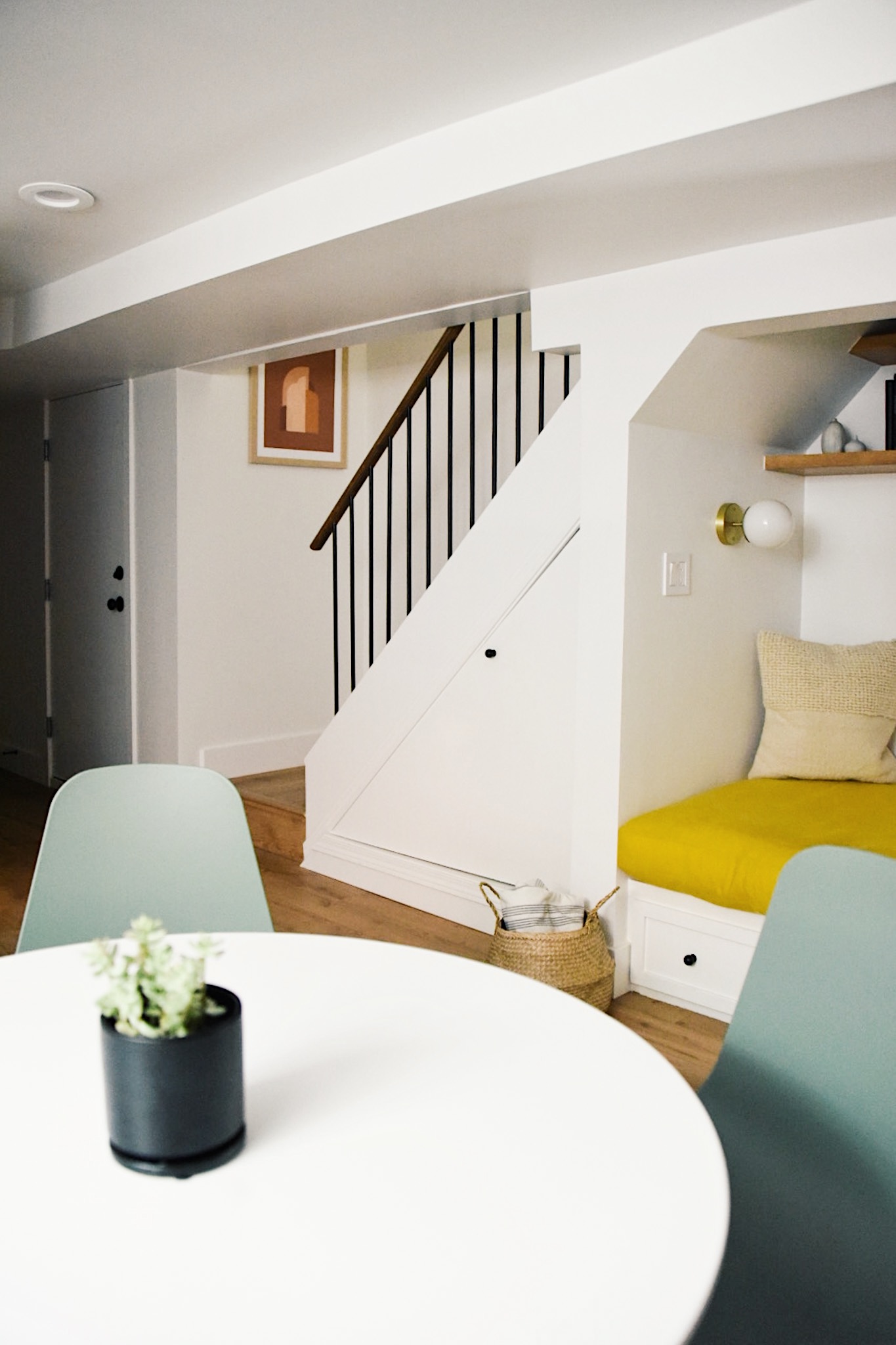 Before this room was our new favorite spot to hang, it was the eyesore of our house, complete with metal sheeting, laundry machines sitting atop a concrete slab in the middle of the room, dark and dreary paint colors, a linoleum floor that was literally peeling away from the concrete below it, and a furnace "room" that housed an ancient furnace.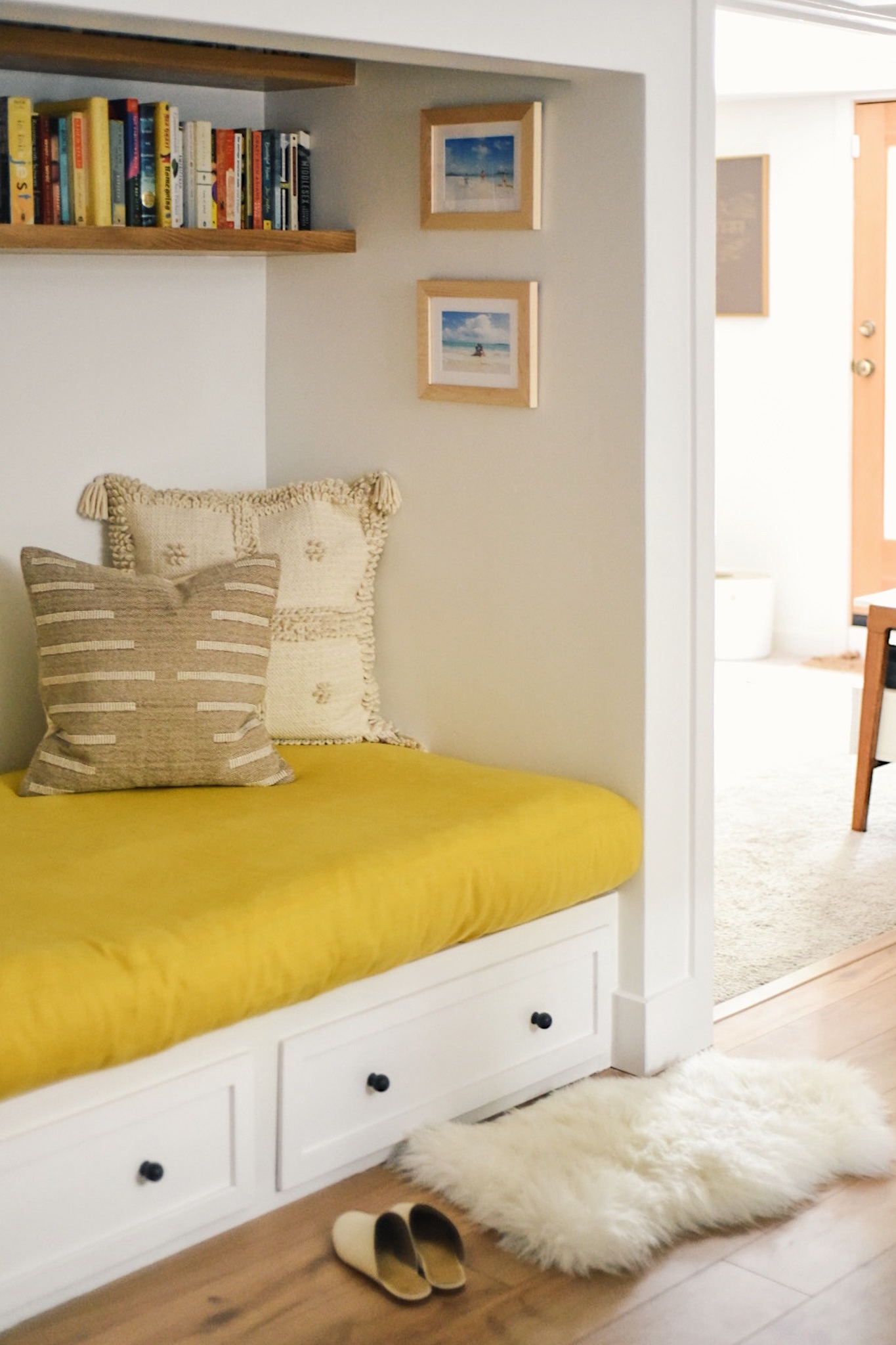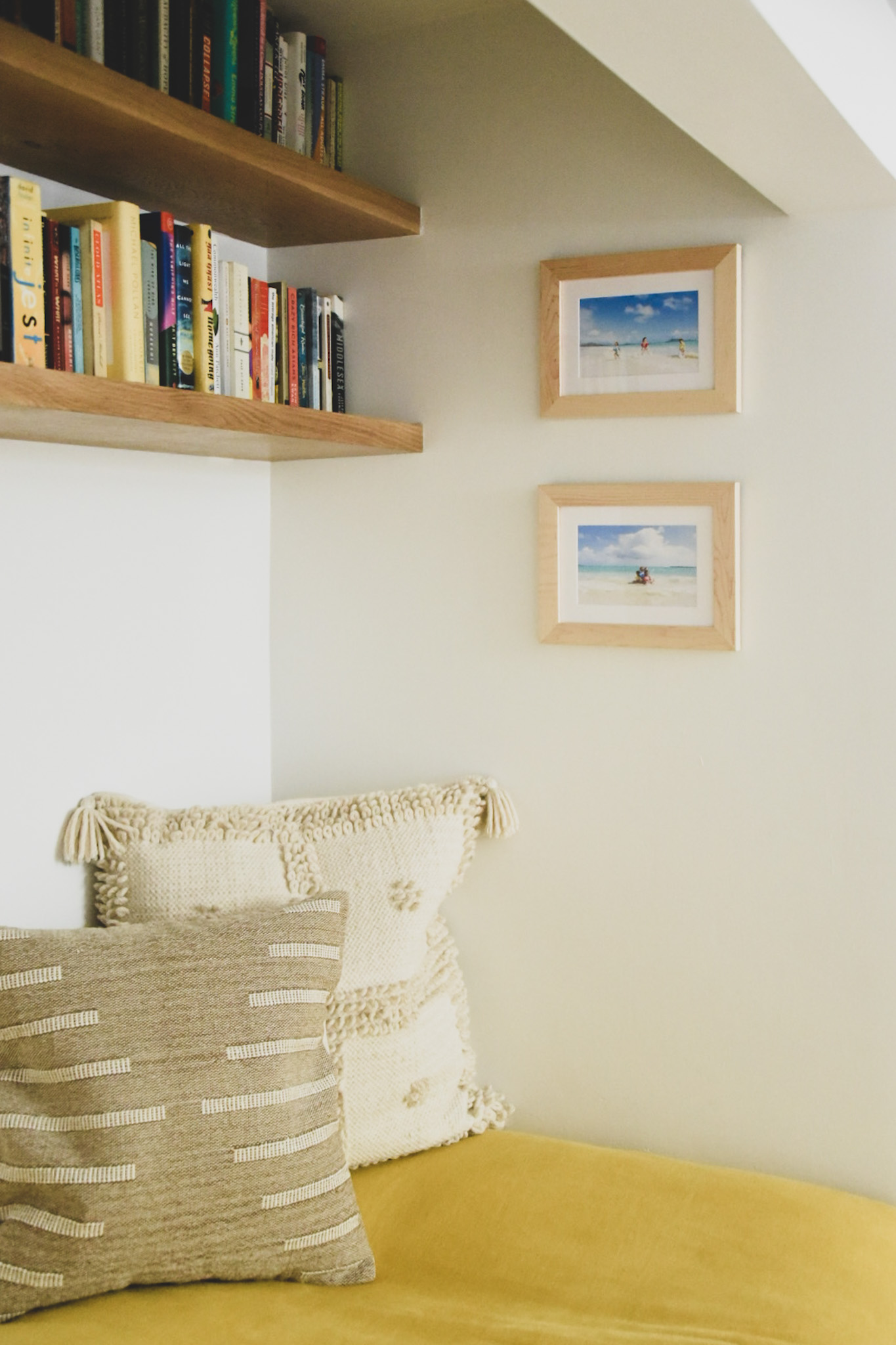 Before we had a chance to work on all the pretty details, we had to tackle a lot of the nuts and bolts under the hood. We replaced said furnace, installed a new water heater (after the city of Seattle shut our old one off due to a mistake by our previous contractor), and retrofitted the house because … 1930s brick tudors and earthquakes aren't a good combination! I cannot emphasize how good it feels to bring our home into the 21st century.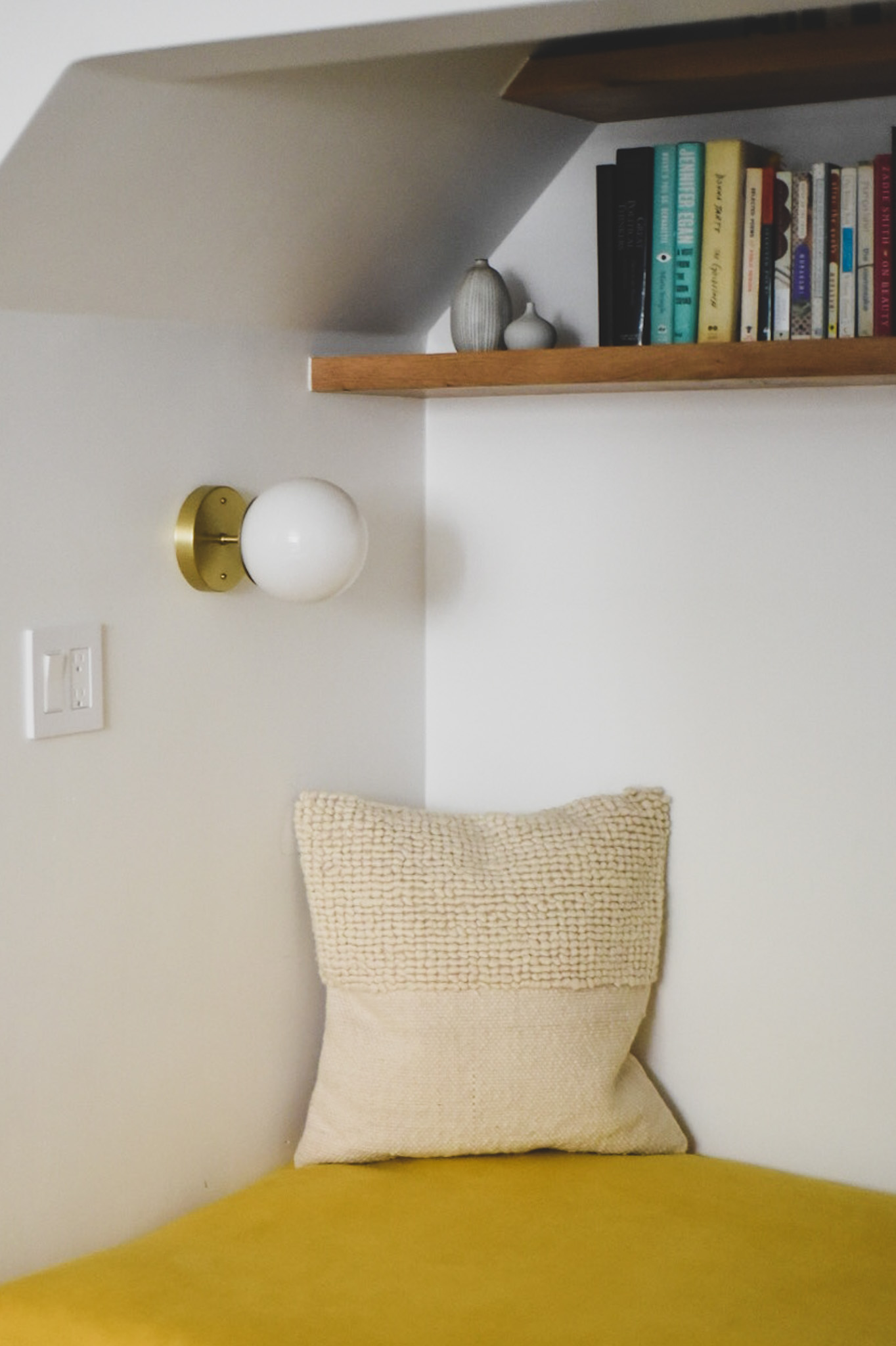 We worked with Heidi Caillier, the interior designer who designed our kitchen (which we love) on a space that we knew we needed pre-pandemic and are now are so grateful to have as our oldest daughter embarks on virtual school.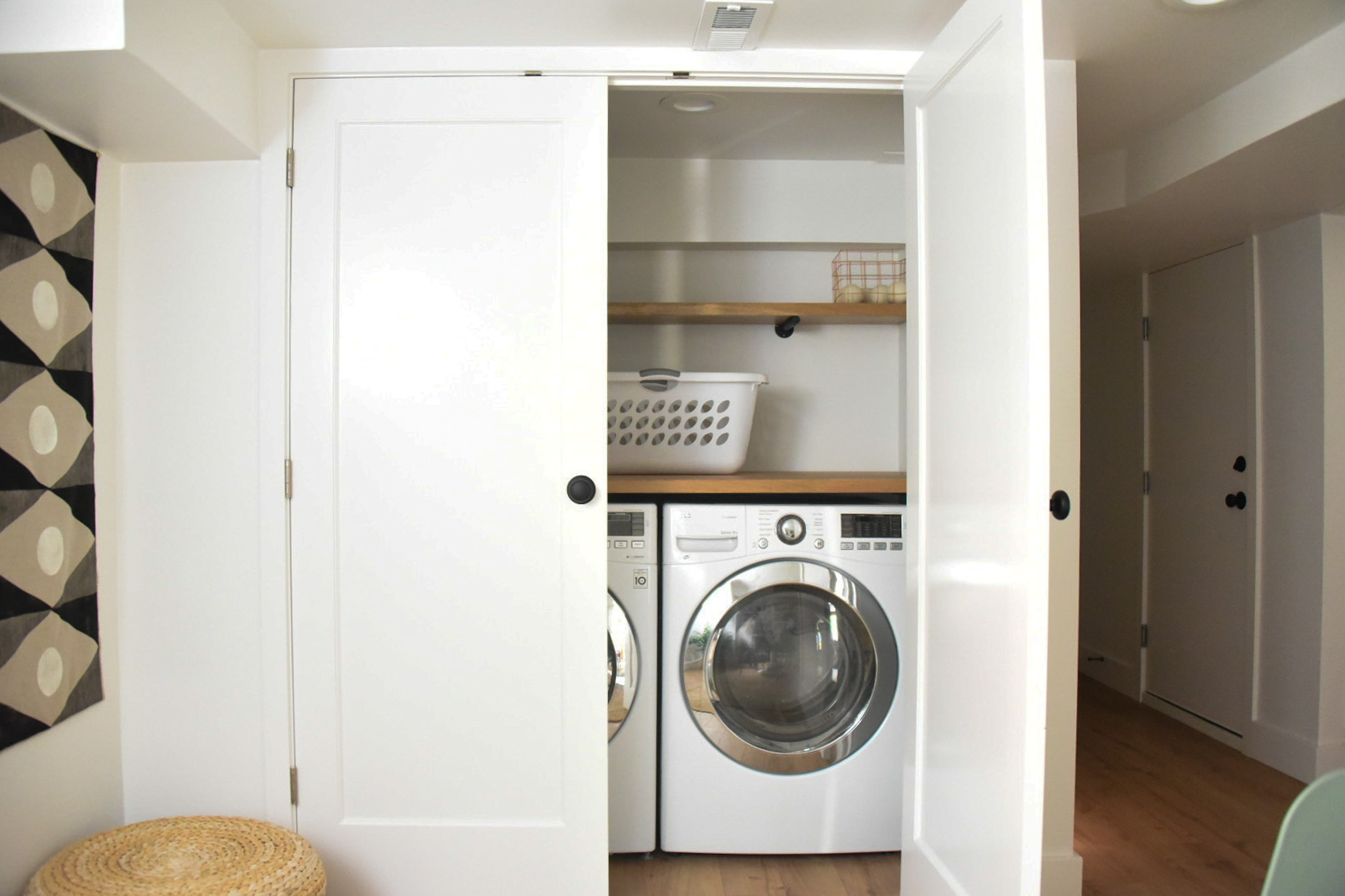 Aside from the bathroom, we wanted to tuck away our washer and dryer. Neither Matt nor I care for laundry rooms and we wanted to maximize the open space, so we opted for a smaller "laundry room" with some added storage in the form of a large butcher block waterfall (Ikea FTW) and a beautiful white oak shelf set atop gorgeous brass brackets from Rejuvenation. It'll be perfect for housing things we don't necessarily want the kids to easily be able to reach.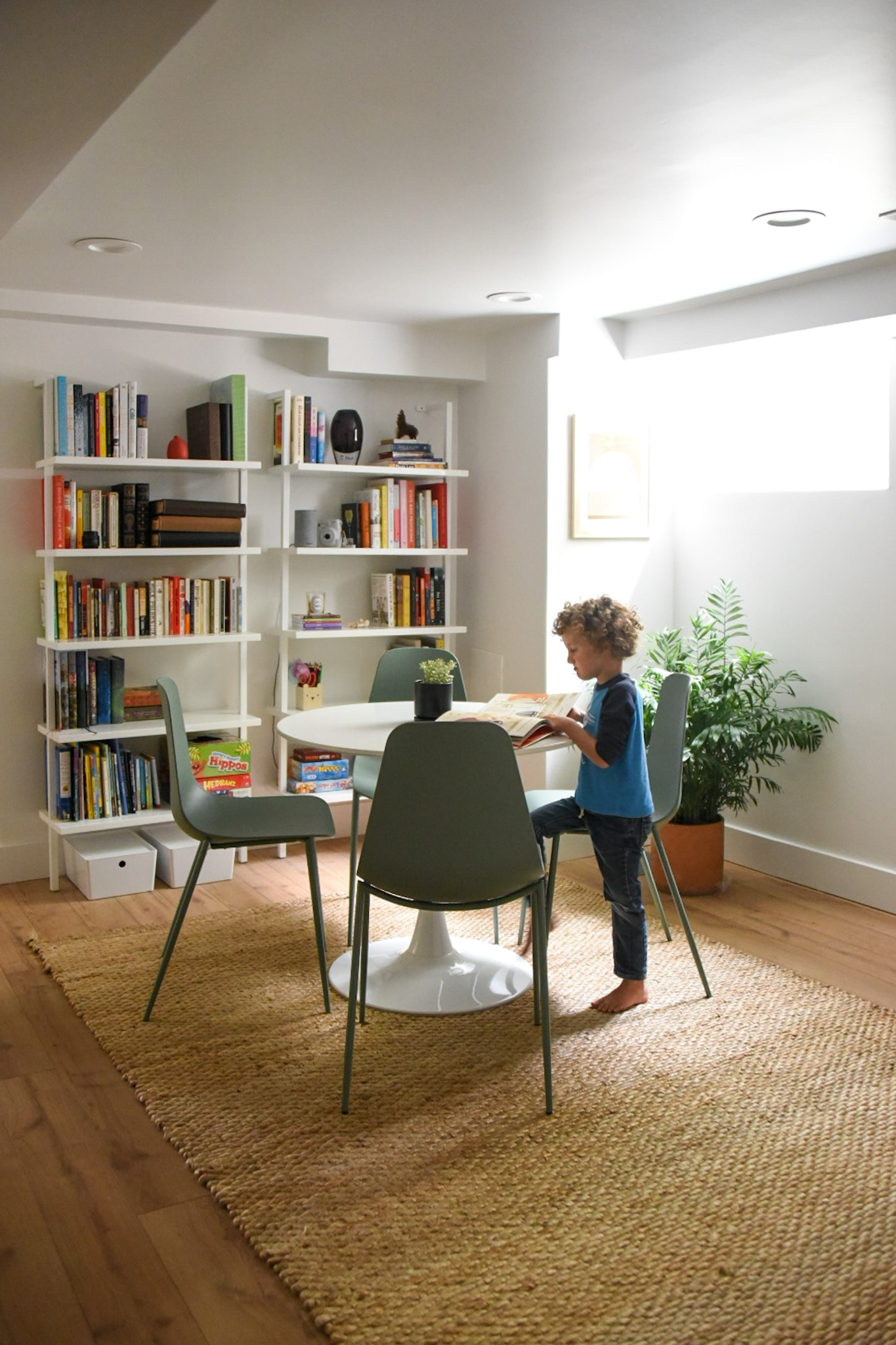 For the main space, much of the work was around making it feel bright and spacious, despite having only a small window. Heidi chose a beautiful hard-backed laminate flooring that looks and feels — I kid you not — like hardwood. Aside from being a much more cost-effective option, it's durable, so we don't have to worry about leaks, scratches, and spills. Our contractor was able to level the floor underneath, which used to look quite funky, and we were amazed at how well the laminate blends with our upstairs hardwood.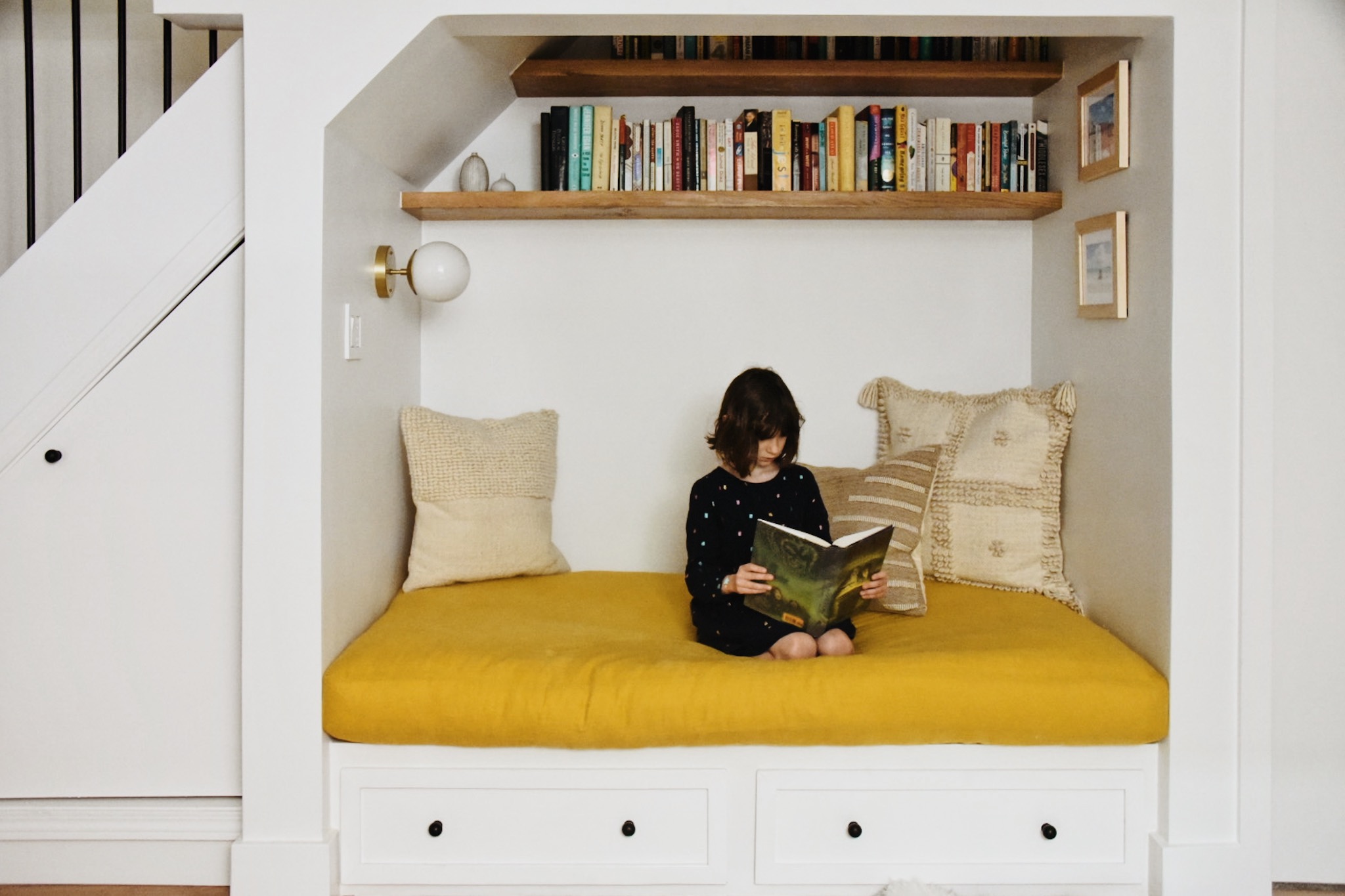 Now, walking around in our downstairs feels like sneaking off to an Airbnb, especially since it leads out directly into our garden.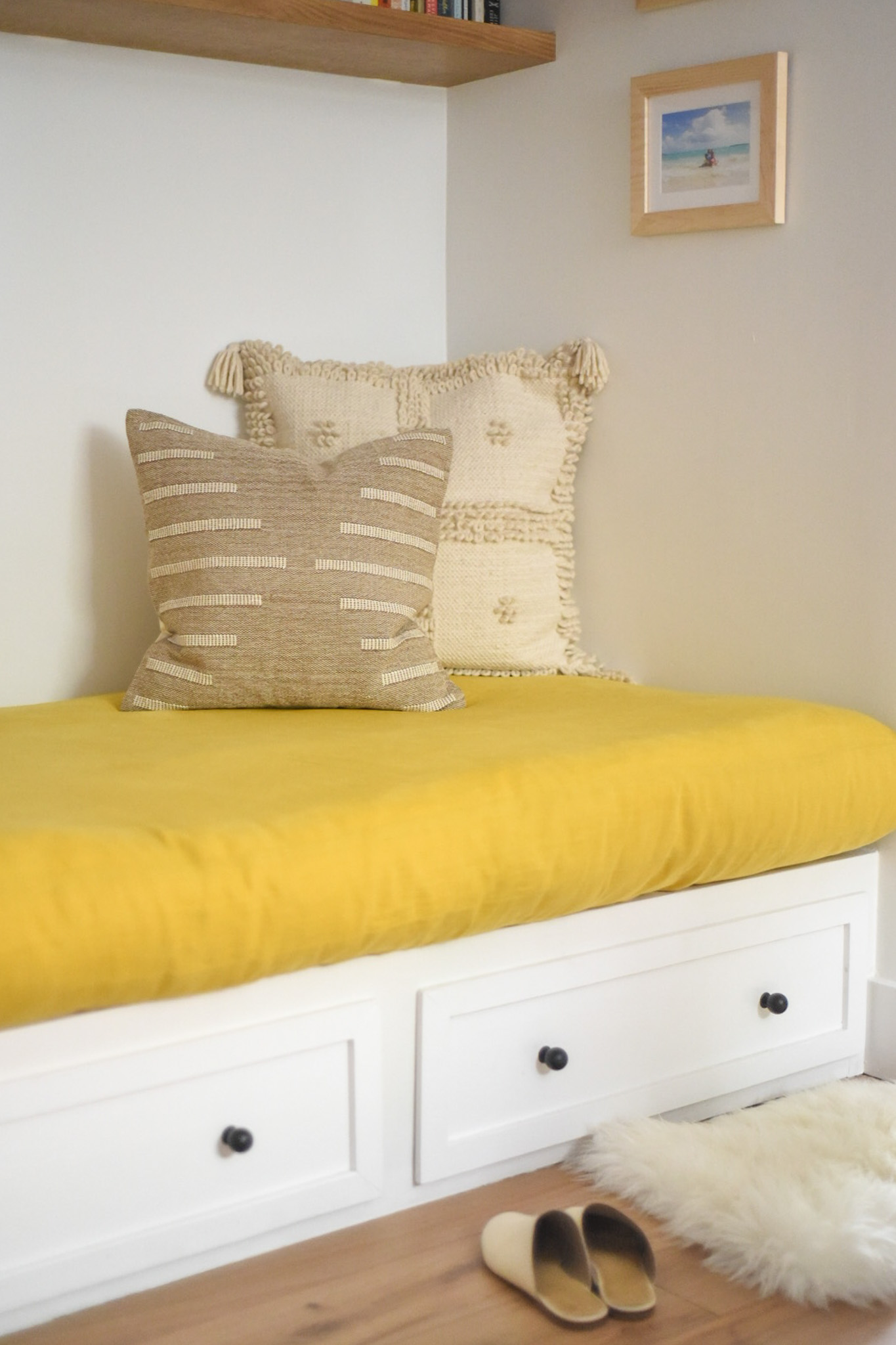 After moving into our house, we quickly realized that we didn't have any built-in shelving or optimal storage for our books. After five years of keeping all of our well-loved books in storage, we were thrilled to add bookcases and built-in shelving to showcase our growing collection of favorite reads. If our upstairs is devoted to records, our downstairs in now officially "the library." Those white oak shelves inside the nook were quite the undertaking, given how deep and long we needed the wood to be.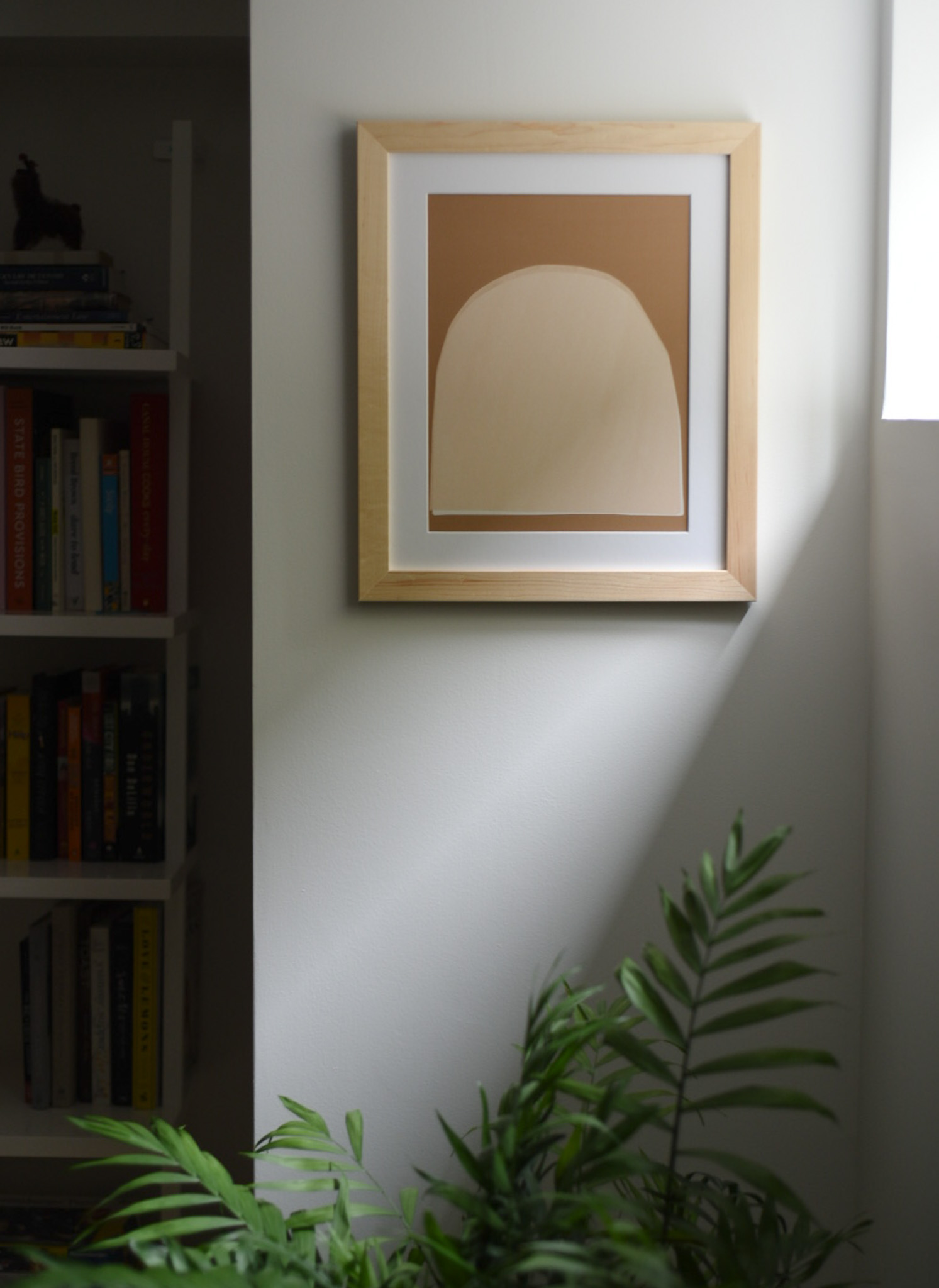 And speaking of built-ins, the star of this space is no doubt, the under stair reading nook of my dreams. I've been talking about reading nooks since the day we decided to renovate and I can't believe that we not only made it happen, but it looks and feels like the space of my dreams.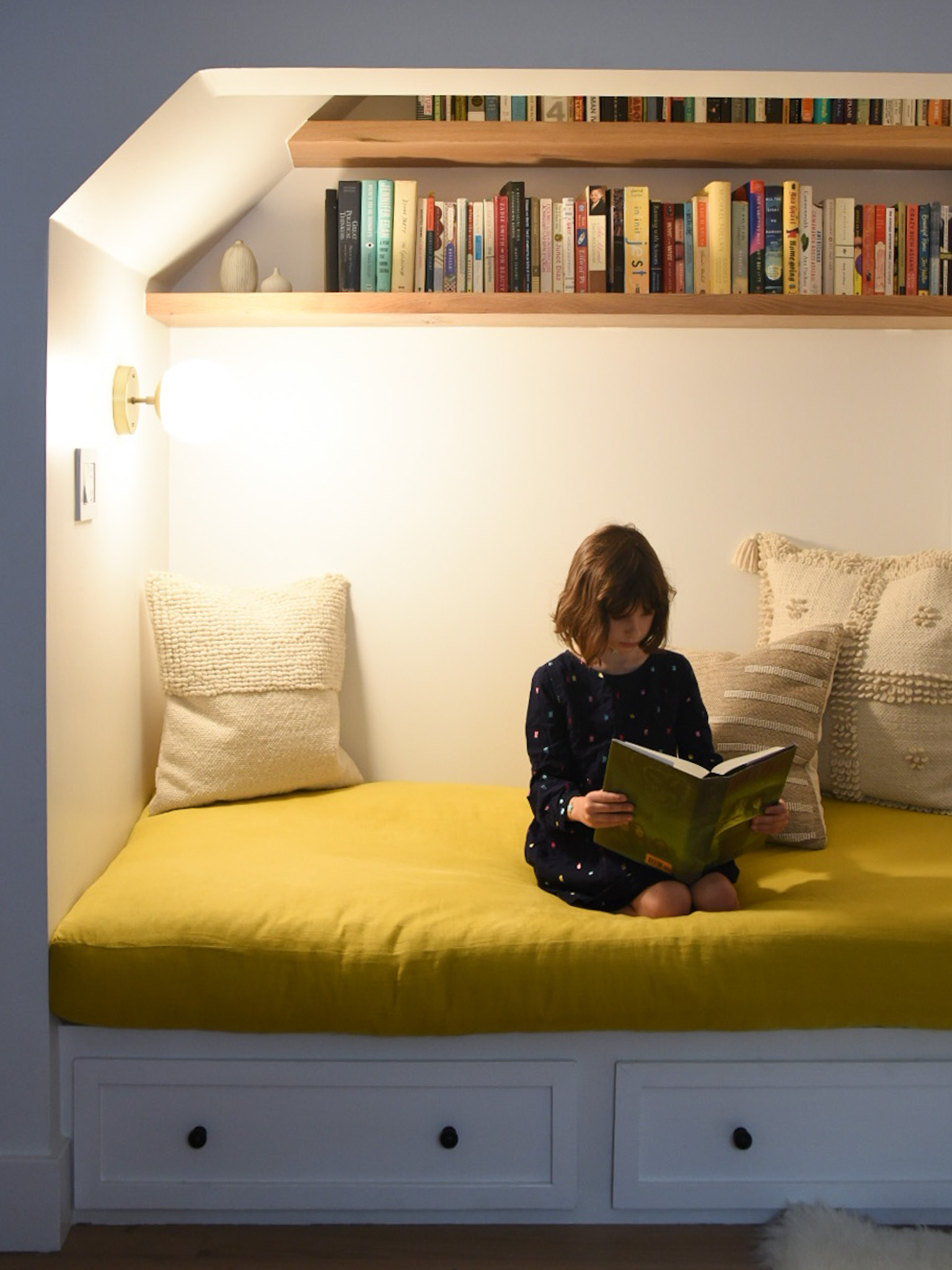 Believe it or not, this space used to be a storage area filled with records, boxes of recipe cards, and various items that have never truly had a home. Now, it's a favorite spot to read books as a family, enjoy a glass of wine, or hide from the kids when we've put them to bed but they're still chatting. If you know, you know. 
One of the things we worried about with adding a reading nook was losing storage space. We ended up cleaning up a triangular storage space right under the stairs and adding two pull-out drawers under the bench in the nook, dressing them up with some fresh hardware from Rejuvenation. Nothing makes cabinets and drawers look fancier than beautiful hardware. Although Heidi originally designed a built-in bookcase, we ultimately opted for two floating shelves made out of white oak and sourced from a local hardwood shop and fabricated by our contractor.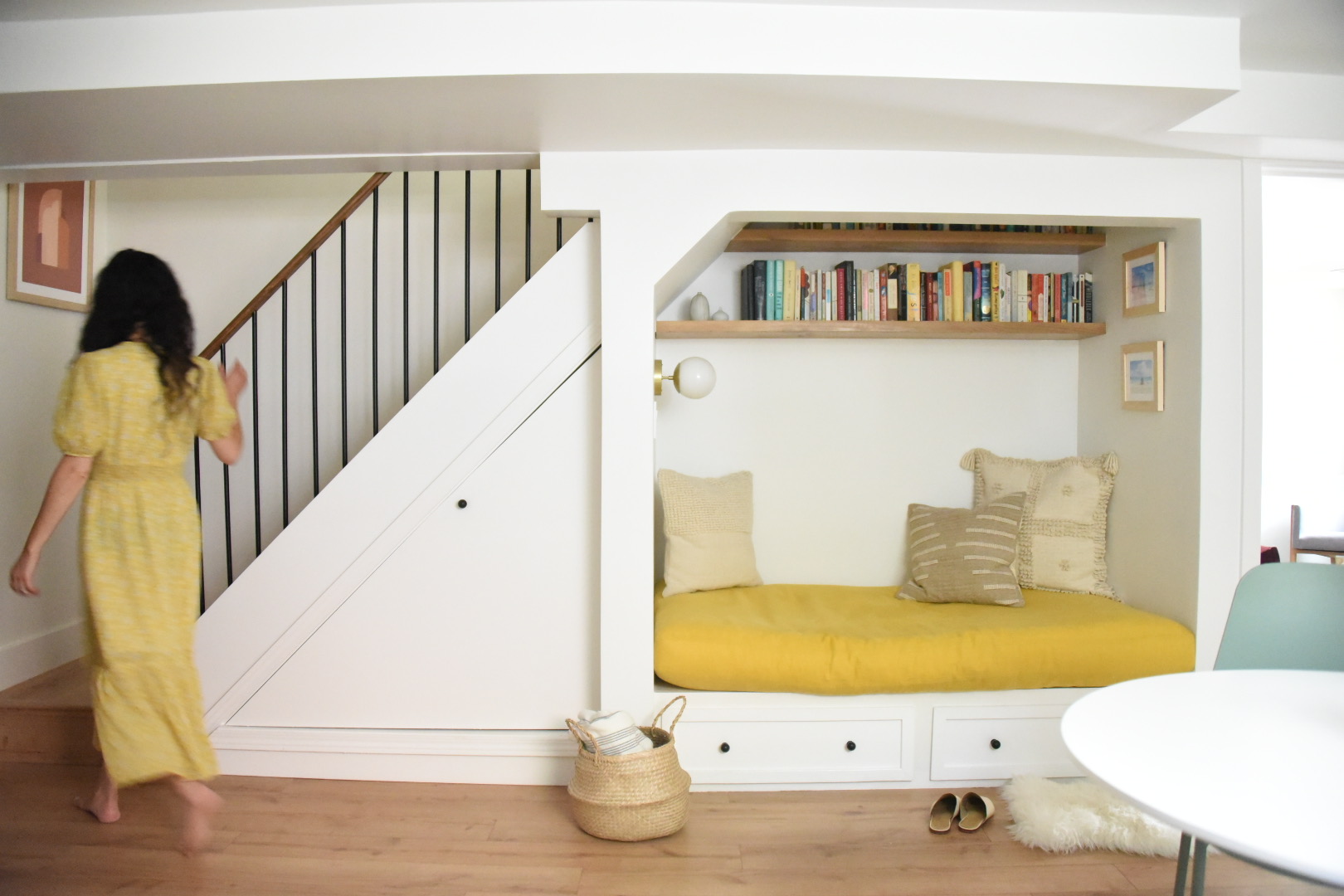 One of the things we talked about with Heidi when we first started exploring plans was how we would use the space. Heidi suggested that the reading nook would easily become the main seating area for this space — someplace where we could hang on winter afternoons, where everyone would cozy up with blankets and books. And she was right. We wanted to keep the space bright and fun, so we opted for a yellow-ish mustard colored cushion that easily fits our entire family of five. 
The Schoolhouse Electric Nova sconce adds the perfect amount of light, and an outlet means the reading nook doubles as a workspace, too. On evenings when we want to relax down here, we turn off the cans, turn on the Schoolhouse nook sconce, and reminisce about what it will be like to have friends inside this new space — in real life.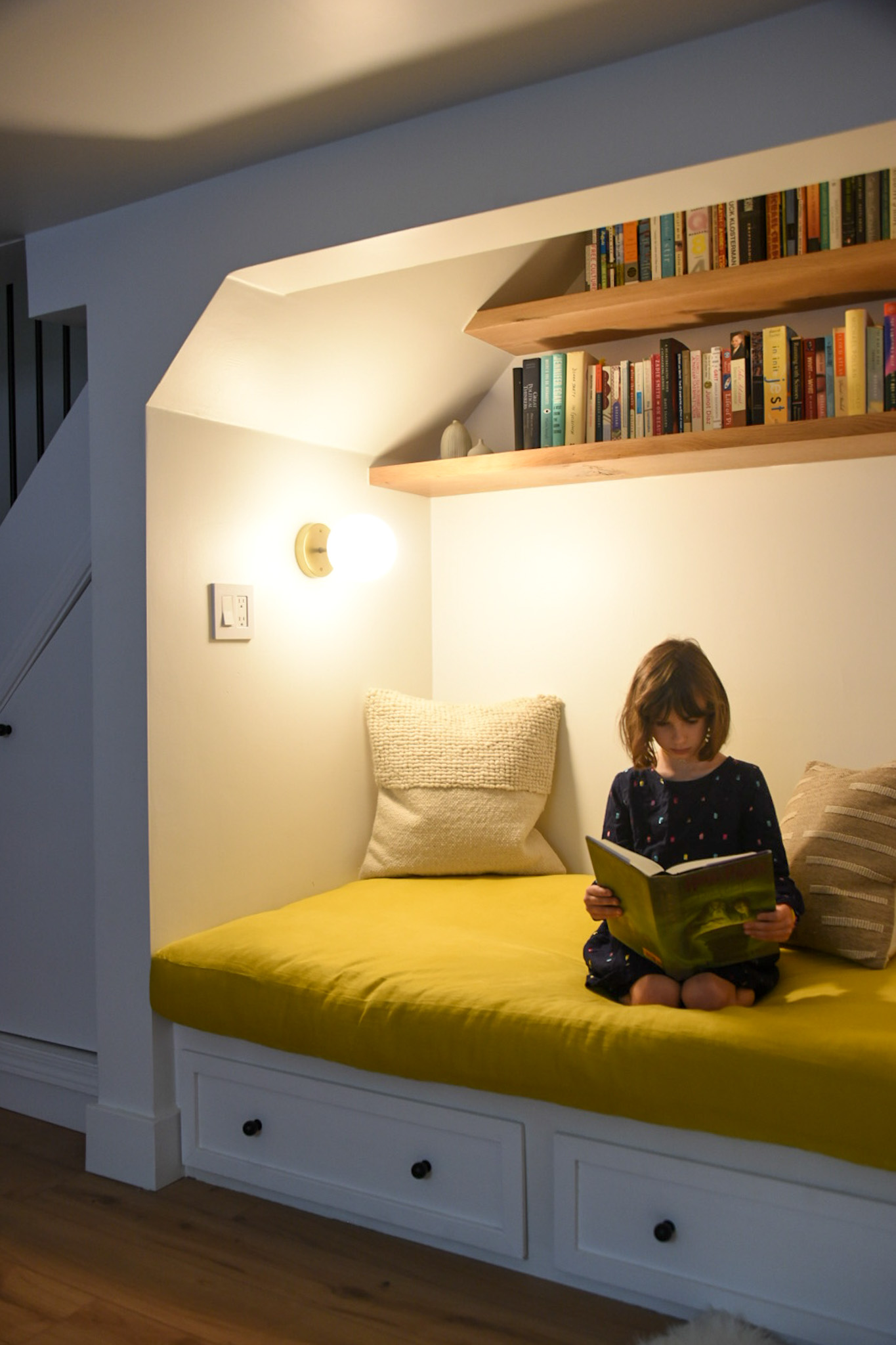 Because we only have one small window in the entire space, we knew it could easily feel as dark and cave-like as it used to. It was important for us to make the space as airy as possible — something we were able to accomplish by painting the walls with a bright white paint from Sherwin Williams dubbed appropriately "Pure White." It's super bright and energizing.
Our stairway which, unbeknownst to us was crumbling beneath our feet, was also rebuilt and outfitted with a proper handrail and balusters. The ductwork was moved to the edges of the room and covered with drywall, as were other previously-exposed pipes and plumbing.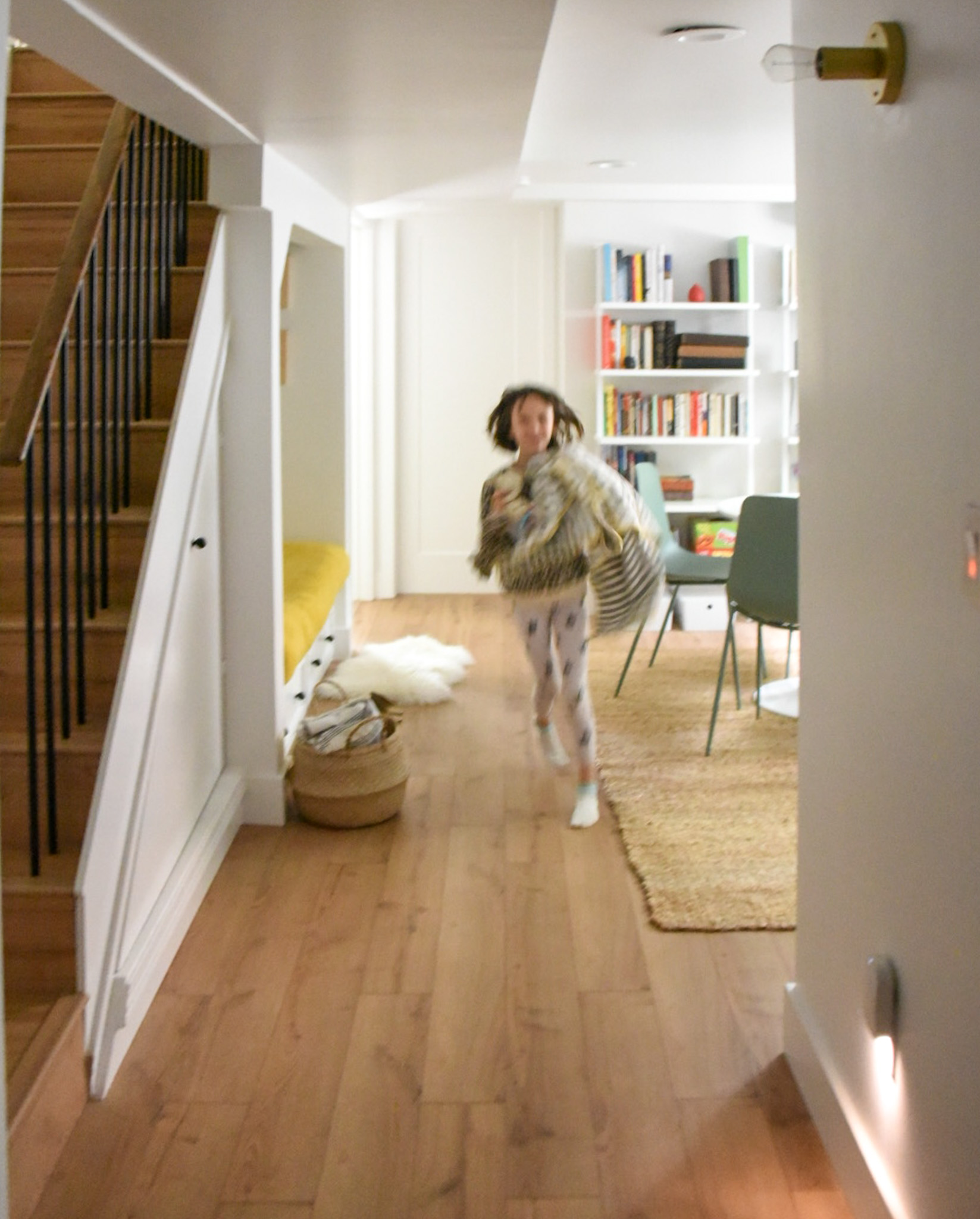 I waited 10 long months to finally start styling the space, but in my head I had a pretty strong vision from the beginning. We wanted to line the wall adjacent to our guest bedroom with shelving, and create a defined workspace both for ourselves and our kids. The round white tulip table is the perfect size for homeschooling, painting, puzzles, and legos. And the green Article chairs are comfy and stylish, while still being utilitarian. We love the pop of color and think they really complement the yellow bench cushion.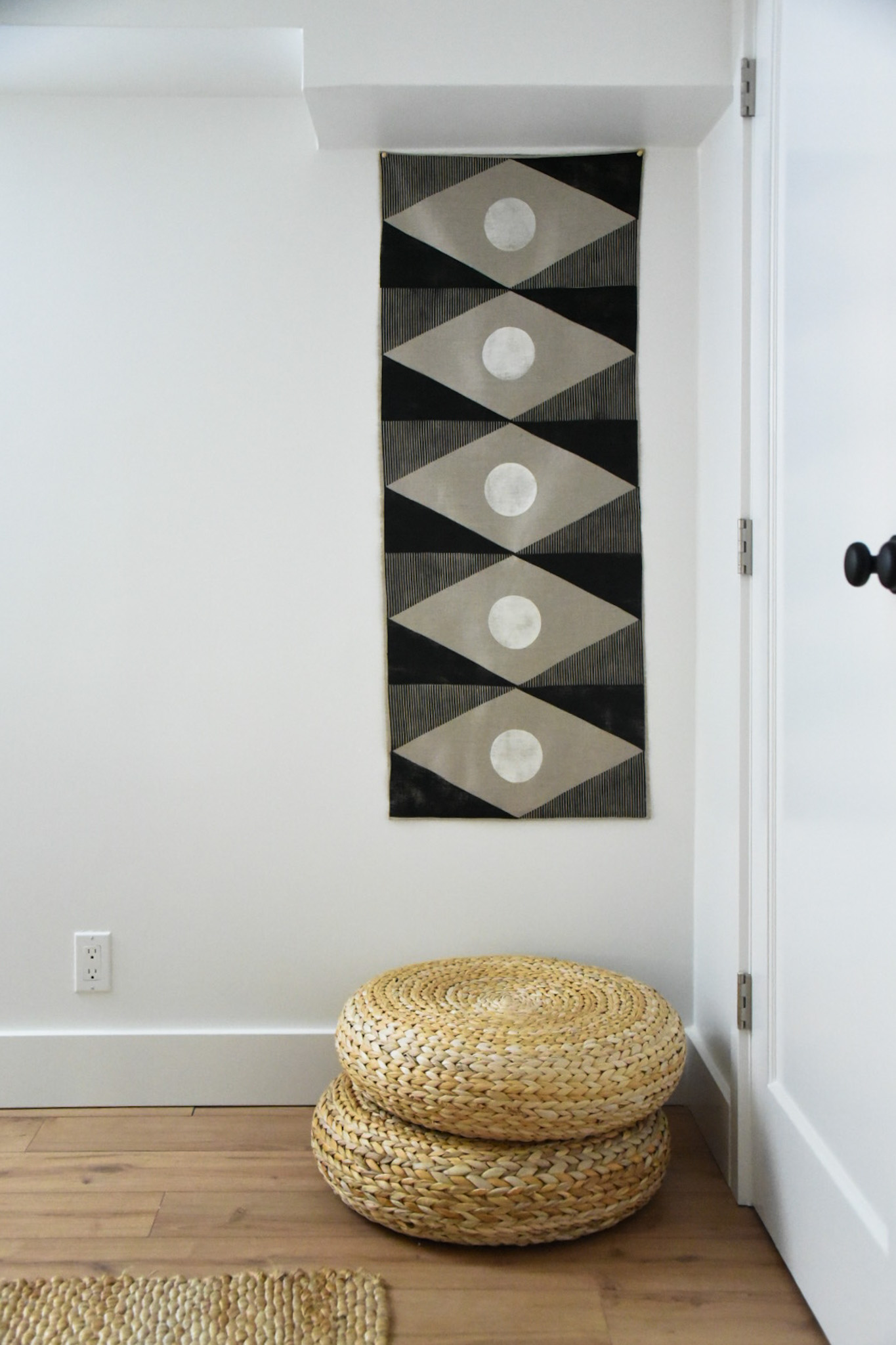 I searched for months for a tapestry to cover our breaker box panel and was thrilled to discover San Francisco-based artist Sofia Shu. Her handmaid block printed tapestry is just the right size. I also picked up a few digital prints from Forn Studio, and used Fame It Easy to print and frame. The two family photos inside the book nook remind us of our magical trip to Hawaii last year. We can't wait to go back. 
Home renovation projects are never stress-free and there's always something hiding behind the drywall or underneath the carpet. But all in all, we are sooo happy with where we have landed. I mentioned in my previous post that we had to switch contractors midway through the project. Despite the craziness of working through the pandemic, the contractor we found was really phenomenal.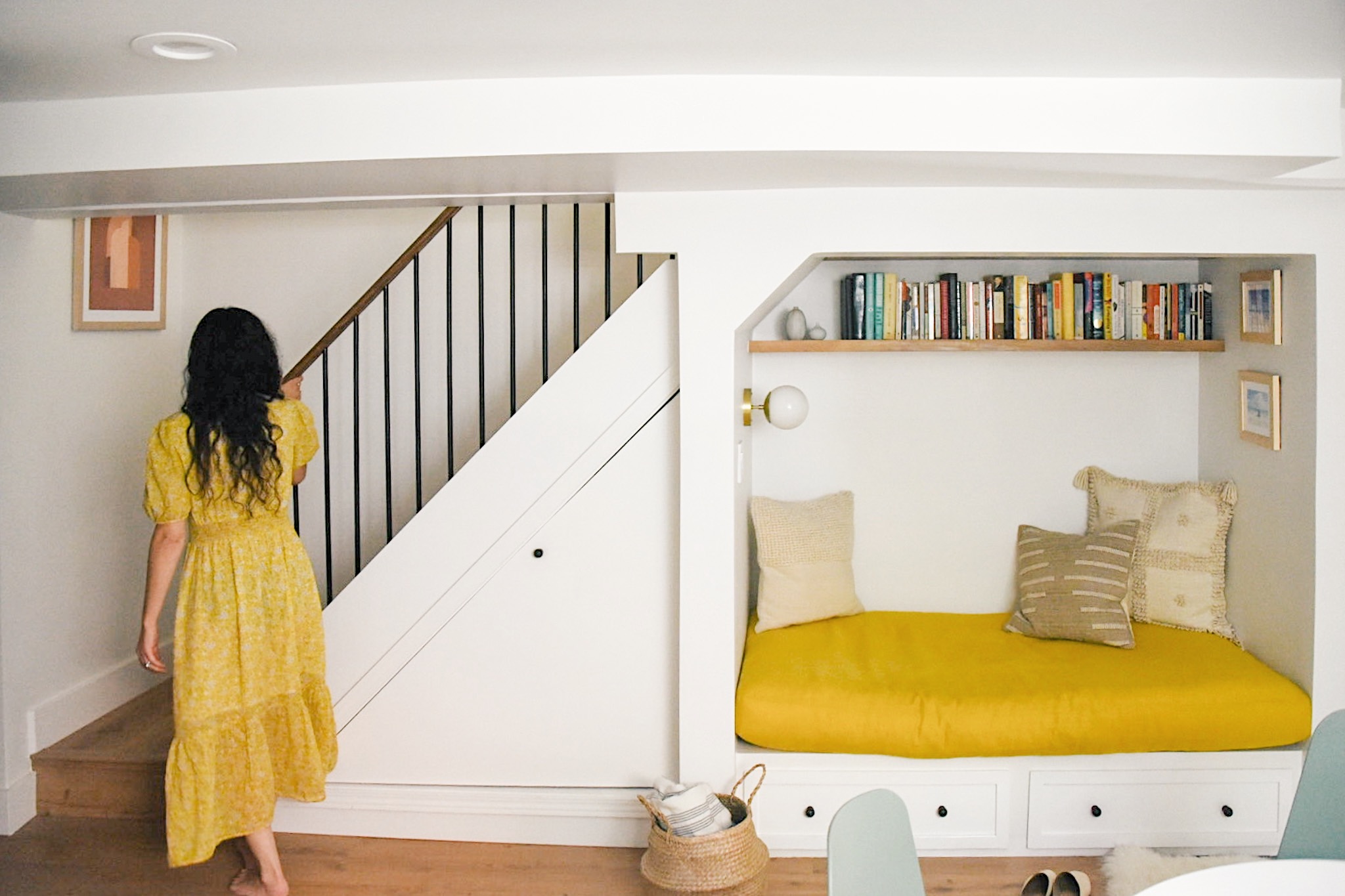 If you're in the Seattle area and looking for a contractor, reach out to us and I'm happy to share his business info with you. We're so lucky we found him and his team when we did; he was able to fix so many of our previous contractor's mistakes, and we are confident that the final project ended up way better than it otherwise would have been. 
If you have any thoughts or questions, share them in the comments.
Sources
Paint: Sherwin Williams "Pure White"
All hardware: Rejuvenation
Jute rug: Rugs USA
Tulip table: Modholic 
Bookcases: CB2
All lighting: Schoolhouse Electric
Chairs: Article 
Prints: Forn Studio 
Frames: Fame It Easy
Sheepskin: Ikea 
Banana fibet stools: Ikea
Tapestry: Sofia Shu
Pillows: Parachute Home and West Elm
In case you missed it: our bathroom reveal.